KTM RC 390 Price in Delhi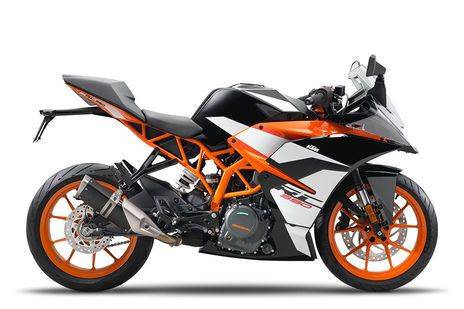 KTM RC 390 On Road Price in Delhi
Variant

ABS

Ex-Showroom
2,35,735
RTO
19,189
Insurance
6,227
Others

2,629

{{mandatoryPrice.field_name}}

{{mandatoryPrice.field_price}}

-----

{{mandatoryPrice.field_name}}

{{mandatoryPrice.field_price}}

-----

{{nonMandatoryPrices.field_name}}

{{nonMandatoryPrices.field_price}}

-----

{{nonMandatoryPrices.field_name}}

{{nonMandatoryPrices.field_price}}

-----
On road price

Delhi

2,63,780

EMI
{{selectedVariantOfModel[0]['emiOption']}}

per month
Get instant bike loan approval in 5 minutes with lowest interest rates and EMI options!
RC 390 Price in Delhi
KTM RC 390 On road price in Delhi starts at Rs2,63,780 for the one variant available: RC 390 ABSand there is only one colour option available: . Check out RC 390 bike Price, EMI options, competitors, nearby showrooms and loan offers to choose the best bike for you.
Competitors to KTM RC 390
EMI Calculator
for
Down Payment you will make {{sliderPayment_formated}}
Bank Interest Rate
{{percentageSlider.value}}%
{{percentageRange.value}}
Loan Period
{{monthSlider.value}} Month
On road price
{{calculationEmiOnRoadPrice_formated}}
View Loan Options
Finance offers from our affiliates including Tata Capital, Bajaj Finance, IndusInd and HDFC Bank
KTM Showrooms in Delhi
EAST DELHI KTM
18/4, Radhe Puri Extension, Main Jagat Puri Road, New Delhi 110051
BaggaLink
L-1, GROUND FLOOR, MIDDLE CIRCLE, CONNAUGHT PLACE,NEW DELHI 110001
BaggaLink
PLOT NO. 70, K.L.J. COMPLEX-2, NAJAFGARH ROAD,NEW DELHI 110015
View all Showrooms