Bajaj Chetak
Bajaj Chetak is an electric two wheeler with a price tag of Rs.1.64 Lakh.It is available in 1 variant and 3 colours.Bajaj Chetak can run upto 80 km/charge in single charge.Chetak takes approx 5 Hours for a full charge and has a top speed of .
Change Scooter
Rs.
1.64 Lakh
*
*Ex-showroom price in Delhi
EMI starts from Rs. 4,945
Don't miss out on the best offers this September
Key Specs of Chetak
| | |
| --- | --- |
| Charging Time(0-80%) | 2.75 Hours |
| Range | 108 km/charge |
| Battery Capacity | 3.04 Kwh |
| Kerb Weight | 133 kg |
| Top Speed | 63 km/hr |
| Battery Warranty | 3 Years or 50,000 Km |
Bajaj Chetak Latest Update
The Bajaj Chetak is now available for Rs 1,30,000 (ex-showroom Bengaluru) for a short period of time as part of a festive offer announced by the brand. Check it out here.
Bajaj has launched the 2023 version of the Chetak, featuring aesthetic enhancements and an extended driving range. Check out the details here.
The Bajaj Chetak stands as an electric revival of the legendary petrol-powered Chetak scooter, which played a vital role in facilitating mobility for countless people across India.
Bajaj Chetak Price:
The 2023 Bajaj Chetak is priced at Rs 1,41,163 with a special offer price of Rs 1,30,000 (both ex-showroom Bengaluru, including FAME 2 subsidy) available for a short period of time. The colour options available are - Matte Coarse Grey, Matte Caribbean Blue and Satin Black.
Bajaj Chetak Features:
The Chetak features LED units for its headlight, taillight, and indicators, complemented by a fully digital color LCD instrument cluster. The electric scooter is equipped with smartphone connectivity, enabling app-based notifications that notify the owner in case of tampering or charging issues. Additionally, the app provides the ability to monitor the scooter's location, charge status, and remaining range. However, it's important to note that turn-by-turn navigation is not yet integrated into the console.
Bajaj Chetak Motor:
The Chetak is driven by a brushless DC motor that achieves a maximum claimed speed of 63kmph. With a 2.9kWh lithium-ion battery pack, the scooter gets an ARAI-certified stated range of 108km. Achieving a complete charge from a standard 5A power socket takes approximately four hours.
Bajaj Chetak Suspension & Brakes:
At the front, the scooter comes equipped with a single-sided suspension, similar to the Vespa, while the rear comes equipped with a monoshock. The front is equipped with a disc brake, while the rear gets a drum unitbrake.
Bajaj Chetak Rivals:
The Bajaj Chetak rivals the likes of the Ather 450X, TVS iQube Electric, Ola S1, Simple One, and the Hero Vida V1.
Read More
Bajaj Chetak Price
The price of Bajaj Chetak in India starts at Rs. 1,63,748.Bajaj Chetak is offered in 1 variant - Bajaj Chetak Premium 2023 which comes at a price tag of Rs. 1,63,748.
Chetak Price
*Ex-showroom price in Delhi

Ask anything and everything
Ask anything & get answer in 48 hours
Bajaj Chetak Pros and Cons

BikeDekho Verdict:
With adequate performance, excellent build quality, the Bajaj Chetak ticks all the right boxes when it comes to an urban electric scooter. However, it's not that high on the feature list, especially at its price point. All in all, the Bajaj Chetak is a great option for those who want a no-nonsense, quality e-scooter.
Things We Like in Chetak
Build quality is excellent
Easily offers as much performance as 110cc petrol-powered scooters
Rider's seat is quite comfortable
Things We Dont Like in Chetak
Seat isn't roomy enough for the pillion
Slightly harsh ride quality at high speeds
Is expensive for what it offers
*Ex-showroom price in Delhi
Compare Chetak with Alternatives
| Bike Name | | | | | | |
| --- | --- | --- | --- | --- | --- | --- |
| Avg. Ex-Showroom Price | 1.64 Lakh | 1.25 Lakh onwards | 1.26 Lakh onwards | 1.40 Lakh onwards | 1.45 Lakh onwards | 1.20 Lakh onwards |
| User Rating | 107 Reviews | 115 Reviews | 129 Reviews | 57 Reviews | 49 Reviews | 37 Reviews |
| Range | 108 km/charge | 100 km/charge | 150 km/charge | 195 km/charge | 212 km/charge | 101 km/charge |
| Battery Capacity | 3.04 Kwh | 3.04 Kwh | Kwh | 4 Kwh | 5 Kwh | 3 Kwh |
| Max Speed | 63 km/hr | 78 km/hr | 90 km/hr | 120 km/hr | 105 km/hr | 90 km/hr |
| Weight | 133 kg | 118.8 kg | 111.6 kg | 125 kg | 134 kg | 99 kg |
Bajaj Chetak Images
Bajaj Chetak has 7 images, view picture gallery of Chetak which includes 360 view of Scooters.
Chetak Specifications
| | |
| --- | --- |
| Mileage | - |
| Range | 108 km/charge |
| Motor Power (w) | 4200 W |
| Motor Type | BLDC |
| Charging Time | 5 Hours |
| Max Torque | 16.2 Nm @ 1400 rpm |
| Front Brake | Disc |
| Rear Brake | Drum |
| Body Type | Electric Scooters |
Bajaj Chetak Features
| | |
| --- | --- |
| ABS | No |
| Braking Type | Combine Braking System |
| Charging Point | Yes |
| DRLs | Yes |
| Mobile Connectivity | Bluetooth |
| Clock | Yes |
| LED Tail Light | Yes |
| Speedometer | Digital |
| Odometer | Digital |
| Tripmeter | Digital |
View All Bajaj Chetak Specs
Test Rides Available
TEST RIDE AVAILABLE

Get delivery within 24 hours

Rs.1.05 Lakh onwards*

TEST RIDE AVAILABLE

Free Cancellation, 100% Instant Refund

Rs.1.46 Lakh onwards*

TEST RIDE AVAILABLE

Free Cancellation, 100% Instant Refund

Rs.96,690 onwards*
*Ex-showroom Price New Delhi
Baggalink Bajaj

B-BlOCK, Saraswati Vihar,(between Madhuban and Dipali Chowk),on Outer Ring Road, New Delhi, Delhi, Delhi, 110034

Baggalink Bajaj @ Buddh Vihar

BhagawanSinghMarket,KrishnaViharBudhVihar(Rohini), Delhi, Delhi, 110085

Swadeshi Bajaj @ Raja Garden

14,RajaGarden,NearRingRoadCrossing, Delhi, Delhi, 110015

Baggalink Bajaj @ Karol Bagh

Link Road Karol Bagh, Near Jhandewalan Metro Station, Central Ridge Reserve Forest, Delhi, Delhi, 110001

Baggalink Bajaj

On NH 8 Near Mahipalpur Vasant kunj Xing Delhi Gurgaon Road. New Delhi, Delhi, Delhi, 110076
Chetak Expert Review
So far, no electric two-wheeler has provided the perfect solution for e-mobility in India. On one hand, you have the Chinese (or near-as-makes-no-difference Chinese) products that, while functional and (somewhat) affordable, lack any kind of desirability. On the other, you have start-ups like Ather, who've nailed the aspects of technology, features and quality, but demand a big price premium that seems to keep a lot of regular scooter buyers away. And let's not forget, the sort of range and charging times any of these electrics offer are factors that don't seem to have the masses completely convinced. Bajaj, with its new electric Chetak, seems to be playing in the latter space, promising a premium electric scooter experience, but nothing extraordinary in terms of range, charging times, or tech-laden features. So does the Chetak deliver enough on that promise of premium, everyday electric mobility for the other factors to not be a real concern?
Design and Features
"Is this a new Vespa?" is a question a lot of on-lookers could ask you while astride this scooter, if it wasn't for the incredible legacy of the Chetak in India. This electric Chetak is a properly modernised version of that classic Italian design, whether it's the way the front apron flows into the floorboard, or the bulging full-metal side panels or even the single-sided suspension and swingarm which have both alloy wheels fully on display. We really like the modern touches which include the almost round LED headlight, the sleek indicators and the triangular mirrors. All these really contribute to the neo-retro design. But we especially like the curvy tail which continues to flow well past the seat, making the rear part of the seat almost float over the scooter.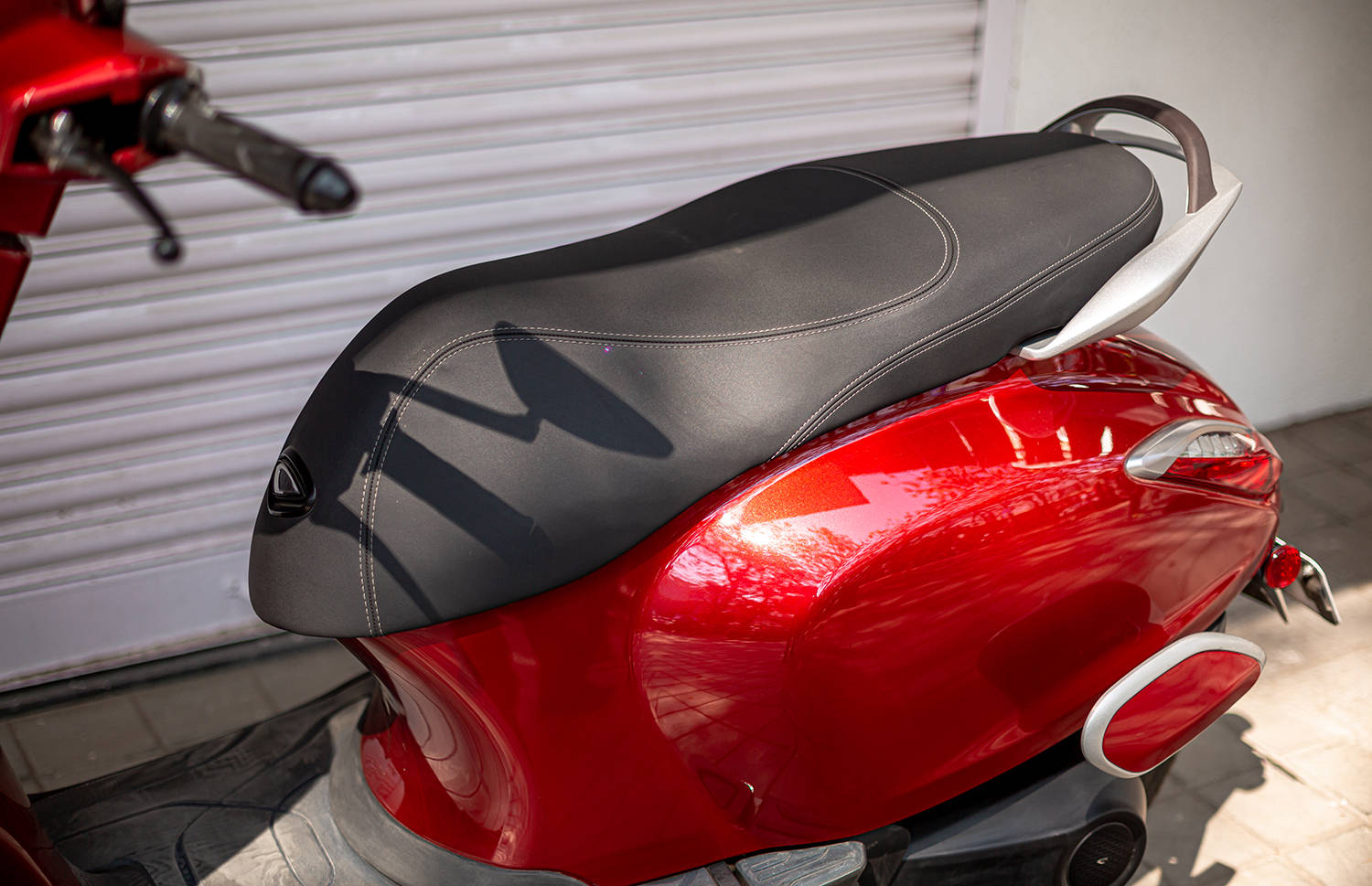 One thing that really stands out is the overall quality. The electric Chetak is an extremely well-made scooter - whether it's the body panels themselves, the seat material or even the paint quality - they all seem to far surpass pretty much every other scooter out there, not just electric ones. The switchgear especially is worth mentioning. The piano black finish and the tactility of the buttons really puts it in a different league. And then there are some other little details here too which feel shockingly good, details which other manufacturers often ignore. The pillion footpegs and footboard for one - extremely well crafted and they open and close softly. Heck, even the side stand fits flush inside the side bodywork and has a soft close hinge.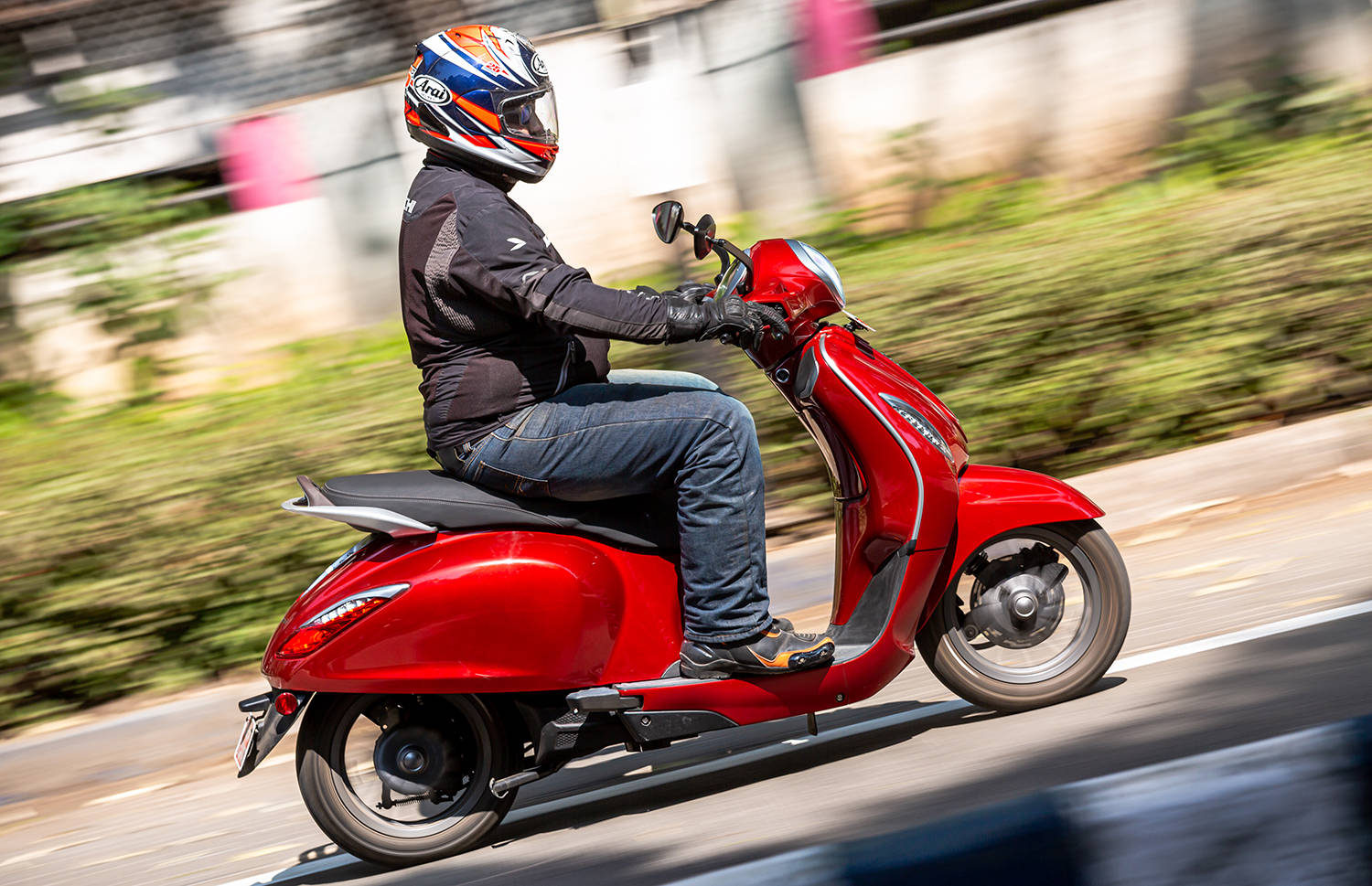 Engine and Performance
Before we rode the Chetak, most of us here at BikeDekho, and I'm sure a lot of others out there, had apprehensions at the top speed being limited to just 60kmph. Especially when we were told at the launch that this 4.0kW electric motor (that's peak power, sustained output is 3.8kW) when unrestricted can hit about 120kmph. Bajaj's justification for this is to keep the drain on the 3.0kWh Li-ion battery pack under check and ensure its longevity. After riding the scooter, our concerns have been laid to rest for the most part. The 16Nm of torque this electric motor puts out is enough to propel this scooter off the line at least as quickly as any regular 110cc scooter. And while riding on city roads, you'll never feel that 60kmph top speed limiting in any way. You can pass traffic with much aplomb by just twisting your right wrist.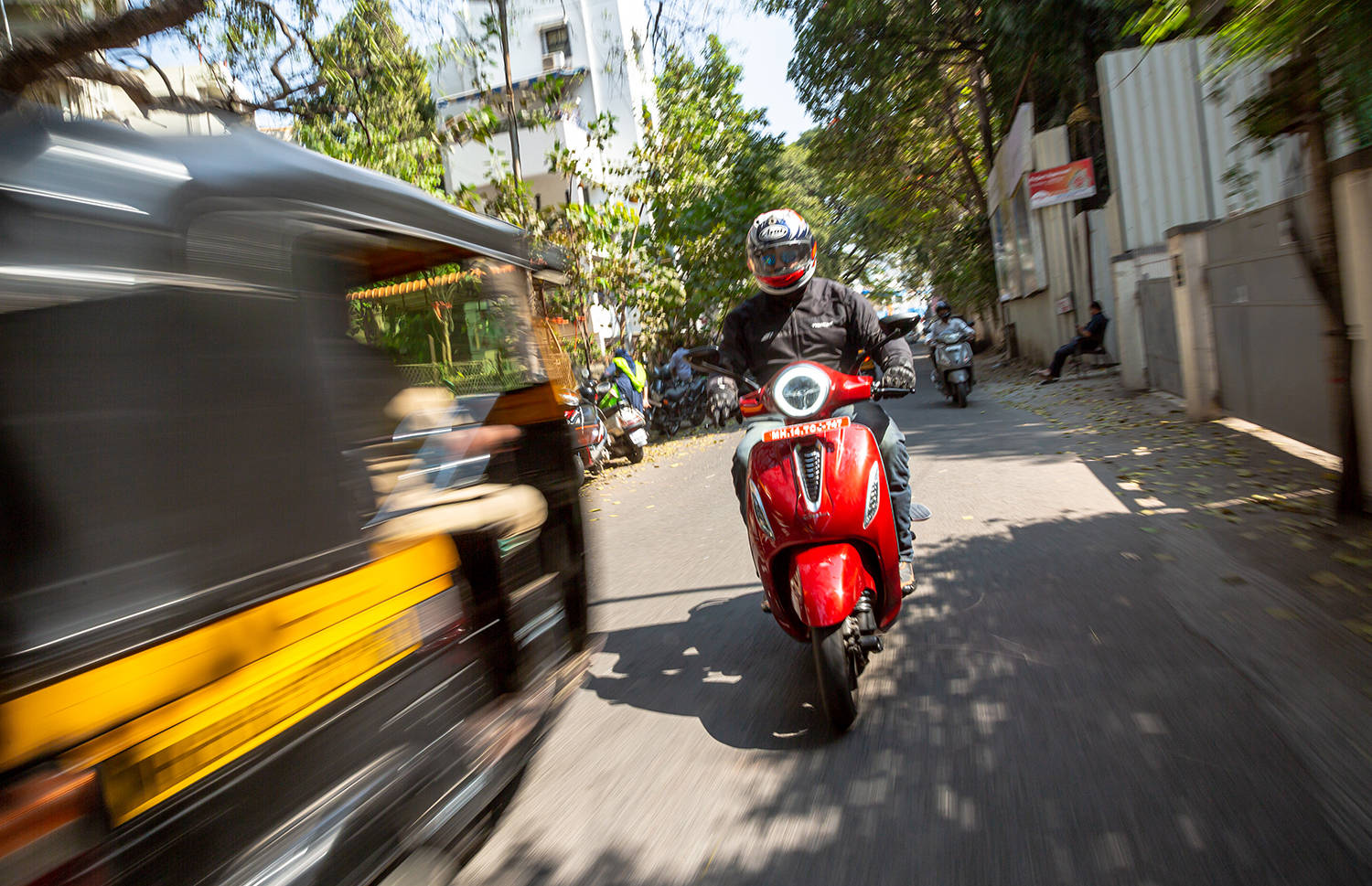 That brings us to one of our favourite feature - auto kick-down. Now the Chetak has two riding modes - Sport and Eco. Sport feels peppy and responsive, while Eco feels a little slow and easy-going. But you can effectively ride in Eco mode all the time because as soon as you open the throttle beyond a certain point, the Chetak switches to Sport mode to give you a burst of acceleration. Throttle back down, and it's back to Eco. This seamless mode-switching provides such a hassle-free riding experience that you never really have to be worried about what riding mode you're in. We really wish more electric scooters implemented such a feature. And speaking of riding modes, there's a Reverse mode as well, limited to 3kmph, which should help you park or unpark the Chetak on inclines.
Bajaj claims the longest range amongst any premium electric scooters - 95km in Eco mode and 85km in Sport. While we haven't had a chance to properly range-test the Chetak, the claim seems quite believable. In our short test ride, the battery went from 100 per cent state of charge (SoC) to 76 per cent after riding it for about 22km in Sport mode in city traffic.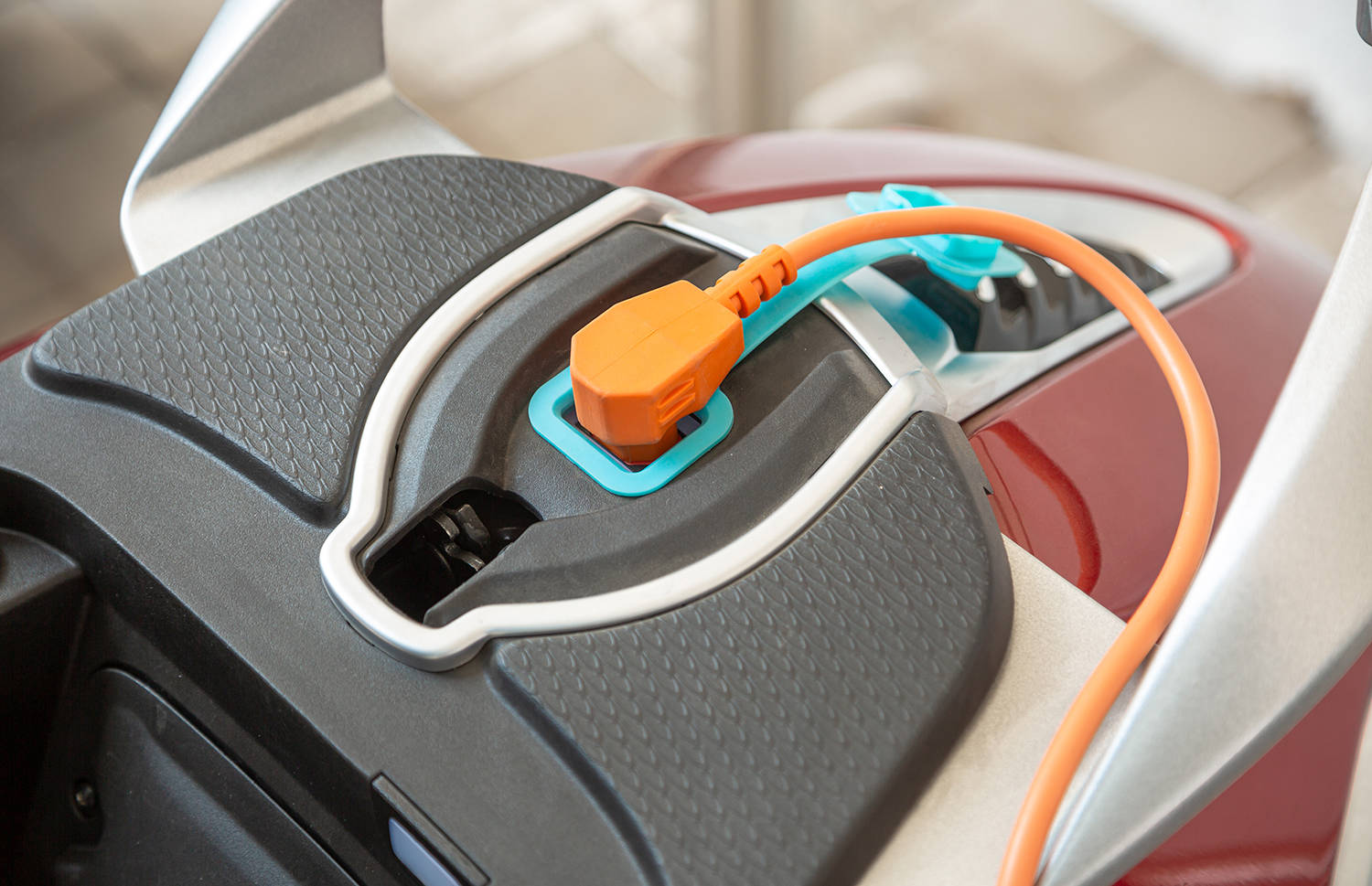 According to Bajaj, charging the battery from empty to 100 per cent happens in about 5 hours from a standard 5A electrical outlet. This charging time, coupled with the achievable range, should, in theory, be adequate for most urban commuters. But exploring this aspect more thoroughly will require a longer road test. Sadly, Bajaj doesn't offer fast-charging even as an option, again in a bid to increase battery longevity. One interesting thing here is the Chetak will go into limp-home mode when the SoC drops to 10 per cent, and will come to a stop when it's at 5 per cent. This ensures that you always have enough juice to operate the handlebar lock, open the apron storage or open the seat.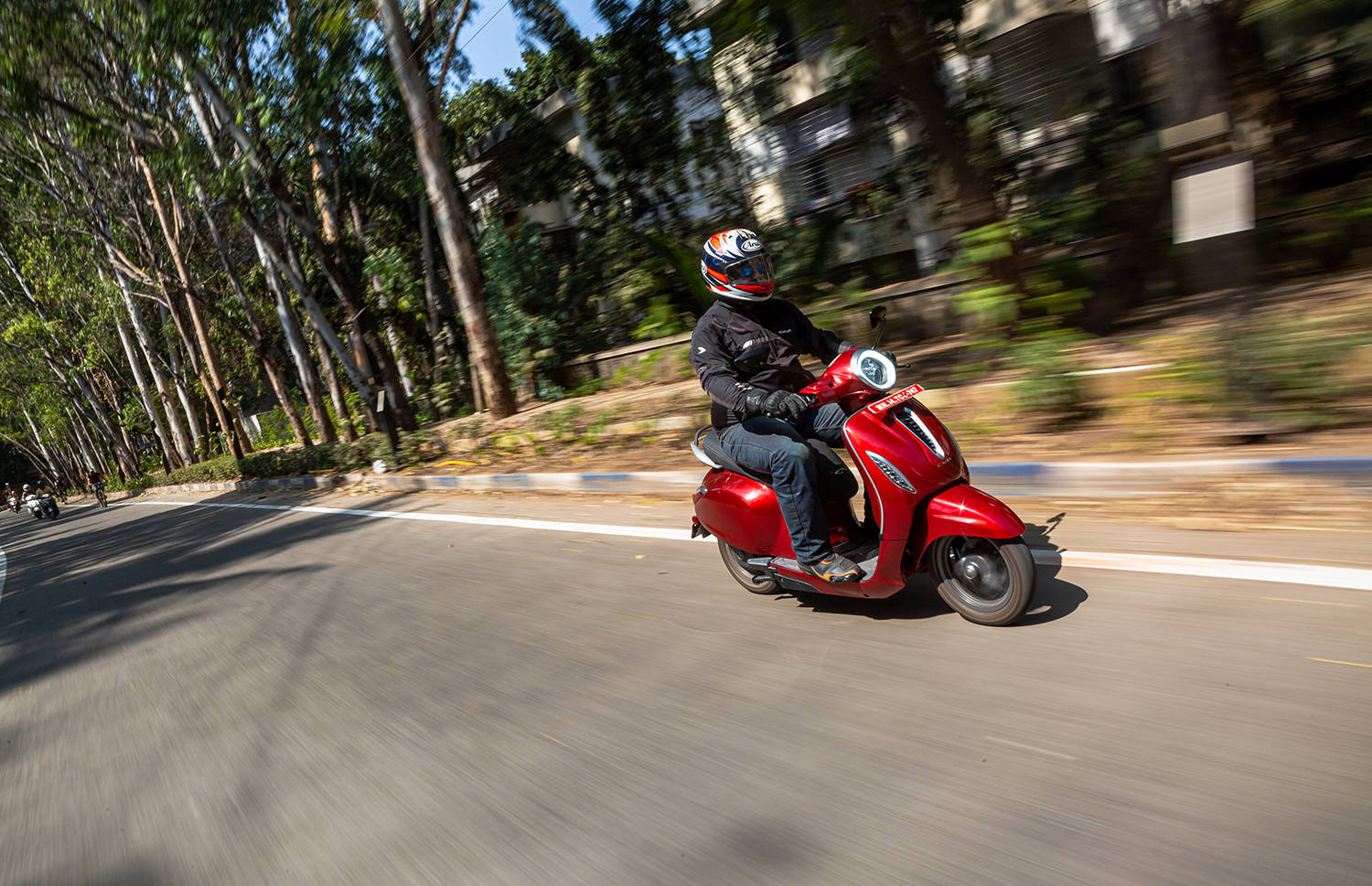 Braking and Handling
Riding the Chetak doesn't feel all that different from riding a conventional scooter, and that's a very good thing. And in some ways, it even feels better. The weight, for example, all 118kg of it is very well distributed, and the scooter feels light and flickable when moving through traffic. There's enough stability here too, thanks to the Chetak rolling on 12-inch wheels at both ends. As a city slicker, we really have no complaints here.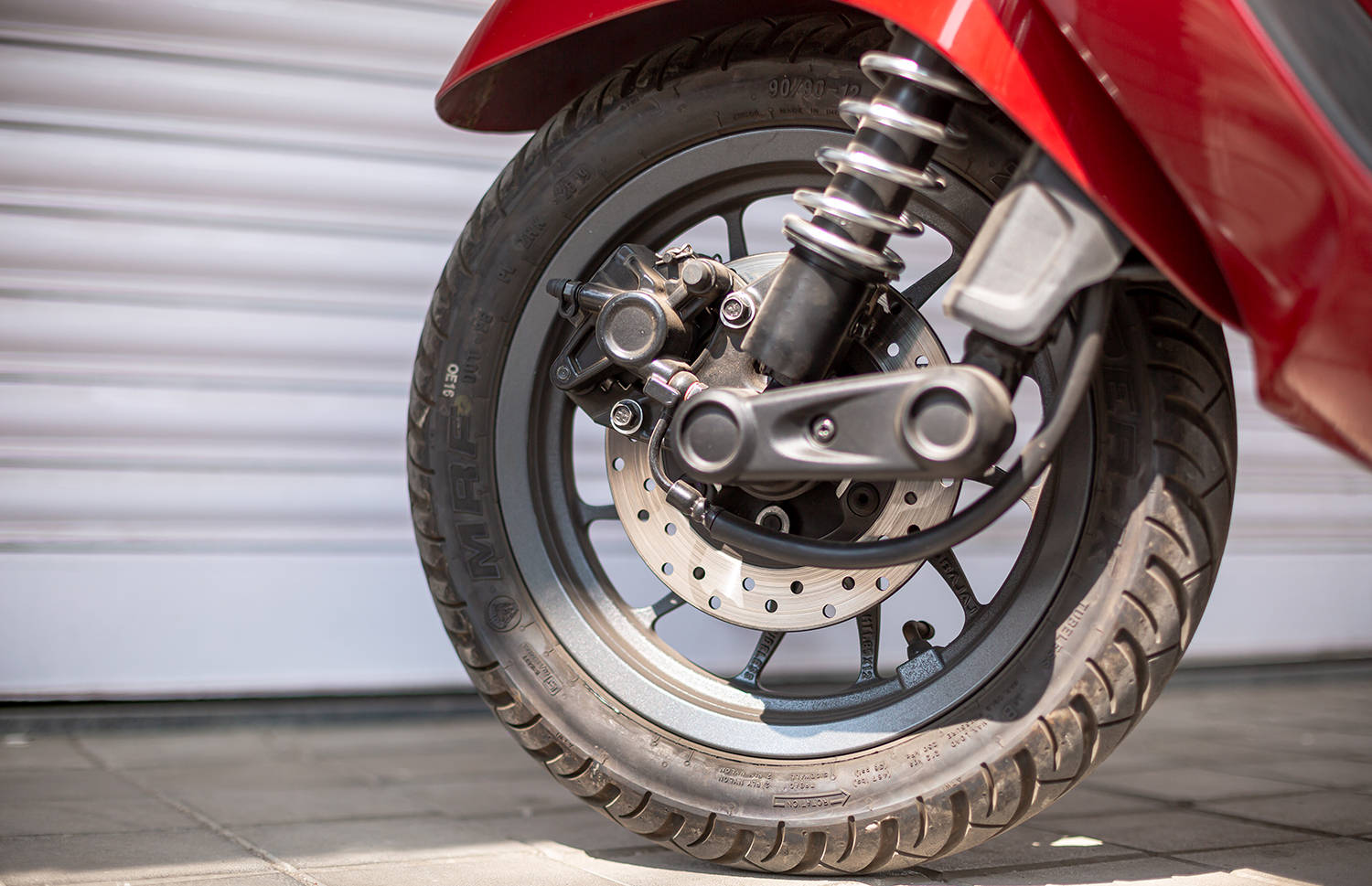 As for the ride quality, it's pretty ok for the most part. The rear suspension feels rather well damped over most surfaces. We didn't have too many expectations from the trailing link front suspension to be honest. But at slow speeds, this front suspension feels really pliant. It's when the speeds go up though that bumps on the road start thudding through to the handlebar. So as long as you slow down for speed breakers or potholes, you should do fine.
The brakes need special mention though. Go hard on the brakes, and the Chetak comes to a halt in a rather reassuring manner. Even the combined brake system works really well, with the front brake automatically engaging when you squeeze on the rear brake lever hard enough.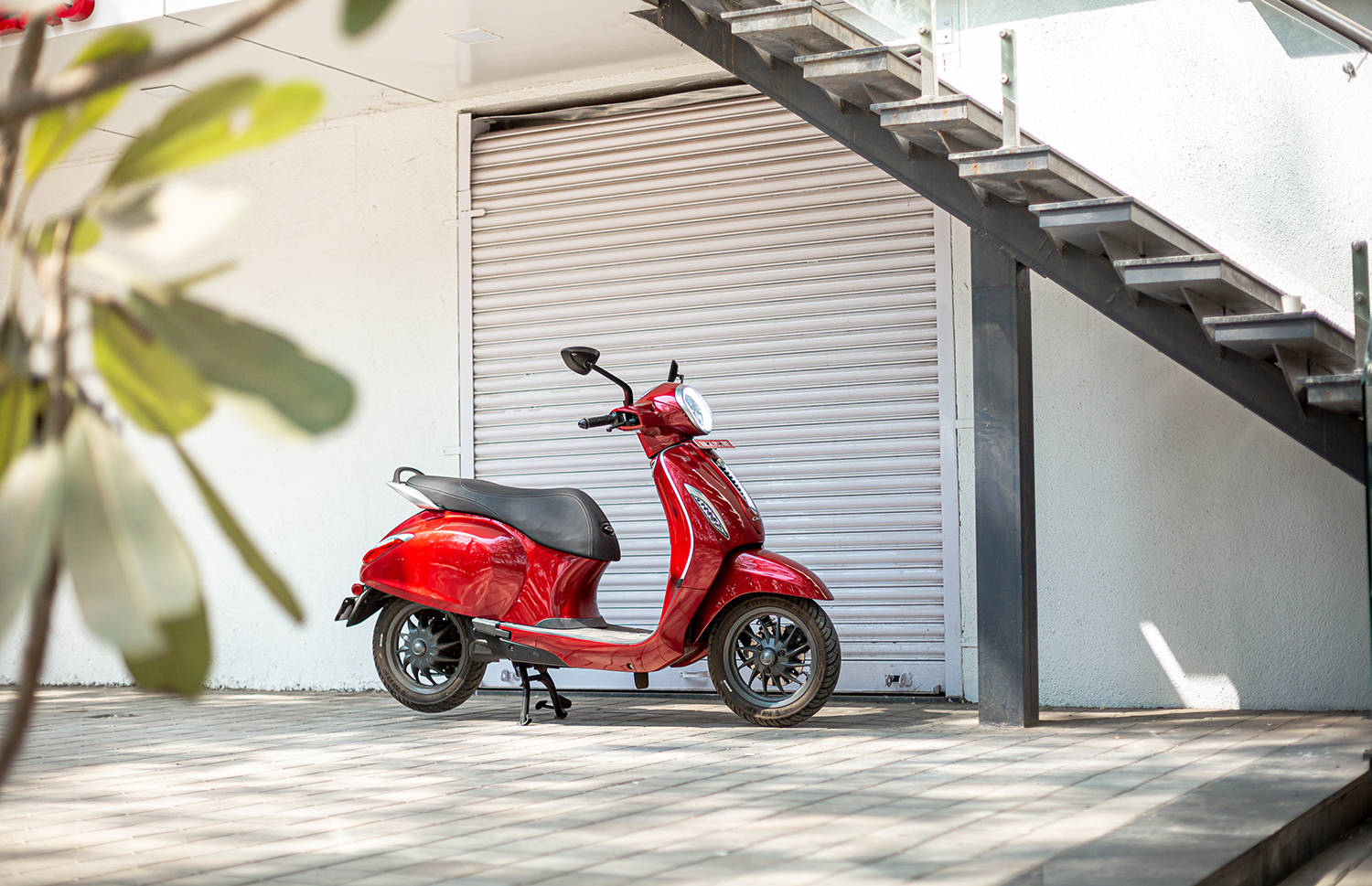 Safety and Features
The Chetak isn't really breaking the mould when it comes to features. In fact, when compared to its nearest competition, the Ather 450 and the TVS iQube Electric, it doesn't get a colour TFT instrument cluster. What it gets instead is a round negative LCD unit which is informative enough and classy looking. But the curved cover is a little too reflective, making it hard to read under bright sunlight.
There's smartphone connectivity using Bluetooth as well, which can help you locate your scooter, send you accident or theft alerts, and also pause and play music using a button on the left switchgear. We would've loved to see some navigation assistance as well, but since this is primarily an urban scooter, we don't think this is a feature most buyers would really miss, at least in smaller cities like Pune.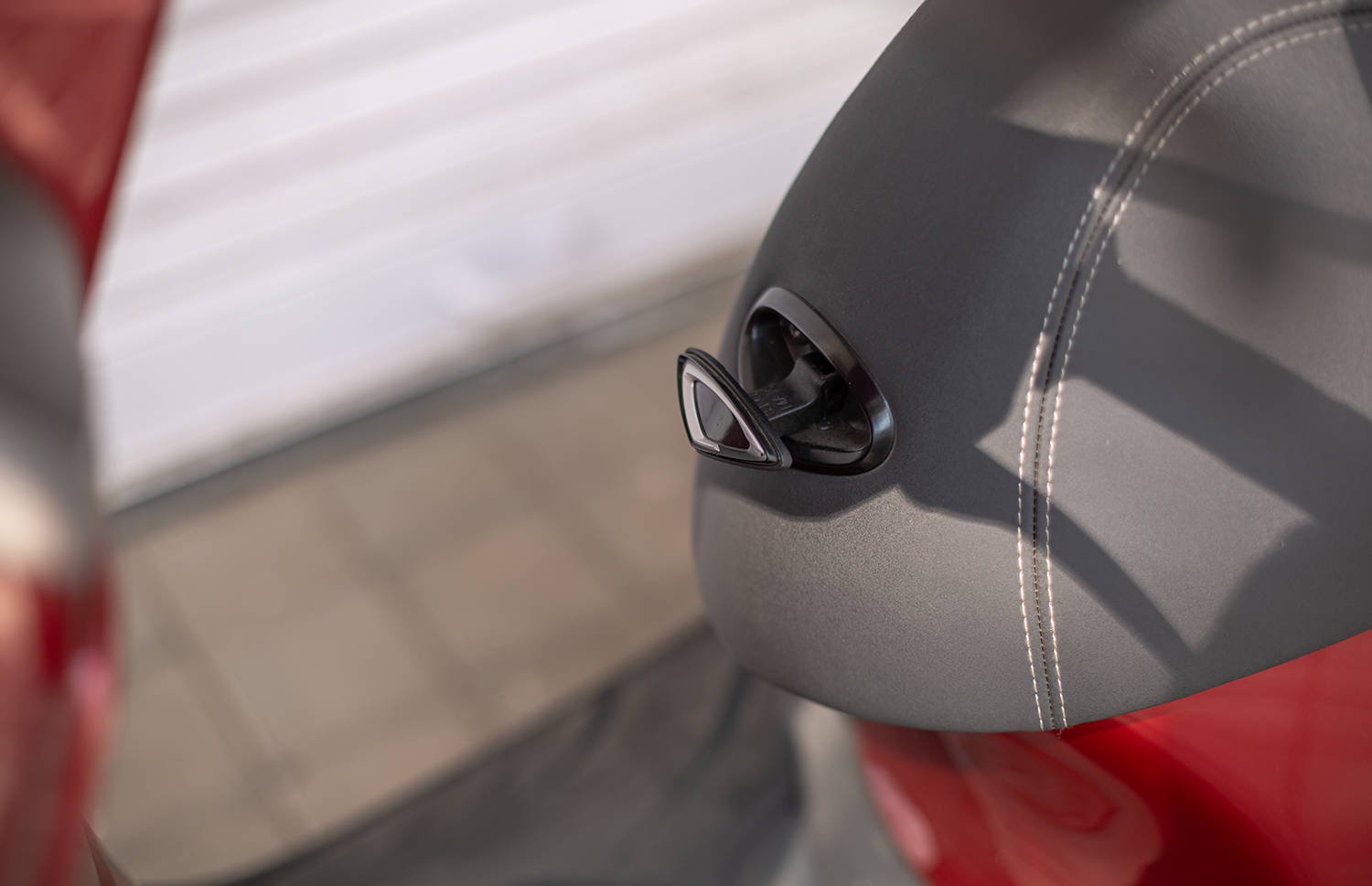 One small feature we liked is the small luggage hook at the front of the seat. Actually, more than the hook itself (that's pretty standard on most scooters), what we really enjoyed is that it fits flush into the seat behind a Chetak logo when not in use, and can be popped out just by pressing it.
The Chetak's keyless start feature truly is a key-free affair. As long as you have the key in close vicinity to the scooter, the handlebar can be locked or unlocked, and the scooter can be started or stopped by using a single button under the handlebar. Even the front apron storage and the seat can be opened by the push of a button (on the handlebar).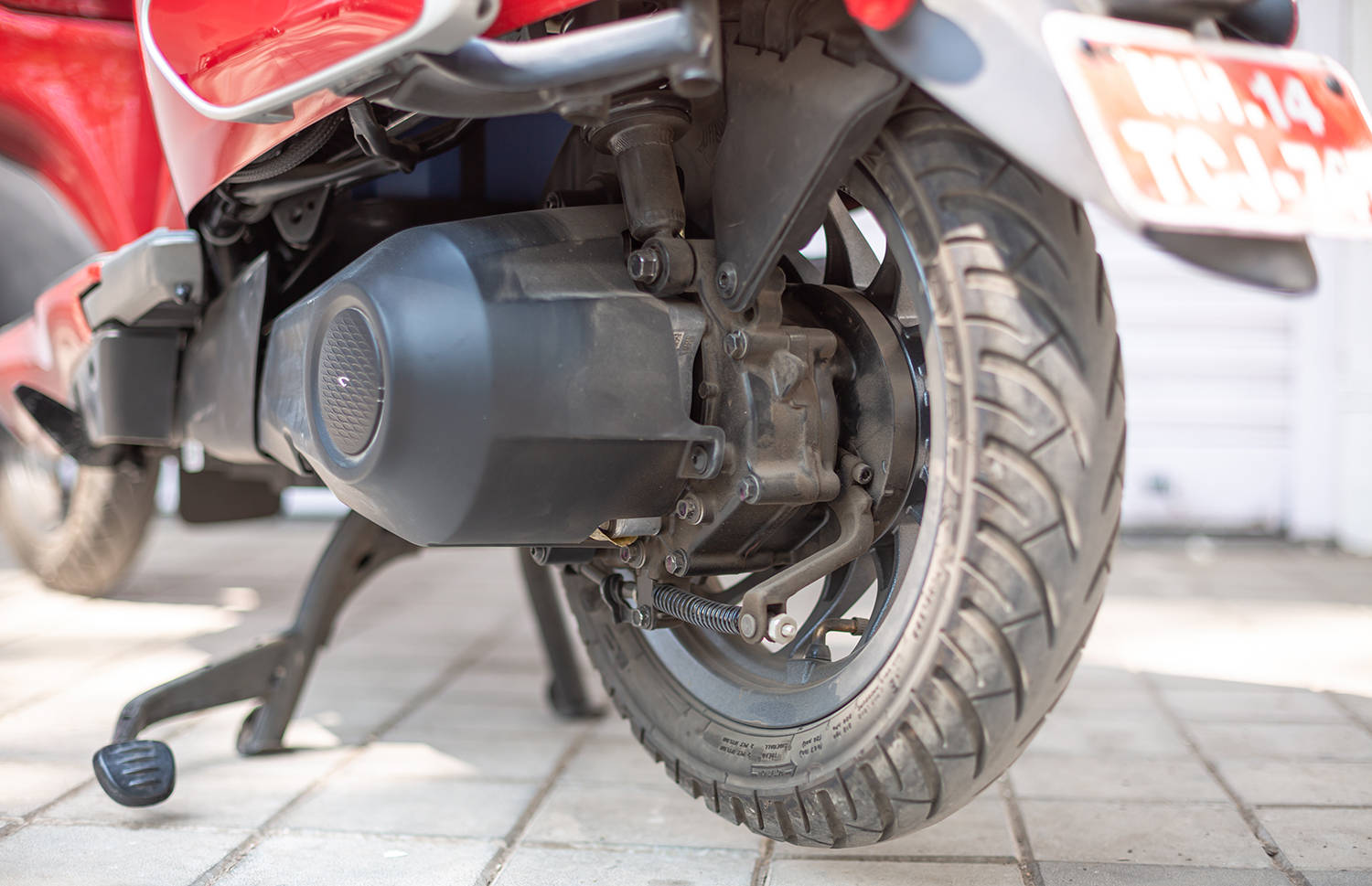 Bajaj Chetak User Reviews
All (107)
Looks (28)
Performance (26)
Comfort (24)
Price (16)
Experience (14)
Mileage (12)
LED (11)
More ...
Starting from the price range of about rs. 1.63 lakhs, the bajaj chetak, which has a very powerful engine of about 124.....Read More

The Bajaj Chetak is a fabulous scooter. It is an amazing two-wheeler that provides you with a driving range of about 90.....Read More

I value this model for the way that it gives fineness to the electric structure. The Bajaj Chetak Tastefulness' modern.....Read More

Bajaj Chetak is another meaning of electric vehicle as it is very strong and large as is the cost. There is one thing.....Read More

Whatever I've heard from friends is that it's the best scooter and offers good value for money. It has good mileage and.....Read More

View All Bajaj Chetak Reviews
Recommended articles for Chetak buyers
Chetak Videos
Bajaj Chetak has 13 videos of its first drive review, detailed Hindi review, test drive experience, upcoming bike & scooters, new launches info review, features, specs, and more. Watch our Latest video of Bajaj Chetak to know the price, features & more.
Best Electric Scooters Of India - Who Promises The Most Range, Performance & Features?

Jun 27, 2023 | 19734 Views

Upcoming Two-wheeler Launches In March | TVS Apache RTR 310, iQube ST, Honda 100cc Commuter & More

Mar 20, 2023 | 23629 Views

Upcoming Two-wheelers: March 2023 | TVS, Bajaj, Honda, Royal Enfield & More… | BikeDekho

Mar 09, 2023 | 33388 Views

Electric Scooters' Day Out | A Weekend Ride On Ola S1 Pro, Ather 450X, TVS iQube S And Bajaj Chetak

Jan 13, 2023 | 30882 Views

Bajaj Chetak Road Test Review || Too Little For Too Much Money? | Range, Performance, Pricing & More

Nov 04, 2022 | 9344 Views

Questions And Answers
Does Bajaj Chetak need a license?
Yes, it is required to have a driving license to drive Bajaj Chetak.
What is the range offered by Bajaj Chetak on a full charge?
Bajaj Chetak offers range of 108 km/charge.
How much time Bajaj Chetak will take to charge?
Bajaj Chetak will take total 5 Hours to charge from 0-100 percent.
What is the top speed of Bajaj Chetak?
Top speed of Bajaj Chetak is 63 km/hr.
What is the battery capacity of Bajaj Chetak?
Battery Capacity of Bajaj Chetak is 3.04 Kwh.
What is the weight of Bajaj Chetak?
The weight of Bajaj Chetak is 133 kg.
What is the Torque of Bajaj Chetak?
The torque available on Bajaj Chetak is 16.2 Nm @ 1400 rpm.
Found what you were looking for?
More Scooter Options to Consider
*Ex-showroom price
×
We need your city to customize your experience