Harley-Davidson 350: What Will It Look Like?
Published On Jun 22, 2019 By Praveen M. for Harley Davidson 350
Here's our analysis of what Harley's upcoming entry-level motorcycle could look like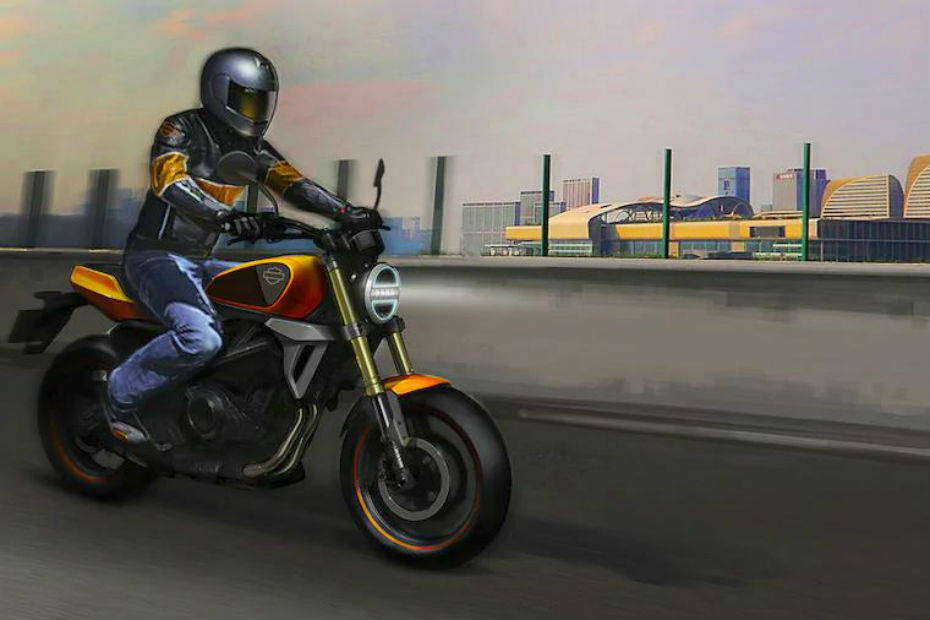 Millennials aren't buying motorcycles, at least big ones. Around the world, bike makers have felt this pinch as they've struggled to get younger folk on two wheels, and the resultant decline in global motorcycle sales have hit companies like Harley-Davidson the most. So it was no wonder that in 2018, the American bike maker announced plans to diversify its product lineup. Now the brand has announced that as a part of its expansion plans, it has partnered up with China-based Qianjiang Motorcycle Company to make an affordable entry-level Harley for developing markets in Asia. The bike is scheduled to go on sale by the end of 2020 in China first, followed by other markets, including India as well. Naturally, it led us to wonder what the end product could look like. So here's what we think.
Will it be a naked?

The brand revealed a rendering of the bike in question, and it looks roughly like a scaled-down version of the manic Harley-Davidson XR1200. A closer look reveals the powertrain and underpinnings have been borrowed from the Benelli 302S. The engine seems to be a parallel twin, so the probability of a single-cylinder can be ruled out, at least for now. Moreover, a small-capacity single-cylinder bike just wouldn't gel well with Harley's tradition of making big, burly twin-cylinder motorcycles.
But why Benelli, though? Well, Harley-Davidson's new partner, Qianjiang also owns the Benelli brand. So, in order the get the ball rolling quickly with their first small capacity motorcycle, it makes sense for Harley to borrow one of the bikes Qianjiang already makes and tinker it to suit the needs of customers who want Harley's quintessential "American freedom". This potential 'rebadge' is also considering the fact that Harley has not been averse to the idea of basing its bikes on products from other brands. Case in point is the Harley-Davidson Hummer from the 1950s which is based on the German bike, DKW RT 125. However, it wasn't a traditional 'rebadge' in the sense because the German motorcycle's engineering drawings were surrendered to the Allies as a part of war reparations by the Axis Powers after World War II.

Harley did mention that the upcoming bike will have a 338cc motor, which leads us to believe that the upcoming bike could very well use a re-bored version of the 300cc parallel-twin liquid-cooled engine. In the Benelli, this motor produces 38PS at 11,000rpm and 25.6Nm at 9750rpm. These figures are good enough for a sub-400cc parallel-twin engine. And a derivation of this could really suit the character of the naked Harley. Also, we do feel that Harley-Davidson would want to aim for this engine capacity as it would make this new bike's nomenclature similar to their existing motorcycles, such as the 883.

Additionally, the Harley-Davidson XR1200 was a pretty popular motorcycle in its heyday. So, a scaled-down version of this bike will have a connect with potential Harley buyers too. The sub-400cc naked segment is also witnessing a major boom in the recent past because of its inherent versatility compared to other focussed motorcycle genres. So overall, it makes perfect business sense for Harley to tap into the potential of this particular segment.
What about a small-capacity cruiser though?

For representation
Harley-Davidson has been known for sticking to its traditional cruiser roots for the longest time. So if Harley follows goes down the same route again, a possibility of a Royal Enfield Thunderbird-like cruiser feels very likely. However, for this, Harley will have to tweak the Benelli 302S' platform extensively and that will take time and resources.
While Harley may not bring a cruiser immediately, we believe it will be in the offing for the future. A spin-off of sorts from its first naked motorcycle, if you may. Expect it to have the trademark monkey 'bars, laidback stance and a very highway-friendly demeanour. But we wouldn't put it past Harley-Davidson to develop a small capacity V-Twin motor for this sort of motorcycle, going forward.
When will the bike come to India and how much would it cost?

For representation
We believe Harley will bring in the 338cc naked in 2021 in India. As for the pricing, expect it to cost somewhere around Rs 3.5 lakh (ex-showroom) if it's a CKD (Completely Knocked Down) product. That said, Harley does have a good network of suppliers and distributors, thanks to the Street 750. So if Harley sets up the base to heavily localise the upcoming low-capacity bike by 2021, there's a good chance that it would be priced around Rs 3 lakh (ex-showroom), just like the heavily-localised Kawasaki Ninja 300.
This price bracket would make it significantly more affordable than the Street 750, while at the same time maintain the premium quotient of a lifestyle brand that Harley has always stood for. It will also be an avenue for younger, more budget-conscious riders to jump on to the Harley-Davidson bandwagon.