Royal Enfield Interceptor 650: Road Test Review
Published On Nov 14, 2018 By Jehan Adil Darukhanawala for Royal Enfield Interceptor 650
Does a big multi-cylinder motorcycle need to be expensive? Royal Enfield does not think so
Large capacity motorcycles have been out of the reach of the common junta for obvious financial reasons. Yet every single one of us would like to own them. The cheapest big motorcycle still retails at roughly five lakh rupees and that is still a bit of a stretch for most. However, Royal Enfield is of the mindset that why can't you have a bike that meets the aspirations of all and is easy on the pocket. Meet the Royal Enfield Interceptor 650.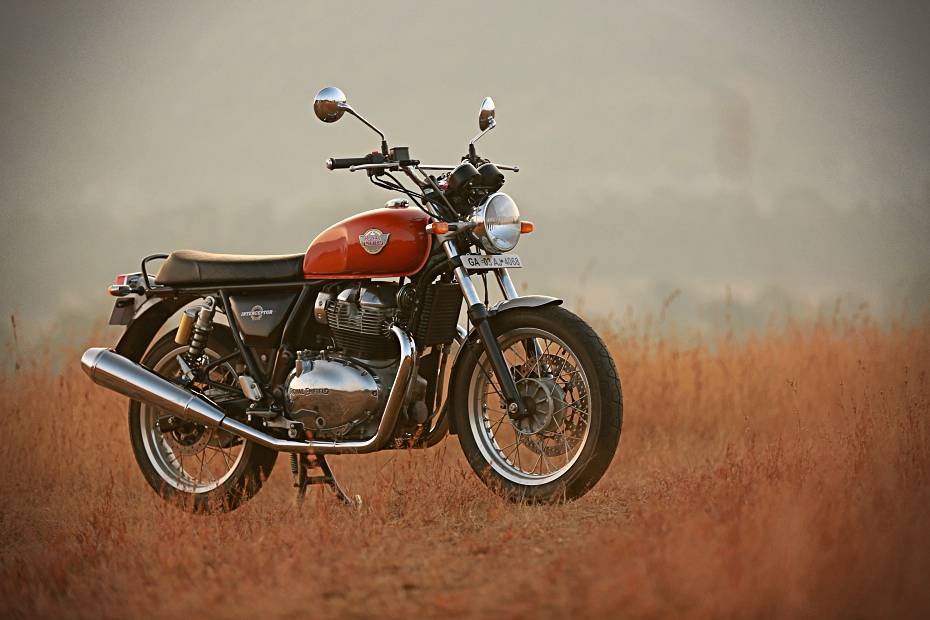 Looks
It looks unmistakably British. There is a sense of playing safe with the design of the Interceptor, as one could very well confuse it with the Triumph Bonneville T100. That said, Enfield fans will find the rounded fuel tank quite pleasing to the eye. Also, it stays true to the original 1970's Interceptor 70's Californian surfer design. And to bring out the whole beachy vibe, Royal Enfield has stuck to warmer colour shades for the Interceptor 650 of which I love the Baker Express as well as the photographed Orange Candy shade. Paint quality is of the highest level with immaculate welds to seal the fuel tank lip - enough to convert even the most ardent of RE naysayers.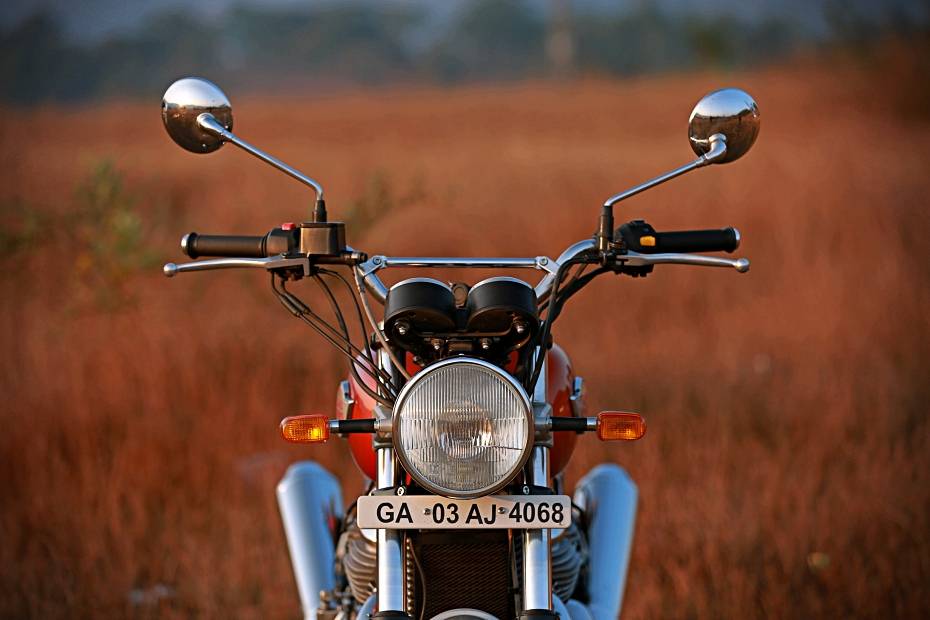 The round headlight and the instrument cluster, though, are a bit too old school. For starters, the headlight could do with a clear lens. It does a fine job of lighting up the road as we experienced on our ride down to Goa, despite leaving our HQ in Pune at an ungodly 0400 hours. Nitpicking here, but I feel the spread could have been better. And the stock setting on the headlight beam was a little too high on our test bike.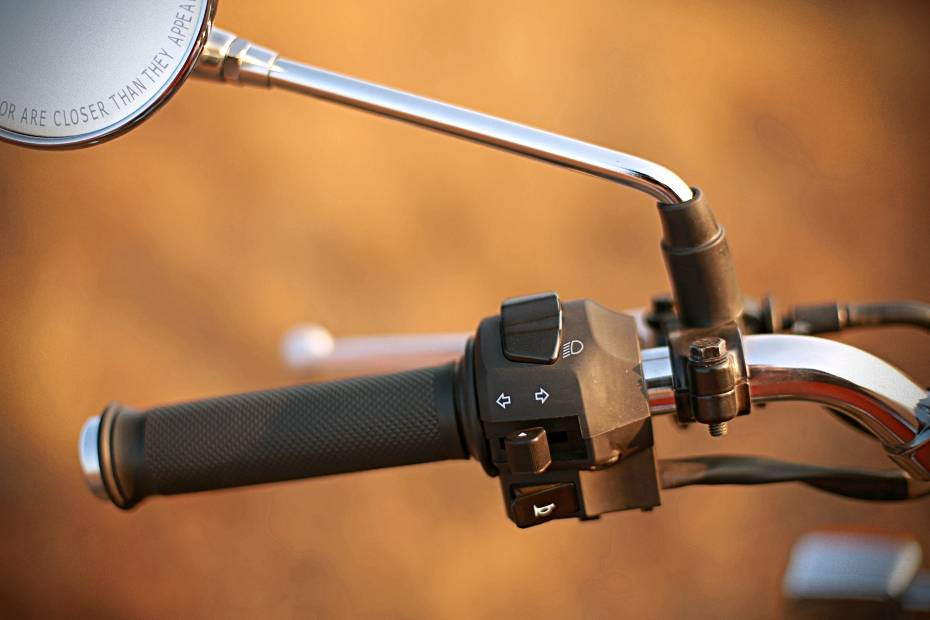 The switchgear is not too premium but it does its job perfectly. The plain jane twin round dials seem something fit for the 1990s. While it displays the odo and has two tripmeters, it lacks sophistication. We would have definitely loved to see a gear position indicator as well as distance to empty calculator.
The retro pattern tread of the Pirelli Phantom Sportcomp tyres suit the bike's theme with 18-inch spoke rims conforming with the retro styling. Even the seat gets diamond-pattern stitching like the motorcycles of yore. Clearly, Royal Enfield has stretched the old school charm quite a bit. But in the end, it works in its favour.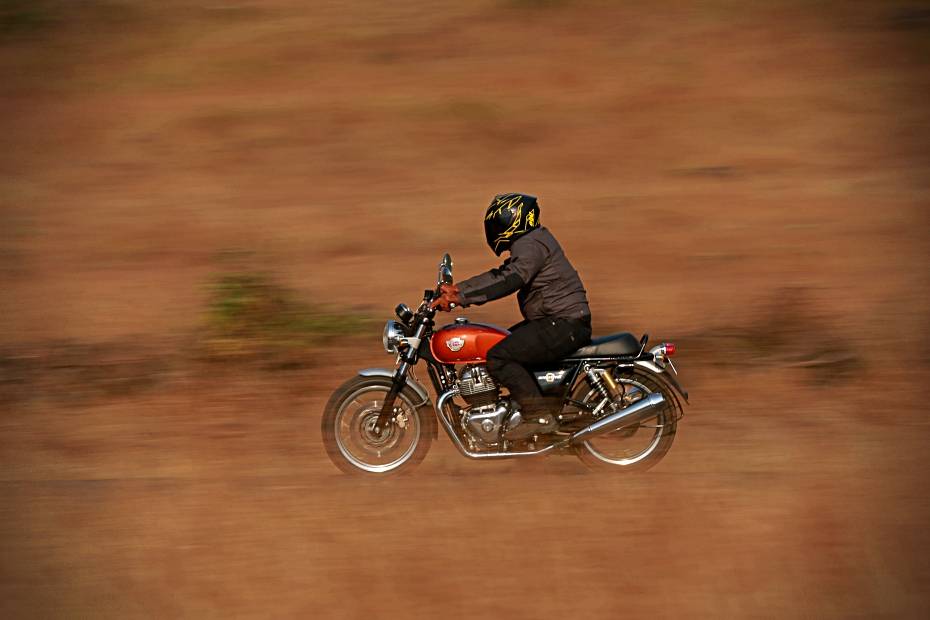 Ergonomics
With just a slight hint of forward arching, the riding posture of the Interceptor is what will make Royal Enfield loyalists happy. The bars are wide and you do not have to stretch much to get to them. However, shorter riders may just find it a bit too much. The saddle height of 804mm is favourable for most riders but they will need to get used to the slightly outward footpegs. At crawling speeds or while slowing down with your feet down, the footpegs tend to hit your ankles and this could be a nuisance the first time around. Although slightly rear set, they feel quite natural, a big boon for city as well as highway riding.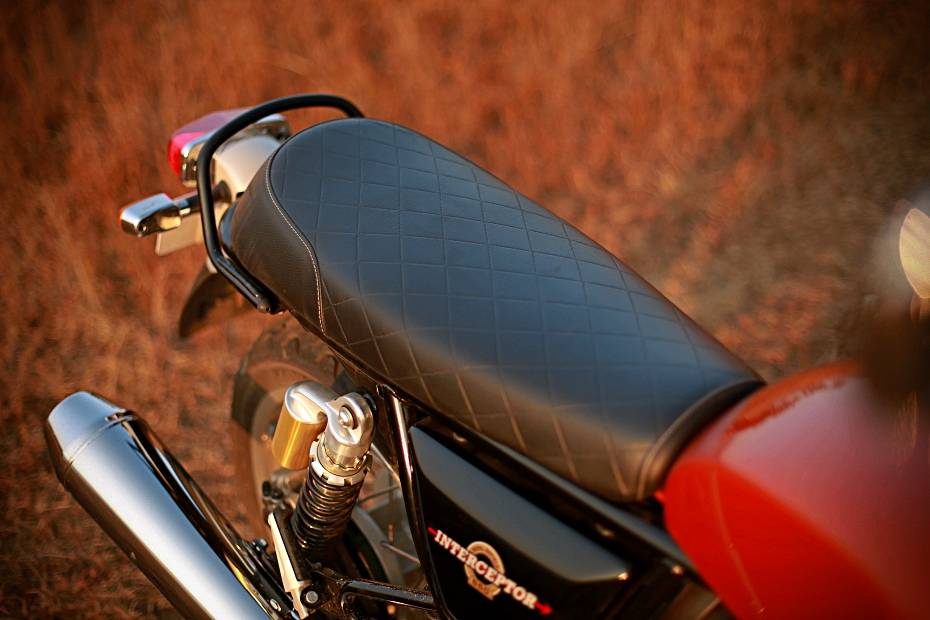 The seat padding is extremely soft and narrow. While you will not feel the effects during city commute, it does take a bit of a toll on you on the highway. It had me rocking forward and back, especially during twisty bits of our journey. Royal Enfield offers an optional touring seat with a thicker foam setup which should ideally solve this issue.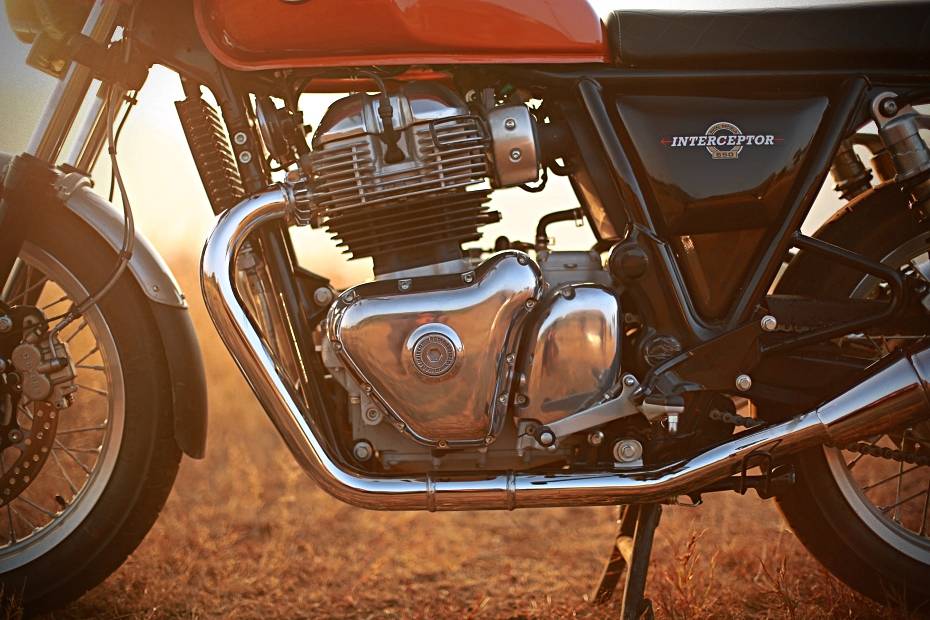 Engine and performance
Yet another concept that is 'Oh So British' is the new parallel-twin motor. RE did muddle around when it came to deciding what was the best cubic capacity as well as the setup to go forward with. But it finally settled for a 648cc parallel-twin motor with a 270-degree crank which gave them the ideal starting point for this new generation of Enfields. Output figures of 47.65PS at 7250rpm and 53Nm at 5250rpm aren't dazzling to say the least, but it will delight those who are upgrading from Enfield's singles, especially the 350s. A 4-valve head helps the engine burn fuel more efficiently while a counterbalance shaft is also thrown into the mix to reduce vibrations. And this has paid dividends, as there are no vibrations to speak of; not even a hint of buzziness at any rpm whatsoever.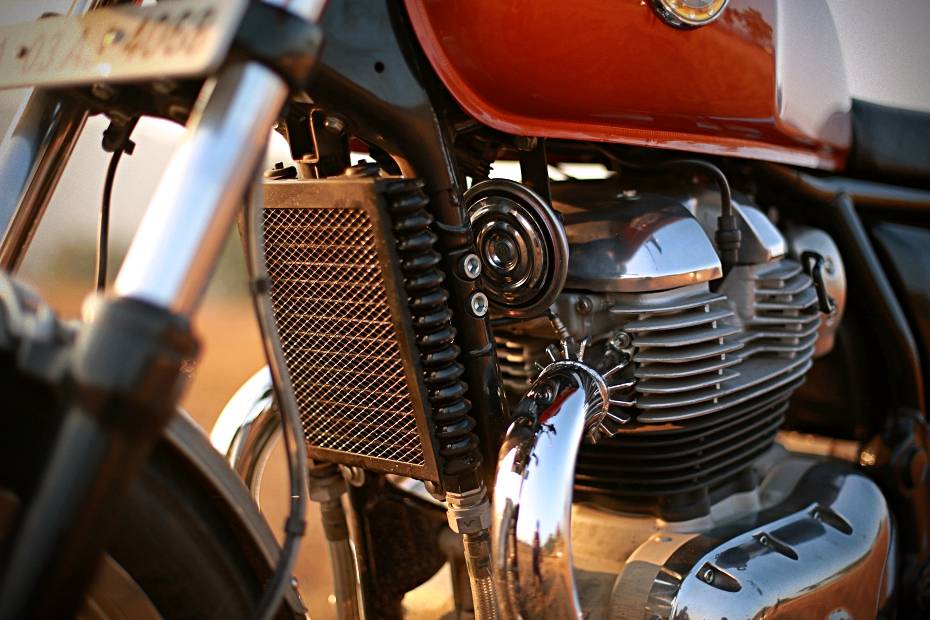 For the first time in Royal Enfield's history, you get a six-speed transmission with a slip-and-assist clutch. Shift action is extremely smooth with one hardly requiring the clutch for quick upshifts. Needless to say, clutch action is light and there's no strain on your left hand even in bumper-to-bumper traffic.
Considering it weighs 200 plus kilos with fuel on board, the performance figures are pretty impressive. 0-60kmph takes 2.87 seconds, while the 0-100kmph dash is done in 6.54 seconds. To put that in perspective, it's actually 0.1 second quicker to sixty and 0.4 seconds slower to hundred than the more torquey Harley-Davidson Street 750. Nearly 80 per cent of the Interceptor's torque is available from 2500rpm and begins to taper off at around the 6000rpm mark. Therefore, it does manage impressive in-gear acceleration figures. The 30-70kmph run in third gear is completed in 3.9 seconds, while it takes 4.85 seconds for the 40-80kmph run in fourth gear. Here's where the Street 750 has a distinct edge. However, when compared to something like the performance-oriented KTM 390 Duke, the Interceptor is just a whisker away.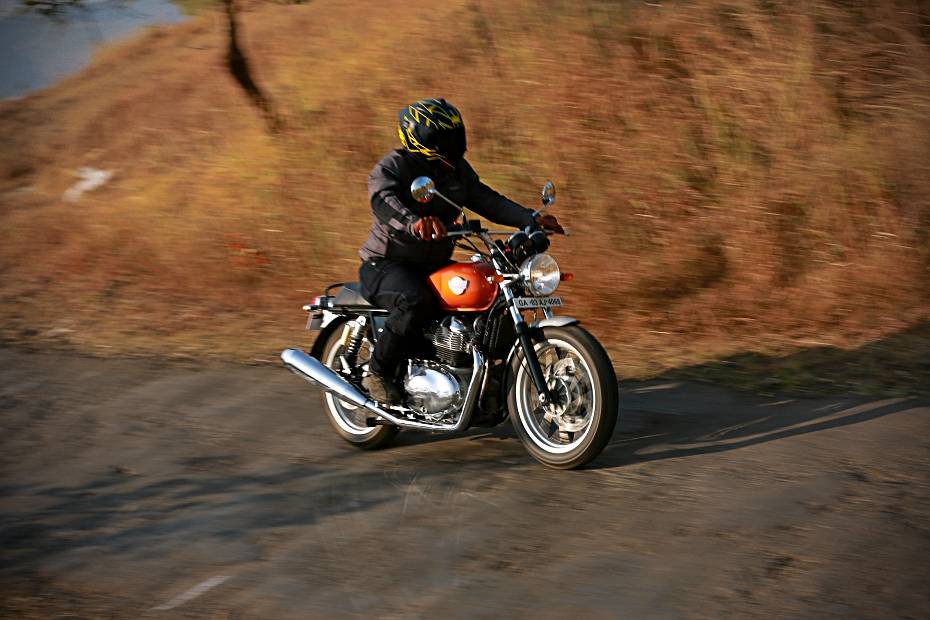 More importantly, it does not feel stressed at low revs, unlike the 390 Duke, on which you need to continuously work the gearbox. You can potter around town doing speeds as low as 30kmph in fourth gear without the engine bogging down.
It shines on the highway too. Slot the bike into sixth gear and you are able to pull off from speeds as low as 50kmph, all the way up to 170kmph. Yes, it cracks the ton (British term for doing 100mph, roughly equating to 160kmph) but you will need to brave the strong windblast that you will experience due to the upright seating position and lack of aerodynamics. We found that cruising at around 120kmph, with the revs hovering around the 5k mark, the Interceptor sings a sweet tune.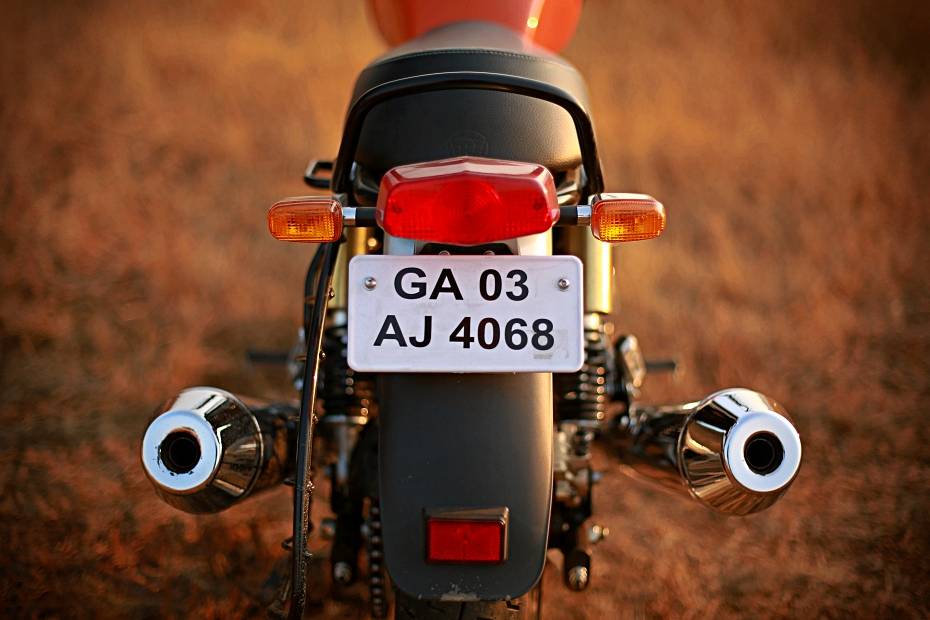 Speaking of singing a sweet tune, the distinct rumble of a British twin is eloquently delivered through the twin exhaust. Unlike the Bonnies, Enfield's exhaust isn't a two-into-one-into-two, but a direct two-into-two configuration. This just gives a deeper rumble which is really appealing. But the end cans which are spread far too wide out do look just a little bit odd.
A fuel efficiency figure of 26kmpl in both city and highway is fairly decent for a motorcycle of its size and cubic capacity. With a range of close to 350km, thanks to the 13.7-litre fuel tank, the Interceptor will be more than happy to go cross country.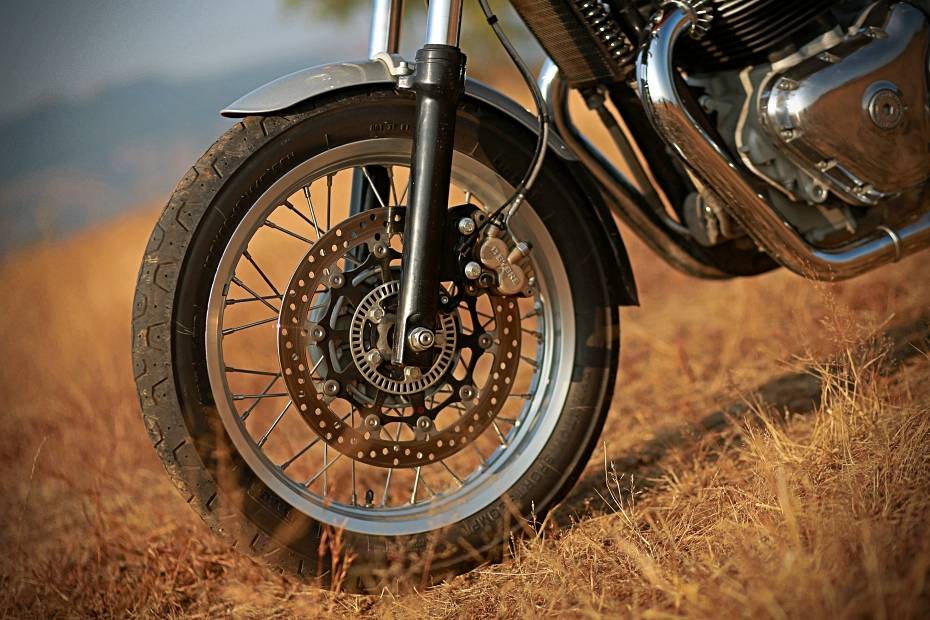 What surprised us greatly are the brakes. In terms of components, it gets a 320mm front disc and a 240mm one at the back with Bybre dual-piston calipers and double-H sintered braking pads at both ends. Steel braided lines and ABS is standard. While we would have liked a little more lever feedback, the bite as well as progression is phenomenal. You can feel the ABS kicking in but it doesn't deter you from grabbing on to the lever when braking hard. The result? It takes 47.21m to come to a dead halt from hundred - extremely impressive considering it weighs well over 200kg.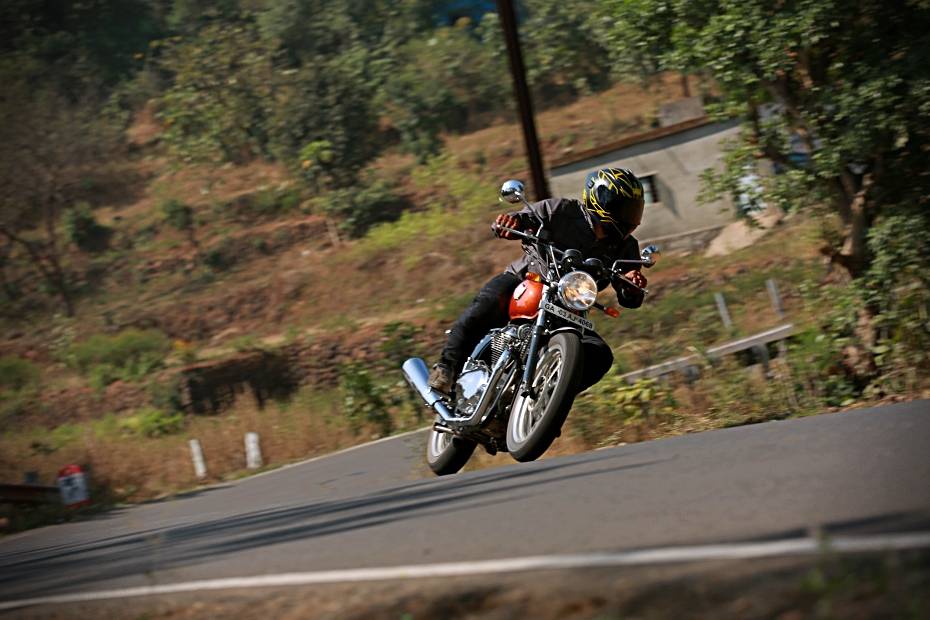 Ride and handling
There is no doubt that Royal Enfield had a brilliant starting point for their twins, as the Continental GT 535's chassis was perhaps their most capable one. To accommodate this new engine, they have had to rework it a fair bit and it is safe to say that the frame is essentially all new. The double cradle in which the engine sits, though, is bolted on and not welded, for ease of servicing. Several tubular cross-sections have seen thickness revisions to improve rigidity as well as flex.
The steering geometry puts several performance motorcycles to shame as it boasts of a 24-degree rake and trail of 106mm. However, it does have a long(ish) wheelbase of 1400mm. It does allow you to tip into corners with ease while still maintaining a good amount of mid-corner stability.

The suspension units are supplied by Gabriel. They are set up on the softer side as they really need to handle a variety of road condition. Both the 41mm conventional fork up front and the rear dual piggyback shocks does soak up bumps nicely when going over small broken sections of tarmac. The rear shocks get six-step preload adjustability with the stock setting on the Interceptor set to the softest. The suspension tended to bottom out when going over sharp bumps, especially with my large frame on board. I would have liked the rebound to be a bit slower as well. So, on the twisties, the Interceptor is happier when you are chasing wide sweepers, rather than quick directional changes.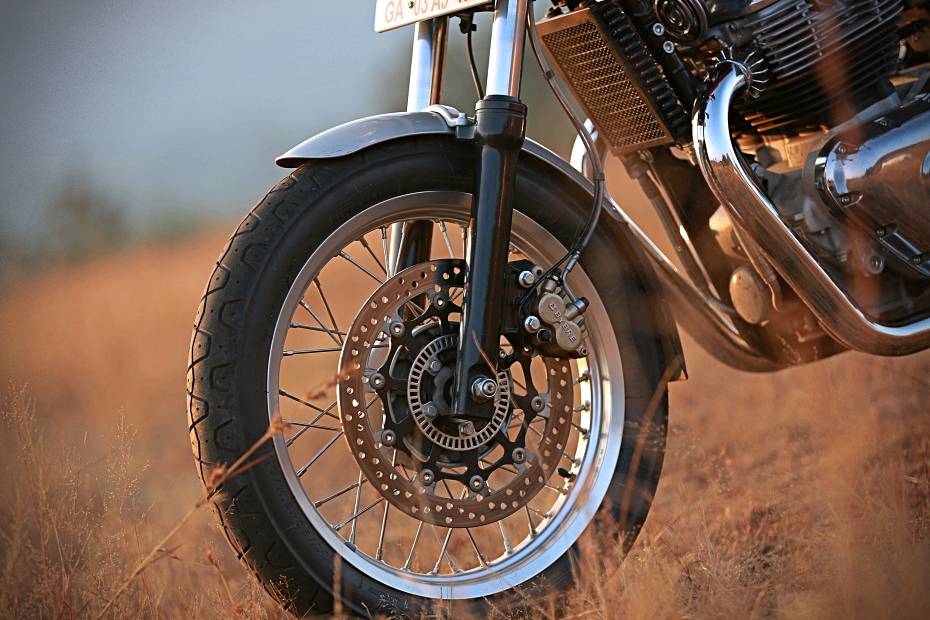 The intention to run 18-inch wheels was right there from the inception of the 650 twins. This was addressed by Royal Enfield by working alongside Pirelli to tune their Phantom SportComp tyres specifically for the Twins. They aren't the grippiest of the lot, but they do hold their own unless pushed really hard. While the tyres are of the tubeless type, they are running tubes inside as the rims do not support tubeless mounting.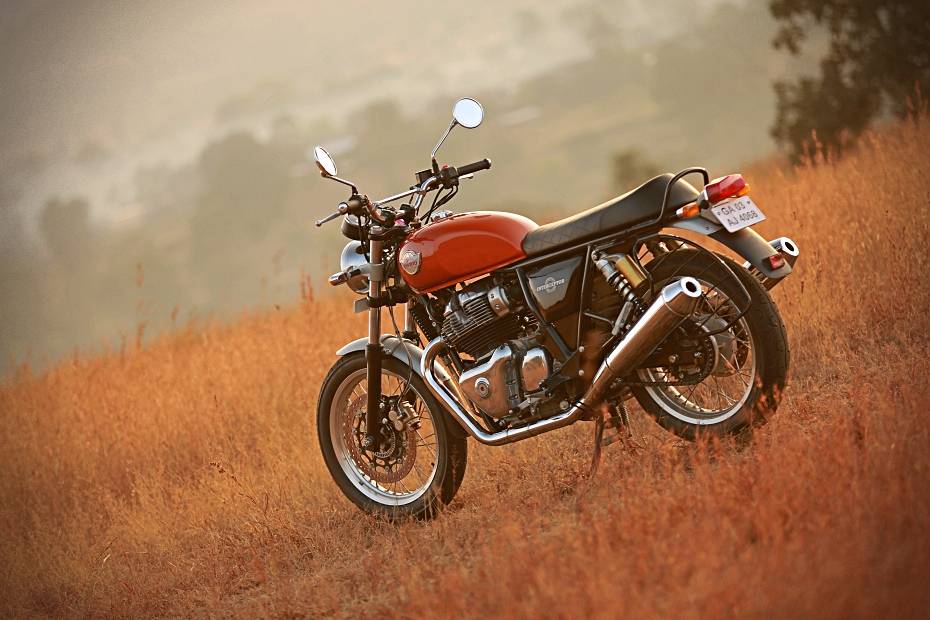 Verdict
Royal Enfield has priced the Interceptor 650 at RS 2.5 lakh (ex-showroom) and the Continental GT 650 at Rs 2.65 lakh (ex-showroom). With this pricing, Royal Enfield has delivered an exceptional value-for-money product like none other. Small issues, like no clear lens for the headlight or wide exhaust layout, or the narrow and soft seat, can be overlooked or fine tuned. This is virtually half the price of the Harley Street 750 and it sits precariously close to the KTM 390 Duke, the Austrian being just four grand cheaper. Hence, with this pricing strategy, Royal Enfield is giving you a class product which seems to be built more solidly than anything it has ever produced. How will the Interceptor fare as time goes by? It is too early to comment, but the initial signs are positive. It is not as premium or modern in many aspects, but this motorcycle has brought back the joys of simple motorcycling - just what Royal Enfield set out to achieve.