2024 KTM 390 Duke Review: Tugs Your Heart And Mind!
Modified On Sep 17, 2023 09:55 AM By Nishaad Joshi for KTM 390 Duke
In many ways, the new 390 Duke feels a lot like the first-gen one. Is that a good thing though?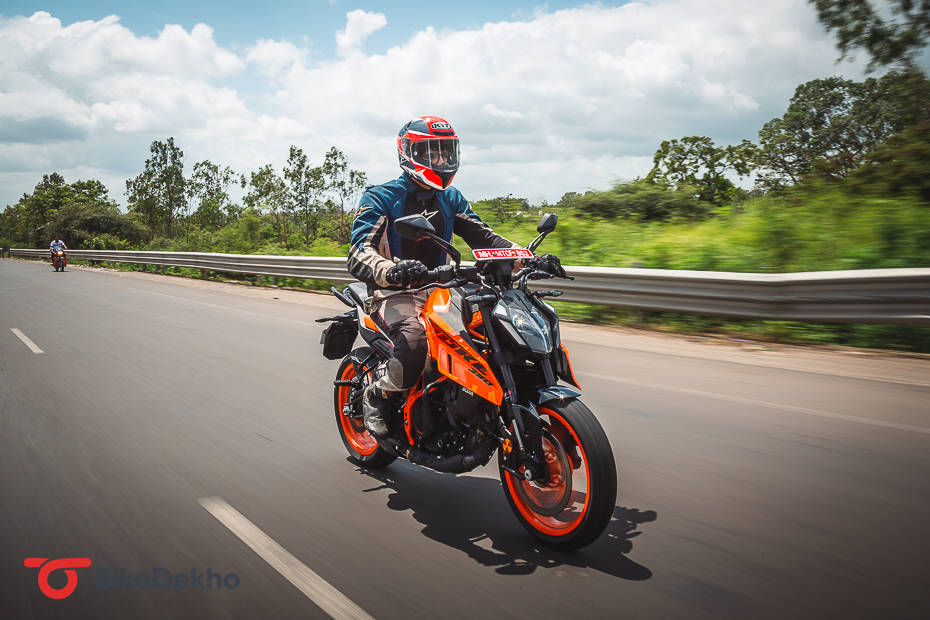 Calling the KTM 390 Duke legendary is quite apt. Ten years ago it created quite the disruption in the Indian market and a decade later, there's still nothing quite like it in its segment. But then about a month ago, KTM did give the bike the update of its life. Needless to say, our expectations were sky high as we went for its first ride. So did it deliver on all the fronts that the spec sheet promised, or was it lacking in some of them?
Likes: Design

I mean just look at it! In my opinion, the previous 390 Duke was already a good looking design but this one takes things up a couple of notches. The sharp headlight, tank extensions and this orange paint scheme, all make it look very menacing indeed. So if you want your bike to grab eyeballs each time you take it out, it's hard to beat this new Duke in this segment.
Likes: Performance

Get on the bike and it'll still put a big grin on your face each time you ride it. And no, I am not talking about corner carving or high-speed cruising, I am talking about city riding. This one's SO much better than the previous one. The larger airbox has not only resulted in quicker acceleration times but more importantly, it's drastically improved the bike's mid-range performance.

Slot it into fifth gear and it'll pull from as low as 35kmph! The pull isn't very effortless (obviously), but the bike doesn't complain and more importantly, it doesn't feel as snatchy or jerky. The throttle, especially in the Street Mode, has been calibrated beautifully. Slot it into Rain mode and it'll calm things down even more with a laidback throttle response. So if it really is raining (or in general an environment you're not comfortable riding in), Rain mode will help you take things easy.

But what surprised me even more was the excellent heat dissipation. Sure, the day wasn't a particularly hot one, but I did ride the bike through a fair bit of traffic and I could barely feel any heat coming onto my legs. One of the major pain points for previous-gen Duke owners was the way the bike heated up in the city, so this comes as a lovely surprise. And nope, all of these 'practical' bits haven't made this any less of a 'Duke'. This is very much a Duke at heart and those who love riding their bikes spiritedly will still enjoy this bike just as much as the previous ones.
Likes: Handling

The previous 390 Duke was no heavyweight but this one is just incredible. It might weigh 168kg on paper but in the real world – even at low, city speeds – it literally feels like a 140kg bike, like, say, the Yamaha MT-15 V2.0. And don't let the bulky-looking panels fool you, for this one will zip through traffic with absolute ease. Its overall narrow dimensions make it feel super compact between your legs. Couple that with the super low 800mm seat height and that means the new 390 Duke is physically a much more approachable motorcycle as well and I hope that attracts a bunch of relatively shorter riders who found the previous ones to be too much.
Likes: Suspension

Another big reason that'll make your everyday commutes that much more enjoyable is the suspension. While the previous 390 Duke's suspension did feel a bit tossy for lighter riders (like your 68kg correspondent), this one soaks up most of the bumps in a reasonably comfortable manner.

And now that it has adjustable suspension, riders can tweak it according to their liking as well. What's really nice about this suspension is that the USD fork has just 5 steps of adjustability for both compression and rebound. And what that means is even after you've fiddled around with the settings for a fair bit, you should land up on the ideal suspension settings a lot earlier than something that has 10 or 15 steps of adjustability.
Likes: Updated Console

The previous 390 Duke's TFT felt a tad cluttered. It showed a lot of information all the time and even the fonts were quite small. The new 5-inch console with a revised layout, though, is a lot better! It only shows the crucial data on the homescreen and my eyes knew exactly where everything was. If you want some of the more detailed information, you can always stop for a moment and check it out.

The updated switch cube isn't the most intuitive to use and will require some time getting used to. Once you do get familiar with it, though, it's quite nice. What I particularly loved were the graphics as you toggle through the console. Everything that you select has its own graphics that show exactly what selecting that particular function will result in and it looks really nice.
Likes: Quickshifter

This new quickshifter isn't a faux one like the one on the previous Duke and it works quite well even in the city. It can feel a bit clunky at super low speeds but once you pick up some pace, clutchless gear shifts are nice and smooth.
Likes: Price

I mean that's what matters at the end of the day, doesn't it? Rs 3,10,520 (ex-showroom Delhi) means it's just Rs 13,045 more than before, and that's fantastic pricing. Considering the Speed 400 just some time back, and now the new-gen Dukes, Bajaj's pricing game has been stronger than ever.
But Wait…

But it's not all roses for the new 390 Duke. While it looks fantastic, the orange colourway could seem a bit shouty for some, especially with as many as 3 different shades of orange visible. And while the build quality is fine for the most part, some of the panel gaps are a bit unsightly.

And finally, the compact dimensions that I talked about earlier, they could be an issue for really tall or large riders. My lanky frame (6'0 and 68kg) fit just right on the bike but anyone taller than me could struggle a bit. So should these little niggles stop you from buying the 2024 KTM 390 Duke?
Verdict

We don't think so! The new 390 Duke is mighty impressive. And not just because of the way it revs or for its cornering abilities, but the fact that it has become a whole lot more practical than before, without losing the Duke madness that it always had, something similar to what the brand did with the RC 390 last year. The new Duke will not only attract the OG Duke fanboys, but I feel this new one will also bring a whole bunch of riders who found the previous 390 Dukes too single-minded. In almost all ways, this one demands a lot less from the rider while being just as thrilling for seasoned riders.

All said and done, the new 390 Duke feels a lot like the first-gen model, but without the impractical bits that it brought. And even though it seems pricey at Rs 3.10 lakh (ex-showroom Delhi), it actually offers the incredible value-for-money quotient that the first-gen 390 Duke stood for. And at that price, there's nothing quite like the 390 Duke. The urge to buy it is mighty strong…