Royal Enfield Thunderbird 500 Road Test Review: Thundering All The Way
Published On Sep 6, 2013 By Rajpal Singh for Royal Enfield Thunderbird 350
The pros: Gorgeous and macho looks, projector headlamps with DRL, nice ergonomics, powerful engine generates nice mileage. Stable and easy to maneuver.

The cons: Gearbox making a clunking sound, braking should be improved, suspension is quite stiff.

The crux: Overall, It's beautiful, powerful, agile and refined. if you are a fan of Royal Enfield and are looking for a technically upgraded RE bike, then this bike is for you.
Royal Enfield, the name itself says a lot, the brand is a phenomenon for Indian bikers, which has been giving a meaning to their enthusiasm for more than 5 decades. I born and brought up in a family of riders, where enthusiasm leads the legacy and riding is in genes. My earliest memories are of our courtyard, where I used to play with Royal Enfields and Willeys around me. So, my elders who were crazy about these classic motorbikes, used to compare these machines with high breed war horses. So, it is pretty obvious for me to get fascinated by those beautiful 'war horses'.
Nothing could amuse me more than riding a Royal Enfield, it is an unknown feeling, which overwhelms me when I ride these machines. I don't know whether it's legacy, classiness, the sound or my riding genes, which give me the unmatchable satisfaction when I ride these hot rods. Just like me and my family, the brand has nourished generations of passionate riders in the country.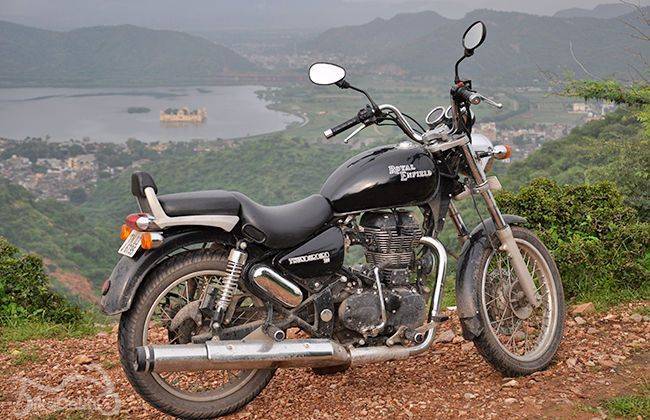 With the time, a lot of things have changed, but what remains same is the passion for the brand and that classiness in the brand itself. There was a low phase for the company in late 20thCentury, but with the new leadership, the company grabbed its lost ground. They upgrade and relaunched their legendary models and introduced new and advanced bikes. It is like they are renovating everything but at the same time keeping that SOUL of war horses intact. And a perfect example of this renovation is the new Thunderbird, the bike might not come from that league of classic bikes, but it gave us our own cruising machine and ended the dependency on the west for fantastic cruisers. When Royal Enfield upgraded it, they kept that Royal Enfield DNA intact and engineered this bike as the most advanced Royal Enfield to date.

When recently, I got a confirmation to test run this bike, the first reaction was "can I take it on highways?" and the answer was "yes, it is made for that." So, I took it on the NH8, from Delhi to Jaipur, as I wanted to test this bike upto its extreme, and NH8 is no less than an off-roading track these days.

Styling:

The Thunderbird 500 has always been a looker and can be termed as stylish kid among its siblings. To make things even better, the new Thunderbird gave a lot of cosmetic changes, however you can still recognize the bike in just a glance, so kudos to Royal Enfield for keeping its identity intact. If you like the large proportions and are fond of big bikes, the sheer size of the bike will impress you for sure. For the styling, I would say, it is a precise balance between gorgeousness and macho appeal. Modern touches to the bike including projector headlamp, 5-bar LED tail light and digital instrument cluster scream loud about its unique and pleasing retro-modern appeal.

Let's get into more details and start with its front. There is a typical chrome studded Cruiser like headlight, but this time it gets a projector headlamp with a single ring DRL (Daytime Running Light), adding to its appeal day and night. The chrome is an essential element of cruisers, so the two dial instrument cluster and blinkers are also chromed, which goes well with the rest of the front profile. Wait, there is more, the exhaust pipe is also dipped in the chrome, and these fine touches of chrome help it shine with pride.

As I said before, earlier Thunderbird 350 was undoubtedly a looker, but the transformation in new Thunderbird is magical. The bigger fuel tank flaws well in the design and its unconventionally positioned chrome filling cap not only looks good but speaks for its practicality. The 3D badging on the tank and panels just go well with the rest. The engine is now painted in the black with the engine fins finished in chrome, adding more to the visual appeal of the bike. The other few addition includes RE badged foot pegs and new fenders. I also like all new rear LED light, it looks cool and can also be used as a parking light.

So, on the whole, this bike has an impressive styling with the RE DNA, which gives it a retro-modern appeal.

Switch Gear and Ergonomics:



The upgraded Thunderbird 500 keeps on surprising me, the 2013 version doesn't just look better, but the ergonomics are also improved. The switchgear is ergonomically designed and easy to operate. There is a hazard light switch as well, which is something I was waiting for ages on an Indian bike. But a little disappointment here, the positioning in between the instrument cluster pods is impractical, you can't reach it with your gloves on.

However, the instrument cluster is a real treat here, it comes with permanent blue backlighting and LCD digital display. The basic twin circular pod design has been retained, which is a good thing. The left pod houses the analog speedometer, showing speed in both Kms and miles. Below that is an LCD info display comprising a digital odometer, twin trip meters, average fuel efficiency, clock, fuel gauge and service due warning. The right pod houses the tachometer and other tell-tale lights.



The Thunderbird 500 allows its rider to sit in a comfortable feet forward position, but it is not as laid back as the conventional cruisers. There were some complains about the seat, however, I like the new split seat, which is more cushioned than earlier. The split seat is a boon and allows you to create more space for a saddle bag, when riding without a pillion. The backrest is also better than before. I must say, the 2013 RE TD500 has received some value addition like clock, split and well cushioned seat and a hazard light switch. These little additions mean a lot when riding on long journeys.

Engine and Performance:

The 499cc, single-cylinder, air-cooled, 4-stroke, twin-spark is a straight pick from the Classic 500, so don't expect drastic changes in the performance. The power output also remains same at 27.2bhp of maximum power and 41.3Nm of peak torque. However, the earlier Thunderbird was only available with the 350cc engine and the upgradation brought a more powerful engine, which is an addition here. Surprisingly, the Thunderbird 500 sounds pretty neat and the known quintessential thump of Royal Enfield bikes is missing here, this is probably because of the different tuning of the airbox. And a strange feeling comes when you hear a chopper like sound from a Royal Enfield bike.



The motor is coupled with a 5-speed transmission (1-down, 4-up), which feels slick most of the time with precise gearshift, however that clunky noise is there. The clutch also feels smoother in comparison to other RE bikes.



I liked the way the 499cc motor pulls, there is enough torque available to pull the machine in any gear. The impressive low and mid range performance is a boon in both city and highway riding. The machine achieves 80kmph speed in no time. It's worth mentioning that there is no sign of vibe till 110kmph, and it is only when you reach top speeds. I managed to ride it on 135kmph, which is pretty impressive, however on that speed, you can feel vibes on handle bar and foot pegs.



The RE bikes are not known for fuel efficiency, however the Thunderbird impresses on this front as well. I rode it both on highways and in the city during my Delhi-Jaipur two way trip, and I managed to get 32kmpl on highways and 27kmpl in city.

Ride and Handling:

Well, the Thunderbird 350 was tagged as a cruiser, but it was more like a typical RE bike in a Cruiser attire, but the new Thunderbird is about some serious cruising. The new Thunderbird uses a single downtube chassis using its engine as a stressed member like before. The suspension unit uses a 41mm telescopic forks with a 130mm travel at front and 5-step adjustable preload twin gas charged shock absorbers with 80mm travel at rear, which absorbs most of the pot holes.



The new fatter 41mm telescopic shock absorber improves its dynamics, and also improves front end stability. While, the long 130mm travel of the suspension gulps the bigger pot holes as well. The suspension is on the stiffer side making long rides a bit tedious, but it also gives confidence on higher speeds. The new TB500 uses a new oval shape swingarm, which increases stability and adds to dynamics.



With a bigger engine onboard the TB500 weighs 195kgs, i.e. 8kg heavier than the earlier TB350. The additional weight improves the stability and the bike glues to the road even on 100+ speeds. The straight line stability is impressive just like the earlier TB350, but where it has improved is cornering. The TB350 was never so confident around the corners, but the new Thunderbird 500 impressed me with the ability to take corners with ease. The bike maintains its composure even on tight corners.



The new handle bar setup allows to change directions swiftly, and together with forwarded foot pegs, it makes a well calculated lean triangle, which allows you to sit and ride more comfortably. The bike is easy to maneuver, but the heavy weight creates problems in the stop and go traffic. The bike rides on a set of 19-inch wheels, with 90/90 MRF Zapper FM up front and the 120/80 Zapper C at the rear. The tyres give an adequate grip, but a bit chunky tyres would have been better. Braking is a department where RE bikes always fails to impress, that is why RE engineers made some big changes to the new RE Thunderbird. It gets 240mm single caliper disc at rear to complement the 280mm double pot caliper on the front, earlier there was a 153mm drum brake. Braking has improved, but there is still a lot to desire, it doesn't halt instantly, rather it takes its time.

On the whole, I like the way the dynamics are improved. I felt the practical side of improved dynamics, when I was taking the bike on the hill top of Nahargarh, it was a joy to throw this bike on those hairpin turns. So, when it come to ride and handling, it is undoubtedly the best RE bike till date.

Verdict:

I rode the Thunderbird 350, and it was certainly a wonderful bike, but the Thunderbird 500 belongs to a whole different league. It's beautiful, powerful, agile and refined, it impressed me from its fascinating stance to the way it rides. It was great to experience that how Royal Enfield has adopted the new technologies. A few niggles are there, but the sheer pleasure of riding and brand image of the Royal Enfield outshine everything else. With a Rs. 1.60 lakh ex-showroom, Delhi price, it is still an affordable affair in comparison to Harleys and Hyosungs.



Despite the endurance of the brand Royal Enfield for one and all, the new Thunderbird is something, which I can relate better. It has that SOUL of war horses, and it also belongs to the age of technology. So, if you are a fan of Royal Enfield and are looking for a technically upgraded RE bike, the Thunderbird 500 packs all for you.