Royal Enfield Interceptor BS6: Road Test Review
Published On Oct 19, 2020 By Benjamin Noel Gracias for Royal Enfield Interceptor 650
Does the Interceptor's BS6 update rob it of its value-for-money proposition?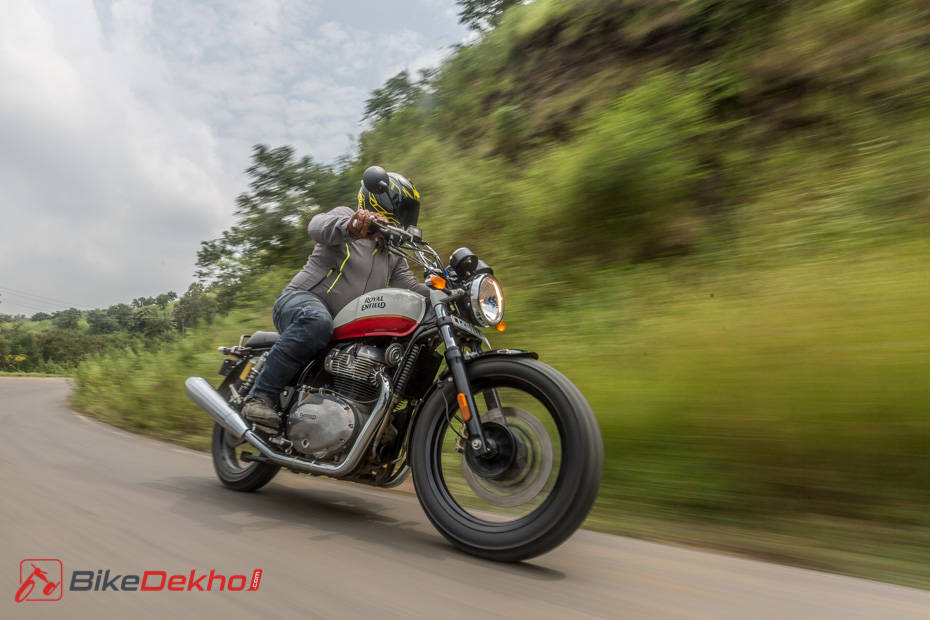 Like all two-wheelers, the Royal Enfield Interceptor 650 too underwent the BS6 transformation. The update brought about a reworked motor and seemingly nothing more than a price hike of around Rs 9,000. Royal Enfield's flagship motorcycle offered excellent value in BS4 trim, but does the same hold true for the new Interceptor 650 BS6?
Pros:
Motor is more refined and free revving than before.
Fantastic fit and finish levels.
Impressive paint quality.
Cons:
Soft and narrow seat feels uncomfortable on longer rides.
Basic instrument console.
Wide footpegs foul with legs while crawling through traffic.
Stand out features:
Baker Express paint scheme looks striking.
Strong mid-range makes highway overtakes a breeze.
Lovely exhaust note.
Design:

The Royal Enfield Interceptor 650 BS6 remains cosmetically unchanged. It still looks like a 70's motorcycle with round headlamps, a twin-pod instrument console, flat seat and chrome mudguard. The Interceptor 650 might not have the road presence of the Classic 350, but it sure looks impressive if you are into retro motorcycles. Even more impressive are the six colour options: Orange Crush, Glitter and Dust, Ravishing Red, Mark Three, Silver Spectre and Baker Express. Out of these, the Baker Express colour option stands out but we feel Royal Enfield should have used the BS6 transition to introduce more colours.

The paint quality is top notch as are the fit and finish levels with clean welds and straight panel gaps. The switchgear plastics and buttons feel robust and built to last. Royal Enfield also offers a host of accessories to do up the Interceptor your way.

Overall, the Interceptor 650 remains a good looking motorcycle with no changes to quality as well as fit and finish levels. If it were not for the badge, you could easily mistake it for something out of Honda's classic lineup.
Ergonomics:

The Interceptor offers a slightly forward bent riding position. The wide handlebars, coupled with the slightly rearset footpegs, offer a sporty but comfortable riding position in city traffic and empty highways alike. Due to the large engine crankcase, the footpegs are set wider than most motorcycles. This placement tends to foul with your ankles when trundling along at crawling speeds or while pushing the motorcycle around in a parking lot. This is something you can get used to but then you also have to contend with the heavy 202kg kerb weight while pushing the Interceptor around.

While doing so, you will appreciate the low 804mm seat height but will be disappointed by its narrow profile and soft cushioning. While the soft seat is not much of a bother on regular commutes, it is quite uncomfortable on longer rides. Even the pillion is bound to complain about the cramped seating position and narrow, soft seat. Royal Enfield does offer a touring seat option with a denser seat foam which solves the problem to a certain extent. The round mirrors offer good rear visibility but have limited adjustability.
Technology & Features:

Royal Enfield has taken the retro diktat seriously with the Interceptor BS6. Its halogen headlamp now gets a clear lens with a small LED DRL at the bottom. The headlamp offers even more focussed lighting and a wider beam spread. It continues to use a bulb tail lamp and turn indicators.

The unchanged twin-pod instrument console gets a digital insert that displays fuel level, an odometer, and two trip meters. The basic instrument console could benefit from the inclusion of a gear position indicator, clock, and distance-to-empty reading.
Engine & Performance:

Despite BS6 restrictions, the Interceptor's power output remains unchanged. That said, there is a slight change in the engine tune which seems to result in a slight drop in acceleration times. Post update, the motor feels more refined and free revving than before, although top-end performance appears to have been toned down. In the 0-60kmph acceleration run, the BS6 bike is 0.21 seconds slower than its BS4 predecessor. In the 100kmph run, it takes 0.47 seconds more than the BS4 Interceptor to crack the ton. In the real world, the slight power deficit is only felt when you are cruising at triple-digit speeds.

The motor retains its tractable nature and you can easily ride around town in a gear higher than you normally would without the need to shift often. Out on the highway, the engine feels flexible and offers excellent mid-range performance. The only noticeable difference at higher speeds is that you take a few more seconds to overtake that truck ahead.

The gear ratios remain unchanged and you can still do 120kmph in the BS6 Interceptor all day with the rev counter pointing at a steady 5000rpm. Its light clutch actuation, thanks to a slip-and-assist system, also helps while riding in bumper to bumper traffic. While city fuel efficiency remains on par with its BS6 predecessor, the BS6 Interceptor is significantly more fuel efficient on the highway. With a 13.4-litre fuel tank, you are looking at a range of around 450km.
Ride & Handling:

The underpinnings remain unchanged in the BS6 Interceptor 650 and that's not a bad thing. Developed by Harris Performance, the frame traces its origins to the sweet handling Continental GT 535. The suspension is set up on the softer side and takes away some of the motorcycle's agility. It works well when shown wide, sweeping corners but takes time and effort to change directions. The Interceptor 650 BS6 continues to get Pirelli Phantom SportComp tyres. These touring-spec tyres offer good grip on straight dry roads but do not inspire confidence while cornering. While the Interceptor isn't a sharp handler, it feels planted at high speeds and that makes it more adept at touring. In the city, the handlebar feel is a bit on the heavier side and you are always aware that you are riding a heavy motorcycle.

The soft suspension setup, coupled with the large 18-inch tyres, helps the Interceptor glide over uneven road and bridge joints over high speeds. It, however, bottoms out easily when confronted with sharp road edges or potholes. The rear twin shock absorbers send jolts up your backside every time it bottoms out. A firmer suspension setup would have helped here. Despite the suspension bottoming out easily, we did not have any issues with the Interceptor scraping its underbelly on speed breakers even with a pillion on board.

While the braking setup has remained unchanged, we were surprised to record dismal braking figures on the Interceptor BS6 when compared to its BS4 predecessor. The older bike offered a strong and progressive brake bite which was missing on our test bike. Given that both motorcycles use the same ByBre dual-piston front calipers, double-H sintered brake pads, steel braided brake lines and dual-channel ABS, we would chalk up this anomaly to the Interceptor BS6's brakes not being bedded in properly.
Variants:
The Interceptor BS6 is available in six colour variants. The base Orange Crush Colour variant retails for Rs 2.65 lakh while the top-spec Glitter and Dust variants cost Rs 21,000 more.
Verdict:

The Interceptor's BS6 update brought with it a significant price hike. Given that similarly priced options such as the KTM 390 Duke, TVS Apache RR 310 and now the BMW G 310 GS also see a BS6 price hike, that kind of evens the playing field. So, the Royal Enfield Interceptor 650 in a way offers the same USP of more cc per rupee as before. It retains all of the BS4 Interceptor's merits and demerits, except for the motor. The BS6 powerplant sees a slight drop in top-end performance and in return, is more free revving and refined. It isn't as bad a tradeoff as you would imagine. All in all, Royal Enfield Interceptor BS6 continues to be the best value-for-money motorcycle in its segment.