Suzuki Gixxer SF 250: Pros, Cons And Should You Buy It?
Published On Jun 8, 2019 By Niraj Kakade for Suzuki Gixxer SF 250
Suzuki's new quarter-litre looks tempting. But is it worth its asking price? We take a look at its pros and cons to find out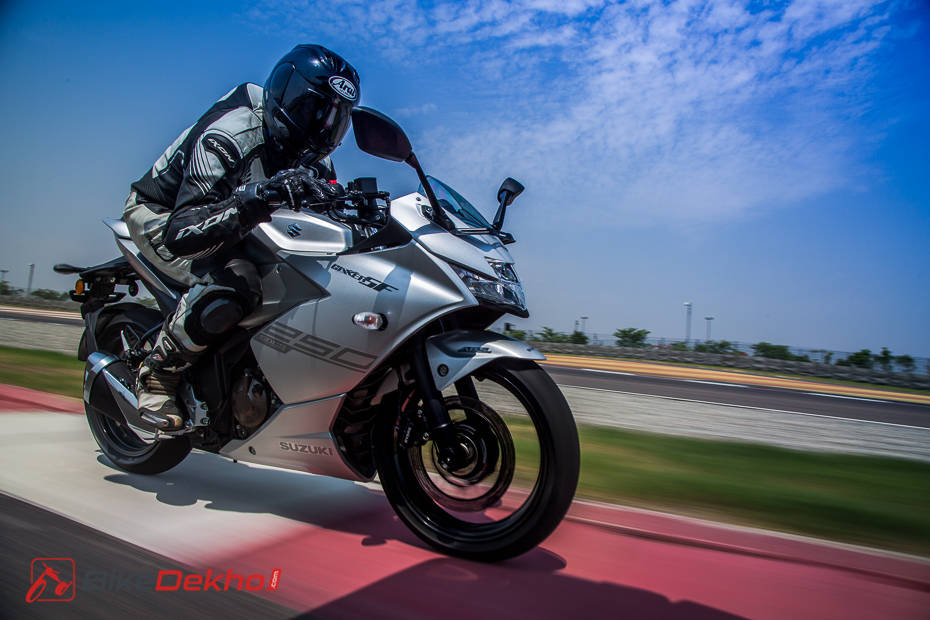 Suzuki recently launched the highly-anticipated Gixxer SF 250 at Rs 1.70 lakh (ex-showroom Delhi). The fully faired Suzuki packs a powerful motor and a sporty design that is ought to turn some heads around. But is it worth the asking price? We take a look at some of its positives and negatives to find out.
Also Read - Suzuki Gixxer SF 250: Track Ride Review
Pros:
Friendly riding position
Although the Suzuki Gixxer SF 250 may look sporty, it is quite a comfortable bike to ride. The clip-on handlebars are raised, so the rider doesn't have to crouch low while riding. Also, the footpegs are positioned in a neutral manner, which means the riding position is slightly sporty yet comfortable, ensuring that long hours on the Gixxer SF 250 isn't as tiring as one would expect. Swing a leg over the saddle and you won't find the 800mm seat height too tall. While it is the tallest in its segment, even 5'6'' rider can easily flat foot the bike.

Free revving and torquey motor
Suzuki's motorcycles are known for their refinement and the Gixxer SF 250 isn't any different. During our brief time with the bike, we found the 249cc single-cylinder engine to have a strong mid-range performance. It did not show any signs of running out of steam even at higher revs and we even managed to clock 150kmph on the back straight of the BIC (Buddh International Circuit) race track. While it does not rev as freely as the KTM, there is a sense of maturity to it, which we liked. Another aspect that left us impressed was the engine refinement and the slickness of the 6-speed transmission.
Delightful around corners
The Suzuki Gixxer is renowned for its handling dynamics and the Gixxer SF 250 carries forward that tradition. Turning into corners was effortless and even aggressive cornering on the new 250ccc felt natural. The only aspect that holds back the Gixxer 250 around corners are the low-set pegs that grinds the tarmac rather easily. Suzuki has equipped the quarter-litre Gixxer with premium MRF Revz C (front - 110/70R -17, rear - 150/60R - 17) tyres at both ends. Not only do they provide good grip on tarmac, their chunky profile also helps distinguish the SF 250 from its 150cc sibling.

Also Read - Suzuki Gixxer SF 250 Round-up: Prices, Other Options, Competitors And More!
Cons:
Small windscreen
The Suzuki Gixxer SF 250 comes equipped with a windscreen. However, it isn't tall enough to save the rider from windblast. This might prove cumbersome during long highway rides. Speaking of which….
Small fuel tank
Before you plan any road trips, you should know that the Suzuki Gixxer SF 250 gets a small 12-litre fuel tank. Pair this with a claimed efficiency of 38.5kmpl and you'll need to make a fair amount of fuel stops. In comparison, its rivals, the Honda CBR250R and the Yamaha Fazer 25, get 13-litre and 14-litre tanks, respectively.
Brake feel and ABS calibration
The Gixxer SF 250 employs disc brakes at both ends, aided by a dual-channel ABS system. During our ride, the brakes exhibited decent stopping power, but we would have ideally liked a bit more feedback from them. Since our experience with the motorcycle was limited to a race track, we found the ABS intervention a bit too unpredictable.

Should You Buy It: YES
In a nutshell, the Gixxer SF 250 offers a sporty riding experience but isn't an out-and-out sportbike. It also lacks the agility of its smaller sibling or the manic performance of something like the KTM RC390. However, with a fairly refined motor, a whole host of features and an attention-grabbing design, it could very well serve as an alternative to someone who'd find the Honda CBR250R a bit too old and expensive.