2020 TVS Apache RR310 BS6 Review in Points: First Ride
Published On Feb 1, 2020 By Team Bikedekho for TVS Apache RR 310
For 2020, the RR310 is packing in a lot more than just hardware for cleaner emissions. The result is a solid surprise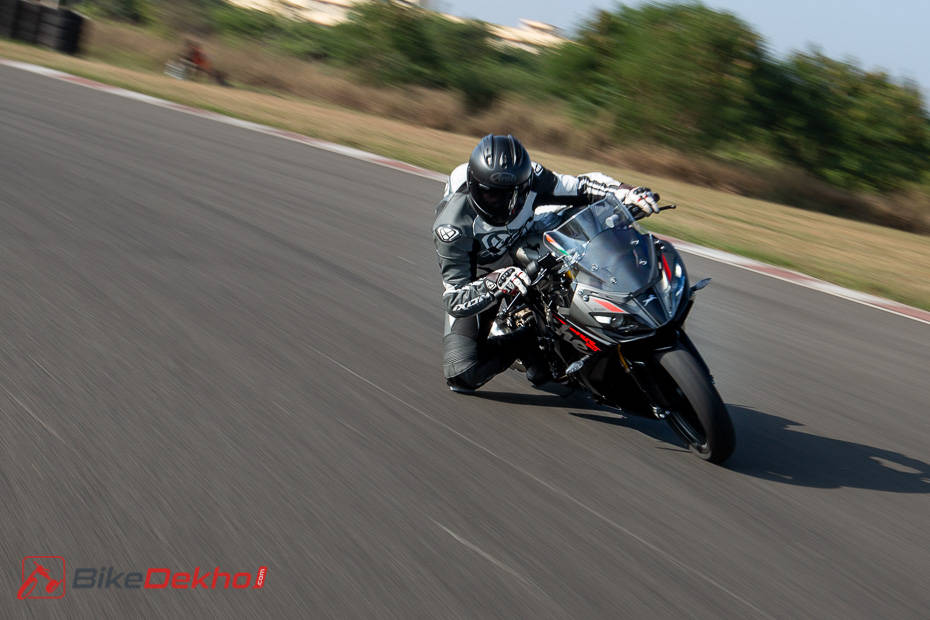 In less than three years of its existence TVS' fully-faired Apache RR310 is receiving its second update. In 2017, this TVS' easy and friendly attitude combined with its gorgeous looks and sporty nature made it an exciting alternative to KTM's RC390. Updates to tackle refinement issues and a slipper clutch found its way onto the RR in 2019. And, in 2020, TVS took the opportunity to update the RR with more than just the mandatory updates to unlock its full potential. We tell you in crisp points just what's changed and why it matters.
Pros
New colour scheme makes the RR look even more gorgeous
Comfortable for everyday use
W-rated tyres increase the sense of confidence
Electronics make it better to use on the street and track
Cons
Price is now almost on par with the KTM RC390
High pillion seat still not very user-friendly
Stand-out Features
Ride modes that adjust engine power and character, and ABS intervention.
High-performance dual-compound W-rated tyres for more grip
5-inch TFT screen, on-board computer and Bluetooth connectivity provide easy access to useful information.
Design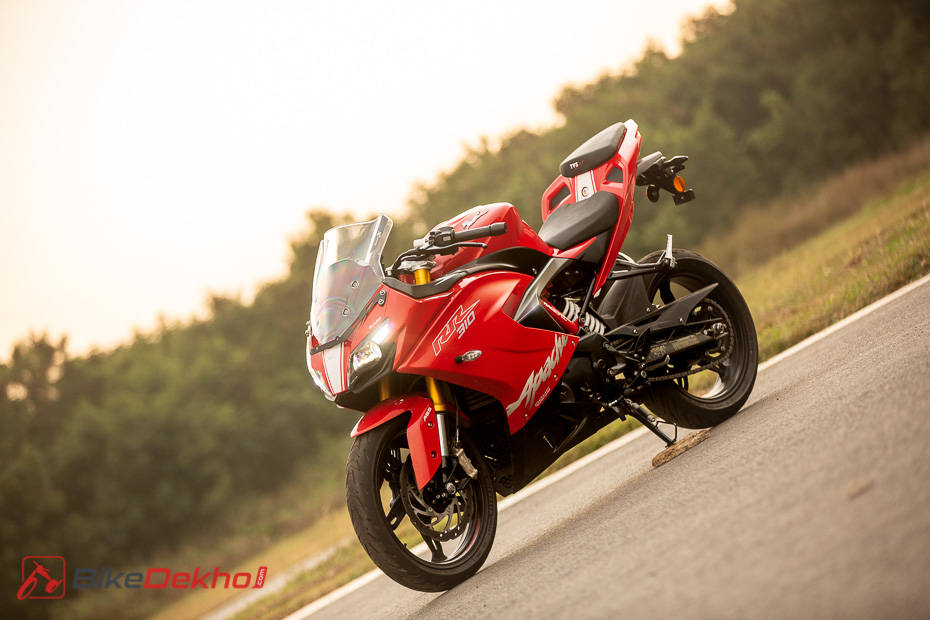 What's unchanged?
In the shade of red you will realise that the design is the same. Not a single exterior panel has been changed.
Still packs bi-LED headlamps and the striking Devil's-Horns styled tail lamp
Quality of paint, plastics, switchgear, and finish is fantastic as ever.
Unsurprisingly, there is no change in the dimensions of the 2020 RR 310.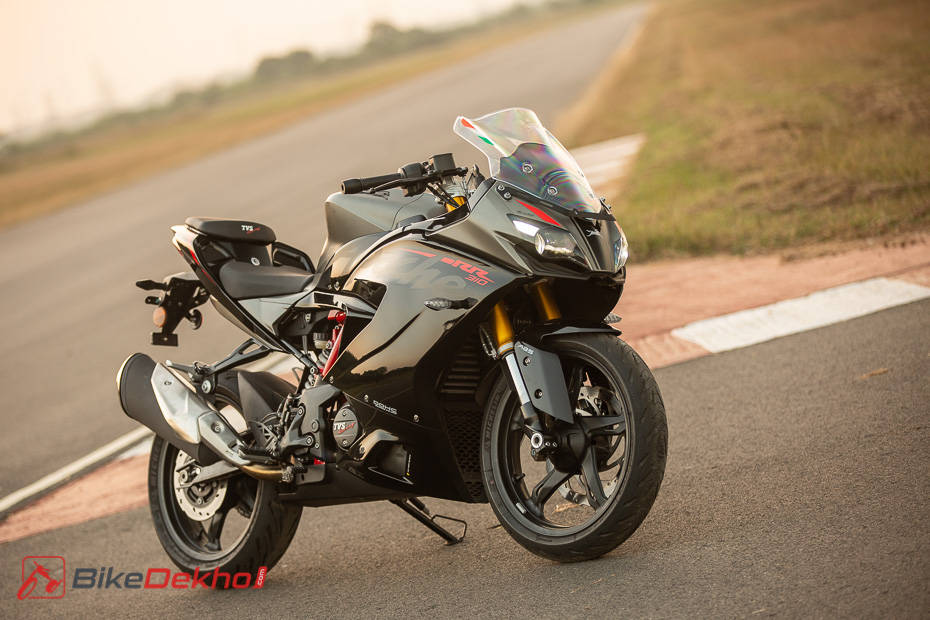 What's changed?
New contrasting matte-gray and glossy black colour scheme pushes the gorgeous quotient right off the charts
Left-hand side switchgear redesigned to work with the new instrument cluster
5-inch colour TFT display looks rich and is easy to read even in bright sunlight
While tyre sizes are the same, there are prominent grooves and more thin channels which make the Michelin Road 5 tyres look more technical than the Michelin Pilot Street offered earlier.
Ergonomics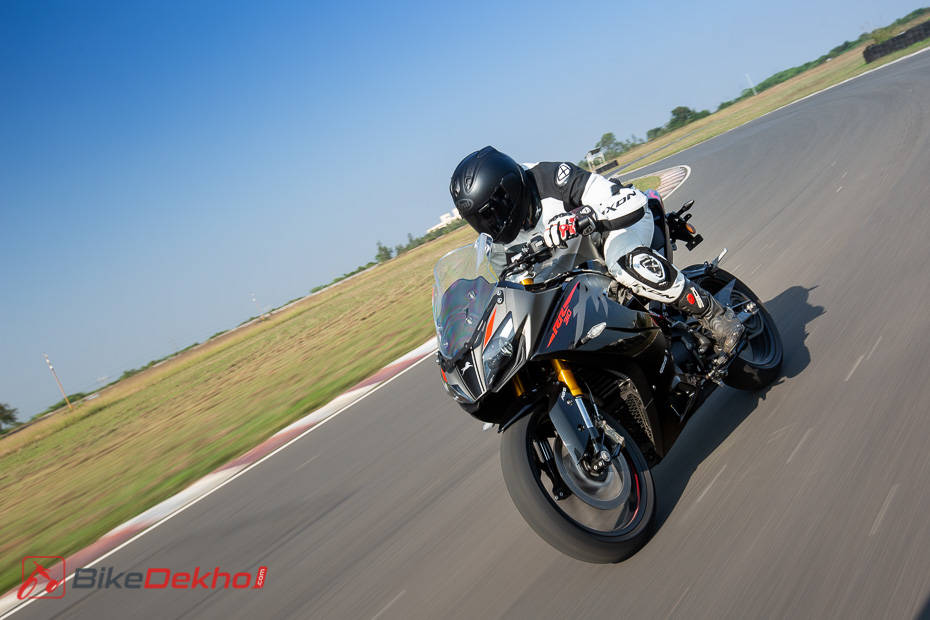 What's unchanged?
Like the design, TVS hasn't fiddled around with the RR's sporty yet friendly ergonomics
So there is only a slight lean forward onto the handlebars so your wrists won't hurt.
The spacious saddle and low footpeg make it comfortable even for taller riders.
810mm seat height still friendly for shorter riders.
Track junkies will love to clamp down on the slim tank.
Sadly, pillion comfort hasn't improved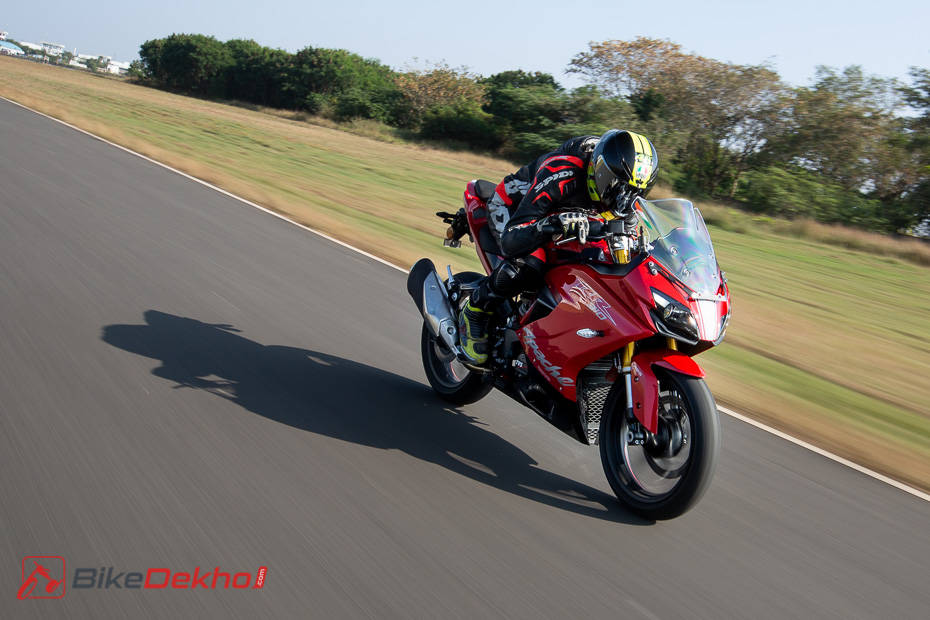 What's changed?
Nada. Nyet. Zilch. Kuch Nahin. That's not a bad thing.
Technology & Features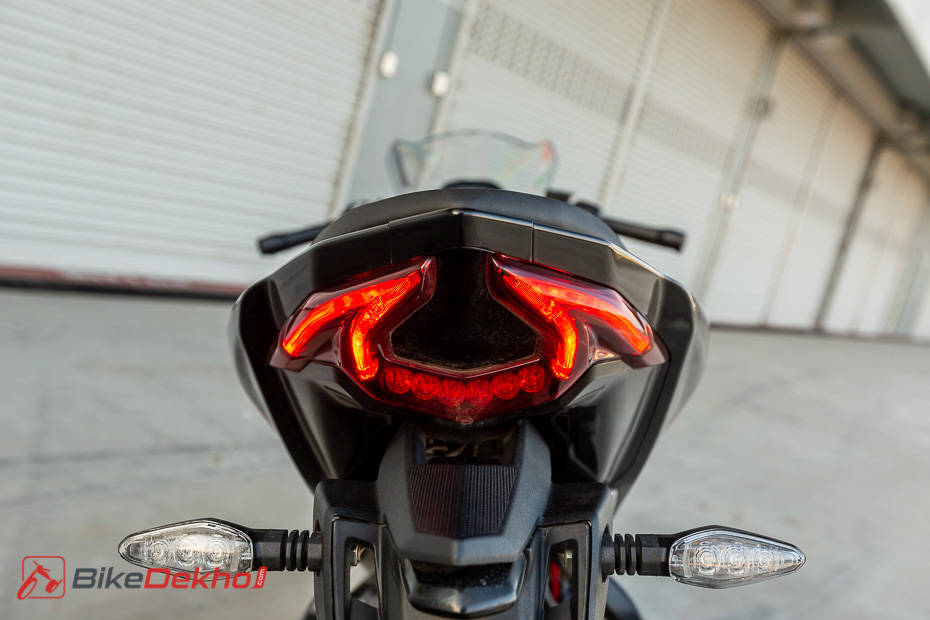 What's unchanged?
The gorgeous LED units for the headlamp and taillamp. Thank God.
What's changed?
Lots. Starting with Ride-by-Wire technology for the engine.
This has allowed for the inclusion of rider modes that adjust engine and ABS performance.
Urban and Rain make it easier to ride at low speeds and in urban conditions.
Sport and Track modes better for highways and track use
SmartXonnect 5-inch colour TFT screen replaces previous instrument cluster.

Digital display changes layout depending on the mode in use and automatically switches to dark or light themes depending on ambient light.
Except for a change in colour, the graphical layout for Rain & Urban modes are the same. It has a large speedo readout in the centre surrounded by the rev counter.
In Sport mode the gear position sits in the centre, flanked by the rev counter; while in Track mode the rev-counter sits right in the centre and is much larger.
On-board computer can record lap times, acceleration figures

There is Bluetooth connectivity for Android and iOS devices which powers turn-by-turn navigation.
Call management via switchgear is also possible. However, there are no music controls
TVS Connect App makes available lots of additional information about your ride, like gear usage, ride route and G-forces!

GTT+ is Glide Through Technology Plus. Activated in Rain and urban modes, it operates like a simple cruise control system. In 6th gear the system will keep the RR310 cruising at 35kph even without the rider having to hold the throttle open. This is to reduce effort and stress for rider.
You just need to tap the brake to cut speed when GTT+ is active.
Engine & Performance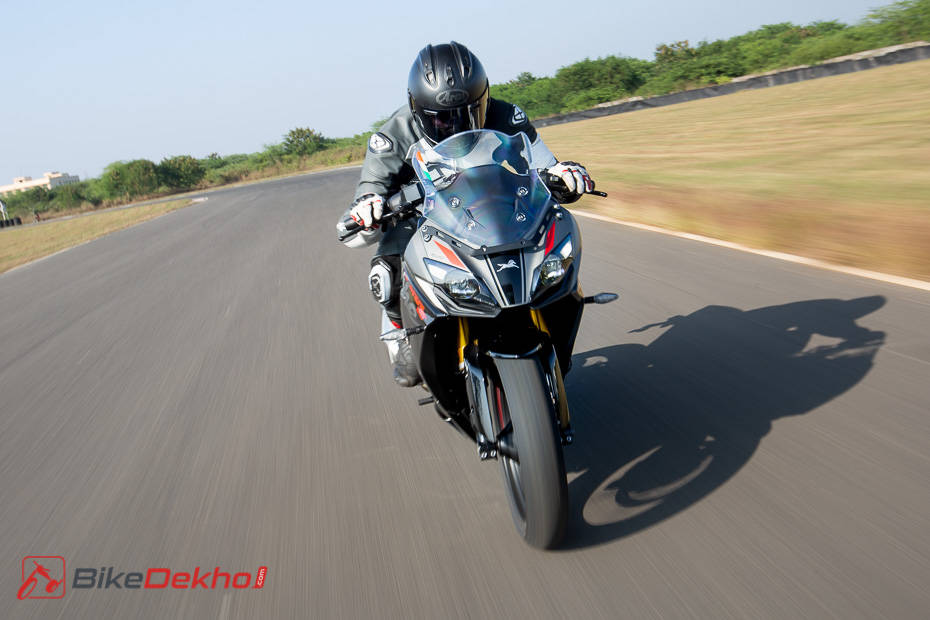 What's Unchanged?
34PS of power at 9700rpm and 27.3 Nm of torque at 7700rpm is unchanged
The claimed 0-60kph acceleration time of 2.93s and the top speed of 160kph is unchanged.
Basics of this liquid-cooled, reverse inclined single-cylinder engine are unchanged.
6-speed gearbox with slipper-clutch still in use.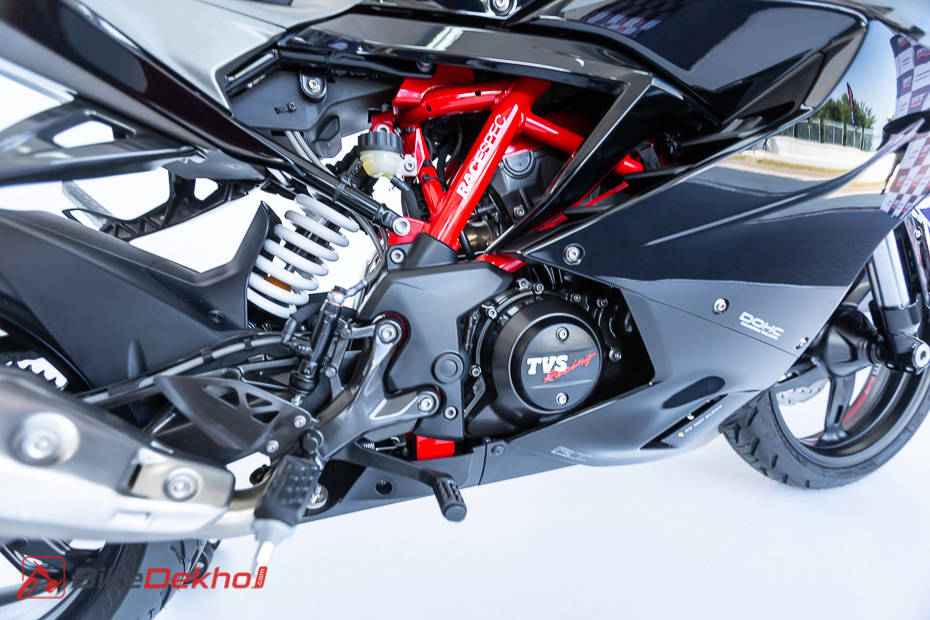 What's changed?
Refinement levels are no longer an issue. At startup the RR sounds like something inside it is broken.
The vibration issues have been dealt with almost entirely. There is only a slight buzz from the seat around 7000rpm.
Changes to engine mounting points, some internals and the use of ride-by-wire have fixed the NVH issues.
Easier to use at low revs as Urban and Rain modes provide better torque at low revs.
In the interest of safety, Urban and Rain modes limit peak power to 25.8PS @ 7600rpm and torque to 25Nm @ 6700rpm, revs to around 8500 rpm and top speed becomes limited to 125kmph.

Urban and Rain modes feel a bit dull when the revs go past 4000-5000rpm.
Sport and Track modes unlock the revs and the performance for higher speeds.
On the track, we crossed and indicated 150kmph easily and very often. In 2017 we had managed to hit 147kmph at the same track.
Keep in mind weight has increased, albeit marginally, by 4kgs.
Ride & Handling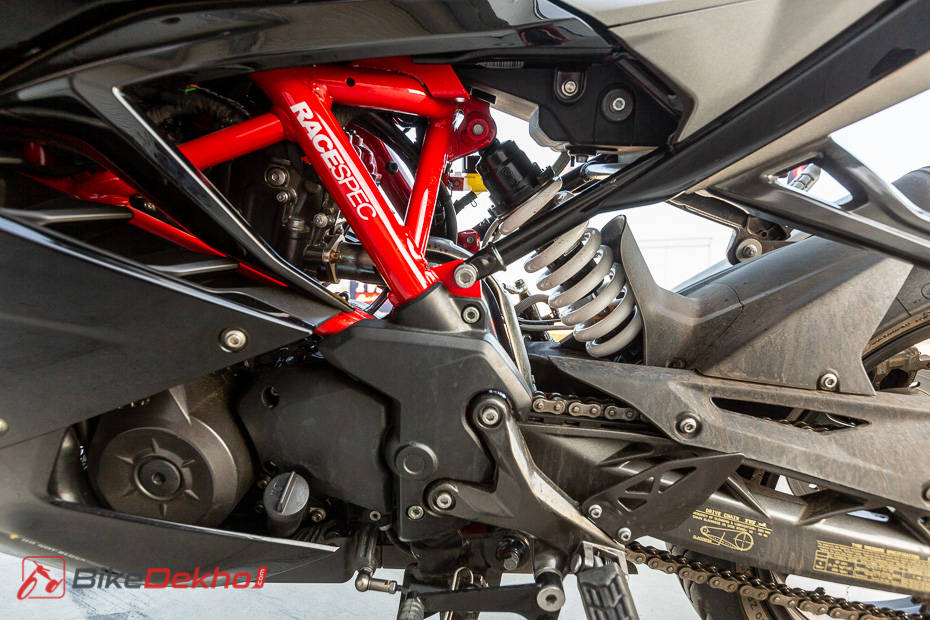 What's unchanged?
The trellis frame is carried over
Swingarm and suspension components are the same too
Braking hardware is unchanged too, including the ABS controller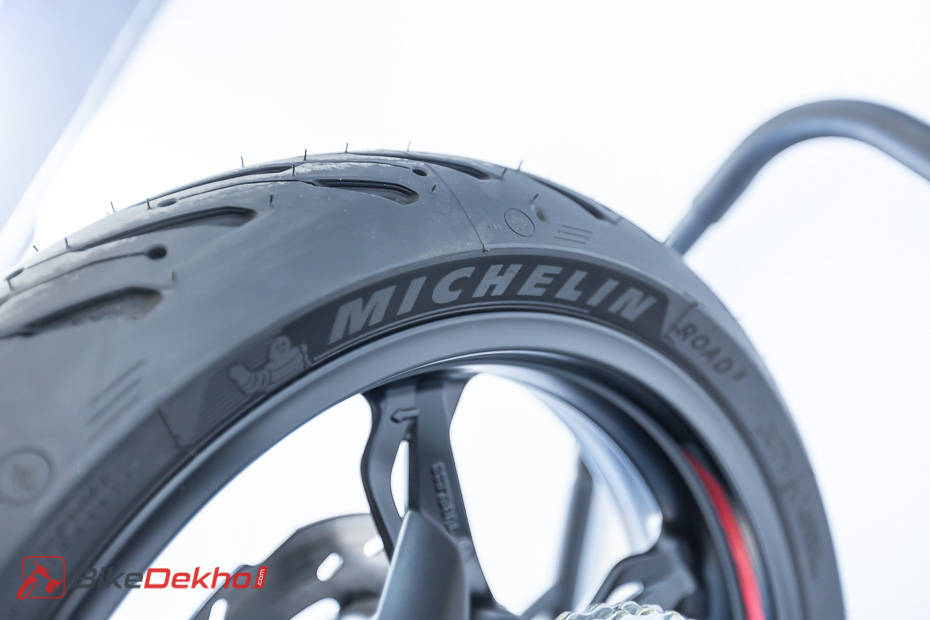 What's changed?
Suspension tuning has been tweaked.
Tyres. Dual-compound Michelin Road 5 tyre's speed rating is also much higher than the previous Michelin Pilot Street.
Would expect the RR310 to be even more comfortable to use on the road than before.
Prominent grooves and softer compound will improve confidence in wet weather and public roads.
On the track, you will scrape the footpegs much sooner and a lot more and will slash lap times too.

Unlike in 2017, the RR 310 doesn't slide around even when leaned over and accelerating hard. Which results in more lean, more speed and scraped footpegs.
The grip from the Michelins let you brake later into corners too. However, a bit more feel from the tyres would have helped when settled in the corner.
Added grunt from the engine is also responsible for this abuse of footpegs.
Rearset footpegs are a must for track use.

ABS software delivers higher performance and less intervention in Track mode. While being gentler and more careful in the Sport and Urban modes. The Rain mode intervenes even earlier.
Braking performance actually feels much stronger in Track mode. The effort required has also reduced tremendously.
Brake feel is still not great though.
Variants
The RR 310 is available in one feature-loaded variant and two colour combinations - red and black.
Verdict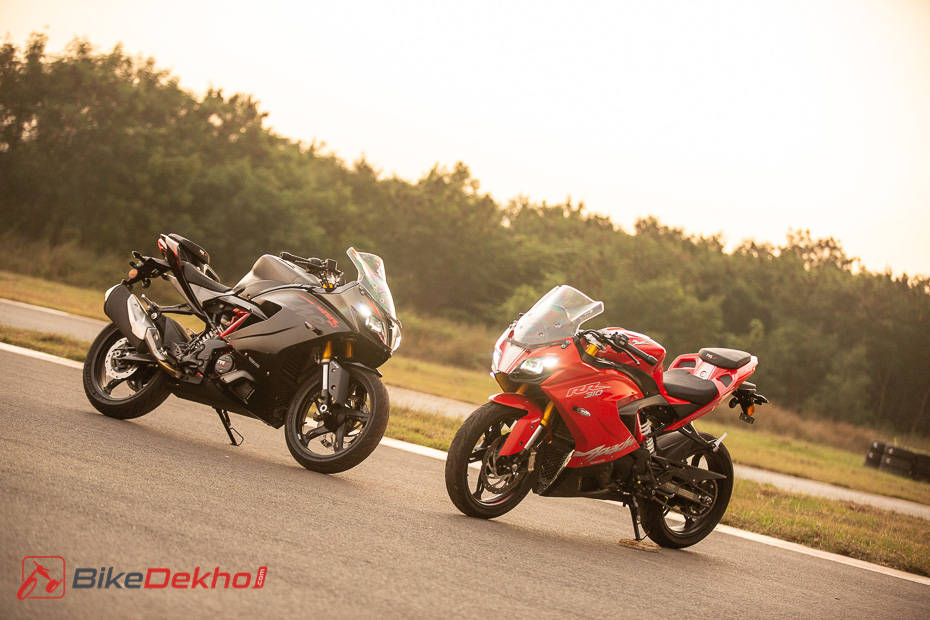 TVS's Apache RR310 has been a fantastic all-rounder. It is properly sporty, yet great for everyday use and a motorcycle you could travel far on too. No surprise then that it has been called a sport tourer very often. Now that the vibration and refinement aspects have been resolved, it feels even more apt for commuting and touring duties. Amazingly, the RR310 has also become more exciting and more welcoming for cornering enthusiasts. The new screen and the added features further justify the price hike. At Rs 2.4 Lakh the TVS Apache RR310 is just a few thousand rupees shy of the BS6 KTM RC390. And, for the first time, we find ourselves hesitating, and looking more yearningly at the bike from Hosur.