Top 5 Scooters For College Students: Honda Dio, NTorq 125, Aprilia SR 150 And More!
Modified On May 18, 2019 By Alpesh Rajpurohit for TVS NTORQ 125
Planning to buy a scooter before your college starts? You need to read this!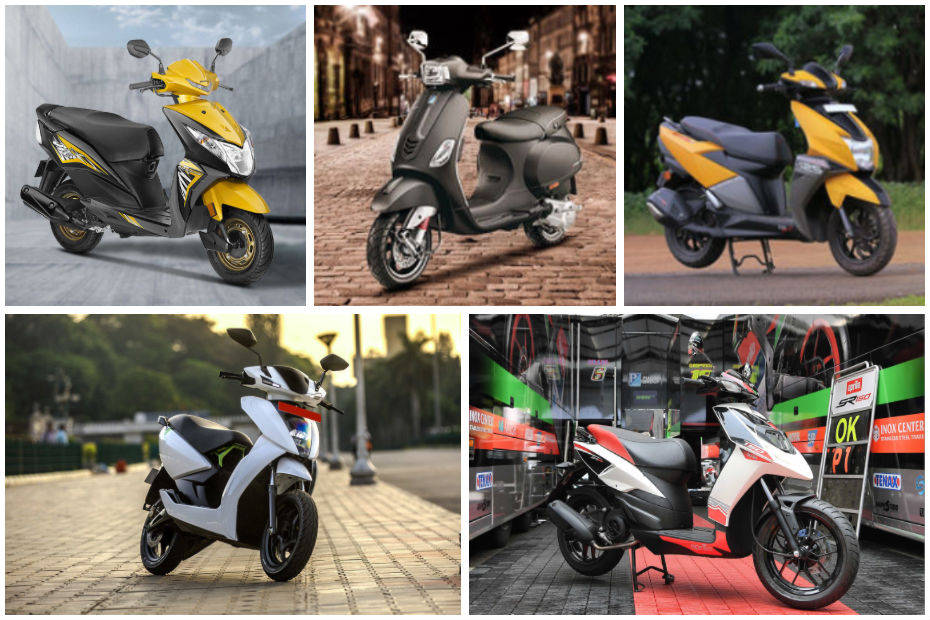 If you are 18, or you are about to turn 18, the next month will be crucial for you. Because, after two months of binge watching shows, you'll finally step into the world of degree college. And if you want to make a good first impression on everyone, one way to do that is to turn up on a stylish two-wheeler. And since your parents might not be cool with a motorcycle, here are five scooters that will make you stand out in your new journey.
1: Honda Dio:


The Honda Dio is the oldest name on this list and ever since it went on sale in 2002, it has been the preferred choice for the youth of India. Because what you get for your money is a scooter backed by Honda's reliability. Since the first generation, the Dio has always been one of the sportiest Honda scooters out there.
It is available in four colour options (grey, black, green and yellow) with graphics that further enhance the overall styling of the scooter. It's not just that the Dio has evolved into eye candy, but Honda has equipped it with modern features as well. It has an 18-litre underseat storage capacity and a USB charger, which comes in quite handy if you spend all your phone's battery taking pictures of your pet. Other features include two extra hooks to carry your bags, an LED headlamp and a 4-in-1 lock with a seat-opening switch.
Its 109.1cc engine produces 8PS of power and 9Nm of max torque, which are quite decent numbers for commuting. And with prices starting from Rs 52,938 (ex-showroom Delhi), it is budget-friendly as well.
2: TVS Ntorq 125:


The Ntorq 125 was launched last year, and it quickly became the talk of the town for all the good reasons. What you get for your Rs 59,900 (ex-showroom Delhi), is a 125cc scooter that gets all the bells and whistles you can ask for. The digital instrument cluster is Bluetooth enabled and gets features such as navigation, lap timer, call alerts and it also shows your scooter's parking location on the Ntorq mobile app.
In terms of performance, the 124.79cc motor makes 9.3PS of power and 10.5Nm of torque. And it's fast too. In fact, it is the quickest 125cc scooter on sale in India. In our tests, the Ntorq 125 did 0-60kmph in 7.65 seconds! That's 2.06 seconds quicker than the Aprilia SR 125. The ride quality is pleasant, even the suspension setup is quite remarkable and soaks up bad roads with ease. As far as braking is concerned, it gets disc brake at the front and CBS is now offered as standard. There's also a more affordable variant with drum brakes at both ends, priced at Rs 58,252 (ex-showroom Delhi). All in all, the Ntorq 125 is a great value for money proposition.
It is available in six paint options: matte red, metallic red, yellow, white, grey and blue. But, if you want to stand out from the crowd, you might want to go with the most vibrant colours of this lot, yellow or blue. The Ntorq 125 comes with a 22-litre underseat storage capacity, mobile charger and even boot light as standard.
3: Aprilia SR 150:


If you want a sporty scooter, why not go for the sportiest of the lot? The SR 150 gets race-inspired decals and funky paint options, which will help you stick out from the crowd. It might lack some of the features that the other scooters in this list get, but it makes up for that with a peppy 155cc motor that produces 10.6PS of power and 10.9Nm of torque. It gets the best braking hardware in its segment too - a 220mm disc up front and a 140mm disc at the rear, but the real party piece is ABS! At Rs 71,866 (ex-showroom Delhi), you not only get a scooter with sporty dynamics, but you also get to flaunt that Aprilia badge in front of your peers.
4: Vespa SXL 150:


If you are not into sporty scooters, there is the chic and classic-looking Vespa SXL 150 which will certainly turn a few heads. The SXL 150 sports a clean look with no stickers whatsoever on the body panels. All you get is classic styling with vibrant colour options.
Even though the styling is retro, it does have some modern features like Bluetooth connectivity, which lets you locate nearby service stations and even your scooter via an app. Like the SR 150, the SXL 150 too gets ABS as standard. At Rs 96,504 (ex-showroom Delhi), it is quite expensive, but what the Vespa offers in our crowded scooter space is exclusivity.
5: Ather 450:


The Ather 450 is the only one on the list to be powered by electric batteries. But that doesn't mean it skimps out on any features. It gets a 7-inch touchscreen display which showcases information such as navigation, ride modes, battery percentage, vehicle diagnostics and more. The Ather 450 comes with a huge 26-litre underseat storage capacity. It gets a reverse mode as well for parking the scooter in tight spaces easily. However, all these features come at a hefty price of Rs 1.28 lakh (on-road Mumbai). Nonetheless, it is quite a capable scooter.
The only catch here is that Ather is selling this electric scooter only in Bengaluru right now, but the company will head to Chennai next month and is planning to set up shop in Pune after that too.
Bonus:
Honda Navi:


The quirkiest scooter on sale right now, which will REALLY make you stand out of the crowd, is the Honda Navi. It gives you the best of both worlds - riding style of a motorcycle and the underpinnings of a 110cc scooter. The petite scooter is easy to manoeuvre through stop-and-go traffic and the fact that it weighs just 100kg makes it is easy to live with one. Also, Honda offers a range of dual-tone colours too, which makes the scooter a bit more striking.