Hero XPulse 200 Fi vs Royal Enfield Himalayan: Comparison Review
Published On Jul 13, 2019 By Benjamin Noel Gracias for Hero XPulse 200
Does the more affordable XPulse 200 provide a good alternative to the Himalayan or should you spend the extra Rs 75,000?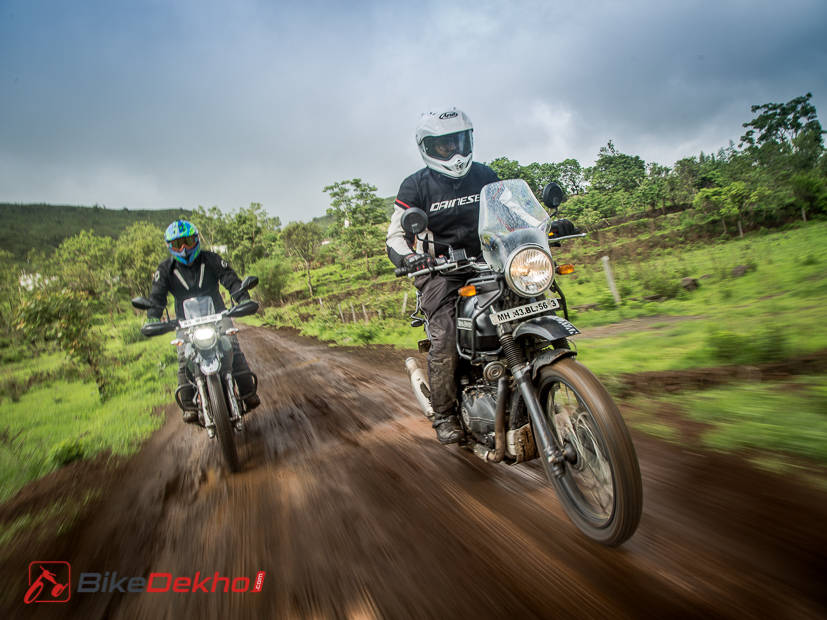 The two-wheeled adventure segment in India has grown quite exponentially in the past few years. While we have entry-level adventure bikes like the Royal Enfield Himalayan, BMW G 310 GS and Kawasaki Versys X-300, we did not have one under Rs 1 lakh until the arrival of the Hero XPulse 200. The bike in its fuel-injected avatar costs Rs 1.05 lakh (ex-Delhi). However, you also get a carburetted version that costs Rs 97,000. Now the XPulse might not have touring genes like the above mentioned bikes but it is more than game for off-road adventures. On the other hand is the Royal Enfield Himalayan which is priced at Rs 1.8 lakh. It is more capable than other significantly expensive small-capacity ADV's. Also, it has a motor twice the size of the XPulse 200 and offers better performance. The big question here is should your first adventure bike be the Himalayan or should you save the extra Rs 75,000 and settle for the smaller XPulse 200?
Also read: Royal Enfield Bullet Trials 500: First Ride Review

Design:
Both bikes here have proper ADV credentials. These are not road bikes modified for off-road use but proper built-from-the-ground-up adventure bikes. Of the two, the Himalayan looks more purposeful, and has a functional design. Its exoskeleton around the headlamp has mounts to hold two fuel canisters on either side. The tubular subframe too has been kept exposed, giving you a lot of mounting points for your luggage. For more off-road capability, the exhaust is high set for better water wading capability.


In comparison, the XPulse 200 looks more stylish. It has a more Enduro inspired design and features a rounded, smaller fuel tank, and narrow seat. You have better-styled parts like the chunky grab rail that is not as functional as the Himalayan's. Also, the presence of body panels does not leave a lot of space for mounting points for luggage. Like the Himalayan, it gets a high mounted exhaust with a proper heat shield. While the XPulse 200 might not look as purposeful as the Himalayan, it definitely looks more adventure-ready than its predecessor, the Hero Impulse. Looks aside, the XPulse 200 has identical ground clearance to the Himalayan.
| | | |
| --- | --- | --- |
| | Hero XPulse 200 Fi | Royal Enfield Himalayan |
| Length | 2223mm | 2190mm |
| Width | 850mm | 840mm |
| Height | 1257mm | 1360mm |
| Seat height | 825mm | 800mm |
| Ground clearance | 220mm | 220mm |
| Fuel tank capacity | 13-litres | 15-litres |
| Kerb weight | 154kg | 194kg |
Ergonomics:
Like ADVs, both bikes here feature an upright riding position but offer different riding experiences. On the Himalayan, you get the sensation of sitting inside the bike. Thanks to its 800mm seat, you sit lower with a taller handlebar that offers a commanding riding position. Also, the seat allows short riders to place both feet on the ground comfortably. The wide seat is quite accommodating and is also quite soft. While it is generally quite comfortable, especially for lighter riders, heavier ones might find the seat rails digging into their backsides over extra long stints in the saddle. Off the road, the high set handlebar and narrow tank allow you to stand in an upright position for more control. Even the high set instrument console does not require you to take your eyes off the road and the analogue instrument console is quite easy to read.


On the Hero XPulse 200, you get the sensation of sitting on top of the motorcycle thanks to the low-set fuel tank that slopes gently into the seat. The flat seat has a lot of space to move around but is narrow compared to the Himalayan, and feels rather firm as well. While the handlebars are wide and offer more leverage, they feel like they are placed a tad low for standing up riding and require you to bend forward a bit. While standing on the pegs, the riding position feels rather aggressive - almost like that of a hardcore trail bke. And even when you're sitting and riding, taller riders might end up stooping over the bars a little bit.


Overall, the XPulse 200 has a riding position more suited for the city environment while the Himalayan's riding position has you feeling more comfortable while covering long distances on the highway.


Technology and features:
The XPulse 200 comes loaded with features. It gets a round LED headlamp and tail lamp and a full-digital instrument console. This console gets a gear position indicator, average speed, trip time and even Bluetooth connectivity. It pairs to the Hero RideGuide app and shows turn-by-turn navigation on the instrument console. For off-road riding, both the Himalayan and XPulse 200 get a metal bash plate and serrated footpegs. However, the XPulse 200 gets knuckle guards as standard fitment. For safety, you get a single-channel ABS setup.


The Himalayan misses out on LED lamps but gets an LED tail lamp. Its has an analogue instrument console with an additional digital display. This display shows the gear position, time, ambient air temperature, odometer and trip meters. Safety-wise, it offers dual-channel ABS as standard. In terms of features, the XPulse 200 wins hands down.
| | | |
| --- | --- | --- |
| | Hero XPulse 200 Fi | Royal Enfield Himalayan |
| LED headlamp | Yes | No |
| LED tail lamp | Yes | Yes |
| ABS | Single-channel | Dual-channel |


Variants:
The Royal Enfield Himalayan is available in two variants: A base ABS version and a Sleet version that gets an urban camouflage paint job and an 'Explorer kit that includes panniers, handlebar brace and other stuff. Of the two, we rode the base Himalayan ABS for this test.

Hero MotoCorp offers the XPulse 200 in two versions: a carburetted one and a fuel-injected variant. Of the two we rode the XPulse 200 Fi variant for this comparison.


Engine and performance:
| | | |
| --- | --- | --- |
| | Hero XPulse 200 Fi | Royal Enfield Himalayan |
| Engine | 199.6cc single-cylinder air-cooled 2-valve SOHC | 411cc single-cylinder air and oil-cooled SOHC |
| Power | 18.4PS @ 8000rpm | 24.83PS @ 6500rpm |
| Torque | 17.1Nm @ 6500rpm | 32Nm @ 4250 - 4500rpm |
| 0-60kmph | 5.13 seconds | 4.33 seconds |
| 0-100kmph | 16.6 seconds | 11.69 seconds |
| Top speed | 110kmph | 122kmph |
| 30-70kmph in 3rd gear | 6.49 seconds | 5.40 seconds |
| 40-80kmph in 4th gear | 8.24 seconds | 6.71 seconds |
| Highway FE | 42.75kmpl | 37.8kmpl |
| City FE | 46.40kmpl | 36.26kmpl |
| Range | 556km | 567km |
Having more than twice the engine capacity of the XPulse 200, the Himalayan has a distinct advantage. Not only does the Himalayan offer better performance, it is also a better tourer. This is down to the taller gearing that has the Himalayan's larger motor turn over at a lazy 4000rpm in 5th gear at 80kmph. At this speed, the Himalayan still has enough grunt to overtake without downshifting. However at crawling city speeds, the Himalayan's tall gearing means you end up riding in 1st and 2nd gear most of the time. This applies in crawling dirt trails as well and in both cases the XPulse 200 feels quicker on its feet and more manageable.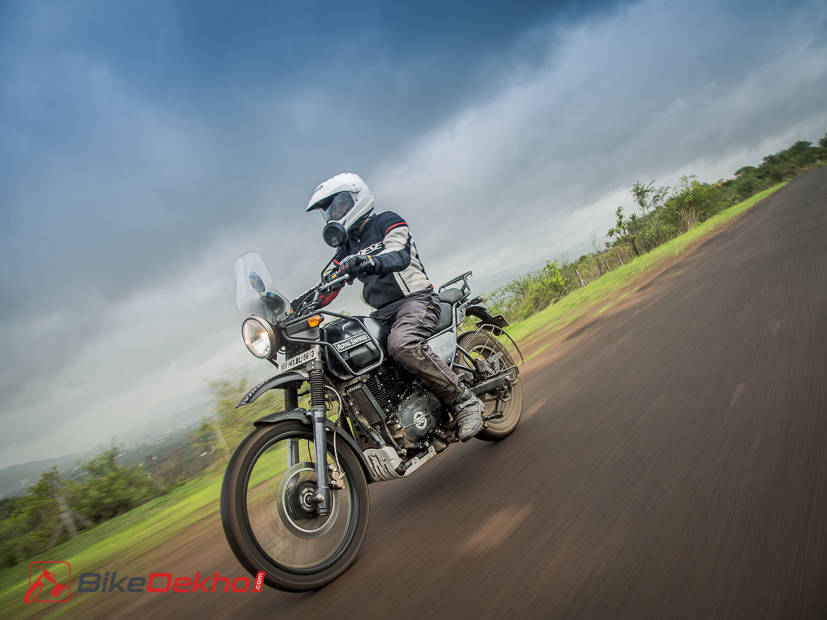 In comparison, the XPulse 200 does not have much to offer at the bottom end and has most of its grunt available in the 4500 to 6500rpm range. Post that performance tapers off near the top end of the rev range. Unlike the Himalayan, the XPulse 200 gets shorter gearing. While this helps in off-road and city conditions, it has the motor running at a comparatively higher 5500rpm at 80kmph in 5th gear. Also, the motor struggles to get past 100kmph and feels happier at speeds of 70-80kmph. While the XPulse 200 offers better fuel efficiency, out on the highway, the Himalayan offers slightly better range owing to its larger fuel tank. Off the road, you have to rev the XPulse 200 to keep it in the meat of its powerband. Hero has equipped the bike with a very short first gear and that coupled with the low weight helps it clear obstacles with ease.

Both bikes offer good refinement, but you will appreciate the Himalayan's relaxed motor out on the highway.

Ride and handling:
Hero XPulse 200

Royal Enfield Himalayan

Chassis

Diamond-type frame

Duplex split cradle

Front suspension

37mm forward offset axle telescopic hydraulic fork (190mm travel)

41mm telescopic forks (200mm travel)

Wheelbase

1410mm

1465mm

Rear suspension

Gas charged monoshock (170mm travel)

Monoshock with linkage (180mm travel)

Wheel sizes

Front: 90/90-21

Rear: 120/80-18

Front: 90/90-21

Rear: 120/90-17

Brakes

Front: 276mm petal disc, dual-piston caliper

Rear: 220mm petal disc, single-piston caliper

Front: 300mm disc, dual-piston caliper

Rear: 240mm disc, single-piston caliper
Both bikes get ADV-style long-travel suspension but offer a different ride quality. The Himalayan offers a supple ride at low speeds but at high speeds the rear suspension bottoms out over sharp ruts. Its large wheels help it soak up most road defects giving it a pliant ride. In comparison, the XPulse 200 offers a firmer ride. At low speeds, the rear suspension has a quicker rebound that can feel uncomfortable over bad patches. The ride quality improves with speed, though given its lighter weight, the XPulse 200 does not feel as planted over a bad stretch of road as the Himalayan when riding fast. That said, the ride on the XPulse 200 feels better insulated than that on the Himalayan. In the city, the XPulse 200 feels light and agile and is more effortless to ride. In comparison, the Himalayan feels front heavy and takes some effort to steer. On twisty bits, the XPulse 200's firmer setup feels more confidence-inspiring while the Himalayan's front wallows a bit and feels vague.


On the rough stuff, the Himalayan's excessive weight means more effort is required to go through the trails. It is quite capable though thanks to the natural standing riding position, torquey motor and a chassis tuned for off-road use. These traits also make the bike more comfortable and confidence-inspiring to novice riders. However, they might find the XPulse 200's suspension to be on the stiffer side as well as unnerving at slow speeds. According to our more experienced off-road riders, the XPulse 200 is a hoot to ride. The suspension is tuned for riding fast off-road and its quick-reacting suspension soaks up bumps once up to speed. Of course, being 40kg lighter than the Himalayan makes the XPulse easier to pick up in the event that you drop it.
| | | |
| --- | --- | --- |
| | Hero XPulse 200 | Royal Enfield Himalayan |
| 80-0kmph | 45.20m | 36.14m |
| 60-0kmph | 25m | 20.74m |
When it comes to braking, the Himalayan is the superior one here. It's dual-channel ABS setup and wider tyres offer better retardation and shorter braking distances. Though the XPulse 200's brakes offer better feel, the ABS is intrusive. Off the road, the fact that the Himalayan's rear ABS can not be switched off makes it impossible to lock the rear wheel, something that's easy to do with precision on the XPulse 200.

Verdict:
The Royal Enfield Himalayan is the proverbial jack of all trades. It is manageable in city traffic, tours well and is built to survive frequent Ladakh trips. On its own, the Himalayan is an excellent value-for-money proposition and off the road, is more capable than most ADVs priced above it. Also, the fact that now Royal Enfield offers sales and service support in places as remote as Spiti is a big brownie point. The Himalayan works well as an everyday bike that is also game for off-road riding or touring.
| | | |
| --- | --- | --- |
| | Hero XPulse 200 Fi | Royal Enfield Himalayan |
| Price (ex-showroom Delhi) | Rs 1,05,000 | Rs 1,80,492 |