Kawasaki launches 2019 KLX 140G In India
Modified On Mar 20, 2019 By Benjamin Noel Gracias for Kawasaki KLX 140
Priced at Rs 4.06 lakh, the KLX 140G is a full sized dirt bike for beginners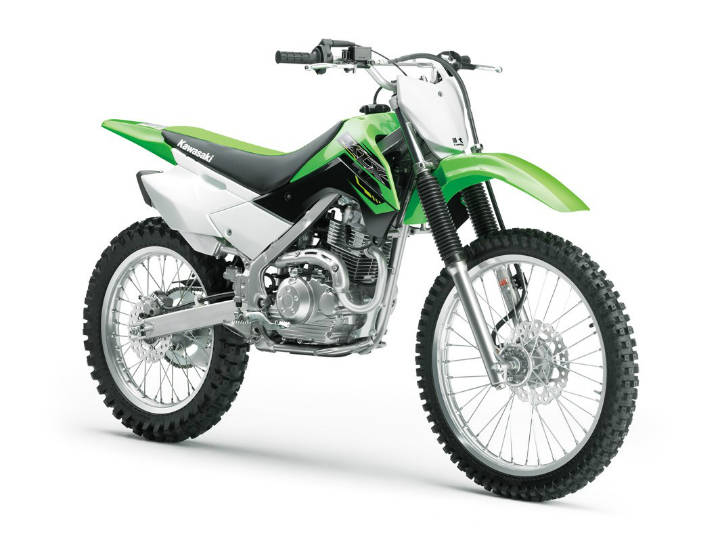 The KLX 140G is a full-sized dirt bike for beginners
Apart from new body graphics, the 2019 model remains mechanically unchanged
Power comes from a 144cc, air-cooled, single cylinder motor
Currently, Kawasaki India offers six dirt bikes in the country

Kawasaki India has launched the 2019 KLX 140G in India. The new bike, which is priced at Rs 4.06 lakh (ex-showroom), replaces the 2018 KLX 140G. Although it gets new body graphics, there's no mechanical differences between the new bike and its predecessor.
The KLX 140G is a full-sized dirt bike in the sense that it features a full-size frame and large 21-inch front and 18-inch rear wheels. This is a bike meant for adults who want to learn the ropes of trail riding. The beginner aspect comes in the form of a mildly tuned 144cc, air-cooled, four-stroke motor that should not be quite a handful like Kawasaki's other two-stroke dirt bikes.

With a kerb weight of just 99kg, it should offer peppy performance. In fact the KLX140G is around 14kg lighter than other dirt bikes with full size tyres. The extreme weight savings are courtesy of an aluminium perimeter frame, a simple air-cooled motor, minimalist body panels and aluminium spoke wheels. It gets 33mm front telescopic forks with 190mm of wheel travel and a linked, fully-adjustable rear monoshock that offers 200mm of wheel travel. Braking is via a 220mm petal disc up front and a 190mm disc at the rear. It gets a seat height of 860mm, while ground clearance is rated at a lofty 315mm.
Currently, Kawasaki India offers six dirt bikes in the country. They are the KX 450, KX 250, KX 100 and KLX 450R, KLX 140G and KLX 110.

Press Release:
MY19 KLX140G launched in India
India Kawasaki Motors announces a launch of MY19 KLX140G in India. The KLX140G motorcycle offers full-size capability in a durable and lightweight package. At over 30 pounds lighter than other offroad bikes with full-size wheels, the KLX140G offers confidence-inspiring capability to take on variety of terrain.
Speaking on the launch, Mr. Yutaka Yamashita, Managing Director of India Kawasaki Motors, said, "Kawasaki has legendary history of dirt bikes. The KLX140G is ideal for every beginner who is willing to gain experience of trail riding. The beginners normally are adults and big youth of all sizes. Yet, the lightweight KLX140G is a comfortable fit to suit a wide variety of off-roaders. Besides, India has suitable landscape for dirt bikes. Therefore, I am sure that the KLX140G will have excellent success in India. "

The air-cooled engine eliminates the need for radiators while keeping the chassis slim and lightweight. The 144cc engine also provides strong torque ideal for learning riders. Full-size wheels help give more ground clearance on the trail and offer a taller seat height and roomy open ergonomics for taller riders while still enabling a comfortable reach to the ground. The easy and dependable electric start along with five-speed gearbox with manual clutch allow smooth and easy engagement
While there are no changes in the technical aspects, the only change is in the graphics of the bike. The KLX140G of 2019 will be available for INR 4,06,600 ex-showroom Delhi.