Hero Destini 125, XPulse 200, and Pleasure Plus Get Connectivity Feature
Modified On Apr 13, 2021 01:00 PM By Praveen M. for Hero Destini 125
Hero Connect costs the same for all three two-wheelers
Hero Connect has been co-developed by Noida-based vehicular GPS tracking company, Rollr.
It helps access several features, including geo-fencing, last-parked location, tow alert and trip analysis.
Available at Hero's online portal or authorised dealerships.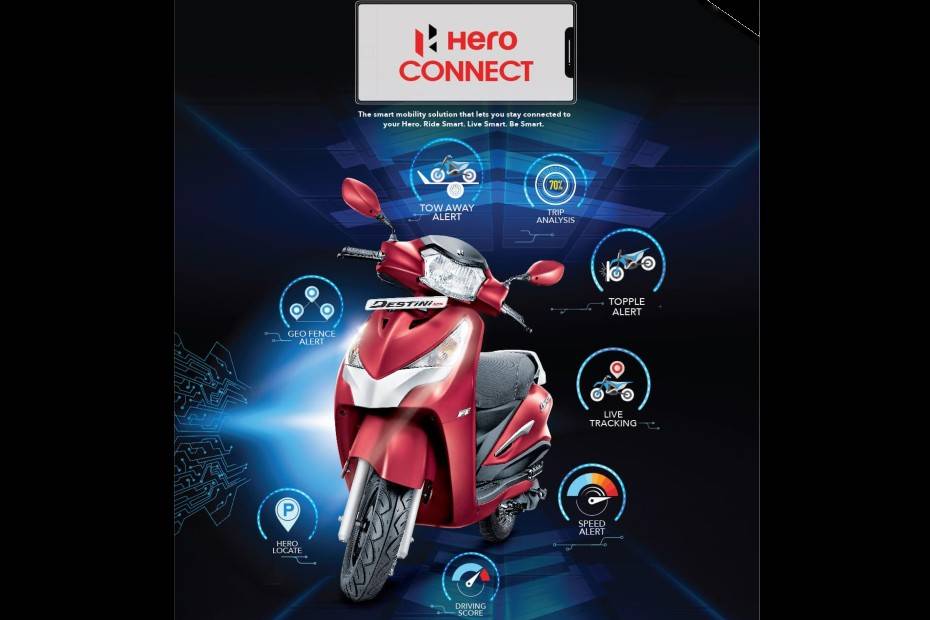 The Hero Destini 125, XPulse 200, and Pleasure Plus now come with an optional connectivity feature, called Hero Connect. This device has been developed in conjunction with Rollr, a Noida-based vehicular GPS tracking company. It costs Rs 4,999 for all three two-wheelers and is available at Hero's online store as well as authorised dealerships.
The Hero Connect is a waterproof device with an inbuilt memory that can store data of up to three days. There's also a built-in antenna that enables firmware upgrades over the air. Using Hero Connect, you can track your vehicle with accurate speed and direction realtime. It can also send an SMS to your emergency contact and an app notification in case of an accident. Not only this, it also detects unauthorised movement or towing and immediately sends an app notification and an SMS to the registered number.

If you've forgotten where you've parked your two-wheeler, Hero Connect can detect the vehicle's last parked location as well. It also comes with geo-fencing alert, riding pattern analysis, and trip analysis for up to six months. Thanks to the over-the-air-update functionality, Hero is likely to add more features in the future.
It's high time Hero MotoCorp offers connectivity on all its vehicles considering most of its rivals sport such features. That said, the 5,000-rupee price tag feels a little too much for a device that doesn't have the most important feature: turn-by-turn navigation. Nonetheless, we hope Hero MotoCorp soon offers this on the rest of its lineup, at least as an option. What do you think? Let us know in the comments below.