Yamaha Ray ZR 125 BS6: Road Test Review
Published On Sep 29, 2020 By Gaurav Sadanand for Yamaha RayZR 125
Does the BS6 Ray ZR justify Yamaha's move to the competitive 125cc space?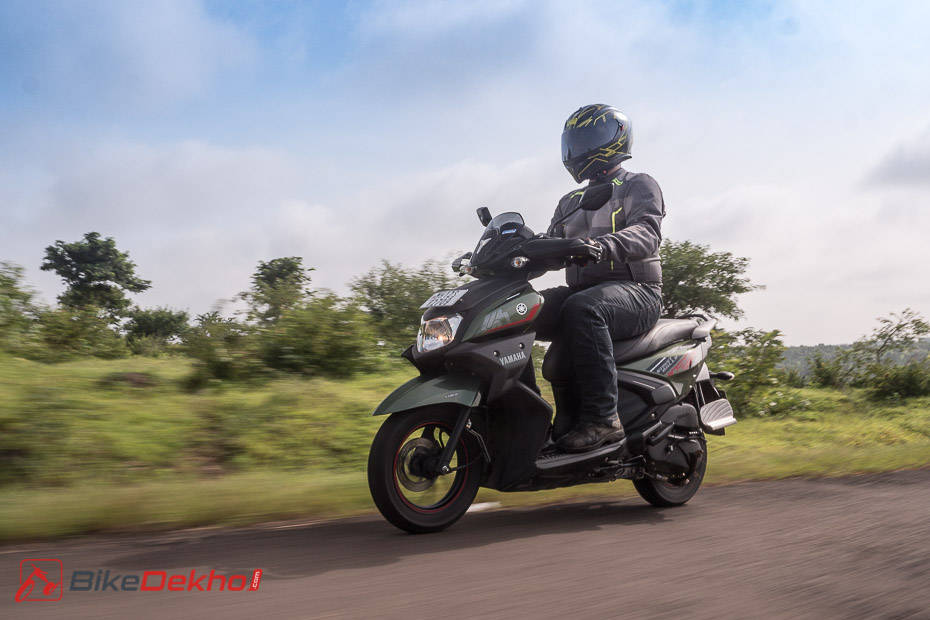 The 110cc scooter space in India has been gradually progressing towards larger 125cc scooters over the past couple of years. The need for more power, better features and premium components have given birth to scooters like the TVS NTorq 125, Suzuki Access 125 and Activa 125. These scooters have been ruling the market while Yamaha sat on the side lines.
Not anymore though. The BS6 transition brought with it significant updates for the Ray ZR and Fascino. Not only did they get larger, more powerful 125cc motors but also design updates and a couple of extra features to go along with them. But does it really make a difference? Is it too little too late? We strive to answer these questions by putting the BS6 Ray ZR 125 through a thorough road test.
Pros
Lightest scooter in the 125cc segment.
Frugal engine offers class leading fuel efficiency.
One of the best brakes we've tested so far with CBS distributing the braking force like no other.
Cons
Rear suspension is way too soft. Gets wallowy over tall speedbrakers.
The angle and shape of the seat tends to push you forward every time you brake hard.
Could do with more features to take on its rivals.
Stand-out Feature:
Its stop-start-system works flawlessly and helps deliver a staggering fuel-efficiency of 66kmpl.
Design

Not everyone will agree with the Ray ZR's design language, it's bold and a bit out there. But, it definitely stands out from the conventional crop of 125cc scooters it competes with. It creates its own identity by taking styling cues from motorcycles, with unique design elements like handguards (Street Rally variant), a fly screen, independent indicators and those massive fake air ducts which serve no practical purpose.

Another distinctive feature is the block pattern tyres with rim tapes that's only available on the Street Rally variant we tested. Though the scooter looks trail ready with off-road style tyres and handguards, it really isn't meant to be bashed around on the rough stuff.

Overall, Yamaha has improved on the quality of the Ray ZR, especially when you consider the recent drop in build quality of its motorcycles. The fit and finish is noticeably better and so is the switchgear quality and use of materials. Having said that, the handguards do have a plasticky feel to them and feel really flimsy.
Ergonomics

Sure, it isn't the best looking scooter out there, but what would blow you away is just how light the Ray ZR is. It's in fact the lightest scooter in the 125cc scooter segment weighing in at just 99kg -- 4kg lighter than the older 113cc model. Quite surprising when you take into account the fact that the rest of the scooters and motorcycles have gained weight during the BS6 transition. Yamaha says, it managed to pull this off by using an ultra light frame.

The sheer lightness of the scooter really helps while moving it around in the parking lot. What also works in its favour is the low 785mm seat height which is perfect for average sized riders. Even somewhat shorter riders won't find it too difficult to get their feet on the ground. Taller riders need not worry about having their legs foul with the taller positioned handlebars while taking sharp turns, as there's plenty of room to play with. Our only quibble here is the floorboard space which feels a bit cramped compared to other scooters we tested in this segment.

Not to mention, the seat, although well cushioned and comfortable, has a raked design which tends to push you forward every time you brake hard. This constantly has you moving around to get back into the normal seating position.
Technology & Features

There's really nothing to brag about when it comes down to the scooters feature list. You get a 'T' shaped LED DRL, a side stand cut off switch and a remote boot opener. The Street Rally variant we tested does come with a digital instrument console, but it offers the bare minimum in terms of readouts. This includes a speedometer, odometer, a trip meter, a fuel gauge and a tachometer which makes no sense on a scooter. Possibly redesigning the console with a few extra features like average/real time fuel-efficiency, distance to empty and a service indicator would have helped Yamaha earn some extra brownie points.

Shift your focus to the front and you'd notice that the Ray ZR gets a conventional halogen headlamp which lacks throw and spread, thus failing to illuminate the road at night.

Yamaha has also missed out on nifty bits like an underseat storage light or a USB charging socket which are pretty much the norm these days. Heck, even smaller scooters like the Hero Pleasure Plus offer these features as standard. Having said that, you could get them added to the Ray ZR 125 if you're willing to fork out an additional Rs 770. As for the 21-litre underseat storage, it's big enough to accommodate a half faced helmet and a few knick-knacks.
The absence of an external fuel filler cap is also quite disappointing which leads to you refuelling the traditional way.
Engine & Performance


Performance is one of the key highlights of the Ray ZR 125. Sure, it isn't the most powerful scooter in its segment, but it's surprisingly quick, only falling behind the Suzuki Access. It really does float like a butterfly, and sting like a bee. And it's all down to how light the scooter is which helps its acceleration. The Ray ZR is almost a second quicker than the BS6 NTroq in the 0-60kmph run and manages to extend its lead to around 1.5 seconds from 0-80kmph. Post this though, the Ray ZR's motor does tend to lose steam.

That said, there's a good amount of bottom end and mid range grunt which makes quick overtakes in city traffic and absolute breeze. The tractability of the motor makes it a hoot to ride. Adding to the motors functionality is the new immaculate silent start feature. There's literally no noise from the starter motor. All you feel when you thumb the starter is a light judder from the engine. That being said, the silent start feature on the Honda Activa 125 is still the best we've tested so far.
The Ray ZR 125 also comes with an idle start stop system which cuts the power of the engine within seconds when you're at a standstill. Just pull on the lever with the slightest throttle input and the engine springs back to life. Being light, frugal and efficient helped the engine eek out an incredible fuel efficiency of 66kmph (segment leading) in our tests. It even matches its rivals out on the highway by offering 56.28kmpl in real world conditions. However, its smaller 5.2-litre fuel tank may have you visiting the fuel pump more often.
Ride & Handling

The Ray ZR 125 lives by its sporty genes. Its potent chassis exudes confidence and how! The sheer lightness of the scooter makes it extremely flickable and easy to turn into corners while its large 12-inch wheels and long wheel base ensure stability. Now one would probably expect the block pattern tyres to lose grip on tarmac, but that's not really the case. In fact, these tyres offer ample grip be it dry or slightly damp conditions.

Pair them with an excellent braking setup and you have a scooter that'll stop on a dime. What we loved about the Ray ZR's braking system is the way the CBS distributes braking forces. The scooter never felt unnerved or jittery even when we went hard on the brakes. Further inspiring confidence is the feedback and progression from the levers.

The suspension setup on the Ray ZR 125 has been reworked for 2020. It's been set up to offer a plush ride with a certain amount of stiffness on the front suspension which gets better as speeds increase. The rear monoshock, on the other hand, is way too soft. While it gobbles up potholes and small undulations well, it does tend to feel wallowy on larger speed breakers. Nonetheless, the setup works well, settles down and regains composure fairly quickly.
Variants

The BS6 Yamaha Ray ZR 125 is available in two variants, drum and disc priced at Rs 69,530 and Rs 72,530 respectively. The former variant comes in two colours -- black and blue, while the latter gets five liveries to choose from. This includes black, blue, matte blue, yellow and red.
Verdict

Yamaha may be a little late to the party, but it definitely has a solid offering at hand. The BS6 Ray ZR 125 may not look the part, but it rides really well. What impressed us the most is how light, nimble and comfortable it feels, qualities that would certainly go well with the fairer sex as well as newer riders.

Yes it isn't as feature packed as some of its rivals but it's a lot better built, fuel-efficient and powerful than before. When you consider these updates for a price of just Rs 69,530, the BS6 Ray ZR 125 makes a lot of sense.