2017 Honda CBR 650F: Road Test Review
Published On Jul 24, 2018 By Benjamin Noel Gracias for Honda CBR650F
The CBR 650F is priced more than some more powerful and feature-packed street nakeds. So, has Honda lost the plot with this one?
On paper, the
Honda CBR 650F
sounds tailor made for India. A mid-capacity inline-four motor for that right 'superbike' engine sound. A fairing for that superbike look and a power output that is invigorating without being intimidating. But then it costs Rs 7.3 lakh (ex-Delhi), an outrageous sum when you consider larger capacity, more powerful, dynamically competent and feature-rich sports nakeds like the
Kawasaki Z900
and the recently launched
Suzuki GSX- S750
offer a lot more bang for your buck.
So is the CBR a lost cause? Not quite. There is a lot more to the Honda than its dated skin would have you believe. Let's begin with what's changed for this 'new for 2017' iteration.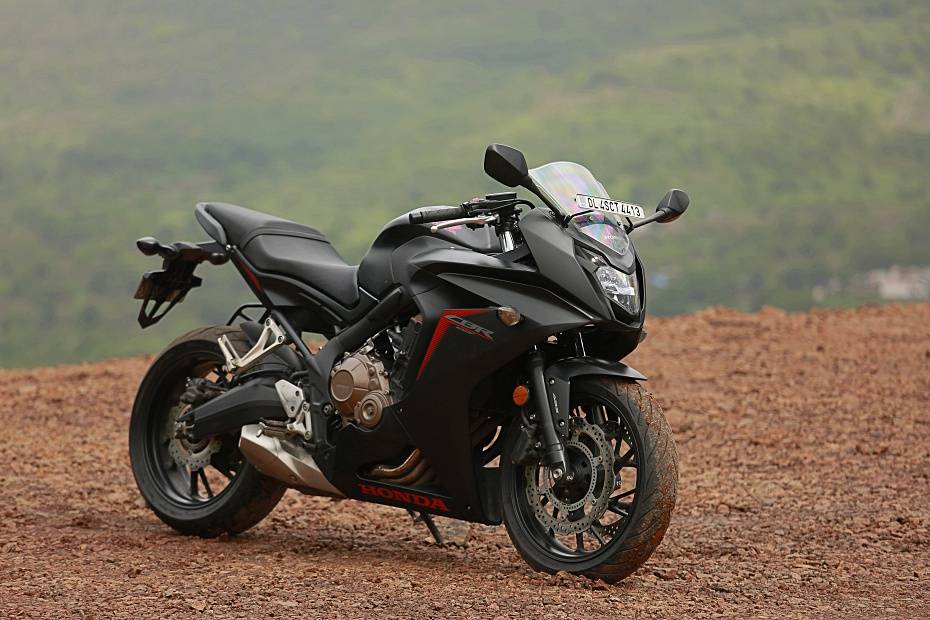 Design and features:
Cosmetically there are very few updates on the CBR 650F. It gets new colours, among them this matte black paint job paint job which looks premium. Others include a black swingarm and engine with bronze engine accents similar to the larger
CBR 1000RR Fireblade
. The biggest change has to be the new, slimmer LED headlamp though. It sits nicely in the bulbous fairing and lends a touch of sharpness to the design. While illumination is good with a nicely focussed high beam, we felt that the low beam's spread could be better. In fact, we felt that the Honda Activa 5G's LED headlamp has more beam intensity and spread.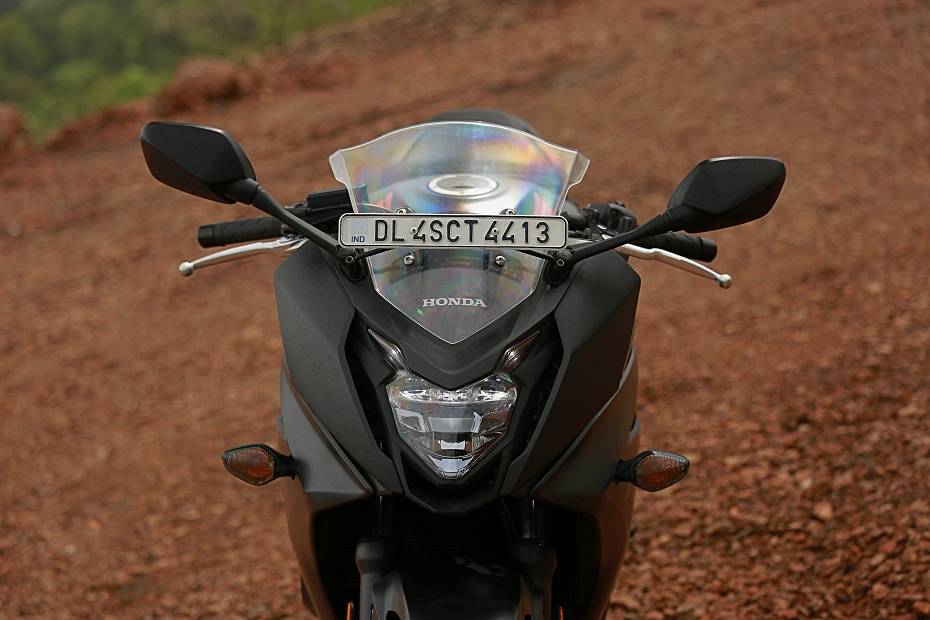 While the CBR's LED tail lamp gets a clear lens cover, it's a shame that the bulb-type turn indicators remain the old school design. A slimmer LED setup would have added some freshness to the bike. As expected from a Honda, quality can be seen all over the bike. The switchgear feels tactile to the touch but has the horn button placed above the indicator switch. This odd placement takes some getting used to.

Surprisingly, Honda has decided to retain the twin pod digital instrument cluster which looked dated even when it was first seen on the 2014 model. It is a basic unit and just shows engine revs, 4speed, time, odo and two tripmeters along with associated telltale lights. A slimmer and more comprehensive instrument cluster would have made the bike feel more with the times. And given its sport-touring intentions, an adjustable flyscreen wouldn't hurt either.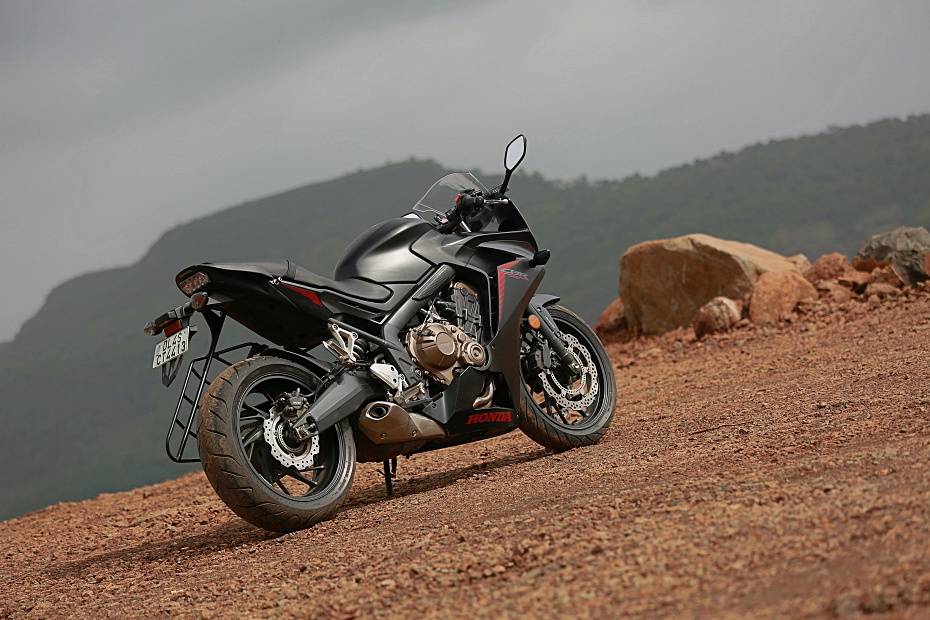 Engine and performance:
One of the Honda CBR 650F's biggest USPs is its 648.7cc inline-four cylinder motor. The oversquare motor, like its supersport cousin, makes most of it power at the top of the rev range. For 2017, the motor gets mild updates. While engine internals remain untouched, intake and exhaust receive substantial updates. Honda has revised the way air-fuel mixture flows into the engine by way of shorter air intake funnels and longer intake ducts. The new exhaust system now provides less back pressure. These changes allow the motor to breathe better and can be felt in the way she rides. While the previous generation motor felt a bit restricted, this one revs more freely and reaches the top of the rev band quicker. And it is more vocal as well. Personally, we think this is one of the sweetest exhaust notes we have heard, especially at the top of the rev band.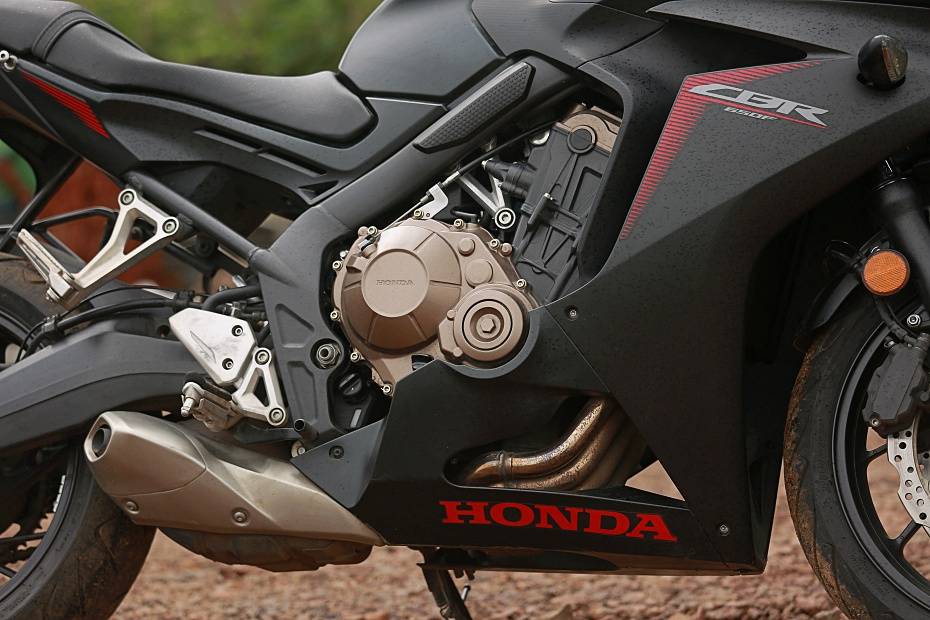 Now, the CBR 650F sold abroad makes 90PS and 64Nm of torque. Since our fuel quality is mostly low at best, the India-spec bike has been detuned, so this 2017 model we get makes 86.7PS at 11,000rpm and 60.5Nm of torque at 8500rpm - which is 0.3PS and 2.5Nm less than its predecessor. The good thing is that since most of the peak power is made at higher rpm, us mortal riders won't notice the deficit. The motor is an absolute sweetheart - docile and extremely tractable. The gearbox, like any big Honda, is a precise and slick-shifting unit.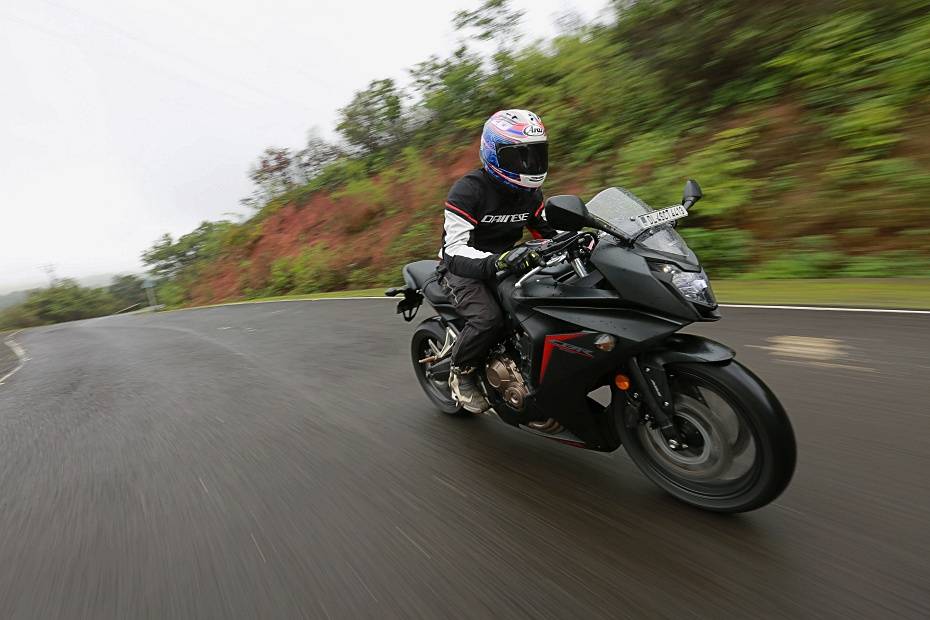 Gearing has been revised with shorter 2nd, 3rd, 4th, and 5th gears for more tractability. The CBR 650F will go from 30 to 70kmph in third gear in 3.09 seconds and 40 to 80kmph in fourth gear in 3.63 seconds. That's quicker than the more powerful Triumph Street Triple S. It this flexibility that allows you to ride the bike in the city in fifth gear at speeds as low as 50kmph and the tachometer showing 2000rpm. This helps the bike achieve a fantastic fuel efficiency figure of 27.2kmpl. The linear nature of the motor might feel a tad sedate but its relaxed nature helps a lot in standstill traffic where you will appreciate its jerk-free throttle action. The throttle isn't as light as the ones you find on ride-by wire units but it isn't much or a bother. The clutch is positive but heavy and could have benefited from assist and slip tech. Heat is well managed though extended time in city traffic will have hot air swirling around your ankles.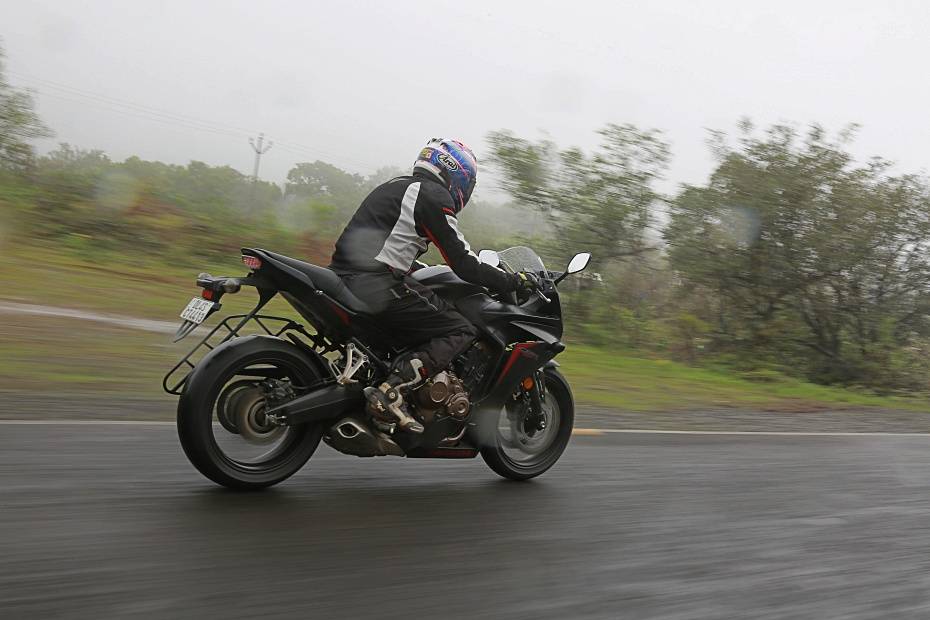 On the highway, the fuel efficiency figure drops to 24.2kmpl as the bike is running at speeds of 100-110kmph in sixth gear at a slightly higher 4500rpm. The motor is a refined unit, with just a bit of buzz showing up around 5000rpm but that smoothes out post 7000rpm. It can be serious fun in the top of the powerband as well, but getting there takes some time thanks to its portly 216kg kerb weight. It will go from 0-60kmph in 2.62 seconds and 0-100kmph in 4.76 seconds.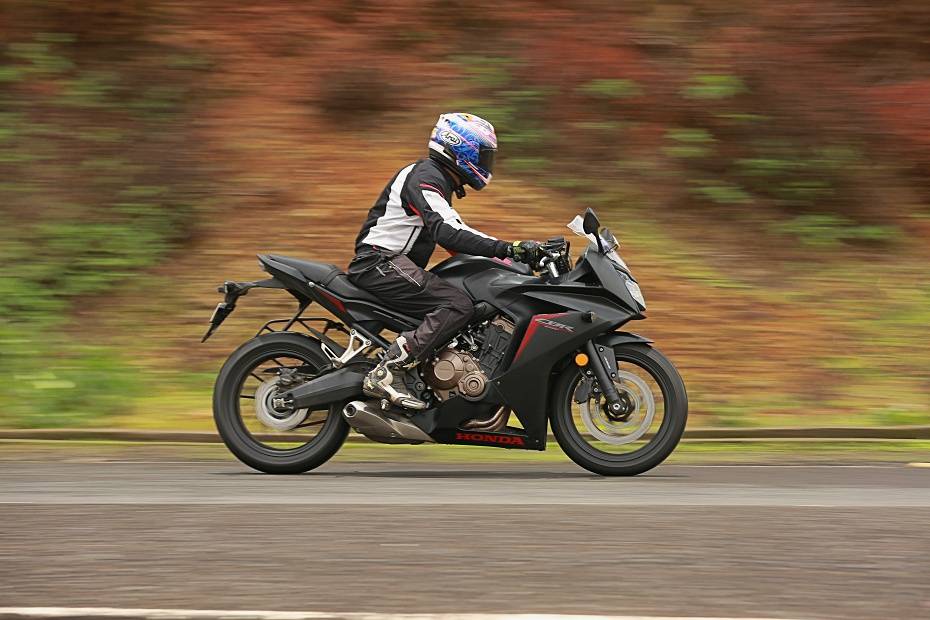 Ride and handling:
The USP of the previous generation Honda CBR 650F was that it was an easy bike to ride. Despite having a power output of 89PS and weighing 216 kilos without fluids, a newbie used to riding 150-200cc bikes could immediately get comfortable with the big Honda. The reason for this besides the docile motor is the near-upright riding position that takes no time at all to get used to. Its seat height, at 810mm, is on the lower side, which should be good enough even for 5ft 6inch riders. The seat's cushioning is a tad on the softer side but the flatter one-piece design means you can move around a bit. It is good enough for a couple of hours of extended riding. The footpegs are slightly rear-set but are mounted lower so your knees aren't cramped. The clip-ons are set high enough and require you to lean a wee bit, making the riding position quite similar to any of the 160cc bikes out there.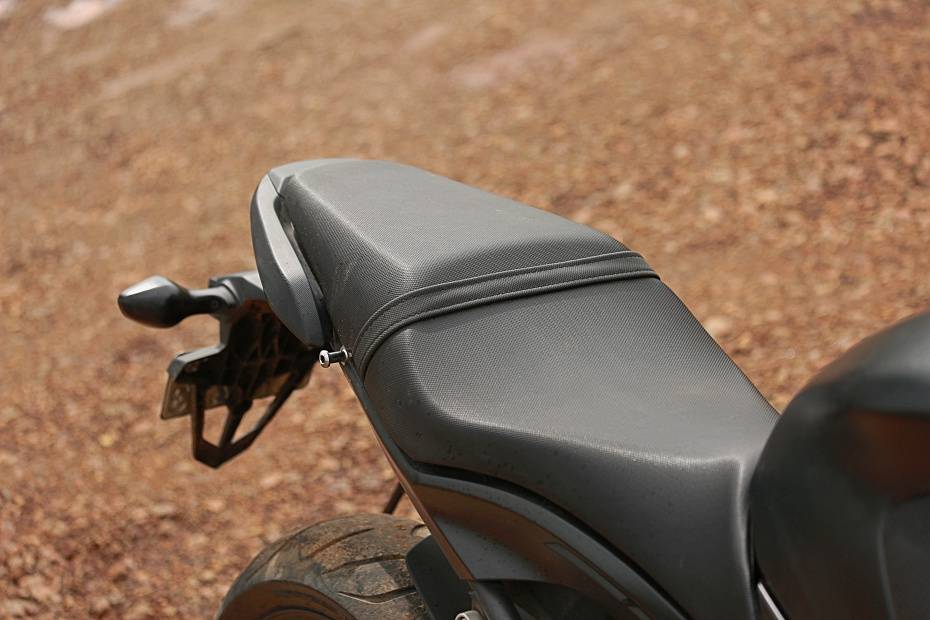 The CBR's suspension setup is tuned towards rider comfort and offers very little in terms of adjustability. The front now gets Showa dual bending valve 41mm telescopic forks which are set up on the softer side and soak up most road imperfections. They do bottom out on badly designed speed breakers though. However, even after bottoming out, the forks do not transmit any of the judders to the rider. That said, there is some nosedive under hard braking. The rear monoshock is adjustable for preload but felt a bit more reactive for my 70kg weight, leading to a bouncy after-effect over bad roads. Interestingly, my heftier colleagues felt the setup to be just right and comfortable.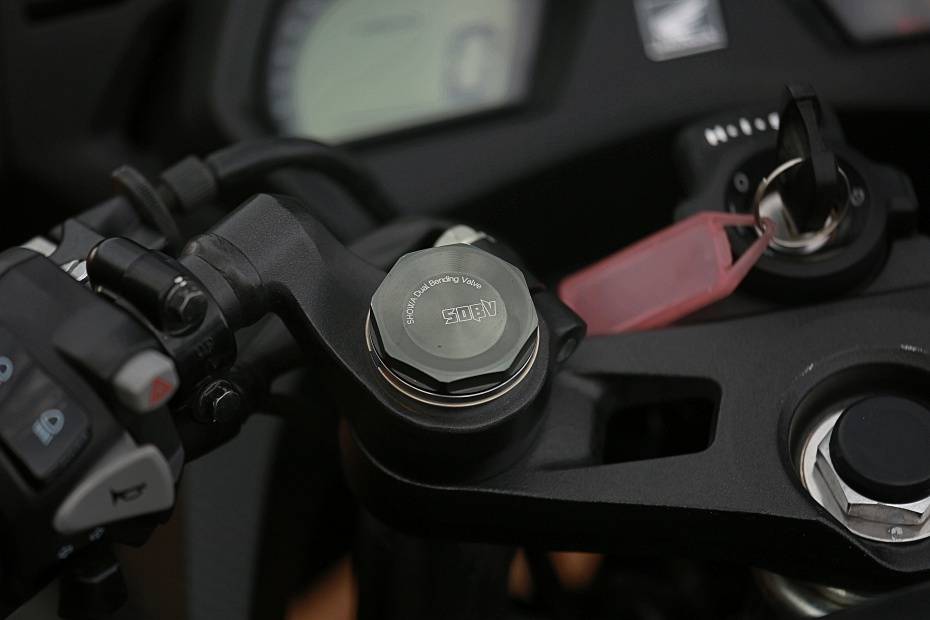 It is the suspension's focus towards comfort that holds it back from being an absolute hoot in the corners. For one, the CBR 650F makes its weight felt in corners. During our testing on rain-soaked roads, the soft front felt sufficiently well behaved on mid-corner bumps, but if it's sharpness you're looking for from the steering, then look elsewhere. And there's no adjustability for the front-end either, so you're pretty much stuck with what you get. It's a good thing then that you can add some preload on the rear suspension for it to behave better in corners. Overall handling is quite decent, and can even be described as fun at times, but this CBR does feel a bit lazy when transitioning from corner to corner.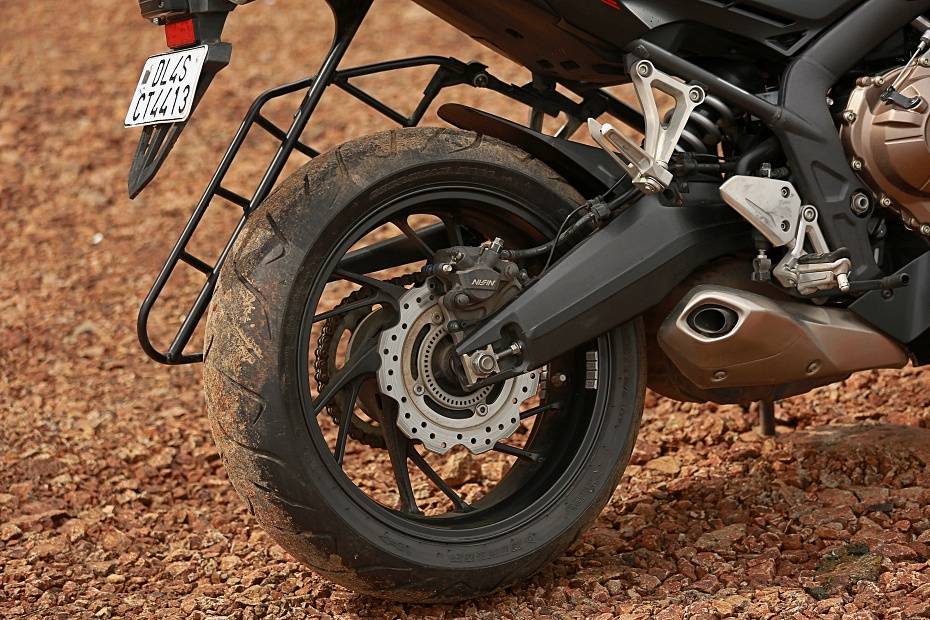 Then there are the tyres. The 120/70 R17 front and 180/55 R17 rear Dunlop Sportmax radials are inherently touring-spec tyres that are designed for a longer tyre life. They offer good grip in dry conditions, but not so much in the wet. In fact, we had the rear wheel break traction while accelerating over nearly every wet road patch. This is the only time the absence of traction control was felt. The tyres simply do not give the feeling of stability while attacking wet corners, causing us to dial down speed significantly.

That and the non-adjustable soft front means the CBR 650F is not much fun in the wet. My colleague, though, had quite a bit of fun the next day when the rains stopped and the sun came out. Overall, given good road conditions, the CBR 650F will hold a good line through a set of corners. We just wish that it got more adjustment from the suspension and a stickier set of tyres. Then again, that would mean an increase in price and shorter tyre change intervals.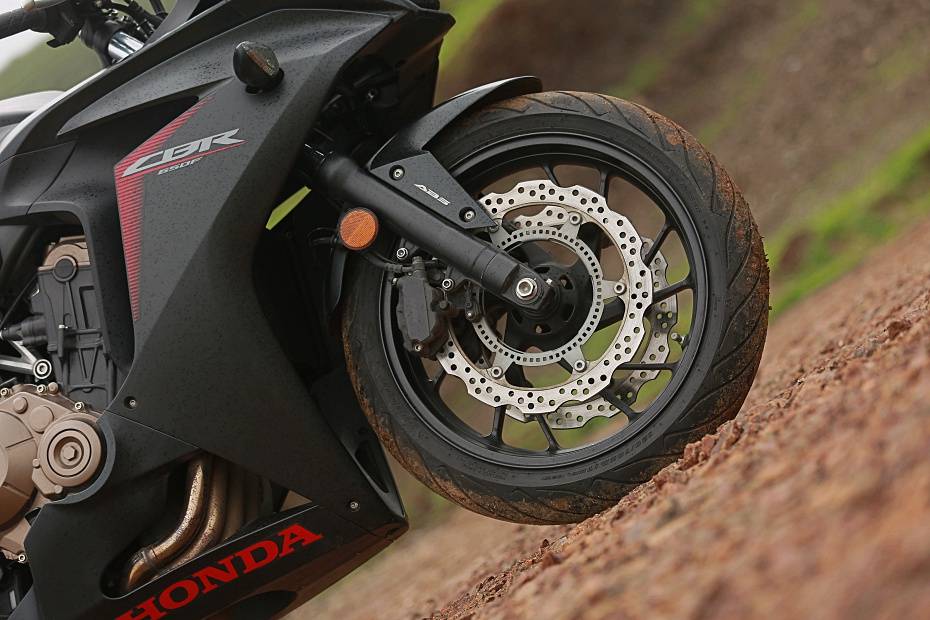 Braking is another area that has seen improvement. The front 320mm discs now get sintered brake pads mounted within Nissin two-piston calipers. The rear wheel gets a 240mm disc and ABS is standard fitment. Under braking tests, the CBR 650F did the 100-0kmph run covering 47.7 metres and the 80-0kmph run covering 30.21 metres. That's around 2 metres more than the Triumph Street Triple S and Kawasaki Z900, but then these bikes come with stickier tyres. Other than the nosedive, stability under hard braking is good, with the bike tracking straight. ABS offers minimal intrusion in most conditions, a good trait. Front brakes offer strong bite but the lever effort is quite a bit.
The CBR 650F seems to be set up keeping newer riders in mind. It has a predictable, almost lazy handling. Experienced riders can enjoy this bike as well. It's just that you will have to work harder than you would on any other middleweight naked.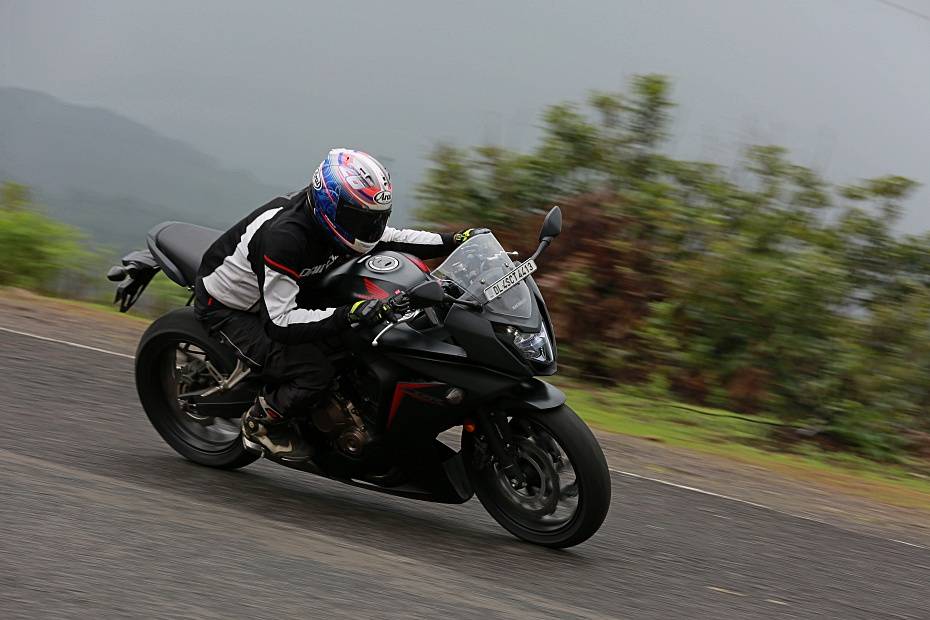 Thoughts?
Is the Honda CBR 650F expensive? Yes, it is, considering the fact that you get more powerful middleweight nakeds for a lesser price. But then there is an interesting caveat. A paid service for the Honda CBR 650F costs around Rs 4,500. That's close to half of what you'd pay for the Triumph Street Triple S (8-9 thousand) and Kawasaki Z900 (7 thousand). That and the fact that Honda has one of the largest dealership networks in the country makes owning a Honda superbike seem like a sweet deal.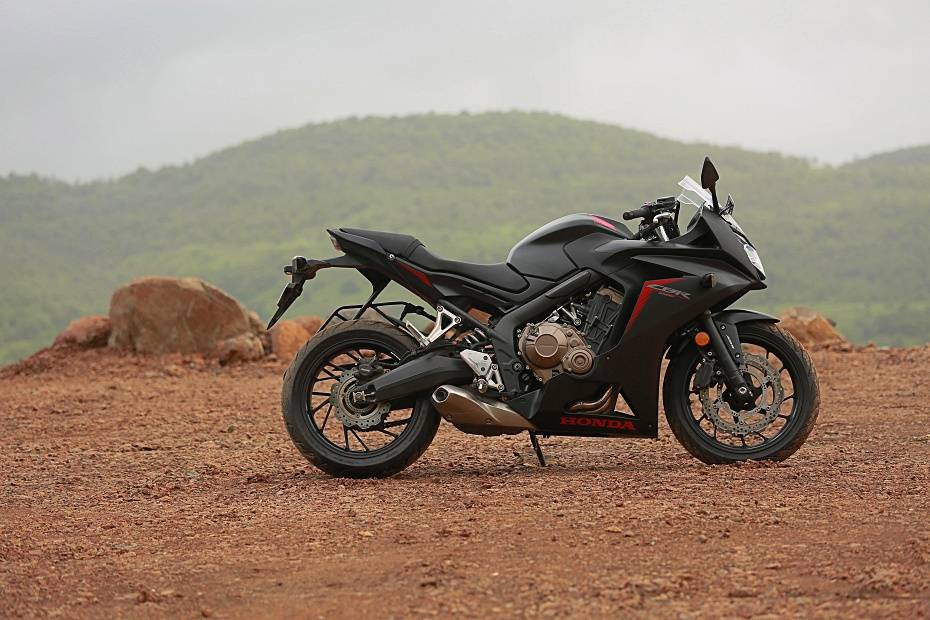 Should you go for the CBR 650F then? If you are a newer rider with negligible experience with big capacity bikes, or someone upgrading from a 160-220cc bike, the CBR 650 takes very little adjustment to get used to. Or if you are looking for a hassle-free big bike for everyday use, the CBR 650F is effortless to ride in the city. It can be used for touring as well but you would have to invest in a taller flyscreen. When it comes to excitement though, the CBR misses out quite a bit. It lacks the sharpness and agility the middleweight nakeds like the Triumph Street Triple S, Kawasaki Z900 and Ducati Monster 797 offer. It also falls short on kit, both mechanical and electronic.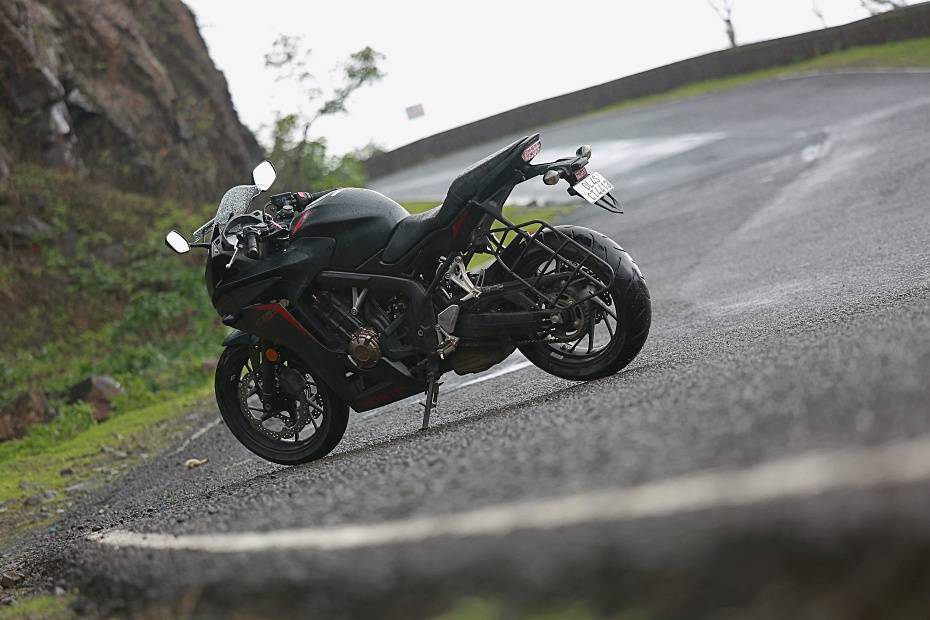 The Honda CBR 650F has an unassuming demeanour that should please everyone and makes for a great everyday companion. It does not assault your senses like the competition, but rather grows on you the more you ride it. It does feel dated though, and needs a nip and tuck with some modern features thrown in. In a world of Tony Starks, the CBR 650F is Steve Rogers. Kinda from a bygone era, but a hero nonetheless.