Yamaha Fascino – Road Test Review
Published On Sep 18, 2015 By Rommel Albuquerque for Yamaha Fascino
The Pros: Stylish retro looks, refined and responsive engine along with decent mileage , tyres provide sufficient grip and also good feedback from brakes.
The Cons: Less storage space, suspensions are stiff, low seat height gives problem to tall riders.

The Crux: Overall beautiful looking scooter, lack of some basic features. Best for those customers who choose style over function.

Rating

When I was in college, I loved riding around the city on a scooter, well to be honest, I still do. There's something about riding a scooter that brings out the child like fun in riding a two wheeler. Well Yamaha have tried to rekindle not only the joy of riding a scooter, but have also gone with a retro look. Here is the Yamaha Fascino.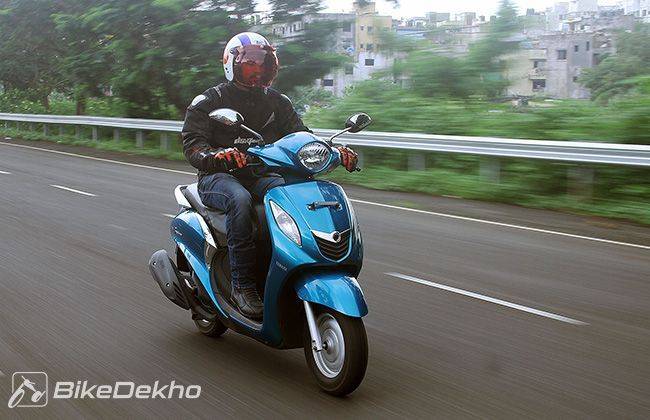 Design and features: The Yamaha Fascino is said to have been styled taking cues from fashion wear and accessories like high heel shoes, sunglasses, nail paint, a watch and a pendant all blended together to make a stylish scooter. Well it definitely looks stylish and somewhat retro too. Many would say it looks like a Vespa. But it's not.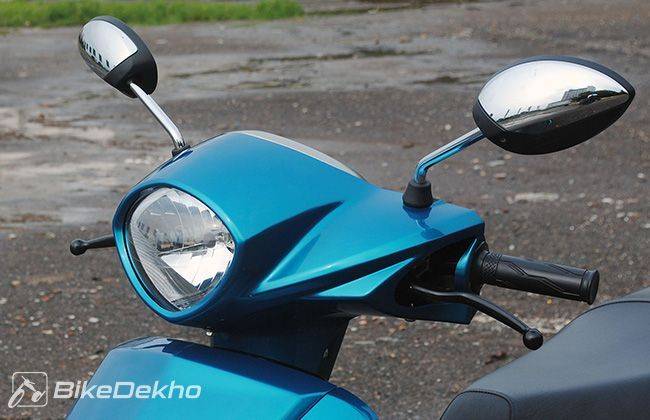 The Fascino is an eye catching scooter from every angle. The front headlight stands out by being shaped like a human eye and the chrome rear view mirrors add a certain amount of bling to the scooter. Further along, the smooth sweeping lines continue towards the rear which shaped like a woman's high heeled shoe and ends with a rather unusual rear tail cluster which looks like a tongue sticking out at you. Now all these elements might sounds weird but they surprisingly work well when put together. The chrome highlights in the front, side and at the rear lends the scooter a premium and refreshing look.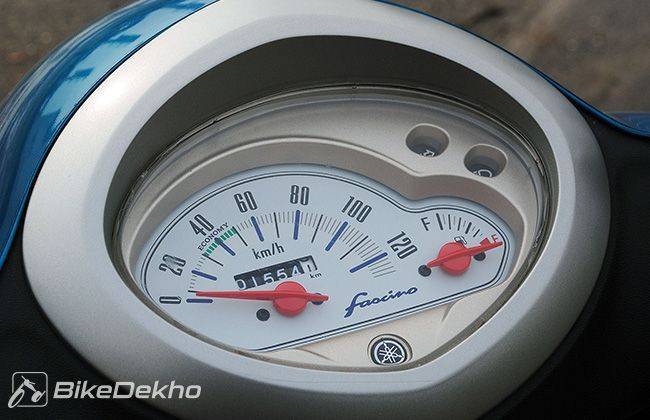 On the features front though the Fascino doesn't have a lot to offer compared to its competition. The very basic analogue instrument console looks a bit plane and could have had a few more features or maybe even styled a bit better. The switchgear is of decent quality and the plastics seem good but the inclusion of pilot lamps would have been nice. It does however get a storage pocket near the ignition switch where you can keep a small bottle of water and any other knick knacks. The floor board where you rest your feet slopes upwards to allow for women wearing high heel shoes to rest their feet comfortably. The 21L underseat storage space is not big enough to fit a full face helmet but an open face helmet will fit easily. A neat inclusion that we noticed was the use of the underseat plastic which has been moulded to accommodate a holder for a wrench and a screwdriver along with a section to keep your documents safely.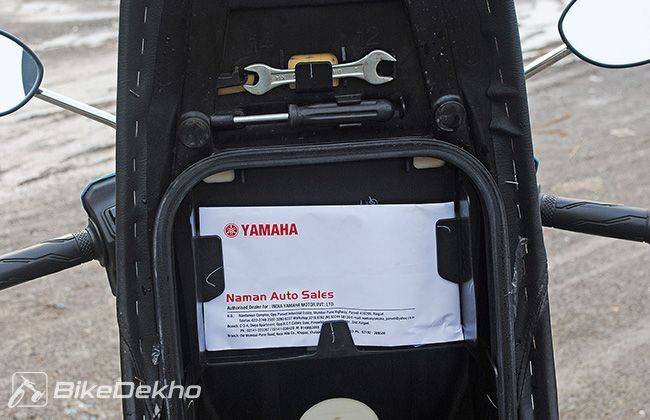 Performance: Yamaha has used the same 113cc, Blue Core engine from the Ray. It produces 7PS at 7,500rpm and 8.1Nm at 5,000rpm. The engine feels refined and responsive but the lacks that low end grunt. It's a very easy going scooter but can reach 80km/h with ease. We were able to reach a top indicated speed of 95km/h. In our speed runs the scooter did drink a lot of petrol but when we actually tested it for fuel efficiency and rode calmly like regular people, we got a decent mileage of 45km/l.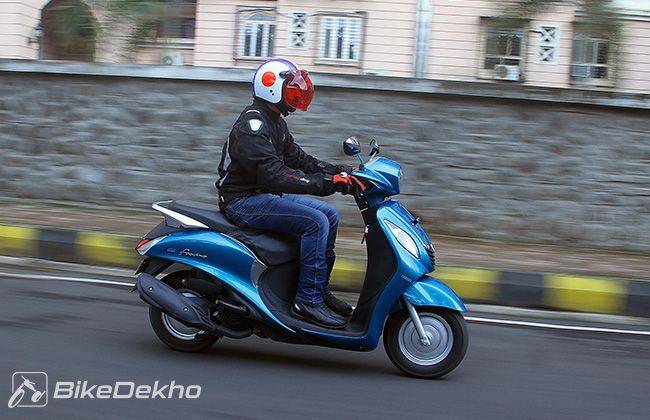 Ride and Handling: The Fascino is light weighing in at just 103kg. It's extremely easy to manouver around in the city, which is what you want in scooter. It uses the same chassis as the Yamaha Ray and even though it's lighter than the Ray by 1kg the Fascino felt stable at high speeds. Even while taking corners the scooter felt planted. The 10inch wheels with MRF Zapper tyres provide adequate grip on the road and the drum brakes at the front and rear provide good feedback and stopping power. The suspension however is very stiff. You can feel every bump and undulation on the road. The stiff suspension is good when you're riding at high speeds but for a regular trip to the market or around the city it can be very painful.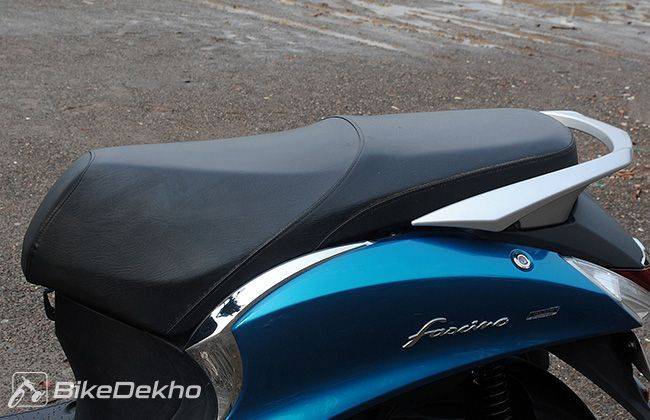 The seat has been designed well and is very comfortable. Its 775mm low seat height makes it very easy for shorter people to ride while tall riders will have problems. Pillion comfort is good, as the rear section of the seat is wider and there are also full size foldable foot pegs for the pillion to rest there feet on.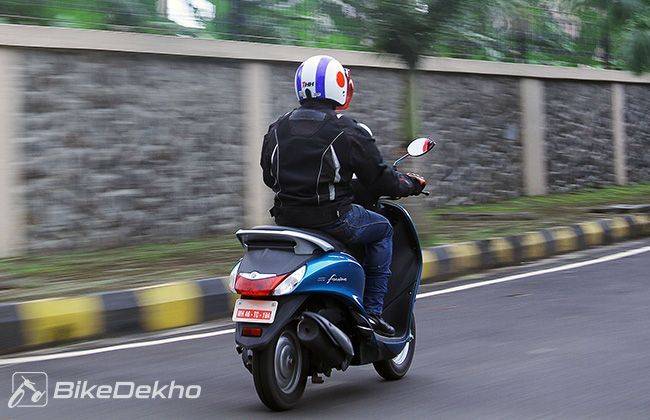 Verdict: Overall, the Fascino is a beautiful looking scooter. It may lack a few features compared to its competition but then again it's a choice of style over function. The Fascino is basically a stylised retro version of the Yamaha Ray. It's priced at Rs. 65,000 (on-road Mumbai). It's Rs. 6,000 more than the Ray and about Rs. 2,500 more than the Yamaha Alpha. It's also a lot less than a Vespa. So if your pocket is a little light but you really want a retro styled scooter, then take a look at the Yamaha Fascino.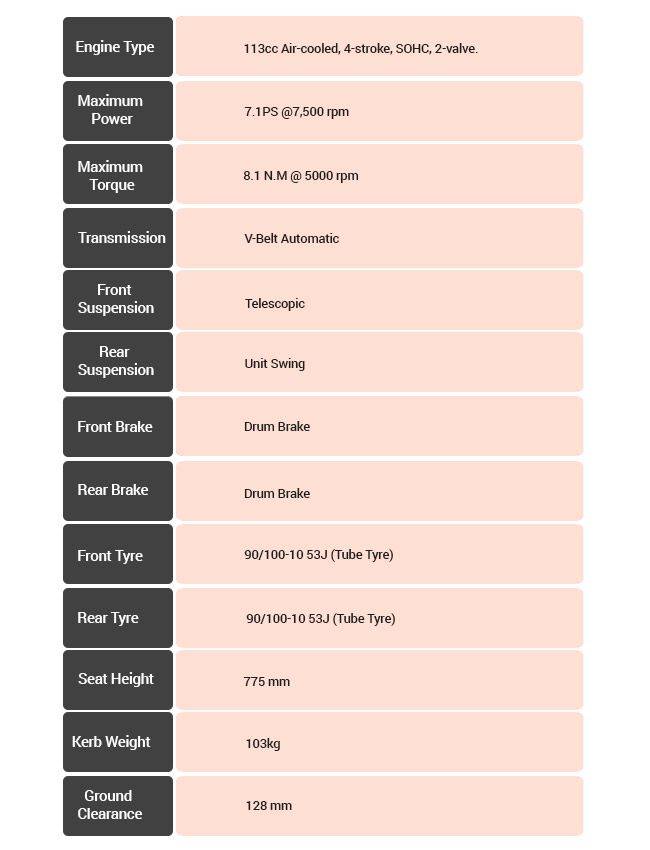 *Ex-showroom Price in Delhi