Ducati To Unveil Two New Bikes At 2016 World Ducati Week
Published On Jun 16, 2016 By Naveen Soni
Out of the two new motorcycles coming at the 2016 World Ducati Week, one will be a limited edition to commemorate Ducati's 90th anniversary.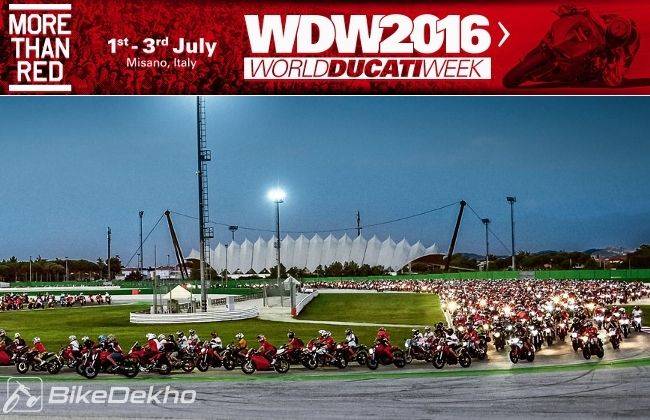 One of the most revered Italian motorcycle manufacturers, Ducati has confirmed that it is going to unveil two new bikes at the upcoming 2016 World Ducati Week (WDW) that is being held from July 1 - 3 at the Misano circuit in Italy. One of the two upcoming models will be a new 2017 model which could be unveiled in a 'closed room' preview, just like the company revealed the Scrambler two years ago.

The other one will be a special edition to commemorate Ducati's 90th anniversary. Although it will be a production model, it will be produced in a limited number of units to provide a feeling of exclusivity to its buyers. The manufacturer has not revealed any detail about any of these motorcycles, which means that it wants you to join the 2016 WDW if you want to catch these on their first reveal.
If rumours are to be believed, the first upcoming motorcycle could be a bigger version of the Scrambler with an engine displacing around 1000cc. On the other hand, the special Ducati 90th anniversary edition could be a limited edition Panigale as it is the most important model of the company in the current line-up.

The 9th edition of the weekend-long bike festival, the 2016 WDW will bring a series of events and parties including bike parades, concerts, shows and the most exciting part, on-track races. In these races, you will get to witness head on head encounters of Ducati MotoGP and World Superbike Championship (WSBK) riders including current and former champions.
You will see Dovizioso, Bayliss, Giugliano, Petrucci, Valia, Mercado, Hernandez and Xaus riding the new Scrambler Flat Track Pro in the first ever "Scrambler Ducati Flat Track Race by TIM" on the Misano Circuit Area oval. Then Iannone, Dovizioso, Stoner, Capirossi, Davies, Laconi, Redding and Barbera will be seen drag-racing Diavel Carbon bikes on the straight of the "Marco Simoncelli" Misano World Circuit for the "Drag Race by Shell." 
Other events at the 2016 WDW include Dragster race, Flat Track School, DRE Enduro and Safety courses, stunt shows, Ducati Garage Contest, Heritage Contest, and test ride of the new Ducati XDiavel. Stay tuned to BikeDekho for more updates on the upcoming Ducati motorcycles and the 2016 WDW.