Buy New Bike Or Second Hand Bike With Rs 3 lakh Budget?
Modified On Jun 17, 2023 03:46 PM By Nishaad Joshi for KTM 390 Duke (2017-2023)
Five exciting bikes, five exciting flavours of motorcycling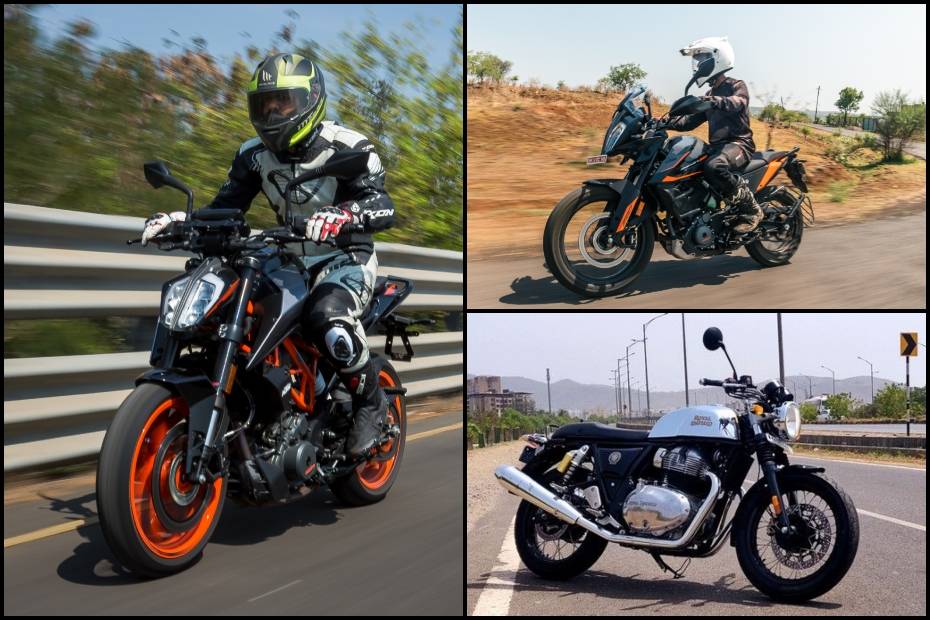 Rs 3 lakh. It's the amount you've finally saved to step up from your beginner motorcycle onto a big one and learn new skills on, explore your limits. But the moment you step out of your house to splurge the money on a brand new bike, the age old thought hits you. Should I get a new, relatively lower capacity bike for this money or a bigger, second-hand one?
If you're struggling with the same, worry not! We here have five exciting bikes you could spend your money on. While we usually list three new and two used bikes, with Rs 3 lakh, we're stepping into the big bike segment where performance and excitement matters. We have, hence, made a list of two new and three used bikes that you can opt for:
New: KTM 390 Adventure X- Rs 2,80,652 (Ex-showroom Delhi)

KTM's recently-launched 390 Adventure X is the most affordable 390 Adventure and it pleasantly surprised us when we recently rode it. With no electronics holding it back, this 390 Adventure brings around a wild flavour, something that the first-gen 390 Dukes brought. While it's not really meant for newbies, even slightly experienced riders will enjoy this unadulterated and raw riding experience.
New: KTM 390 Duke- Rs 2,97,475 (Ex-showroom Delhi)

Where do we even start about the KTM 390 Duke. It's fast, furious and absolutely loves going fast. And now in its third generation, the bike's evolved a lot over the years, becoming a more mature and sophisticated motorcycle. Keep in mind this is not a beginner-friendly motorcycle and if you're going to purchase it, we think you should have some form of prior experience. But if you are experienced, the 390 Duke can be an absolute hoot to ride in the right hands.

So if you love your bikes modern, feature-loaded and fast, there's nothing quite like the 390 Duke at this price point.
Used: 2017 Kawasaki Ninja 650 | 17,000km | Rs 3,10,000

The Kawasaki Ninja 650 will always be special for Indians for it's been many Indians' go-to choice to enter the superbike world. This Ninja is friendly, both in terms of the riding experience and with its price tag, both while being very very capable both on the road and on the track. And most importantly, it's versatile enough to be used as a daily commuter or as a touring weapon.

If sport tourers are your thing, it's hard to beat the friendliness and accessibility that the Ninja 650 brings.
Used: 2018 Yamaha YZF-R3 | 22,000 | Rs 2,84,500

What a bike this one is! The Yamaha YZF-R3 has always been a bike us enthusiasts have wanted in our garage. It has one gem of an engine, is reasonably comfortable and looks gorgeous. These things combined with its Japanese badge means reliability even with second hand bikes is usually not an issue.
Used: 2019 Royal Enfield Continental GT 650 | 11,403km | Rs 2,80,000

The Royal Enfield Continental GT 650 has always brought a smile to our faces every time we've ridden it. The performance and refinement levels on offer with the sweet parallel-twin engine are something we've previously never seen on Royal Enfield bikes and the bike's properly fun to ride and commute on. And given just how good it looks, it's a no-brainer for anyone who loves their motorcycles retro.