Bajaj CNG Bike Details Leaked Via Patent Images
Modified On Sep 29, 2023 03:01 PM By Praveen M. for Bajaj CT 110X
A CNG bike will offer even lower running costs than a petrol-powered bike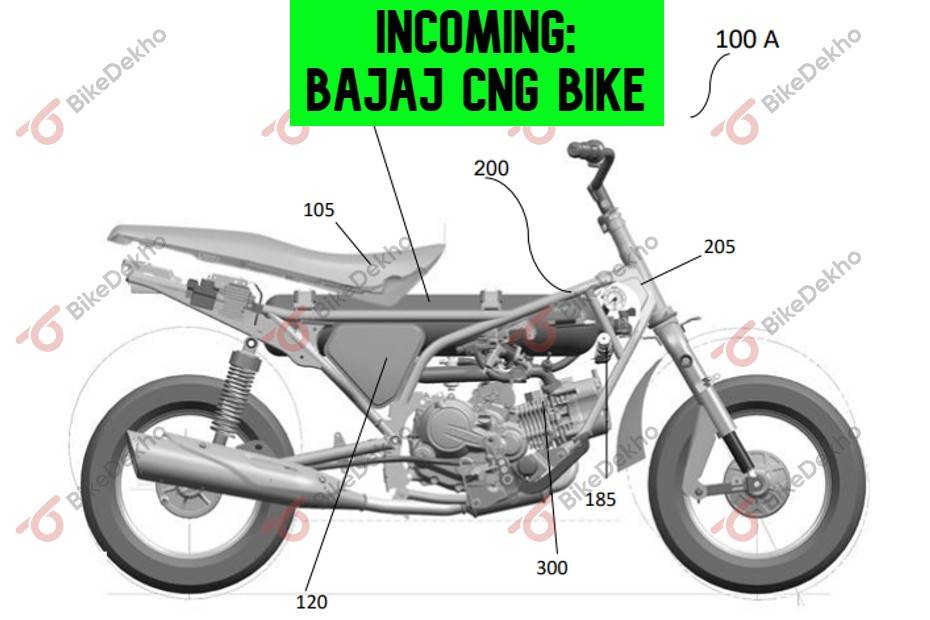 Bajaj recently hinted at the possibility of a CNG bike launch, and now, we've managed to access the patent documents of a CNG-powered motorcycle.
Interestingly, it uses a special perimeter frame that can hold the CNG tank between the upper braces of the frame, whereas the engine rests between the double downtubes. Compared to petrol, Compressed Natural Gas (CNG) needs larger storage containers as they are highly pressurised. Hence, this CNG Bajaj bike uses a long cylinder that extends right from the front of the bike all the way to halfway under the seat. The seat sits atop the cylinder and there's a storage compartment where a conventional petrol tank would be.

The patent drawings also reveal a smaller petrol tank on the side portion of the motorcycle, which will be used in case the CNG runs out. While the patent details reveal it may either be triggered manually or automatically, we expect Bajaj to offer a manual switching option to keep the costs in check, much like a reserve petrol cock. The components required to regulate the CNG pressure are located at the front portion of the frame.
There seems to be a fairly considerable visual space between the CNG tank and the sloper-like engine, which should help in keeping the tank heat-insulated. Also, the positioning of the tank is in such a way that it can slide out from the rear in case of any repairs.
While the patent also mentions that the setup may be used for a two-wheeler with wheels ranging from 14 to 18 inches in diameter, it also specifies that having larger wheels may affect the weight balance of the bike, so it could be possible for Bajaj to opt for 17-inch wheels at both ends. Since the purpose of a CNG bike is to primarily lower running costs, expect it to be equipped with run-of-the-mill underpinnings including a telescopic fork, twin rear shock absorbers, a disc or drum at front and drum at the rear. All in all, it could be a variant under the Bajaj CT range, possibly called the Bajaj CT110 CNG.

Though developing CNG fuel tech for bikes is complicated, Bajaj's attempt seems to be pretty convincing going by the patent drawings. It wouldn't be long before we see a Bajaj CNG bike spied on the roads. CNG-powered motorcycles will serve as a great middleground between petrol-powered bikes that are expensive to run, and electric bikes that have limited range, and are currently plagued with a minimal charging infrastructure.