5 Most Affordable ADV's In India: RE Himalayan, Kawasaki Versys-X 300, BMW G 310 GS and more
Modified On Feb 19, 2019 By Benjamin Noel Gracias for Benelli TRK 502
Adventure bikes are fun. We list the 5 most affordable ones you can lay your hands on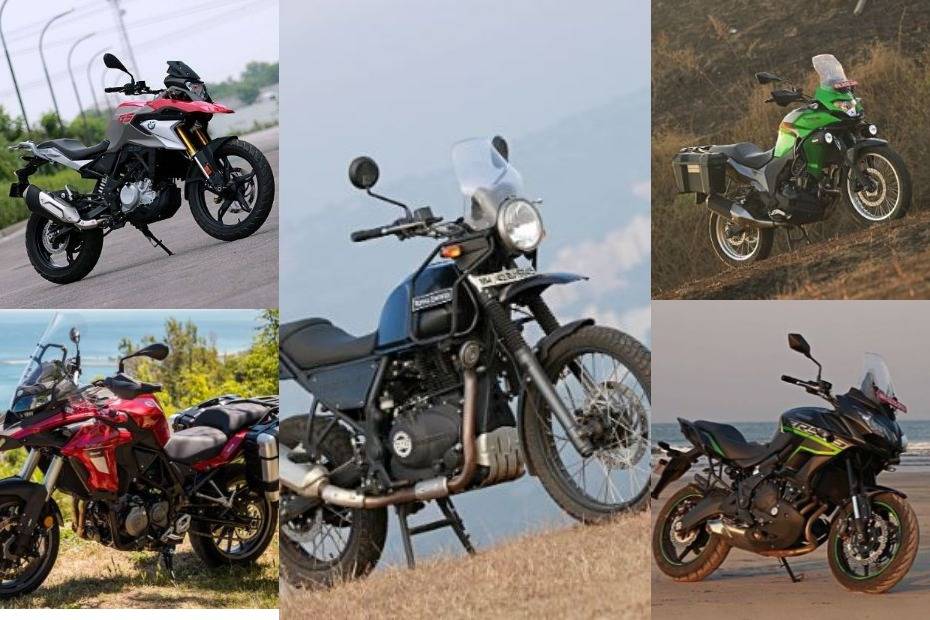 Adventure biking is gaining popularity these days, with enthusiast reaching further and beyond where the road ends. To do this they need a motorcycle that is adept at touring as well as negotiating the rough stuff. Here is where ADV's come in. Their upright seating, torquey motors and long-travel suspension make light work of long-distance travels and are the perfect bikes to get Leh'd.
And you don't have to spend top dollar to get yourself one of these capable machines either. Here's a list of the 5 most affordable bikes you can buy right now.

Royal Enfield Himalayan (Rs 1.79 lakh ex-Delhi)
The most affordable ADV on this list is quite capable off the road. Featuring a spartan but functional bodywork on which you can fit touring luggage and jerry cans with ease, the Himalayan has presence thanks to its tall stance. It is one of the few bikes in this list to sport spoke wheels that are more durable for off-road use. It also sports the biggest front wheel here, a properly large 21-inch one, and a 17-inch rear tyre with tubed dual-purpose Ceat Gripp tyres. It gets ABS now but you can't switch it off. Suspension setup too offers a generous amount of wheel travel: 200mm at the front and 180mm at the back. All these add up to a tall 220mm of ground clearance. Despite the tall stance, the 800mm seat height is accessible to riders of average heights. The 15-litre fuel tank should see you cover large distances before stopping for fuel. Power comes from a 411cc air-cooled single-cylinder motor that makes a modest 24.8PS at 6500rpm and 32Nm at 4250rpm. This is a torquey unit and comes mated to a 5-speed gearbox. If you plan to learn off-roading without breaking the bank, the Royal Enfield Himalayan remains your best bet.
Also read: Royal Enfield Himalayan vs Mahindra Mojo: Comparison Review

BMW G 310 GS (Rs 3.49 lakh ex-Delhi)
This baby GS is a prime example of the fact that low price does not necessarily equate good value. The G 310 GS is the second most affordable bike in this list but costs almost twice as much as the Himalayan. While the GS impresses on the design and quality fronts, it does not offer much in features other than a digital dash and switchable rear wheel ABS setup. On paper, it does get impressive kit, like the upside down front forks and rear monoshock (with 180mm of wheel travel on both sides) and 19-inch front and 17-inch rear alloy wheels with Metzeler Tourance tyres. However, the suspension is too soft and bottoms out quite easily to be of much use off-road. The 835mm seat is tall and will not find favour with average-sized riders. Its 313cc liquid-cooled single-cylinder motor makes 34PS at 9500rpm and 28Nm of torque at 7500rpm and is mated to a six-speed gearbox. However, given its gruff and vibey nature and the tiny 11-litre fuel tank, you won't be doing much long-distance touring on one.
Also read: BMW G 310 GS: Road Test Review

Kawasaki Versys-X 300 (Rs 4.69 lakh ex-Delhi)
For Rs 1.2 lakh more than the GS, you can opt for the more capable Kawasaki Versys-X 300. Like the Himalayan, the Versys features a functional bodywork. Kawasaki offers the bike with standard features like engine guard, LED fog lamps, knuckle guards and a single-side pannier. Its USP is the 19-inch front and 17-inch rear aluminium spoke wheels fitted with dual-purpose IRC tyres that work surprisingly well both on the road and off it. While seat height at 815mm isn't too tall, the Versys-X 300's 180mm ground clearance is among the lowest in this group. It also has a large 17-litre fuel tank that should help give it a good range. The Versys-X 300 is the most affordable twin-cylinder ADV you can buy. It gets a 296cc liquid-cooled parallel twin motor that is good for 40PS at 11,500rpm and 25.7Nm of torque at 10,000rpm. Derived from the Ninja 300, this motor isn't exactly suited for ADV use but you do get a shorter final gearing to help its case off the road. Compared to the Himalayan and G 310 GS, the Versys-X 300 is more viable for touring given it refined powerplant and tall windscreen.

Benelli TRK 502 and 502X (Rs 5 lakh and Rs 5.4 lakh ex-Delhi)
The newest adventure bikes here make a strong case for themselves as they are the most affordable midsize ADV's you can buy. In fact the base TRK 502 costs just Rs 31,000 more than the Versys X-300. You have the option of a touring-friendly TRK 502, or for Rs 40,000 more you can get the more off-road-capable TRK 502X. Their USP is the large dimensions which make the bikes look more like litre-class ADV's. With that size comes unwanted weight, all 235 kilos of it. This makes the TRK twins a whopping 14 kilos heavier than the larger Kawasaki Versys 650 and Suzuki V-Strom 650XT. That would take a toll on performance as well and that's a downer given the 500cc liquid-cooled parallel twin motor already makes a modest 47.5PS at 8500rpm and 46Nm of torque at 6000rpm. What works in the base TRK 502's favour is the low 800mm seat height and a large 20-litre fuel tank that should make long distance touring a quick and non-stop affair. Its large windshield and 17-inch alloys with Pirelli Angel GT touring tyres should also make it capable on tarmac. On the other hand, the more hardcore TRK 502X gets a high-mounted exhaust, tall 840mm seat, slightly longer-travel rear suspension and 19-inch front/17-inch rear spoke wheels with dual-purpose Metzeler Tourance tyres. These updates should make it more capable on the rough stuff.

Kawasaki Versys 650 (Rs 6.68 lakh ex-Delhi)
The Kawasaki Versys 650 has been around for a while and remains the sportiest midsize ADV you can buy today. Its sports-tourer-on-stilts attitude comes courtesy of a short wheelbase, adjustable Showa upside down forks with 150mm of wheel travel, an offset rear monoshock (145mm wheel travel) that can be remotely adjusted for preload, and Dunlop Sportmax tyres. However, the overall setup feels more tuned for long-distance on-road riding than off it. Its 649cc parallel twin motor too is lifted off the sportier Ninja 650. It makes 69PS at 8500rpm and 64Nm at 7000rpm. It gets a 840mm tall yet very comfortable seat but a disappointing 170mm of ground clearance. A large 21-litre fuel tank means the Versys 650 is one bike on which you can cover larger distances at a rapid pace, but will have to be careful while negotiating dirt roads.