2021 TVS NTorq Race XP Road Test Review
Published On Aug 27, 2021 By Sudipto Chaudhury for TVS NTORQ 125
Do the revised engine specs and new tech put it at the top of the 125cc class?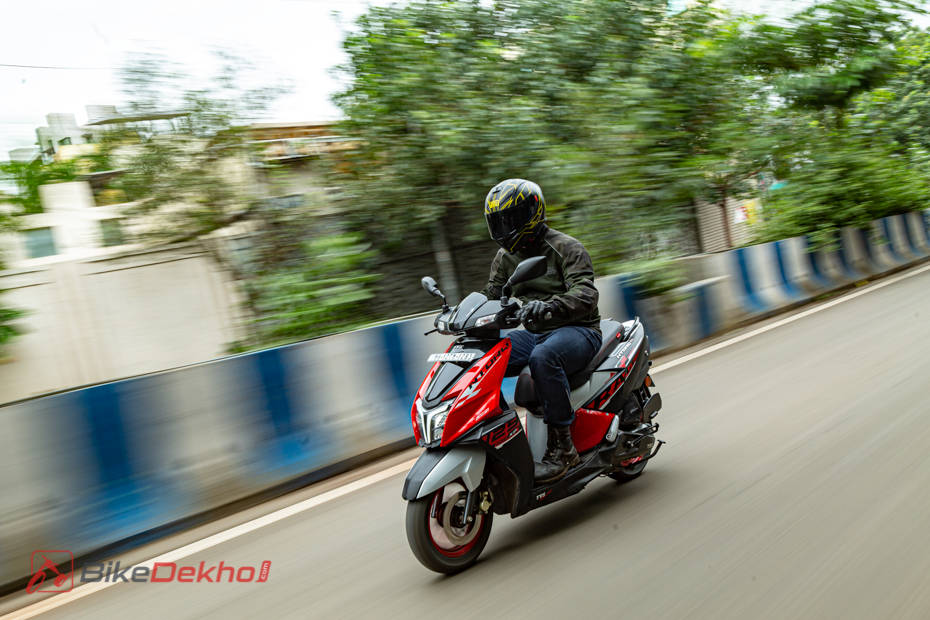 The TVS NTorq 125 has been consistently pushing the boundaries of what a 125cc scooter should be. Even in the BS4 days, while its compatriots were happy offering USB chargers, at the most, it had already jumped onto the Bluetooth bandwagon, and was one among a precious few two-wheelers (motorcycles included) offering turn-by-turn navigation.
Admittedly, its BS6 avatar kicked off mostly with a smattering of eco-friendly updates, but that unfortunately also came with a marginal loss in power and a small weight gain. So this new range-topping variant is an attempt to correct that and reclaim the NTorq's crown of being the most exciting Indian scooter. Hence, TVS has brought in a host of changes reserved for the NTorq's range-topping variant.
Pros
Distinctive looks, especially with the red alloys
Strong performance, so you're easily able to keep up with traffic
Easy, neutral handling, even with a pillion
App-based features like navigation and ride stats, now even includes a few voice-activated options
Switchable ride modes for when you want better throttle response or more efficiency
Cons
Firm suspension thuds over speed breakers/broken patches
App functionality takes some getting used to
Stand-Out Features
Improved performance, so you're rarely left wanting for more, even on open roads
Switchable riding modes, so you're free to decide whether you want to zoom through traffic or go at a leisurely pace and save on the fuel bill at the same time
Design

That the NTorq 125 Race XP is the top variant in the NTorq lineup is evident even at a passing glance, despite it being available in a singular (at least for now) red, white, and grey paint scheme with those striking red alloys. While the overall lines are unchanged, there's a smattering of body decals that scream "racer boy". Just like the NTorq Race Edition, this Race XP also gets LED illumination.
Ergonomics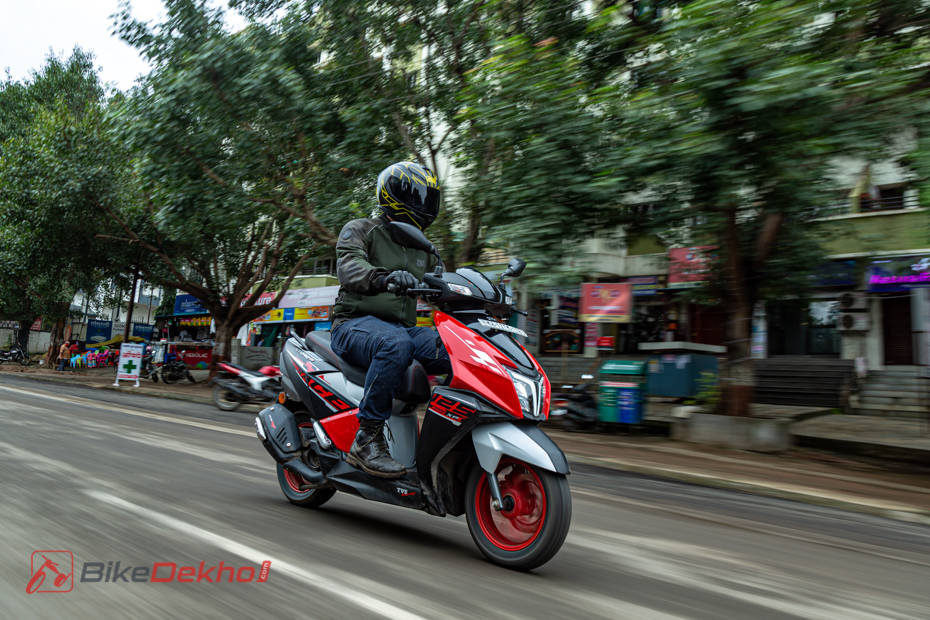 The seating ergos of the NTorq 125 were always quite comfortable, and this is retained in the Race XP as well. Even riders above six feet tall can sit with elbows bent just enough to allow for an upright, though somewhat eager stance. The seat is quite soft (though not overly so) and long as well, offering enough space for the rider and pillion, unless both are over six feet tall. There's also a small ridge between the rider and pillion seat space, which helps anchor the rider in place.
The handlebar is sufficiently high, and hence will foul with the knees of only the tallest of riders, and that too only during lock-to-lock turns. Switchgear quality, as always, feels top-notch, and all the switches and knobs fall to hand easily. The footboard, too, is wide and long enough to accommodate full-size riding boots and still leave enough space for a medium-sized backpack.
One niggle, though, is that the rear view mirrors, though large, may end up showing quite a bit of elbow to heavy-set riders or those wearing a bulky jacket.
Technology & Features

The fully digital cluster on the BS6 NTorq was always a handy tool, considering it supplements the usual info (speedometer, fuel gauge, engine temperature indicator, two trip meters, and an odometer) with data such as a 0-60kmph timer and lap timer with top speed. Add in the Bluetooth functionality, and you get personalised welcome messages, incoming call, missed call and message alerts along with auto-reply SMS, turn-by-turn navigation, and last parked location.
And to this, the Race XP adds another layer of goodies almost unheard of on many Indian scooters (both electric and ICE). These are the post-ride stats, including distance covered, time taken, engine rpm, and average speed. And now, there's the inclusion of voice assist (for the app on the mobile itself) for functions such as changing the riding modes and switching on the navigation.
Engine & Performance
The engine of the TVS NTorq 125 Race XP pumps out more performance (about 0.8PS and 0.6Nm more) than the BS6-compliant version. Moreover, it is also lighter by 2kg (thanks to the use of some "lightweight materials", as TVS puts it).
Now, the plain-Jane NTorq 125 was already among the more powerful 125cc scooters, and the Race XP takes the crown in that department. A clear proof of this came from the test figures, where the Race XP was more than a second quicker in the 0-60 sprint and a massive three seconds quicker getting to 80kmph from standstill than the BS6 NTorq 125.
And if you're wondering what the second set of figures (with the 'Street' label) mean for the Race XP, that's actually where things start getting interesting. In their infinite wisdom, TVS realised that an out-and-out performance scoot would naturally play spoilsport with fuel efficiency. And after what we imagine would have been a long, hard think, programmed a milder tune onto the ECU.

This first-of-its-kind innovation in the scooter sphere means you now get the 'Race' mode, which gives you all the performance all the time and the softer 'Street' mode that allows for comparatively mellow throttle response. This ensures less fuel is burnt, keeping both the environment and your pocket (Rs 106/litre!) happy.
This Street mode also allowed us to extract a little more fuel efficiency in the city, despite the Race XP outperforming the standard NTorq by a fair margin. Highway efficiency was almost identical, which is commendable.
Ride & Handling

The ride quality of the TVS NTorq 125 was always somewhat firm, which helped it stay planted during high-speed cornering, even when riding two-up. This is carried over to the Race XP, where the same suspension is now working with a marginally less kerb weight. This, when supplemented by the already wide tyres, makes it not just manoeuvrable, but in fact, chuckable. And despite the easy, neutral handling characteristics, the Ntorq 125 Race XP doesn't feel skittish or flighty when picking up speed. Besides, the ample 155mm ground clearance means you won't be scraping any bits of the scooter anytime soon.
However, going over rough patches is when we spy a chink in the Race XP's armour. The firm suspension setup will leave you thudding over the umpteen potholes dotting our post-monsoon city roads, and you'll need to apply the brakes liberally when approaching a speed breaker, lest the rear wheel skip over the bump, causing your pillion's helmet to whack yours.
Variants
The TVS NTorq 125 Race XP is the range-topping variant in the NTorq lineup, and comes in only a single red-black-grey colour scheme. It gets a more powerful engine tune with switchable riding modes and a more extensive Bluetooth connectivity suite.
Verdict

We were a bit bummed that the NTorq had lost a bit of its edge in its BS6 transition, and so we're glad that TVS addressed those concerns with this Race XP edition. And as you can see, the Race XP comes in a fair deal cheaper than its competitors too. Additionally, it is the most powerful amongst 125cc scooters, has riding modes (that aren't just for show) and Bluetooth connectivity (with a dedicated app offering a host of features), offers good fuel efficiency, is one of the more competent handlers, and has a brake setup you can lean on (pun intended). All these make it an almost perfect scooter that can handle your office commute and keep you entertained for the weekend ride too!