Maxxis To Supply Tyres For Hero Two-wheelers
Modified On Jun 7, 2019 By Benjamin Noel Gracias for Hero Duet
As part of the new association, Maxxis will be the OEM supplier of tyres for 10-inch wheels for Hero scooters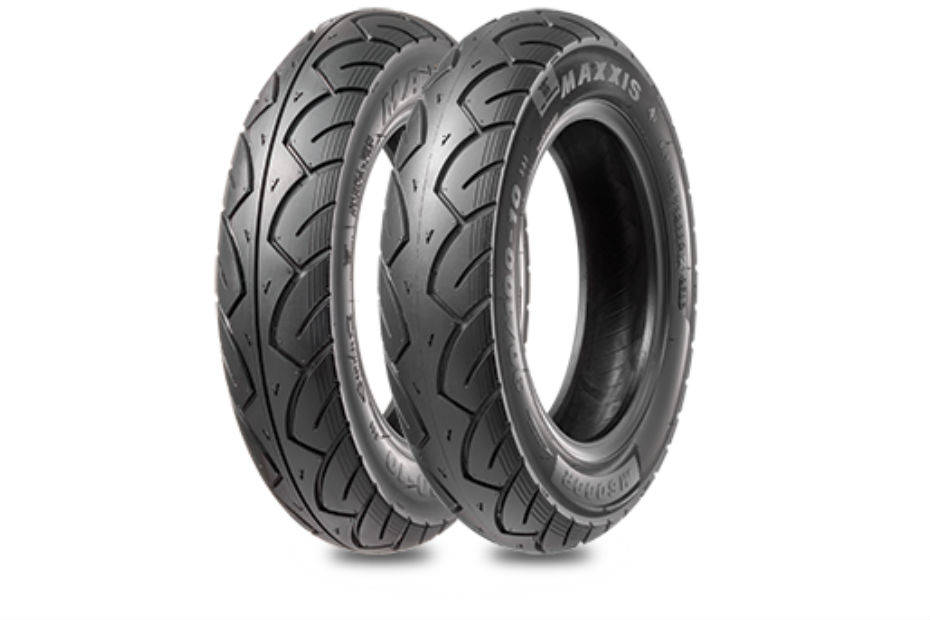 Called the M6000, it is claimed to have a unique tread to maximise contact surface for better grip.
Maxxis will be the OEM supplier for Hero scooters that use 10-inch front and rear wheels.
Maxxis is also the OEM supplier for the Honda Activa 5G.
Maxxis has announced that it will be the OEM tyre supplier for Hero MotoCorp scooters. As part of the association, Maxxis will be supplying only 10-inch front and rear tyres, which means only the Duet, Pleasure, Pleasure Plus and Destini 125 will be compatible for the said rubber.
The 90/100-10 M6000 53J front & rear tubeless tyres get a stronger sidewall for reduced tyre flex under load. These tyres claim to have a grippier rubber compound for better traction, while the tread pattern has been designed for maximum contact with the road surface to provide better grip in wet conditions. Maxxis tyres made for scooters with 12-inch wheels are available online but as of now the tyre-maker has not signed a deal to become an OEM partner for Hero.
For those interested, the Maxxis M6000 tyres are available online and are priced at Rs Rs 848 (per tyre) for the 90/100-10 and Rs 1,100 (per tyre) for the 90/90-12 tyre .
Here is the press release from the company:
Maxxis Tyres announces OEM association with Hero MotoCorp
Aims to triple their production volume in FY19
Plans to capture 15% of India's 2-wheeler tyre market within 5 years
New Delhi, June 4, 2019: Maxxis India, a sub-company of Maxxis Group, the world's largest 2-wheeler tyre manufacturer announced OEM association with Hero MotoCorp, World's largest two-wheeler company. This association comes as another milestone and a testimony to Maxxis' commitment to an aggressive growth in the Indian market.
As a part of this association, Maxxis will supply 90/100-10 M6000 53J front & rear tyres. The M6000 has been designed to provide extra strength and safety to scooters. The specifically designed rubber formula on tread provides great grip and traction and the computer-assisted-optimized pattern aids in maximum rubber contact under wet road conditions. The first consignment has already been rolled out of the company's state-of-the-art manufacturing facility in Sanand, Gujarat.
Commenting on the association, Mr. Chun-Hsuan Liu, Plant Head, Maxxis India, said, "This is indeed a great moment for us as we continue on fulfilling our India growth targets. It is a big step towards realising our vision of capturing 15% of India's 2-wheeler tyre market by 2023. It demonstrates our technological prowess and the ability to offer high quality products. This association will be pivotal to our overall growth and help us achieve our target to triple our production volume in FY19."
"Maxxis has set high standards in providing benchmarked product quality and customer service, globally and India is no exception. The Sanand facility is equipped with technologies of the future that enable us to produce world class quality products", added Mr. Liu, Plant Head, Maxxis India.
India market is touted to play a vital role in achieving Maxxis's global vision to become one of the top 5 tyre manufactures in the world by 2026.
Maxxis India is targeting to capture a market share of at least 15% of India's two-wheeler tyre market by 2023. Apart from catering to the domestic tyre market, the product portfolio from the Sanand facility will be exported to South Asia, and will further expand to Africa and Middle East countries in the coming years. The company also has plans to set up 5 more plants in India which will also cater to the 4-wheeler tyres market.
Maxxis is a wholly owned subsidiary of Cheng Shin Rubber Ind. Co. Ltd., the largest two-wheeler tyre manufacturer and the ninth largest tyre company in the world. The company has its presence in 6 continents with 21 manufacturing plants and 5 R&D Centres worldwide, serving customers across 180 countries.
The sub-company of Maxxis Group, Maxxis India (Maxxis Rubber India Private Limited) started its own arm of business in India in 2015 and has built its first manufacturing facility in Sanand, Gujarat. The facility is spread across a massive 106 acres and has a capacity to produce around 20,000 tyres and 40,000 tubes per day. Maxxis currently serves as an OEM tyre supplier to Honda (Two-wheelers), Maruti Suzuki, Mahindra, Tata and Jeep in India. Maxxis Rubber India has been selected as the original equipment tyre supplier to India's number one selling model, Honda Activa, since 2015.