Honda Activa 5G vs TVS Jupiter Classic vs TVS Wego vs Honda Dio vs Honda Cliq - Real-World Highway Mileage Comparison
Modified On Mar 20, 2019 By Team Bikedekho for Honda Activa 5G
How frugal are India's best 110cc scooters on the highway? We find out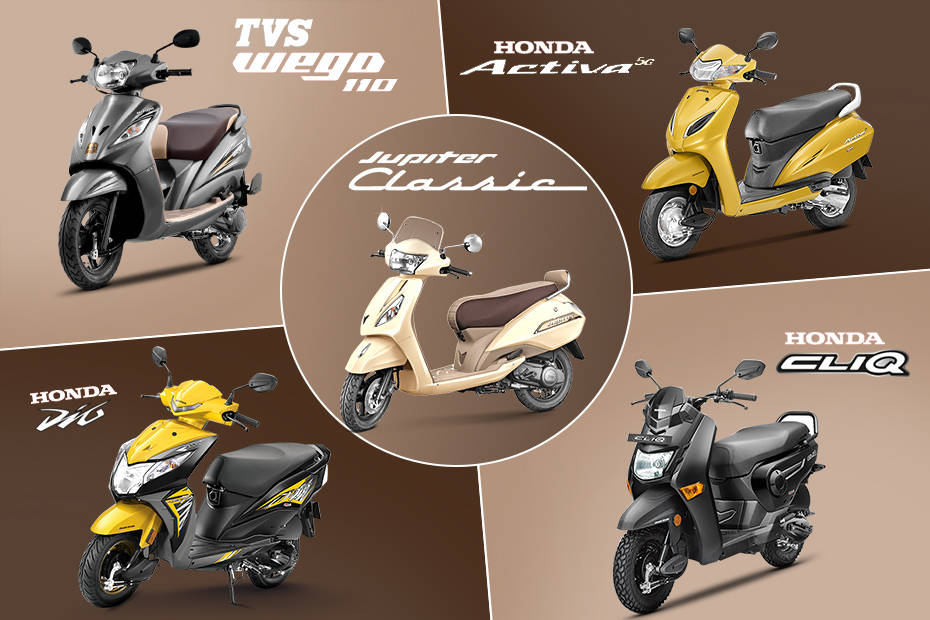 Since a decade or so, scooter have been slowly replacing conventional motorcycles in everyday use and for good reason. Scooters are generally easier to ride and can be used pretty much by all kinds of riders. While their dominance has crept into our day-to-day city routine, it is important to ask how frugal they are when it comes to real-world conditions?
While we already know how efficient they are in the city here, we are here today to find out which offers the best mileage on the highway. Let's take a look at the fuel efficiency numbers of the 110cc scooters we tested this year, to answer the age-old question "Kitna deti hain?"
5) TVS Wego (Highway - 53.3kmpl)

Let's start things off with the TVS Wego. Launched all the way back in 2010, the Wego is targeted at the college-going crowd. Hence, TVS' scooter comes with all the necessary modern amenities, like a digital instrument cluster and dual-tone body paint scheme. Power comes from a 109.7cc air-cooled engine which churns out 8PS of power and 8.4Nm of torque. While these are somewhat similar numbers to that of the Honda Dio and the Honda Activa, the Wego unfortunately comes in dead last when it comes to highway efficiency, by a huge margin.
Price -
STD Rs. 50,165 (ex-showroom, Delhi)
Disc Rs. 53,083 (ex-showroom, Delhi)
4) Honda Activa 5G (Highway - 55kmpl)

It won't be an exaggeration to say that the Honda Activa started the rise of scooter dominance in India. Ever since the original Activa's launch back in 2000, the scooter has managed to be the go-to scooter in India. So much so that it accounts for a whopping 51 per cent of scooter sales in the country. Not just that, it holds the crown of being the best selling two-wheeler in India! Now, for the fifth generation, Honda has updated the scooter with LED headlights, a digital instrument cluster (available only on DLX) and a new colour scheme. Powering the Activa 5G is the same 109cc air-cooled engine that powered its predecessor. It churns out 8PS of power and 9Nm of torque. While the Activa manages to churn out a decent enough efficiency in the city, it fails to do the same on the highway.
Price -
STD Rs. 52,443 (ex-showroom, Delhi)
DLX Rs. 54,884 (ex-showroom, Delhi)
3) Honda Dio (Highway - 59.5kmpl)

The Honda Dio, India's third best selling scooter, managed to do something that the Wego failed at: actually attracting young buyers. And for a good reason: the Dio sports a sharp and sleek design with racy decals, LED headlamps and now a fully digital instrument console, although it's only available on the DLX variant. The Honda Dio is powered by a 109.19cc air-cooled engine which produces 7.92PS of power and 8.91Nm of torque. It is the same engine as seen on the Activa. However, thanks to a much tighter design and use of lightweight parts, the Dio manages to deliver a decent mileage on the highway.
Price -
STD Rs. 50,296 (ex-showroom, Delhi)
DLX Rs. 53,292 (ex-showroom, Delhi)
2) Honda Cliq (Highway - 60.1kmpl)

The Honda Cliq is not a looker, but that's not what it's designed for anyway. The Cliq instead caters more towards the practicality front. Honda has targeted the Cliq towards a rural audience and it is meant to be easy on the wallet while being capable enough to haul luggage. For this, Honda has equipped the Cliq with a 109.19cc engine which delivers 8.1PS of power and 8.94Nm of torque. True to its purpose this engine manages to deliver a frugal mileage.
Price -
STD Rs. 43,955 (ex-showroom, Delhi)
DLX Rs. 44,457 (ex-showroom, Delhi)
1) TVS Jupiter (Highway - 66.7kmpl)

The TVS Jupiter may not be as popular as the Activa yet, but it is rapidly getting there. This is mainly thanks to the slew of practicality features the Jupiter offers. This includes a USB charging port, external fuel filler cap, reserve fuel indicator, LED tail lamp and telescopic forks, front disc brake and TVS' Sync Brake system. Powering the scooter is a 109.7cc air-cooled engine which makes 8PS of power and 8Nm of torque. While the Jupiter manages to finish behind the Honda Activa in terms of sales, it tops the list of being the most frugal 110cc scooter on sale today.
Price -
STD Rs. 50,366 (ex-showroom, Delhi)
ZX Rs. 53,314 (ex-showroom, Delhi)
Disc Rs. 55,366 (ex-showroom, Delhi)
Classic Edition Rs. 56,526 (ex-showroom, Delhi)