22Kymco iFlow vs Ather 450: Spec Comparison
Modified On Jun 13, 2019 By Benjamin Noel Gracias for 22Kymco iFlow
Two of India's futuristic e-scooters compared on paper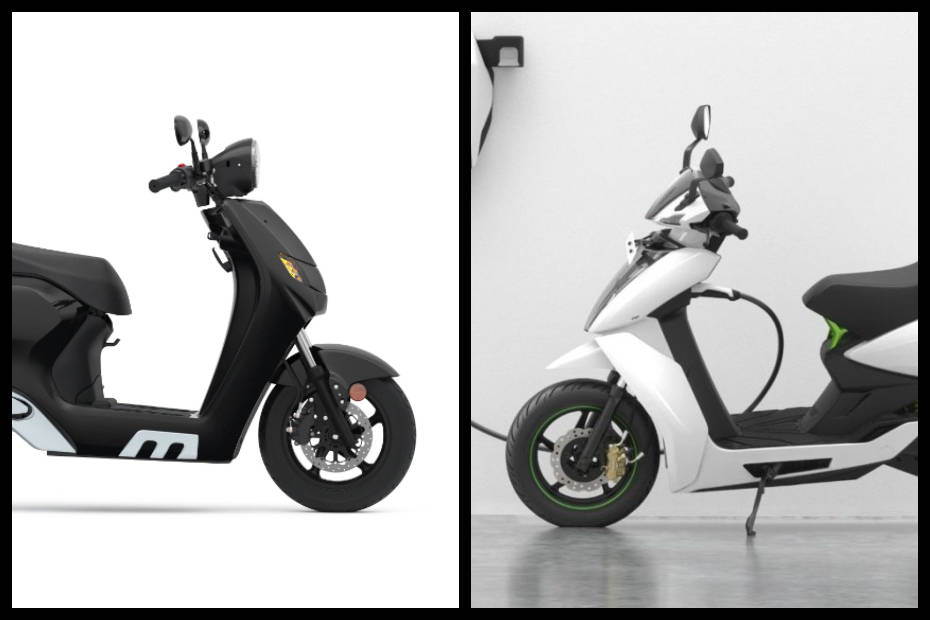 22Kymco (a joint venture between Twenty Two Motors and Kymco) has introduced the iFlow electric scooter at Rs 90,000. The new scooter will go on sale starting September and in terms of the technology and features the iFlow offers, it will compete with the Ather 450. Both bikes come with their own standout features as well as positives and negatives. Here's how the two stack up on paper.
Also read: 22Kymco iFlow vs Flow - Whats different?


Features:
| | | |
| --- | --- | --- |
| | 22Kymco iFlow | Ather 450 |
| LED headlamp | Yes | Yes |
| LED tail lamp | Yes | Yes |
| LED turn indicators | Yes | Yes |
| Instrument console | LCD | Colour TFT touchscreen |
| Bluetooth connectivity | Yes | No |
| Dedicated app | Yes | Yes |
Both scooter are evenly matched when it comes to features. However, the Ather 450 impresses with its colour TFT screen that also displays navigation. Although it does not get Bluetooth connectivity, it has an inbuilt 4G SIM for navigation, geo-fencing and Over The Air (OTA) updates. It can even send vital information to your smartphone via a dedicated app.

The iFlow might miss out on a full-colour instrument console but it gets Bluetooth and cloud connectivity. Like the Ather, iFlow gets features such as geo-fencing, which allows you to track your scooter via your smartphone and in case of theft, remotely disable it. The iFlow's biggest draw is its removable batteries. But more on that later.
Motor and performance:


| | | |
| --- | --- | --- |
| | 22Kymco iFlow | Ather 450 |
| Motor capacity | 2.1KW | 5.4KW |
| 0-40kmph | 4 seconds | 3.9 seconds |
| Top speed | 60kmph | 80kmph |
| Range | 160km (dual battery) | 75km |
| Charge time | 70 percent in 1 hour | 100 percent in 1 hour |
Where the Ather scores is in terms of top speed. The iFlow scores brownie points on the range and charging front. Also, the iFlow comes with two swappable batteries and can run on just one as well. So you can run your scooter on one battery while charging the other at home. Hence, the iFlow wins both in terms of performance as well as usability.

Charging options:


Also read: 22Kymco iFlow Ionex Battery Tech Explained

22Kymco offers a completely different method of charging. The Ionex charging station consists of a wall with a stack of batteries. You simply unplug your portable battery and swap it for a fully-charged one from the charging wall. While this method is super quick, you will be charged Rs 50 per transaction.

The iFlow is the quickest and easiest to charge here but also costs more.

Prices and availability:

The Ather 450 is priced at Rs 1.42 lakh (ex-showroom Bangalore). Interestingly, the scooter qualifies for FAME II subsidy, post which it costs Rs 1.23 lakh on-road. The Ather 450 comes with a one-year subscription pack worth Rs 8,400 which covers your charging and maintenance costs. At present, the Ather 450 is available only in Bangalore. However, it is set to go on sale in Chennai soon, followed by Pune.

The 22Kymco iFlow may be available at a lower cost of Rs 90,000 but that only includes the cost of the scooter. 22Kymco will not sell the Ionex battery separately. Instead, the user has to lease it at a cost of Rs 500 per month per battery. Hence, you pay extra for the battery as well as the charging cost every month. The iFlow will be available in select cities from September onwards.

The Ather 450 might be priced on the higher side but offers a good all-inclusive deal. However, the 22Kymco iFlow has a lower buying point and a quicker charging solution. So it ultimately depends on what your requirements are from an electric scooter.