Polaris Kickstarts Third Polaris Experience Zone In Mumbai
Modified On Jun 24, 2016 By Naveen Soni
When was the last time you played in the mud during the monsoons? Don't quite recall, right? To make you feel like a child again Polaris India has inaugurated an exciting off-road adventure track called the Polaris Experience Zone (PEZ) in Mumbai. The company has 54 Polaris Experience Zones spread across the country, six of which are located in Maharashtra. Located at Tao Experiences at Roaring Farm (Malad), this is the third experience zone of its kind in the city. The two other PEZs are located in Virar and Borivali.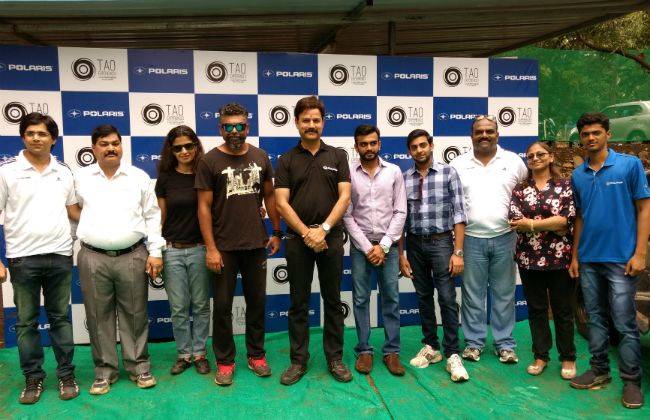 The Tao Experiences stretches over an area of five acres with its main attraction being the Polaris vehicles on a dirt track with a slush pit, humps, sand and stones. The Farm also has other thrilling and adventurous outdoor activities like paintball, zorbing, low rope course, bungee run, wall climbing, and archery among others for its visitors from all age groups.

Speaking on the occasion, Pankaj Dubey, Managing Director, Polaris India Pvt. Ltd., said, "The inauguration of our new PEZ, Tao Experiences is another important milestone in our efforts to create a flourishing off-roading culture in India. Polaris Experience Zones are pivotal pit stops in our journey of promoting adventure sports in the country. Polaris has lined up its heart thumping series of power sport vehicles at Tao Experiences where hard-core adventure enthusiasts can experience the thrill of off-roading. So, if you are looking to tap into your adventurous streak, just check out the amazing Polaris Off-Road vehicles at this new facility."

Visitors can ride the Polaris All-Terrain Vehicles (ATV) on artificially created undulated tracks with slush pits providing riders with a challenging and exciting trail for fun. The riders are assisted by skilled trainers who not only ensure complete safety but also help them in honing their ATV riding skills.

Polaris is currently the world leader in off-road vehicles for rough and uneven terrains. Internationally, Polaris products are widely used in different sectors such as defence, paramilitary forces, agriculture, entertainment and tourism. In India, Polaris has a widespread network of 14 authorised dealerships and workshops as well.