Top 10 Powerful Motorcycles under 10 Lakhs
Modified On Oct 30, 2018 By Naveen Soni
As the launch of Honda's CBR650F is ever so near, let's take a look at the Top 10 Powerful Motorcycles under Rs 10 Lakhs that money can buy: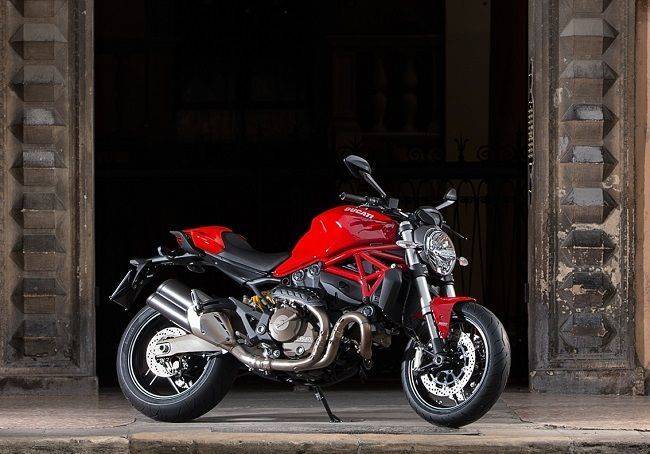 1. Ducati Monster 821 Dark – 112BHP (Price Rs. 9.81 lacs)

Ducati has made a re-entry into the Indian market on their own and this time they come prepared. They make some of the most visually stunning motorcycles in the world that have the performance to match their looks. Monster is one of their most successful and famous brands and Monster 821 Dark makes one of the best Ducatis to have.

Monster S2R – 84BHP (Price Rs. 7.99 lacs)

Sporting the same engine as the one in Monster 795, the S2R is equipped with a single sided swing-arm for an even more exotic appearance. The brakes are equipped with ABS for even better braking performance.





Monster 795 – 84BHP (Price Rs. 6.98 lacs)

The entry level Monster is still as exotic as it can get. Producing 84BHP from its 795cc engine combined with the light weight chassis, this motorcycle is one of the best things to ride in cities. The 90 degree V-twin engine produces great sound.

Scrambler – 75BHP (Price Rs. 6.38 lacs)

Fancy a motorcycle which is old school but with the modern day reliability? Ducati offers the same in the Scrambler. Daily commuting, weekend riding, little off-roading and even occasional touring, Scrambler will do it all. Comfortable upright riding position with the 90 degree V-twin engine producing 75BHP of power, Scrambler is plenty powerful for whole day fun.





Kawasaki Z800 – 113PS (Price Rs. 8.05 lacs)

One of the most striking motorcycles in the Kawasaki line up, the Z800 is a very comfortable streetfighter with an amazingly smooth inline 4 800cc engine producing 113PS of maximum power. The motorcycle has excellent road presence and the exhaust note makes sure that you do not miss it.





Bonneville – 60.7PS (Price starts at Rs. 6.20 lacs)

If you like standard motorcycles that remind you of yester-years then look no further than Triumph's Boneville. The motorcycle has an extremely smooth 865cc parallel twin engine which is air cooled. With an upright riding position and a single flat seat, the Boneville is a great motorcycle for two up riding.





Triumph Street Triple – 79.3PS (Price Rs. 7.91 lacs)

One of the best streetfighters money can buy today, Street Triple is a motorcycle that Triumph is proud of. Visually stunning with compact bodywork makes it a great motorcycle to ride in cities and on a highway. Producing 79.3PS of power which is readily available at the twist of the wrist, Street Triple will make sure you do not stop smiling under the helmet.





Honda CBR650F – 87HP (Price Rs. 7.3 lacs)

Honda's upcoming motorcycle is going to be one of the best motorcycles in its expected price range. With years of legacy behind it, CBR650F is a great 650cc sportbike that can be enjoyed in a city, on the highway and on the race track.





Benelli 600i – 84BHP (Price Rs. 5.15 lacs)

One of the latest entrants in the Indian market, Benelli is an Italian company which is now part of the Qianjiang Group of China. The 600i is a stylish streetfighter that has an inline 4 600cc engine producing 84bhp of maximum power. The motorcycle is visually stunning and oozes Italian flair. If you want to be unique among the sportbike crowd, own a Benelli.





Benelli 600GT – 84BHP (Price Rs. 5.62 lacs)

600GT is the same motorcycle as the 600i but with the advantage of wind protection from the front which makes it a better motorcycle to ride at high speeds on a highway. It's a great motorcycle to go on a tour and has Italian roots.
(All the prices mentioned in the article are ex-shoroom, Delhi, there might be a variation in the prices in different cities.)