New Bajaj Dominar 400 vs Used Kawasaki Ninja 300: Which One To Buy?
Modified On Jul 29, 2019 By Gaurav Sadanand for Bajaj Dominar 400
Have Rs 2 lakh to spare? We tell you which one of these you ought to invest on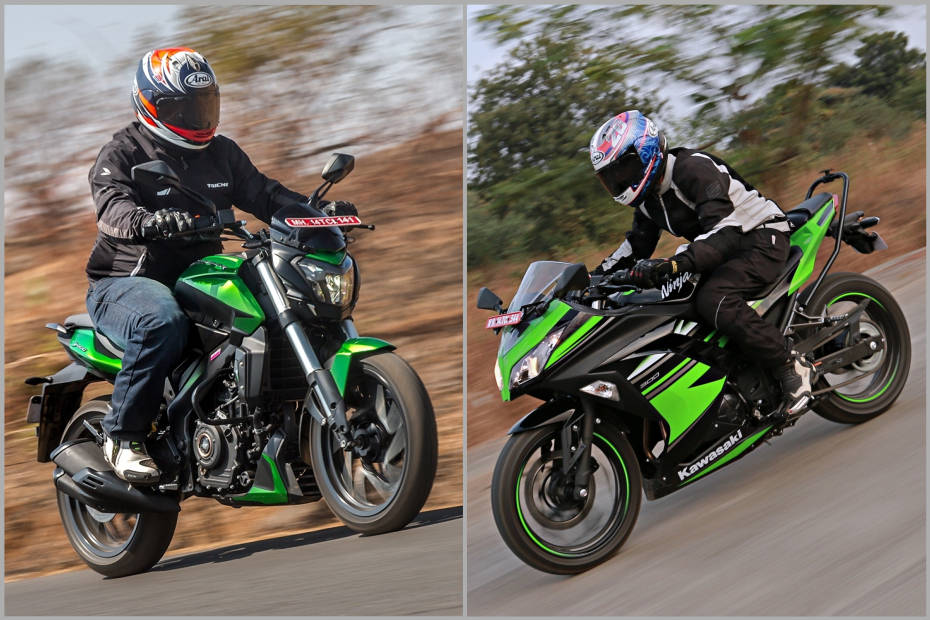 The Dominar 400 is a well-packaged bike which offers great touring abilities, a powerful motor and fantastic looks. Plus, it gets an attractive price tag of Rs 2.05 lakh (on-road, Delhi). Despite this, if the Dominar still doesn't catch your fancy, you could look at another alternative. It's an equally competent performer, gets a smoother parallel-twin motor and looks the part in its trademark green livery.
We're talking about the Kawasaki Ninja 300, a used one to be precise. You could get your hands on this fully faired Japanese offering (2017 model) in the used bike market for anything between Rs 2 lakh - 2.30 lakh with low mileage. A couple of years ago we wouldn't have dreamt of comparing a Bajaj to a Kawasaki. But that's how the Indian two-wheeler space has grown in the past couple of years. And speaking about the 2019 Dominar, it's more power than the Ninja 300! So here's how the two stack up in terms of performance, and why you should consider buying a used Ninja 300 over the 2019 Dominar 400 or vice versa.
Performance:

The 2019 Dominar makes a strong case for itself with its reworked 373.2cc, liquid-cooled, single-cylinder engine. The motor now produces 40PS at 8650rpm (5PS more than the previous model) and a peak torque of 35Nm at 7000rpm. Kawasaki, on the other hand, employs a slightly smaller 296cc, liquid-cooled engine, but puts out 39PS at 11,000rpm and 27Nm of peak torque at 10,000rpm. Interestingly, both the bikes get a DOHC (Double Overhead Camshaft) setup but the Ninja 300 holds the upper hand with an extra cylinder at its disposal.
Also Read: Bajaj Dominar 400 New vs Old: Real-world Performance Comparison
To put things into perspective, as per our road test results, the two are almost neck-and-neck while catapulting from 0-60kmph. But surprisingly, it's the 2019 Dominar 400 that's faster, with a time of 3 seconds flat, with the Ninja 300 trailing at 3.36 seconds. Having said that, the Kawasaki's parallel-twin engine and lighter weight (179kg) changes the ball game while making the dash to the ton. It manages to chalk down a time of 7.17 seconds while the Dominar (184kg) takes 8.41 seconds.

In terms of refinement, the Kawasaki is almost vibe-free even as you climb up the gears and redline the bike at 13,000rpm. The Dominar feels a lot more refined compared to the previous-gen model, but isn't as refined as the Japanese bike.
Fuel Efficiency:

Performance aside, it's also important to note how practical these bikes are in real-world conditions. To begin with, the Ninja 300's bigger 17-litre fuel tank is capable of delivering over 500km (average fuel efficiency of 31.6kmpl) on a single tank. In comparison, the Dominar's 13-litre fuel tank returns around 370km (average fuel efficiency of 28.94kmpl). Essentially, you would have fewer fuel stops on the Ninja compared to the Dominar. The Dominar 400 offers relaxed ergos and this means you will be comfier touring long distances as the Ninja 300 has a canted-forward and sporty riding posture. However, sustaining higher speeds on the Kawasaki will be easier owing to its windscreen that reduces the effects of windblast.
Cycle parts:

The Bajaj Dominar 400 employs a perimeter frame, while the Ninja 300 uses a diamond type frame. In terms of handling dynamics, the Ninja 300 has an upper hand over the Dominar 400 as the Bajaj offering feels a bit sluggish and cumbersome around tight corners.
The Dominar's braking setup also gets an upgrade with radially mounted calipers clamping onto its 320mm rotor up front. And this shows in our braking tests, where the bike managed to come to a dead stop from 100kmph in 49.42 metres. The non-ABS Ninja that we tested managed to halt from 100-0kmph in 60.08 metres. In terms of suspension hardware, the Dominar receives USD forks, while the Ninja 300 still uses a telescopic unit. Both the bikes employ a preload-adjustable monoshock at the rear.
Also Read: Kawasaki Ninja 300 Spare Part Prices Reduced By Upto 90 Per Cent
Why Should You Buy A Dominar 400:

To sum it up, the bike offers more power, premium underpinnings like a perimeter frame, USD forks, dual-channel ABS and radially mounted calipers. It also receives goodies such as LED lighting, split digital instrument console, and not to forget, has great value. Being a Bajaj bike, the Dominar 400 will also be a lot cheaper to maintain in the long run.
Why Should You Buy A Kawasaki Ninja 300:

It offers a more premium experience in a sporty package. The Ninja 300 may not offer a tonne of features but the sublime parallel-twin engine makes up for its shortcomings. Despite its age, the supersport styling of the Ninja 300 still looks attractive and it's a bike one can commute, tour or go corner hunting on a racetrack with.
[Update: Bajaj Dominar 400 Price Hiked Again]