Avan Motors Xero+ Electric Scooter Launched At Rs 47,000
Published On Feb 23, 2019 By Praveen M. for Avan Xero Plus
The scooter comes with two detachable lithium ion batteries
The Xero+ is the only scooter in India that can house two batteries.
Combined range of both the batteries stands at 110km.
Batteries can be detached and charged using conventional home power sockets.
Charging time ranges between 2 to 4 hours.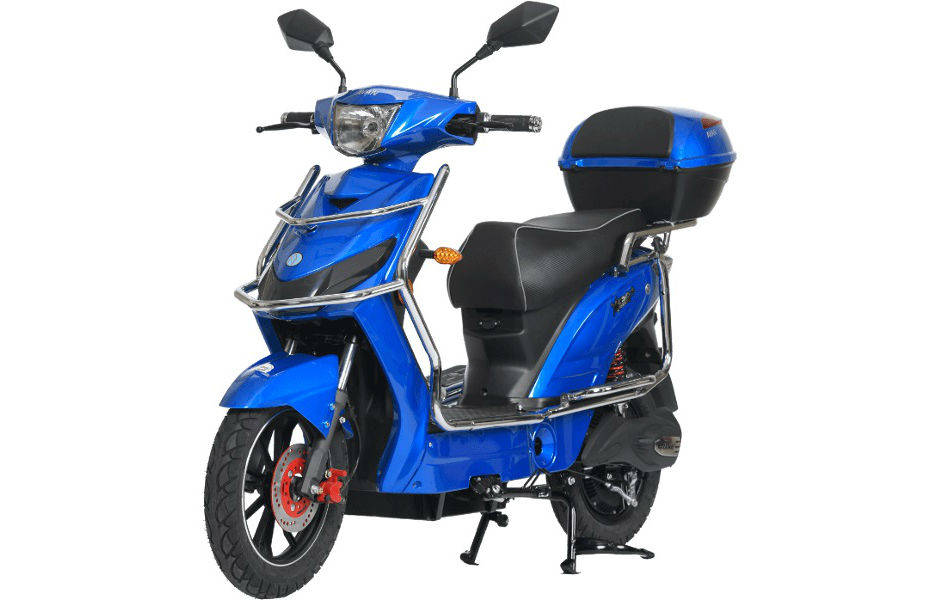 Avan Motors, an Indian electric scooter brand founded in 2015, has launched the Xero+ electric scooter at a price of Rs 47,000 (ex-showroom). Interestingly, the Xero+ is the only scooter in its segment to come with two swappable lithium ion batteries instead of one. This gives it a much superior range compared to its primary rival in its segment, the Hero Electric Flash. The Flash is about Rs 1000 less expensive than the Xero+ but offers a range of only 60km because it just has one lithium ion battery.
Avan offers two years of Road Side Assistance and one year extended warranty (excludes the battery) for an extra Rs 1500. The batteries of the Xero+ weigh 8kg each, and are sourced from a Chinese brand called Phylion. Phylion had participated in last year's Electric Vehicles Expo to showcase its products and in October last year, it set up shop in India to provide electric batteries for the local market.

Battery swapping isn't an entirely new concept. Honda already offers the PCX Electric in markets abroad. Indian brand Twenty Two Motors also partnered with Taiwanese company Kymco to work on scooters with swappable battery tech. However, in Kymco's case, they are working on setting up a network of charging stations where depleted batteries can be swapped with new ones instantly. Having two batteries at once essentially removes the need of charging stations one of the batteries can be charged at home while the other is in use. This, of course, comes at the cost of range, but the Xero+'s 60km claimed range for one battery isn't all that bad if its use is limited to local commutes.
Avan is also currently working on a GPRS-fitted scooter with app-based control systems for turning the scooter on or off, battery level indicator, geo fencing system, scooter locator and emergency number storage. Here's the brand's official communication for more details:
Press Release:
Avan Motors – "Sabse Aagey", brings the most efficient range of electric scooters in India
Offers the best lithium-ion powered scooter in the entry segment at an ex-showroom price of INR 47k, distinguishes its vehicles by introducing a range of features, colors, After-sales service etc.

New Delhi, 21 February 2019: Avan Motors India, the country's most efficient and forward-thinking manufacturer in the EV space, has further strengthened its bid to be the country's most popular EV brand with an experienced team of young & energetic professionals. After launching Xero+ electric scooter in September last year, the brand has already become recognizable in the EV space as the ideal provider of style, performance and most importantly, eco-friendliness Avan's Xero+, powered by a lithium-ion battery, is available at a reasonable Ex-showroom price of INR 47,000, thereby making high-performance E2Ws easily accessible for a huge user segment in the <INR 50,000 category.
The Xero+ offers a massive mileage of 60Km/charge in single battery & 110 Km/Charge in double battery option with a top speed of 45Kmph. The charge time for the lithium-ion battery is between 2 to 4hours. Additionally, the battery is detachable and can be charged at a regular plug point at home or one's workplace, enhancing end-user convenience significantly. The scooter comes with disc brake in the front and drum brakes in the rear and a handy utility box behind the seat. The max load the Xero+ can take is a substantial 150 kgs.
Avan launched Xero+ last year, and the scooter has already generated an overwhelming response from users as well as industry experts. The scooters have been designed specifically according to Indian road conditions, and the running cost is only 10% that of a vehicle running on conventional fuels. The company also provides immediate after-sales services to the customers along with Road Side Assistance (RSA). Furthermore, it is offering an extended warranty period along with an initial spare parts tool kit with the first batch of its scooters being sold. To cater to the 'smart' generation, Avan is also in the process of incorporating the latest, cutting-edge digital tools and technology in its scooters that will transform the vehicles into 'smart scooters', offering diverse benefits to the user.
In line with the company's vision of a sustainable and eco-friendly future, the Xero+ electric scooters are zero-emission, cost-effective and are equipped with cutting edge technology to ensure every ride is smooth and fun. Currently, the Xero+ is available at authorised Avan Motors dealerships across the country. Avan recently showcased series of new scooters in its line-up at the EV Expo and plans to launch them through the course of the year.
Speaking about the new series, Mr Pankaj Tiwari, Business Development Head, Avan Motors said, "Electric vehicles are the future of commuting and our vehicles have shown that eco-friendliness need not come at the cost of less performance. The Xero+ has received great response from our users and comes at a very practical price point. Continuing with its success story further, Avan plans to launch new scooters and vehicles across categories to meet the needs of a wide consumer segment. Every product will be a unique one in its category, equipped with an array of features that will make them a leader in their respective segments. We are also working with advanced technology that promises to enhance the user experience and benefit them in different ways. With our new range of e-scooters and an efficient pricing strategy, we want to encourage more people to go the EV way, not just as a novelty but as a big part of their lifestyle, becoming the norm rather than an alternative."
Avan Motors is redefining the EV space with its high-performance electric scooters that are not only in keeping with the mission for a cleaner environment but with solutions that have state-of-the-art technology and are reasonable to its consumers.
Xero+ Price – INR 47,000/-Ex-Showroom
Colours available - Blue, Black, White & Red
Availability - At all authorised Avan Motors dealerships in India