Yezdi Refreshes Colourways For The Scrambler And Adventure
Modified On Feb 2, 2023 02:43 PM By Sudipto Chaudhury for Yezdi Adventure
Now all three Yezdi bikes get new colours!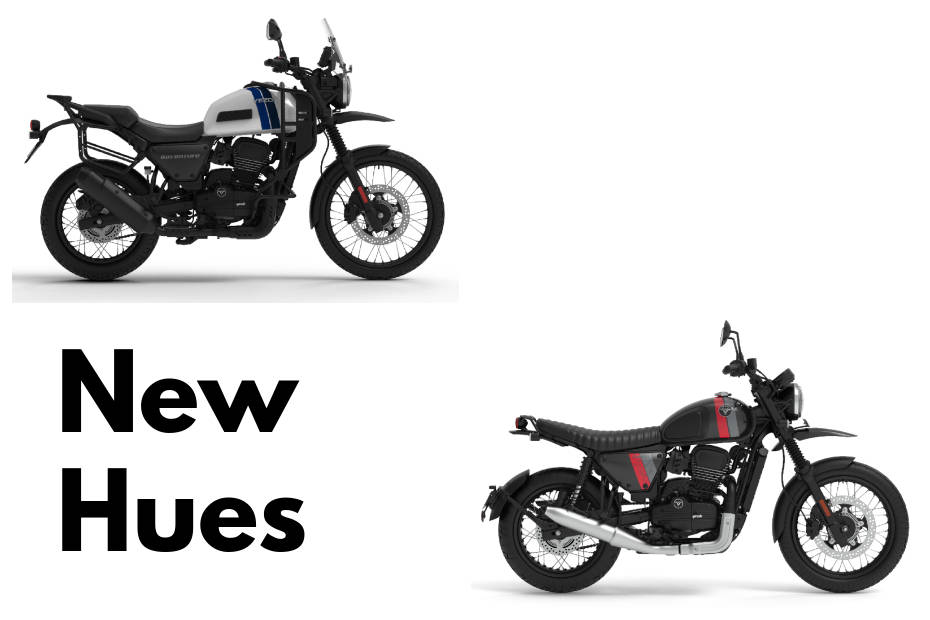 Classic Legends' owned Yezdi and Jawa recently updated the colour schemes on a bike from each of their lineup. But it seems they're not done, with two more bikes, this time from Yezdi, getting new colour schemes.

The Yezdi Adventure will now also be available in a 'Whiteout' colourway, which is a gloss finish hue, a departure from the matte finish colours (Slick Silver, and Mambo Black) that it's had so far. It's worth noting, though, that the Ranger Camo colour was not visible on the bikemaker's website. Yezdi has priced the new colour scheme at Rs 2,14,942 (ex-showroom, Delhi), a Rs 42 markup over the Mambo Black, and Rs 2,042 over the Slick silver colour.

Moving now to the Yezdi Scrambler. The new 'Bold Black' colour scheme comes as part of its single tone colour range, which also includes the Fire Orange, Outlaw Olive, and Yelling Yellow colours. This one retails at Rs 2,09,900, which is at par with the Outlaw Olive and Yelling Yellow colours, though a marginal Rs 2,000 more than the Fire Orange.
Other than the colours, though, both bikes stay mechanically identical, sporting a 334cc liquid-cooled engine, which makes 30.3PS and 29.9Nm on the Adventure, and 29.1PS and 28.2Nm on the Scrambler.