Revolt RV400 vs Honda CB Shine SP: Ownership Price Analysis
Modified On Aug 29, 2019 By Praveen M. for Revolt RV400
Update: Revolt has also launched a smaller RV300. Read all about it here. We have also ridden the RV400. You can check out the first ride review here.
The Revolt RV400 isn't cheap but is a lot more affordable to own. Confused? Here's how it works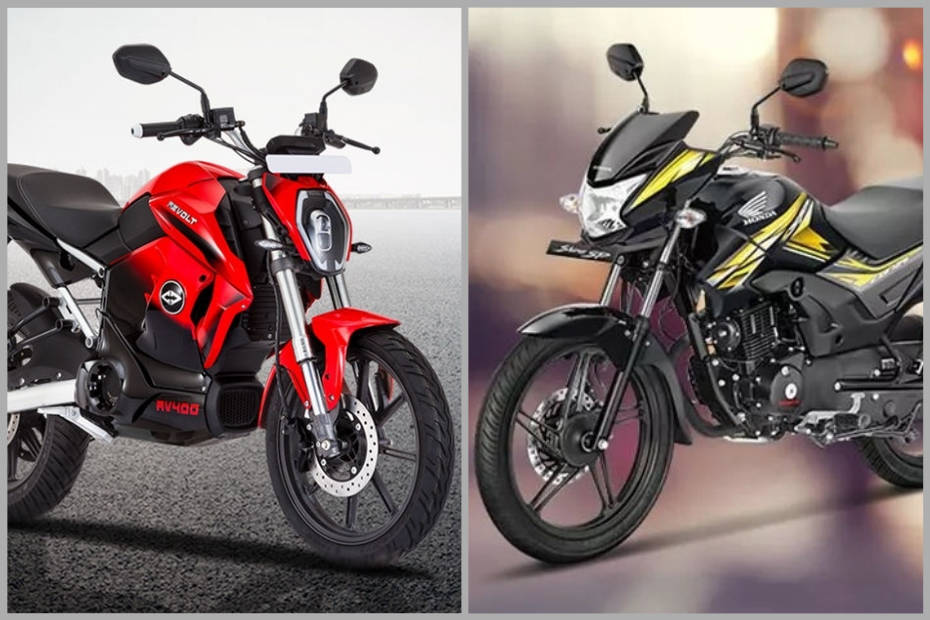 Revolt has finally launched India's first electric motorcycle, the RV 400. Since the market for commuter motorcycles is extremely price-sensitive, Revolt has devised an interesting ownership plan called "My Revolt Plan" that is unlike anything any manufacturer of conventional motorcycles offers right now.
The startup says customers will be charged on a per-month basis (Rs 3999 per month for the RV400 premium variant) for a period of 37 months. Unlike EMI schemes, here the bike will be under your name right from day one. After 37 months, you stop paying and the bike will still be yours. In the three-year period, the monthly charge is inclusive of service and Revolt will replace the brake pads and brake fluids thrice and the tyres once. Insurance, RTO and other charges are also included in the monthly fee. In essence, you'll be spending only that much to keep the bike apart from the electricity cost to charge the bike.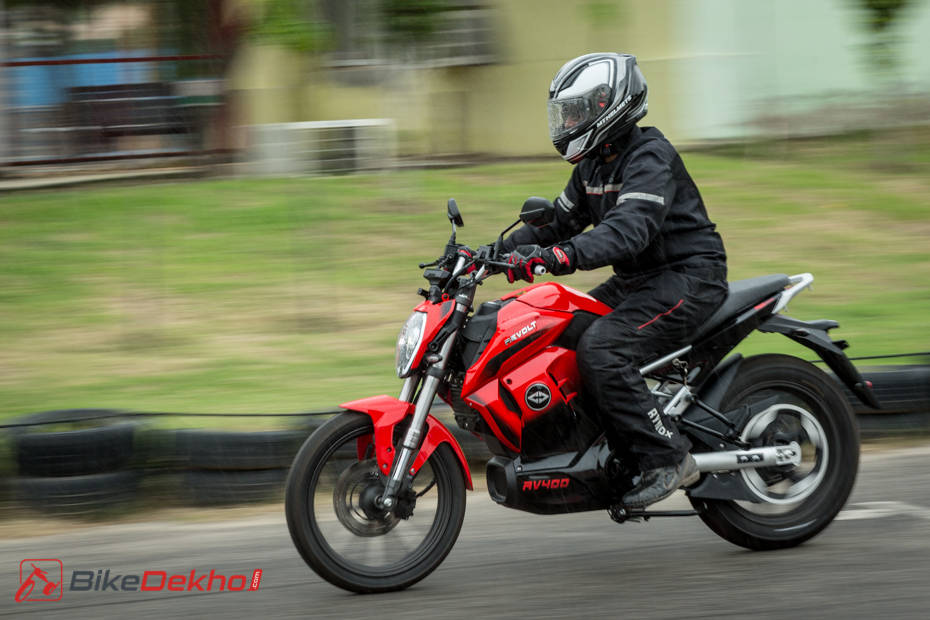 Calculating the monthly payment for 37 months amounts to Rs 1.48 lakh. On an average, the electricity consumption for domestic use is under 300units, so the corresponding electricity cost per unit (1kWh) in Pune is Rs 6.58. The capacity of the lithium-ion battery stands at 3.24kWh, so if you round off the electricity charge to Rs 7, it would cost around Rs 22 to charge the battery fully. The ARAI-claimed range stands at 156km, so logically, you can cover that much distance for just Rs 22. Now let's calculate the total cost incurred for normal usage of the bike in the city:
| | | |
| --- | --- | --- |
| Per day | Per month | For 37 months |
| Distance travelled per day: 30km | Distance travelled per month: 30km x 30 days = 900km | Distance travelled for 37 months = 900 x 37 = 33,300km |
| | Recharge cycles per month: 900km / 156km per charge = 5.7 charge cycles | |
| | Total cost of recharge per month: 5.7 x Rs 22 = Rs 125.40 | Total cost of recharge for 37 months: Rs 125.4 x 37 months = around Rs 4600 |
| | | Hence, the total ownership and running cost of the bike = Rs 1.48 lakh + Rs 4600 = Rs 1.52 lakh |
So, theoretically, you'll be spending almost a lakh and a half for a period of three years for the Revolt RV 400. Now let's compare this with an equivalent petrol-powered premium 125cc motorcycle, say the top-end, disc brake-equipped variant of the Honda CB Shine SP bought via EMI for three years.
On-road, Pune price of the bike: Rs 86,161

Minimum downpayment: Rs 14,021

Loan amount: Rs 76,500

Interest: 13.6%

EMI for 36 months: Rs 3139

Total amount spent at the end of 3 years: 3139x 36 + 14,021 = Rs 1.27 lakh
So, in comparison to the on-road price of the bike, you end up spending around Rs 40,000 more. Assuming the same daily commute distance as the Revolt RV400:
| | | |
| --- | --- | --- |
| Distance travelled per day: 30km | Distance travelled per month: 900km | Distance travelled for three years: 32,400km |
| Approximate fuel efficiency: 55kmpl | Average cost of petrol per litre: Rs 77 | |
| | Total fuel consumed per month: 900 / 55 = 16.36 litres | |
| | Cost of fuel per month: 16.36 litres x Rs 77 = Rs 1260 | Cost of fuel for three years: 1260 x 36 = Rs 45,360 |
The motorcycle needs to be serviced every three months, and Honda offers four free services spread across a year.
Approximate cost per free service: 500

Total service cost for first year (4 free services): Rs 2000

Approximate cost per paid service: Rs 750

Total service cost for two years: 750 x 8 = Rs 6000

Buffer for major servicing: Rs 3000

Total maintenance cost for three years: 2000 + 6000 + 3000 = Rs 11,000

Total cost of ownership, running and maintenance: Rs 1.27 lakh + Rs 45,360 + Rs 11,000 = Rs 1.83 lakh
Compared to the Revolt RV400's overall costs, buying and using a CB Shine SP will be Rs 31,000 more expensive for a period of three years. This gap will only go up even further if you take into account petrol costs, which won't exactly be going down any time soon.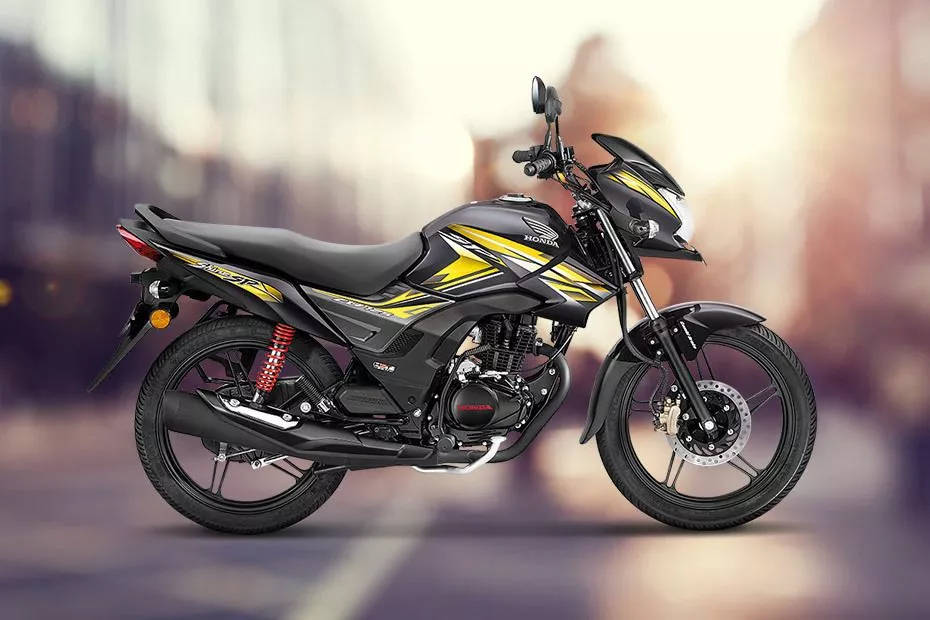 The Revolt easily outshines the Shine SP with better user experience thanks to the app-based features. Overall, the Revolt RV400 has got the upper hand because it does the job of taking you places comfortably and more importantly, in an environmentally-friendly way. Moreover, you'll save up even more after three years in terms of service because there are fewer moving parts in the bike. But the biggest concern for most people going electric is the cost of battery replacement after 3-4 years of use. While this is a huge expense, Revolt offers an incredible 7.5 year or 1.5 lakh km warranty on the battery, effectively covering your battery needs for the entire lifetime of the RV 400.