Honda 2Wheelers India Launches Honda Joy Club
Modified On Mar 20, 2019 By Karan Narsu
Honda Joy Club claims to be the Indian two-wheeler industry's first digital loyalty program and is open to all existing 39 million Honda customers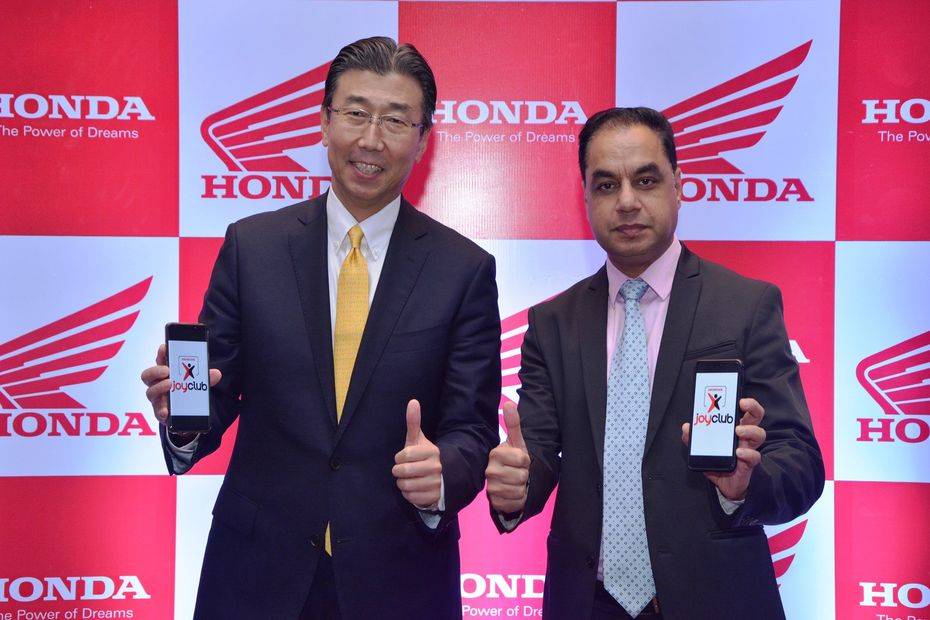 Honda recently completed 18 year of operations in India. In order to commemorate this feat, the Japanese two-wheeler manufacturer has launched India's first "digital customer loyalty program" known as Honda Joy Club.

New and existing customers can sign up for the program free of cost till 30th November 2018. Post this, Rs 299 will be levied to the customers. Customers can earn one Honda currency for every Rs 4 they spend on their service bill in a span of three years. Customers will be able to keep track of their Honda currency through a dedicated website and the Honda Joy App, which is available on both Android and Apple smartphone platforms.

These points can be encashed in the form of various offers that can be redeemed through various alliance partners. Apart from this, customers can use the digital currency to claim discounts on select spares and service offerings.

To know more about Honda Joy Club and its benefits, head over to the press release attached below.

Press Release:

Honda 2Wheelers India launches 'Honda Joy Club'

The biggest & First digital loyalty program in the history of 2W industry

Mumbai, 11 October 2018: Entering its milestone 18th year in India, Honda 2Wheelers India today announced its Honda Joy Club – its first ever customer loyalty program.

'Honda Joy Club' is a first-of-its-kind loyalty program with unprecedented concept having unparalleled scale backed by unmatched benefits for both existing and new Honda 2 wheeler customers. It's the biggest and 1st digital loyalty program in the history of Indian 2wheeler industry!

India is today leading Honda's global two-wheeler business and contributes 32% to Honda's sales worldwide.
In its 18 years' journey till now, Honda 2Wheelers India has delighted over 39 million Indian families in such a short time and today a new customer is joining the fast growing Honda family every 5 seconds.

Elaborating how Honda is celebrating this love and giving the Joy back to its customers with Honda Joy Club, Mr. Minoru Kato - President and CEO, Honda Motorcycle & Scooter India Pvt. Ltd. said, "Serving such a large base of customers and delighting them with our products and services is critical as Honda aims to be No. 1 in customer satisfaction. We are proud to introduce Honda Joy Club loyalty program in India! Joy Club is truly unprecedented in its concept, unparalleled in its scale and unmatched in the rewards for our 39 million customers of Honda family which is further growing at a fast pace. Our customers will now experience more Joy every time they engage with brand Honda."

Elaborating on the uniqueness of Honda Joy Club, Mr. Yadvinder Singh Guleria - Senior Vice President, Sales and Marketing, Honda Motorcycle & Scooter India Pvt. Ltd. said, "Honda Joy Club is a loyalty program like none other. It's the first time that a 100% digital loyalty program is empowering customers with choice. Now Honda customers enrolling on Joy Club program can Earn virtual Honda currency at both purchase and subsequently every service visit too. What is most unique is that powered by Honda's multiple alliances across different sectors, customers can now redeem their reward points both within and outside Honda. Entering the festival season with a bang, Honda is gifting Joy Club membership free of cost to all our new customers till November 30, 2018."

About Honda Joy Club:
Honda Joy Club is set to delight new and existing Honda 2wheelers customers.

Earn Honda currency every time:
It's a win-win situation for customers who start earning the virtual Honda currency right from the time of enrolment itself. In fact, while a new membership costs just Rs. 299 (Govt. applicable taxes extra) for 3 years, Honda's privileged customers will get up to 7 times instant returns at the time of enrolment itself. Not just this, customers can earn more currency in their e-wallet and fast-track their membership tiers by referrals, upgradation and exchange of vehicles as well. Post the membership purchase, Honda Joy Club gives more Joy to customer every time their vehicle rides into a Honda authorized touchpoint. Customers will earn one Honda currency for every 4 rupees spent on their every servicing bill in the three years' span.

Burn your points both inside and outside Honda:
What sets Honda Joy Club apart from the existing loyalty programs is that Honda has given its customers the true power of Choice.

Redemption within Honda 2Wheelers:
Opt for 5% discount on spare parts, 10% off on accessories or 15% off on labour charges at any time depending on your service with no fixed upper limit on amount of bill.
Experience added convenience with 3 free vehicle wash and even 1 free vehicle pick-and-drop service.

Redemption by alliance partners:
Powered by Honda's multiple alliances across brands from different sectors in India, customers can choose to redeem their earned currency not just within Honda, but can burn their earning outside as well.

On offer are discounts on Hospitality, Travel, Healthcare, Apparel, F&B, Entertainment, Personal care, Insurance, Utility, cashback through E-wallet and many more with big brands like Yatra.com, BookMyShow.com, Tata Sky, Swiggy, H3U and many others.
Honda's agrarian customers can redeem Honda currency to buy IFFCO Kisan samadhan services as well!

Enrolment in Honda Joy Club:
Specially keeping in mind the diverse customer base whose purchase extends from the 110cc commuter motorcycle going up to 1800cc global big bikes, Honda Joy Club enrolment is open both online and offline.

Honda's digitally active customers can directly download Honda Joy Club app (available in both IoS and Android) or register in the official website (www.hondajoyclub.com). Alternatively, customers can directly contact the Honda's 5800 touch-points nearest to them. For any assistance or queries on Honda Joy Club, customers can contact the dedicated Toll-Free Helpline 1800-532-2555 or email their query to helpdesk@hondajoyclub.com.