Benelli Racks Up 150 Bookings Of The TRK 502 Twins In 15 Days
Published On Mar 20, 2019 By Benjamin Noel Gracias for Benelli TRK 502
A majority of these bookings are for the more expensive TRK 502X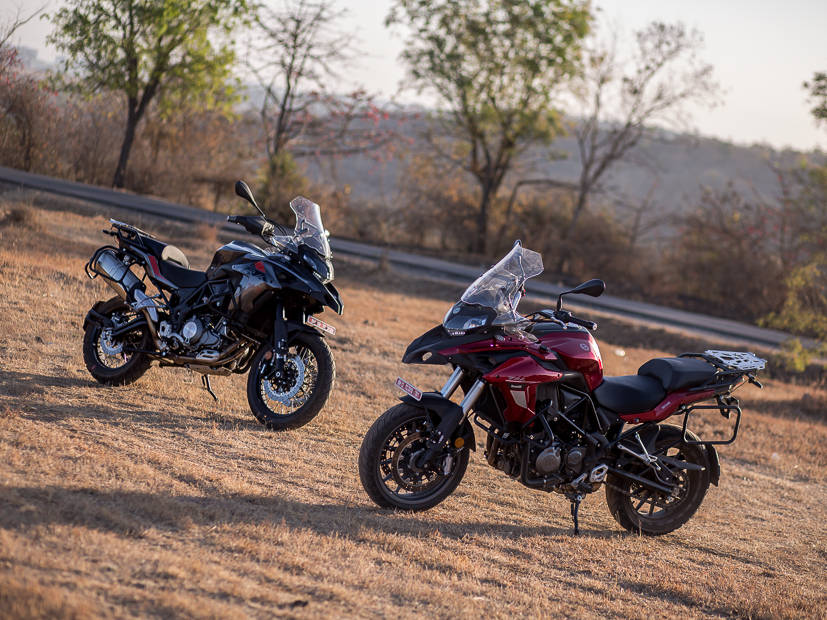 Benelli has received 85 bookings for the TRK 502X and 65 bookings for the TRK 502.
Bookings for the ADV bikes started online.
This month Benelli has added eight new dealerships countrywide taking total dealership count to 18.
The Italian bikemaker will launch 3 more bikes this year and have 40 dealerships in India by the end of 2019.
Benelli had launched the TRK 502 and TRK 502X ADV twins on February 18 this year. It has been a month since the launch and Benelli have already received 150 bookings for both the bikes. That's quite a good number for a 500cc ADV motorcycle.
Also read: 2019 Benelli TRK 502, TRK 502X Review: First Ride Review

Interestingly it is the more expensive and off-road oriented TRK 502X which has received the most amount of interest with it getting 85 bookings as compared to 65 bookings for the base TRK 502. This could be possibly due to growing interest among enthusiasts to venture further off the road or just the fact the 502X looks larger and commands more road presence than the 502. At Rs 5.4 lakh (ex-showroom), it costs just Rs 40,000 more than the TRK 502 which retails for Rs 5 lakh.

Benelli has been on the rise again after they changed India partners. After the launch of the TRK twins, they will be getting in three more bikes to India. They are the Leoncino, Leoncino Trail and 302S. Next year they will launch the Imperiale 400 here. Since their new innings, Benelli has started 18 dealerships across India, 8 of which opened this month itself. Plans are on to have 40 functional dealerships across India by the end of the year.
Benelli India's current lineup consists of the TNT 300, 302R, TNT 600i, TRK 502 and TRK 502X.

Press Release:
Benelli records 150 bookings of TRK 502X and TRK 502 within 15days of launch
? Benelli strengthens dealership network to 18 showrooms
Hyderabad, 20th March 2019: Benelli, a leading worldwide manufacturer of premium bikes and Adishwar Auto Ride India – Mahavir Group, today announced the record bookings of TRK 502X & TRK 502 models. Within a span of 15 days of the launch of the TRK 502X and TRK 502, Benelli India has received bookings for 85 units of the TRK 502X and 65 units of the TRK 502 models.
Benelli is making consistent efforts to boost its dealership network across India. Staying true to its commitment of setting up 40 dealerships in India, by the end of 2019, Benelli has added eight new dealers to its network in the month of March. Taking the total number of dealership count to 18, across PAN India. Benelli has launched new facilities in Vijayawada, Goa, Delhi, Mangalore, Kolkata, Guwahati, Vadodara and Chennai.
The showroom showcases the entire range of Benelli superbikes available in India. These superbikes encompass the TNT 300 – In-line two-cylinder 300cc engine, 302R – In-line two-cylinder 300cc engine, the TNT 600i – In-line four-cylinder 600cc engine and the newly launched TRK 502 and TRK 502X – In-line two-cylinder 500cc engine. All 5 products come with 5-year Unlimited Kilometre Warranty as standard.
Vikas Jhabakh, Managing Director, Benelli India said, "We are indeed delighted to receive record bookings for the Benelli TRK 502X and TRK 502 models within a short period of the launch and this has boosted our confidence towards launching new models in India in the near future. As per our commitment to our customers in India, we are continuously evaluating the opportunities to grow our network and offer a more diversified portfolio of products through our eminent dealers"
With limited Rs. 10,000 worth official Benelli merchandise and accessory vouchers available, offer is valid only till 31st March 2019.