Gemopai Astrid Lite Electric Scooter: Road Test Review
Published On Jan 19, 2020 By Alpesh Rajpurohit for Gemopai Astrid Lite
Should you shell out Rs 80,000 on an e-scooter from a company that you might have never heard of or wait for the big players to enter this segment?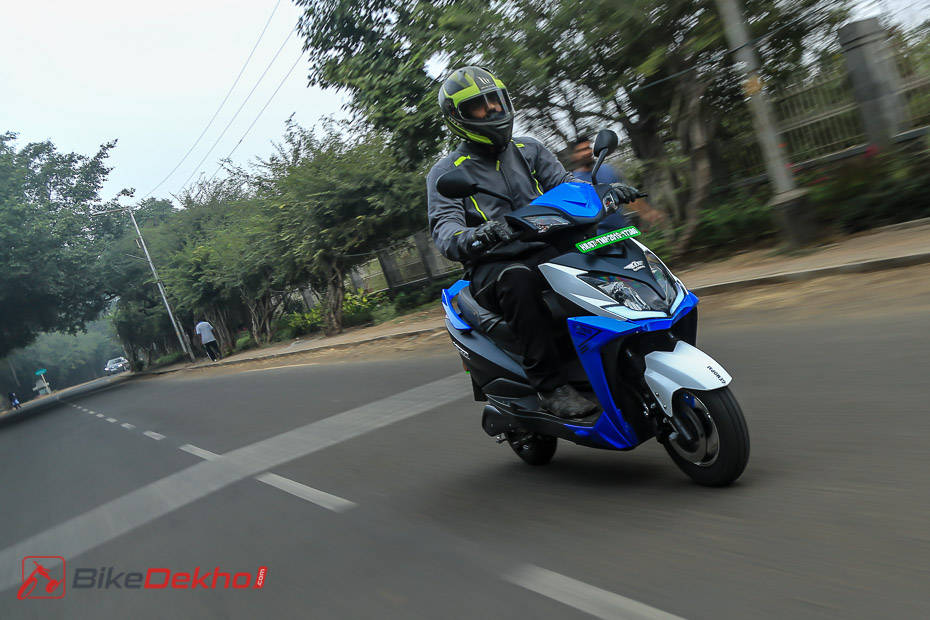 Electric mobility is the next big thing in the world of two-wheelers. Almost every month we see a new electric manufacturer popping up in some part of the country. In fact, the only mainstream Indian manufacturer to have launched an electric two-wheeler so far is Bajaj, with the new Chetak. So, if you want to join the green bandwagon, all you have are a bunch of startup companies backed by Indian brands or the ones who have teamed up with Chinese manufacturers.
We got to test one such scooter from the latter lot, called the Astrid Lite from Gemopai -- a joint venture between Goreen E-Mobility and China's Opai Electric. The Astrid Lite is priced at Rs 80,000, making it one of the more expensive e-scooters out there. The question here is, should you shell out that sort of moolah on an electric scooter from a company that you might have never heard of or wait for the big players to enter this segment?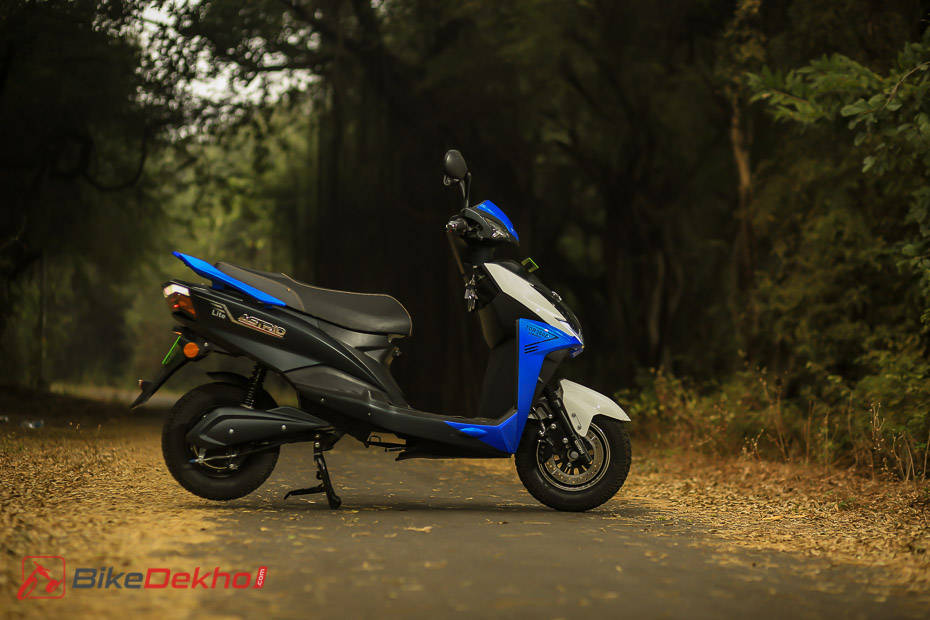 Pros:
The range on offer is quite sensible for an urban electric scooter.
It feels quite light and easy to manage.
Removable battery is a boon if you don't have a charging point in your parking.
Cons:
Build quality is lacking given the high price point.
Suspension is stiff to the point of being non-existent
Top speed of 50kmph (in Sport) feels too low
Stand-Out Features:
Usable range is quite impressive.
The seat is big and spacious and offers ample space for the pillion.
Takes just 3.5 hours to fully charge the battery via a normal 5-amp wall socket.
Design:

From a distance, the Astrid Lite looks sporty thanks to the angular body panels and the (slightly) aggressive front end. The bright colours on offer help the scooter's case as well. The tail light looks especially futuristic and unique. But spend some time staring at the other bits, and you realise the overall design is rather generic, looking pretty much like every other Chinese electric scooter on offer in India today. Up close, the headlight design too looks a little awkward.

When you look really close though, things take a turn for the worse. Because the build quality and overall fit and finish of the materials used is just abysmal. Nope, we are not exaggerating. The photo above is the actual key slot of the Astrid Lite, which was so loose that it looked like it would just fall off. In fact, it did come out eventually after a few days of testing.

The boot and most of the body panels are entirely made up of ultra low-quality plastic, unacceptable for a scooter at this price point. We would have ignored the Astrid's awful build quality if it was still a pre-production unit or if it was priced much, much lower.
Ergonomics:

The floorboard on the Astrid Lite is set slightly higher than what you'd expect on a scooter of this size. Thankfully, it's not as bad as the floorboard on the Okinawa Praise, so your knees won't hit the handlebar while taking a tight turn. The seat height too isn't too tall (though the company claims it to be 810mm), so you can get your feet flat on the ground without any issues. Overall, you get a comfortable and upright riding posture. The seat is long and spacious and is easy to get aboard. However, the cushioning is a bit too soft and you might want to avoid sitting on it for a longer duration.

While there's ample space for the rider to rest his/her feet on the floorboard, the pillion might have to struggle as there are no separate footrests. All you get is a small space to rest your feet on the edges of the floorboard. Maybe Gemopai's design team consists of supermodels with long legs and tiny feet, and they forgot that there are other humans in this world with larger feet as well (fun fact: there's one bigfoot in Team BikeDekho as well whose identity shall not be revealed).
The Astrid's boot space is so low that you can just about fit a half-face helmet and you'll be forced to put the rest of your belongings on the floorboard, which thankfully feels large enough.
Technology & Features:

On paper, the Astrid Lite's features list is pretty impressive. It comes with a fully digital instrument cluster, LED headlamp unit, a side stand sensor, a USB port and an electronic key fob. While the instrument console is bright and the numbers displayed on it are large and crisp, it suffers in terms of functionality. The tripmeter resets every time you turn off the scooter and it never shows the correct figures! For example, it will show you 0.2km at the start and as you move a bit forward, it'll say you've covered 4km.

The LED headlamp unit doesn't have great reach or intensity. But hey, it's not like none of the features work. The side stand sensor does its job impressively and so does the key fob. However, the highlight of the Astrid's features list is its removable 1.7Kw Li-ion battery. Now, a detachable battery isn't a new thing. The Revolt RV400 has it and so does the new Okinawa Lite. But the Astrid's battery weighs 10kg, making it easy enough for most people to carry it into their house or office for charging. It doesn't come with a fast charger either. But honestly, we don't think it needs one anyway, because it takes just around 3.5 hours to fully juice up the battery.
Engine & Performance:

The Astrid Lite is powered by a 2.4kW motor. The motor only has a limited amount of grunt to overtake 100cc scooters, and it quickly loses its steam after the initial burst of power. Speedo errors are given on any vehicle, but the Astrid takes it to a whole new level. While it showed 65kmph on the console, our VBox test showed that it was doing just 49-odd kmph! In fact, you'll take an eternity to reach 50kmph. OK, we are exaggerating a bit and it's around 13 seconds in real life. And this is the reason why it's preferable that you keep the Astrid Lite within the city limits where you'll often find yourself looking at the tail lights of other vehicles.

There are three ride modes on offer -- Eco, City and Sport. Although Eco mode is likely to offer better range, we would not recommend using it regularly as the top speed is restricted to a dizzying 30.13kmph (VBox tested figure), which will take you a whole day to reach your destination. It also makes it somewhat dangerously slow, even at city speeds. It makes sense to stick to either City or Sports mode for your daily commute.
Wouldn't that deteriorate the range? Well, range is one of the few aspects that we really love about this scooter. In our test, the Astrid Lite offered a range of 80km in City mode, which is quite admirable. You see, the Astrid Lite is not a sporty scooter; we mean, the company never claimed a triple-digit top speed or an impressive 0-60kmph time. There's a clear bias towards range over performance, which we think works for a scooter of this type.
Ride & Handling:

It comes with a telescopic fork at the front and twin shock absorbers at the rear. Yes, this is quite a fancy setup, but that doesn't mean it offers excellent or even good ride quality. The setup is extremely stiff to the point of being almost non-existent., Every time you go over a bump or a pothole, the shock is transmitted to your hands and backside completely unfiltered. The worst part is how nervous the scooter feels while on the move. Rumble strips on the road or a small bump ahead? Well, you better slow down, because there were times where even the slightest impact would make the handlebar tremble violently.

Additionally, everytime we encountered a series of potholes, the battery would rattle as it was on the brink of unplugging, which made us nervous to be honest. The manufacturer could've mended this issue by adding rubber padding in the battery compartment, but instead, what you get is a velcro strip to secure it in place. And this strap had already come off when we received the scooter for testing.

The Astrid Lite weighs just 95kg (yes, 95kg!), making it pretty light on its feet. So maneuvering it through city traffic or parking it in a tight spot is easy-breezy. Another positive aspect of being light is how well the scooter comes to halt. It features a disc-drum setup and as an added safety feature, there's EABS (Electronic Assist Brake System) too. While our usual criteria is to test the scooter's 60-0kmph figures, we had to improvise for this slowpoke as it simply couldn't get to 60kmph. The Astrid Lite managed 45-0kmph in under 12 metres, which is quite remarkable, especially considering that the Hero Maestro Edge 125 did the 60-0kmph run in 22.67 metres!
Variants:
The Astrid Lite is available in only one variant. However, there are five paint options you can choose from - red, grey, green, blue and orange.
Verdict:

In theory, the Astrid Lite is a perfect electric scooter. We mean, it comes with a healthy list of features, you have to charge it twice or thrice a week (depending on the length of your commute) and electric two-wheelers are generally easy on the pocket when it comes to running costs as well. So should you go ahead with the Astrid Lite? Well, no. You see, the problem here is its price tag. At Rs 80,000, the Astrid is an expensive scooter and what you get for that amount is a substandard quality, especially considering that there are other conventional scooters in the market with a much lower price tag, but with significantly better build quality, more features and more performance.
We believe Gemopai needs to focus on one thing -- either make a premium scooter, but with top-notch quality; or bring a mid-spec variant, which comes at a fairly reasonable price. For now though, it seems like the newcomer has a lot of work to do if it's planning to make a dent in the electric two-wheeler segment.