Ampere Magnus Pro: Road Test Review
Published On Jan 10, 2021 By Gaurav Sadanand for Ampere Magnus
At Rs 73,990, the Magnus Pro is one of the most affordable scooters in its segment, but is it a wise choice or a compromise?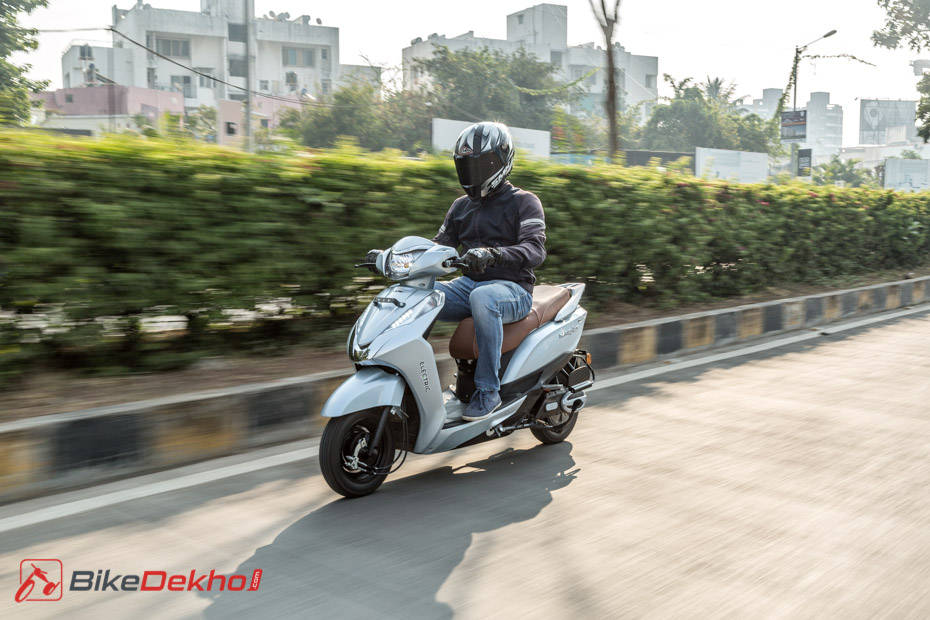 Ampere Vehicles isn't new to the electric two-wheeler scene in India. It's been around for a couple of years and seems to have somewhat made its mark in the EV scene as well. That's because it's backed by Greaves Cotton, a Mumbai-based company that manufactures diesel engines. The two entities chalked out an aggressive expansion plan in 2019 to expand the dealership network, work on new product launches, and roll out online retail outlets.
Over the years, Ampere has further expanded its portfolio with several e-scooters. We recently got to spend some time with the brand's flagship 'performance' e-scooter, the Magnus Pro. It's priced at Rs 73,990, which puts it in the same league as 125cc petrol-powered scooters. But could it actually beat them and become the preferred mode of choice for your daily commutes?
PROS
Looks like a conventional petrol-powered scooter.
Decent performance for everyday use.
Light and flickable, making it easy to manage in traffic or parking lots.
CONS
Build quality isn't great, feels plasticky.
The battery is visible from the side thanks to the crudely designed battery bay.
Wire loom leading to the battery juts out and looks rather untidy.
The squarish brake lever design can get a tad uncomfortable over long journeys.
STANDOUT FEATURES
Gets dual-tone seats which add a touch of premiumness.
Claimed range is pretty decent and easy to achieve as well.
DESIGN

One look at the Magnus Pro and you'll think it's a petrol-powered scooter. It's only when you get closer that you see the differences -- a hub motor instead of an engine, skinny tyres, twin shocks at the rear, and plastic panels to cover up the swingarm. It's striking to look at if you have the right colours... say a bright red or yellow. The test scooter we were handed came finished in silver which is appealing in its own way but not flashy enough to draw attention.

The overall design is sleek and sporty. We particularly loved the way the Ampere has used subtle chrome elements on the front apron and around the brow of the headlight for that touch of premiumness. What could have been better is the overall quality of the product. It feels substandard and for the lack of a better word, plasticky. The quality of plastics used on the bodywork feels flimsy.

Once you get on the scooter you're greeted to a digital console which looks fairly basic and reads out information like the charge of the battery, ride mode options, an odometer and, of course, speed. Additional features such as estimated range and turn-by-turn navigation would have surely added to the scooter's overall user experience.
It doesn't get any fancy LED headlights here either, which is pretty much the norm these days. Instead, the Magnus Pro features a traditional halogen headlight which isn't powerful enough to light up dimly lit roads. In other words, it lacks throw and spread.

Then there's the boot light in the underseat storage which looks like an afterthought and sticks out like a sore thumb. On the plus side, it's really bright. The exposed battery bay and the orange wire looms aren't a pretty picture either.
There is some light at the end of the tunnel though, as Ampere offers 3-5 years of warranty on its battery, motor, charger and controller. So you at least have some peace of mind from a long-term perspective.
ERGONOMICS

Get on board and the lightweight Magnus Pro feels perfectly manageable, but the riding posture is a bit off. Though the reach to the bars feels natural, the high floorboard makes the scooter feel a little cramped even for average-sized riders. Ergonomics aren't very well thought out either. The horn button, for instance, is oddly positioned above the turn indicator which forces you to recalibrate your left hand. The sharp edges on the squarish brake lever design can get a tad uncomfortable over long journeys.


Removing the battery is a pain and a little too complicated, to be honest. First, there's a lid that requires a key to unlock. You then have two screws and a metal strap which need to be unfastened before you can get to the battery. Once you get past this process, you have to wrestle to get the battery out of the bay. It's equally painful while installing the battery. All of this could have been simplified in our opinion and that's something Ampere needs to look into.
On the bright side, the metal strap secures the battery in place which ensures it doesn't move around or rattle while going over rough roads or speed breakers.
TECHNOLOGY AND FEATURES

The Magnus Pro comes with a decent list of features including LED DRLs placed on the front apron, a LED console, anti-theft alarm, remote keyless entry, a boot light, and dual-tone seats.
What's been given a miss is a reverse gear which could have proven to be quite useful in tight parking spots, LED lights for better visibility, and a disc brake up front for improved braking performance.
RANGE & PERFORMANCE

The Ampere Magnus Pro feels sprightly off the line in mode 2 as most EVs do thanks to the instant surge of torque. However, the acceleration soon trails off as soon as you border its claimed top speed of 55kmph. Our VBox indicated that the corresponding true speed at this point was 51.33kmph which is a speedo error of 6.9 percent -- perfectly acceptable considering the allowable limit is 10 percent.
Also Read: Ather 450X: Road Test Review
You can putter around comfortably and keep pace with slow- to medium-speed traffic in the city, however, the lack of performance will leave you wishing for more. Our acceleration test figures speak for itself.

The Magnus Pro takes 7.48 seconds to get to 40kmph which makes it one of the slowest EVs we've tested. Bear in mind that the test rider weighs about 57kg. So we'd say the Magnus Pro is still some time away from actually competing with petrol-powered scooters. It's surprisingly slow in roll-on accelerations as well, which means you will have to plan your overtakes beforehand.
Sure, performance isn't one of the scooter's strengths but it sure as hell excels when it comes to range. We ran the scooter in Eco mode to get the most out of the battery and it did live up to our expectations. Ampere claims a range of about 75km per charge but we were able to extract 83km which is more than adequate for a single day's worth of commuting.

If you run out of charge, you can charge the scooter either by using the port under the front of the seat or by removing the battery altogether and juicing it up via a 5amp socket. Once you plug it in, it'll take around 5-6 hours to charge. Which means you'll have a full charge by the time you're done with your 7-8 hour work shift.
RIDE & HANDLING

We don't have the actual kerb weight, but the Magnus Pro feels lightweight and extremely flickable. So navigating through traffic or simply moving the scooter around in the parking lot should be a piece of cake for most.
You'd expect the Magnus Pro to offer a plush ride considering it's designed primarily for city use, but that's far from the reality. The overall ride quality isn't all that great and that's purely down to the softly sprung suspension setup and the lack of travel. Simply put, the suspension runs out of travel with a rider weighing over 75kg and tends to transfer a healthy dose of jolts to your back.

Braking performance for a scooter topping out at about 51kmph is acceptable. The brakes, though drum units, have good feel and progression but lack bite. Also worth noting is the fact that the front end tends to wobble when braking hard. All things considered, this could just be an issue with the test unit we were provided. The tyres are on the slimmer side but offer a decent amount of grip.
VARIANTS
The Ampere Magnus Pro is available in a single lithium-ion version priced at Rs 73,990 which includes GST and Fame II subsidy.
VERDICT

At Rs 73,990, the Ampere Magnus Pro is one of the most affordable e-scooters available in the market. While it doesn't hold a candle to petrol-powered scooters, it is worth considering in the EV space. What the scooter has going for it is a conventional design, lightweight body, and a battery that delivers a decent range for daily commutes.
Also Read: BGauss B8 Electric Scooter Road Test Review
What Ampere could work on to further improve the scooter is its build quality, fit and finish, performance, and overall rideability. While it's a decent option, we still think you'd be better off with something like a BGauss B8 which not only looks the part but also offers reasonable amount of kit for the extra Rs 9,000.