Ather 450X: Road Test Review
Published On Jan 1, 2021 By Gaurav Sadanand for Ather 450X
An electric scooter that finally matches the performance of the best petrol-powered scooters?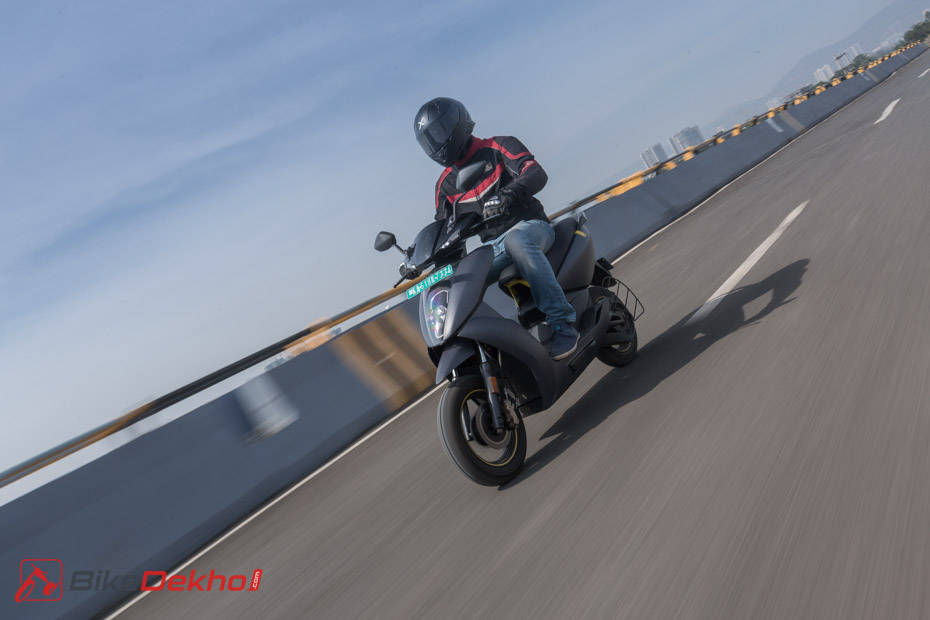 Perception: Electric scooters are boring, they lack the performance of petrol-powered scooters. Plus you're constantly worried about running out of charge, so what's the point? The lack of dealership and reach also puts most people off from opting for electrics.
Reality: Agreed, some of these statements are true, but a whole lot has changed in the past couple of years. And Ather Energy seems to be paving the way for the next generation of electrics in India. The 450X is the perfect example. Aspects that made the 450 so likeable have been improved even further. It's pegged to be quicker, more efficient and has a lot more features. Ather has also expanded its reach across India starting with tier-I and tier-II cities. So do we finally have an EV that could take a stand against the best of the best petrol-powered scooters?
PROS
Warp mode will make most petrol-powered scooters eat dust.
Balanced chassis with good weight distribution makes the scooter extremely flickable
More than enough range for everyday commutes
CONS
Switchgear quality could've been better.
Headlight could do with better throw and spread.
Short mirror stalks hamper rear view vision.
STANDOUT FEATURES
Warp mode will literally blow your mind
Gets a bigger battery and more powerful motor for better performance.
Ather's low cost flexible subscription packs takes care of vehicle maintenance and makes customers eligible to avail future upgrades.
DESIGN

Visually, the Ather 450X isn't any different from the now discontinued 450. But the introduction of new colours schemes somehow makes it even more appealing than before despite being a three-year-old design. The grey with yellow livery, basically the scooter we had looks particularly striking in my opinion. It's subtle and fresh. You even have a Series1 Collector's Edition on offer which uses translucent body panels finished in gloss black to highlight its beautifully designed trellis frame. Read more about it here.

The build quality, fit and finish levels are superb. If we had to nitpick it would have to be the quality of the switchgear, which could have been better. Also, I would love to see slightly longer rear view mirror stalks. The current design is a bit too short for my height (5'10") and has me constantly slouching to see what's behind me.

Last but not the least, the headlight could do with better throw and spread. While it does a decent enough job during most occasions, it fails to light up dimly lit areas fully, which could be problematic for those whose own night vision isn't that great.
ERGONOMICS

It's no different from your typical scooter. You sit upright with easy to reach handlebars and a decent amount of legroom space. Having said that, taller riders may find the handlebar fouling with their knees during tight turns. As for the seat, it's well-cushioned and has plenty of room for two aboard. The form density is on the softer side though, which tends to get a little uncomfortable over long journeys. The single piece grabrail and the ingeniously designed floorboard which extends to form the pillion footrests makes the pillion experience quite enjoyable.

A seat height of 780mm makes it accessible for riders of all heights. More importantly, Ather has managed to shave 3kg of weight from the previous gen 450 and it's quite noticeable when you get the scooter off the stand. This is possible thanks to the reduced weight in the dashboard and additional weight reduction from optimising the electronics packaging.

Oh, and let's not forget the gorgeous flush-fitting side stand that is a design masterpiece by itself. It's easy to reach when you need it but doesn't get in your way while moving the scooter around in the parking lot.
TECHNOLOGY AND FEATURES

The 450X is a definite improvement over the standard 450. It gets better connectivity, Google Maps, an Android operating system instead of Linux, and more processing power thanks to the new Snapdragon CPU. We've already covered all the updates in our first ride review you can read about in detail here.
RANGE & PERFORMANCE

Let's get down to business. I'm sure most of you just want to read about the scooter's performance more than anything else. My time with the 450X was downright amazing. It fills you with a sense of thrill that no other scooter could offer. I'd even go as far as saying that you'll forget about petrol powered scooters once you ride the 450X. I know this sounds like hollow flattery, but it's true!

Still find it hard to believe? No worries, here are some numbers. It's not only quicker from 0-80kmph than the older 450 but also faster than the BS6 Access 125, which happens to be among the quicker scooters we've tested. Also bear in mind that I'm about 9kg heavier than my colleague who tested the BS6 Access and the now-discontinued Ather 450. The BS6 NTorq simply pales in comparison in our acceleration test runs.

You have four modes to choose from -- Eco, Ride, Sport and Warp -- each one of them getting progressively faster with a crisper throttle response. And if you aren't concerned about range, Warp mode is what you need to be in to get the most out of the scooter. It's warp speed in the literal sense. And you can actually feel the massive surge in torque once you switch modes.
Ather was able to achieve this feat by updating the firmware and tweaking the permanent magnet AC motor to generate more power and torque. The result is a bump from the previous 5.4kW of peak power to 6kW. Same goes for the torque which has increased from 20.5Nm in the 450 to 26Nm in the 450X.

You could conserve the battery by switching to Eco or Ride, which limits the top speed to 55kmph and 60kmph respectively. We were able to extract about 91km in Eco in heavy traffic. Now you're probably wondering how the standard 450 managed to deliver a better range than the 450X which features a bigger battery and an all-new Battery Management System (BMS). Well, it's simply down to the rider. The rider who tested the older model weighed in at about 55kg. I, on the other hand, am a little over 20kg heavier, hence the deficit. There are also several other elements to consider ranging from riding style to traffic conditions. Ather customers, for instance, have managed to squeeze between 86km to 124km on a single charge.

Now there are two ways to charge the 450X if you're running low on juice. One could juice it up using Ather Dot (installation charges Rs 1,800 extra) at home, or plug it into any 5amp socket using the portable charger, which takes about 5 and half hours for a full charge from empty. Or you could direct yourself to the nearest fast charging station via the app and top up the scooter in half that time. To cite an example, it took me about 45mins to go from 23 percent to 92 percent while using the fast charger. That's about the time you might take to have your lunch.
Ather already has 7 strategically placed fast charging stations up and running in Pune, and intends to have 10 completed by the first week of January 2021. So range anxiety isn't really an issue anymore unless you head out of the city.
RIDE & HANDLING

The 3kg weight drop is immediately noticeable on the move. Couple this with its low centre of gravity and neutral weight distribution and you have a scooter that turns in almost telepathically. It's extremely flickable, which makes weaving through traffic a piece of cake. It's stable at higher speeds as well.

The suspension setup is on the firmer side but it does a good job of flattening out imperfections on the road. I for one didn't find the tune of the suspension too bothersome. It worked perfectly fine for my weight (76kg) and even egged me to push harder on well-paved roads.

The 12-inch wheels shod with slim 90-section MRF tyres offer good grip and feedback. The only chink in the scooter's otherwise perfect setup are its brakes. Don't get me wrong, the brakes have in fact been improved since the last iteration of the scooter, but they still tend to lock up under hard braking, especially the rear which locks and weaves to some extent. This can be quite alarming for newer riders who tend to rely on the rear brakes more than the front. Ather could probably solve this issue by offering an ABS as an option.
VARIANTS

There are two variants to choose from -- the standard Ather 450 Plus and more powerful, feature-packed 450X. Ather has also introduced low cost subscription plans which takes care of maintenance, OTA updates and RSA. Everything you need to know is mentioned in the table below.
VERDICT

The Ather 450X may be the most expensive electric scooter in the market at the moment, but here you get a lot for the money, unlike most Chinese EVs currently populating the market. And that's the advantage of building a scooter from scratch -- you have plenty of room to play with and areas to improve. That's essentially what the 450X is... a well executed product that's leaps and bounds ahead of the current market. It feels, and is, a premium offering that will keep you smiling for years to come.
You also have a comprehensive ecosystem designed around the 450X that will only get better as time passes. All in all, I'd say the 450X is well worth the price and a no brainer if you're planning on going green.