Hero Xtreme 200R, Xtreme 200S, XPulse 200 & XPulse 200T: Which One's The Best For You?
Published On May 3, 2019 By Benjamin Noel Gracias for Hero Xtreme 200R
With three new 200cc bikes in Hero MotoCorp's portfolio, it can be quite hard to pick the right one for your needs. So allow us to simplify your decision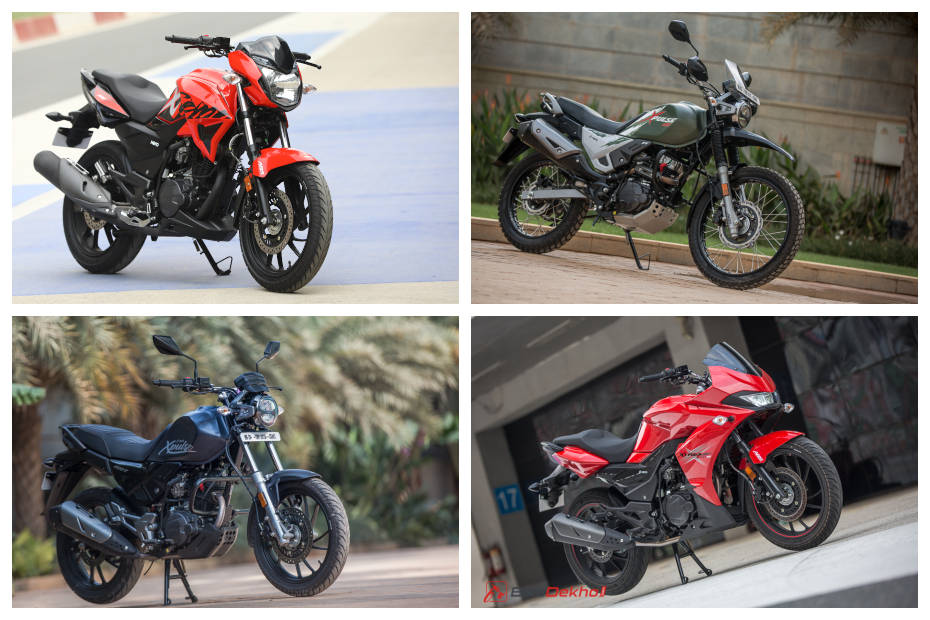 This week, Hero MotoCorp launched three new 200cc motorcycles: the XPulse 200, XPulse 200T and Xtreme 200S. With these additions, Hero now has a total of four 200cc motorcycles in its portfolio. So how do you decide which one suits your needs the best? Let us help you out, starting with the most affordable one first:

Hero Xtreme 200R (Rs 90,900):
The Xtreme 200R is a 200cc naked motorcycle. It is positioned as an alternative to similarly priced 160cc motorcycles. It looks larger than most 160cc motorcycle and packs a 199.6cc air-cooled single cylinder motor that delivers 18.4PS and 17.1Nm of torque. Equipped with a 5-speed gearbox with short ratios, the Xtreme 200R feels peppy in the city and is the one to go for if you prioritise regular city commutes over long, highway road trips.
Also read: Hero Xtreme 200R: Road Test Review

Hero Xtreme 200S (Rs 98,500):
Essentially an Xtreme 200R with a fairing, the Xtreme 200S is quite a looker and a more premium alternative to the naked bike. The fairing and new exhaust end can aren't the only addition here, Hero has given the bike premium features in the form of an LED headlamp and a full-digital instrument console with Bluetooth connectivity and turn-by-turn navigation. Underneath, the Xtreme 200S uses the naked bike's underpinnings and 199.6cc powertrain which, thanks to its short gearing, makes it more comfortable to ride in the city than out on the highway. Go of this one if you want a good looking Xtreme 200 with better features and do not mind spending the extra premium.
Also read: Hero Xtreme 200S: First Ride Review

Hero XPulse 200T (Rs 94,000):
The XPulse 200T is an XPulse 200 that has been modified for touring purposes. It uses the XPulse 200's bodywork and features such as the LED headlamp, LED tail lamp and digital instrument console. Underneath, it utilises the same frame as the XPulse 200. While the suspension setup looks identical to the one offered on the Xpulse 200, its internals is borrowed from the Xtreme 200, which is more apt for road use. The XPulse 200T gets alloy wheels and road-biased tubeless tyres. At 799mm, the seat height is 24mm lower than the XPulse 200. Powering the bike is a 199.6cc air-cooled and carburetted single cylinder motor that produces 18.4PS and 17.1Nm of torque. This bike is more comfortable over longer rides than the Xtreme 200R and Xtreme 200S thanks to its upright ergonomics. The XPulse 200T is the one to go for if you are looking for a budget tourer.
Also read: Hero XPulse 200T First Ride Review

Hero XPulse 200 (Rs 97,000/Rs 1,05,000):
The XPulse 200 is currently the most affordable adventure bike you can buy in India. It gets a tall suspension with a wheel travel of 190mm at the front and 170mm at the rear. The 21-inch front and 18-inch rear spoke wheels come shod with dual-purpose Ceat Gripp tyres. It gets a retro enduro bodywork with modern bits like an LED headlamp and tail lamp, and a digital instrument console with Bluetooth connectivity. Performance comes from a 199.6 air-cooled motor that is available in both carburetted (Rs 97,000) and fuel-injected (Rs 1,05,000) form. Both versions produce 18.4PS of power and 17.1Nm of torque. However, unlike the XPulse 200, Xtreme 200R and the Xtreme 200S which use a 37 teeth final drive sprocket, the XPulse 200T has a larger 38 teeth sprocket. This makes it peppier at low speeds, which is quite helpful while off-roading. The Xpulse 200 should be your pick if you are looking for an everyday commuter and wish to indulge in off-road shenanigans on the weekend. All prices, ex-showroom Delhi.
Also read: Hero Xpulse 200 First Ride Review