5 Cheapest BS6 Two-wheelers On Sale: Bajaj CT100, TVS XL100, TVS Scooty Pep Plus And More!
Published On Apr 6, 2020 By Gaurav Sadanand for Bajaj CT 100
Here are 5 two-wheelers that comply with BS6 emission norms without burning a hole in your pocket

Yes, climate change has led to stricter emission norms across the world and India has had to make the transition in just three years. Thankfully, manufacturers and component suppliers managed to come together to pull off what some would call an impossible task. That said, the drastic change does come at a price, a substantial hike over the BS4 model. But certain two-wheelers have succeeded in making the transition without a huge increment. So let's take a look at the top five most affordable BS6 two-wheelers you can buy.
Bajaj CT100: Rs 40,794

One wouldn't imagine a 100 motorcycle being the cheapest BS6 option available, but at Rs 40,794 (ex-Delhi) for the kick start variant, the Bajaj CT100 BS6 is by far the most affordable BS6 two-wheeler that you can buy in the country. That's a premium of Rs 6,797 over its BS4 counterpart. Bajaj managed to keep the prices in check by equipping the bike with an e-carb instead of electronic fuel injection. It continues to use a 102cc air-cooled engine, which produces 7.9PS and 8.34Nm, paired to a 4-speed transmission. Head here for more information.
TVS XL100: Rs 42,362

TVS' cheapest BS6 two-wheeler is available in two variants: Heavy Duty and Comfort i-Touchstart priced at Rs 42,362 (ex-showroom Delhi) and Rs 44,614 (ex-showroom Pune), respectively. That's a premium of just Rs 2,990 and Rs 3,340 over their corresponding BS4 counterparts. Aside from the mechanical changes, the moped remains unchanged. It puts out the same power and torque figures but offers 15 per cent better fuel-efficiency. The XL100 also gains 5kg during this transición. You can read more about it here.
TVS Sport: Rs 51,750

The TVS Sport is available in two variants: kick-start and electric start, which retail at Rs 51,750 and Rs 58,925 respectively. This means you're required to shell out an additional Rs 3,633 and Rs 8,017 for each variant post the BS6 update. The price hike is attributed to a couple of major changes such as an all-new 109.7cc engine that now puts out 8.29PS and 8.7Nm. It also gets fuel injection and an additional catalytic converter to cut down on tailpipe emissions. More details here.
TVS Pep Plus: Rs 51,754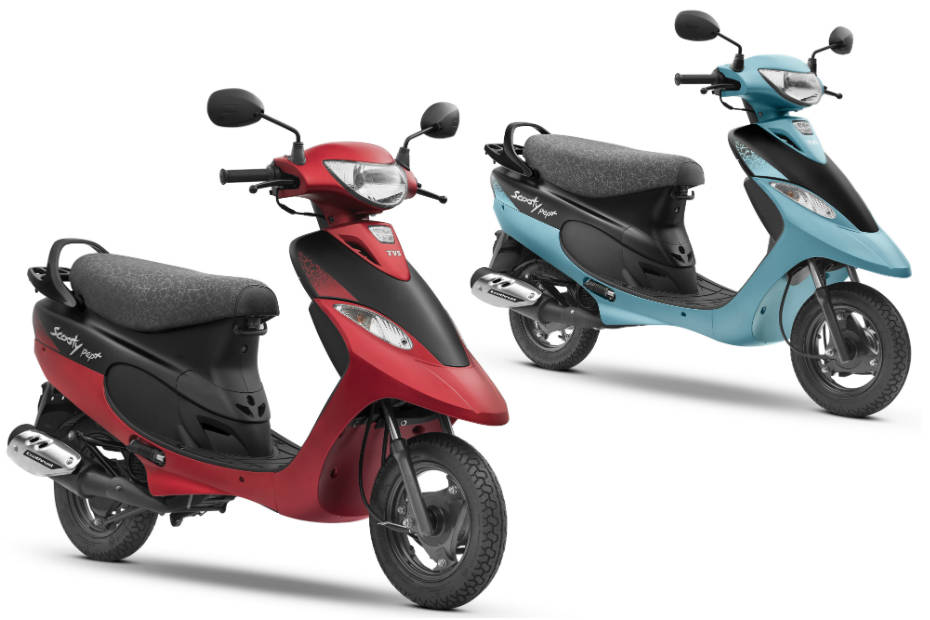 Alternatively, you could opt for the TVS Scooty Pep Plus which is available in three variants: Standard, Babelicious and Matte Edition. The Standard model retails at Rs 51,754 while the Babelicious and Matte Edition variants will set you back by Rs 52,954, a price bump of Rs 6,700 and Rs 6,400 respectively. TVS hasn't revealed the specifications of the scooter, however, we believe it's likely to remain unchanged. Get more details.
Hero HF Deluxe BS6: Rs 55,925

India's first BS6-compliant 100cc motorcycle, the Hero HF Deluxe BS6 is priced at Rs 55,925 (ex-showroom Delhi) for the base variant. The addition of fuel-injection system and a larger cat-con make it dearer by Rs 8,500 over the BS4 bike. Thanks to these changes, the bike now offers 9 per cent more fuel-efficiency than before. Its BS6-compliant 97.2cc sloper engine makes 8PS (down by 0.3PS) and 8.05Nm compared to the BS4 model. Aside from this, the bike remains mechanically unchanged. However, the bike does come with new colours schemes to keep it looking fresh for 2020. Click here for more information.
All prices ex-showroom, Delhi