Ultraviolette F77 vs Revolt RV 400 Electric Bike: Specification Comparison
Modified On Nov 13, 2019 07:04 PM By Praveen M. for Ultraviolette F77
Granted, these two bikes are wildly different in terms of performance, but they're the only motorcycles in the EV segment in India right now. So, of course a spec comparison was inevitable

Bengaluru-based startup Ultraviolette Automotive has launched India's first performance electric motorcycle, the F77. It will be offered in three colours - Lightning, Shadow and Laser - with prices ranging from Rs 3 lakh to Rs 3.25 lakh (on-road).
At this price point, it is pretty expensive, especially when you consider the fact that the Revolt RV 400 is available for one-third the price, at Rs 98,999 (ex-showroom, including FAME II subsidy). Even though the two bikes are considerably different in terms of performance and features, it commands a specification comparison because these are the only two electric motorcycles available in India at the moment. So let's see how the two bikes stack up on paper for curiosity's sake:
Powertrain:
As you can see, the Ultraviolette comes with a much more powerful motor. Ultraviolette claims the F77 can hit 0-60kmph in 2.92 seconds whereas the 0-100kmph takes 7.03 seconds. Comparatively, its petrol-powered quivalent, the KTM 390 Duke did 0-60kmph in 2.77 seconds and 0-100kmph in 5.98 seconds during our tests. This should give you a perspective on how good the F77's performance is.

The Revolt RV 400 offers a more mellow performance and going by our first ride impressions, the RV 400 is more of an electric equivalent to a bike that's in between 110cc and 125cc petrol-powered counterpart. It is pretty evident in the spec-sheet too. Interestingly, the Revolt RV 400 weighs 50kg less than the F77, which should translate into reasonably quick acceleration. Being a slightly heavier bike, the F77 also comes with park and reverse assist gear to make it easily manoeuvrable in tight parking spots.
Battery pack:
Even though the F77 comes with a bigger battery pack, it offers more or less the same range in the city. Like the Revolt RV 400, the F77 also gets three different riding modes: Eco, Sports and Insane. Being a performance-oriented bike, expect a greater drop in range in Sport and Insane modes in the F77 compared to Normal and Sport modes in the Revolt RV 400.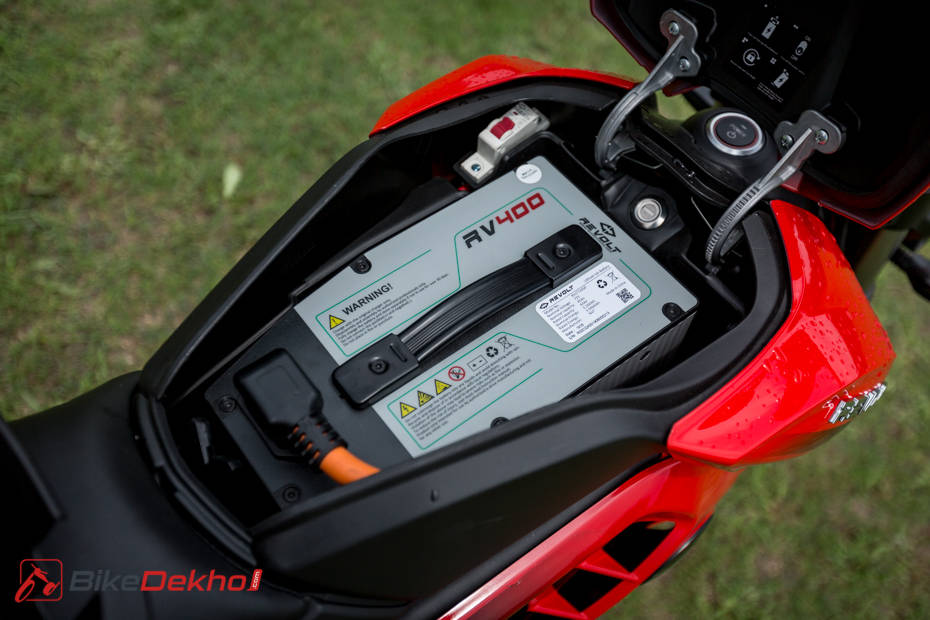 Both bikes get removable batteries but Revolt's battery compartment can be opened from the top and one will have to lift the battery up. It isn't exactly an easy affair as the battery weighs 18kg.
Also Read: Revolt RV 400 vs TVS Apache RTR 160 4V: Running Cost Analysis
On the other hand, one of the F77's three lithium-ion batteries weigh just 8.5kg. The bike's fairing panel pops open and the whole battery compartment slides out, making it a whole lot easier to swap them out.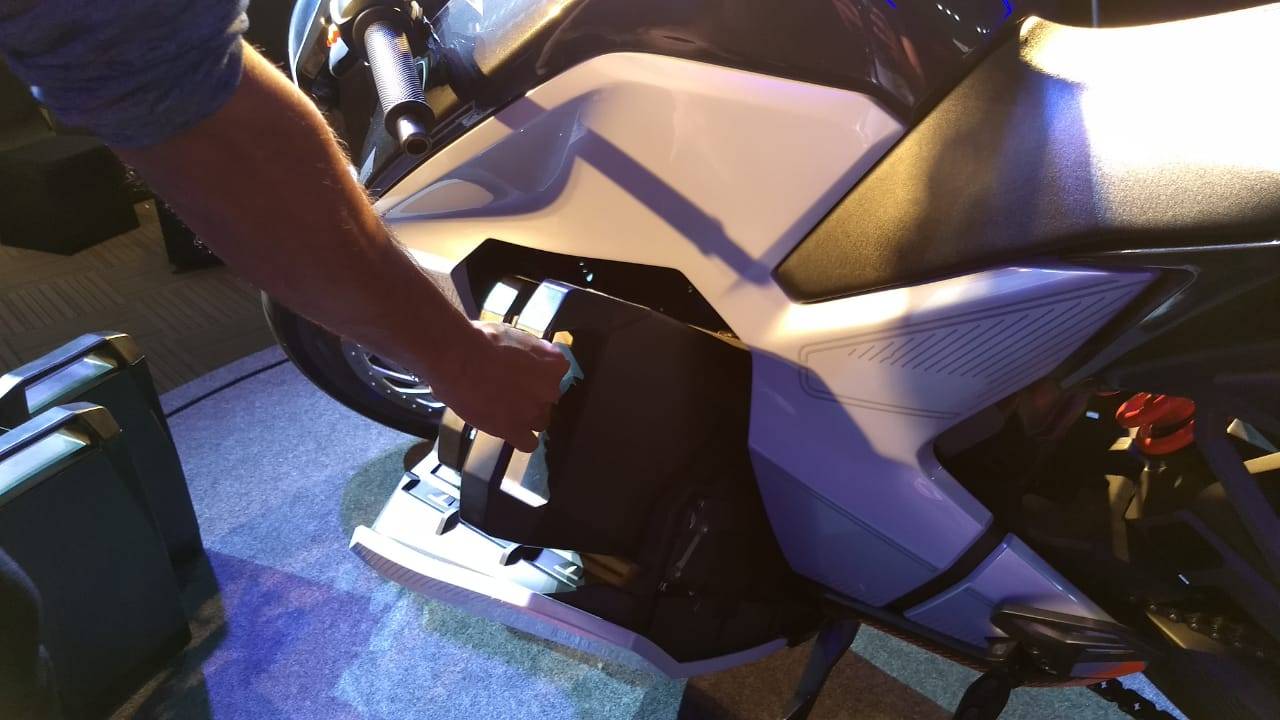 Ultraviolette also offers an optional portable Fast Charger which can plug into a regular 15A socket, effectively converting it into a fast-charging outlet. The F77 uses a CCS (Combined Charging System) Type-2 Charge Port which is capable of supporting both AC and DC charging. What's more, Ultraviolette will also sell you an extra battery for shorter downtimes during charging.
Underpinnings: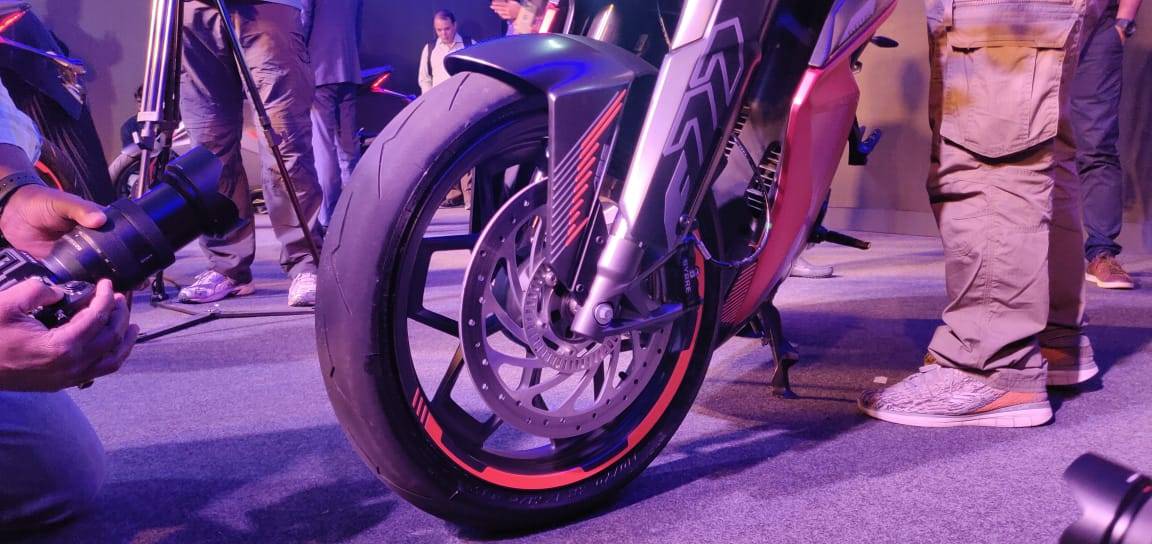 Since the Ultraviolette F77 is a performance-oriented bike, it gets quite a bit of premium features when it comes to underpinnings. It also gets switchable ABS with the option to turn it on just for front wheel alone. That's similar to the KTM 390 Duke's ABS settings. While the RV 400's tyres are built for more durability, the F77 gets stickier Metzelers. Their radial construction also ensures greater sidewall stiffness, which should offer more cornering confidence.
Verdict: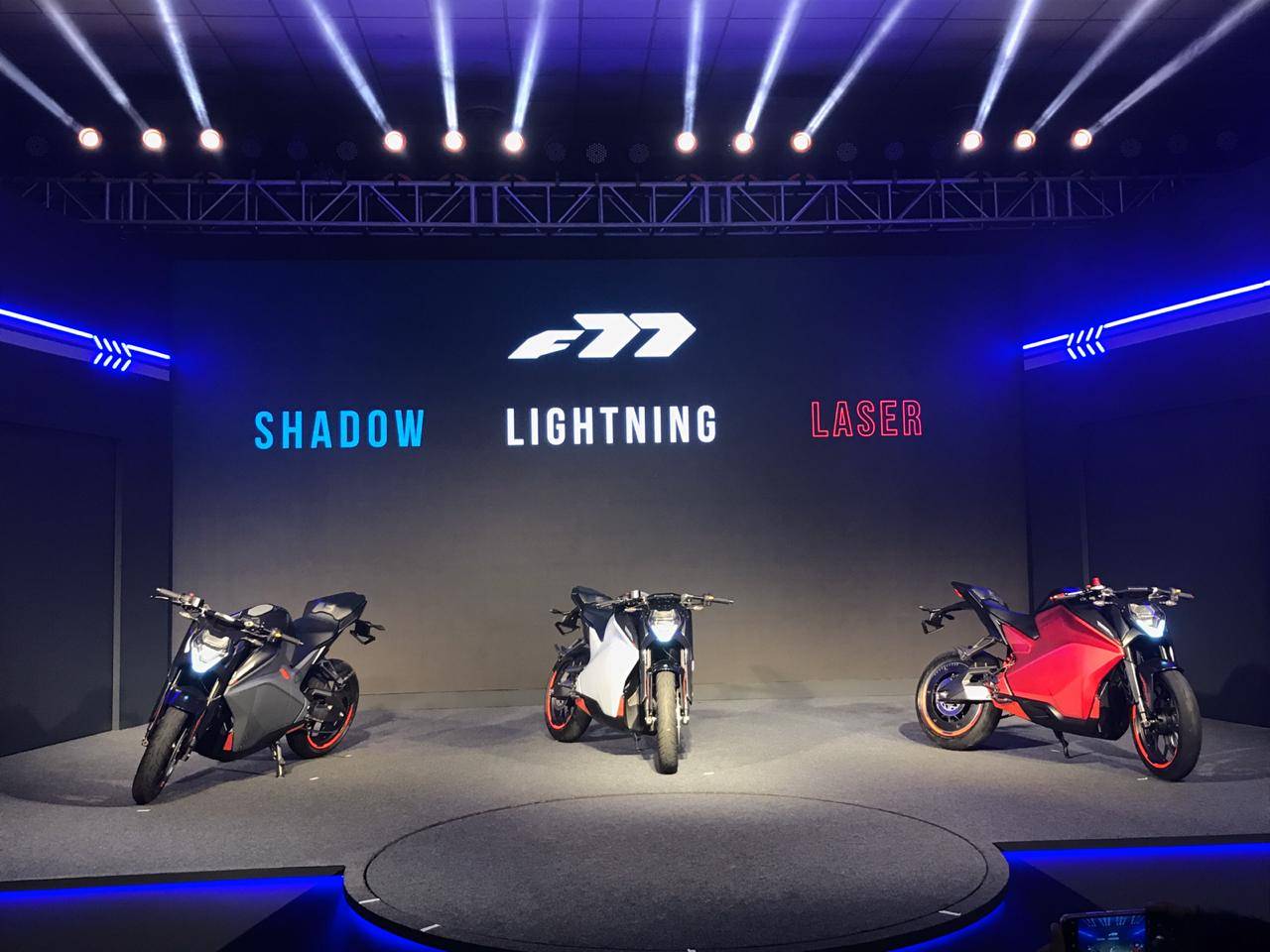 All in all, this seems to be a one-sided comparison. However, the point is that the Ultraviolette F77 and the Revolt RV 400 are meant for two very different set of customers. The RV 400 is all about commuting economically in style, whereas the F77 is a standing example of how EVs can not only be clean but also be performance-oriented. At Rs 3 lakh, it may not be an out-an-out performance-biased yet eco-friendly replacement to the KTM 390 Duke, but it is a step in the right direction as far as the future of enthusiast-oriented motorcycling is concerned, at least in India. Its segment may be very niche now but when the baseline price of electric motorcycles come down in the future, the F77 feels like a promising product going by the specs alone.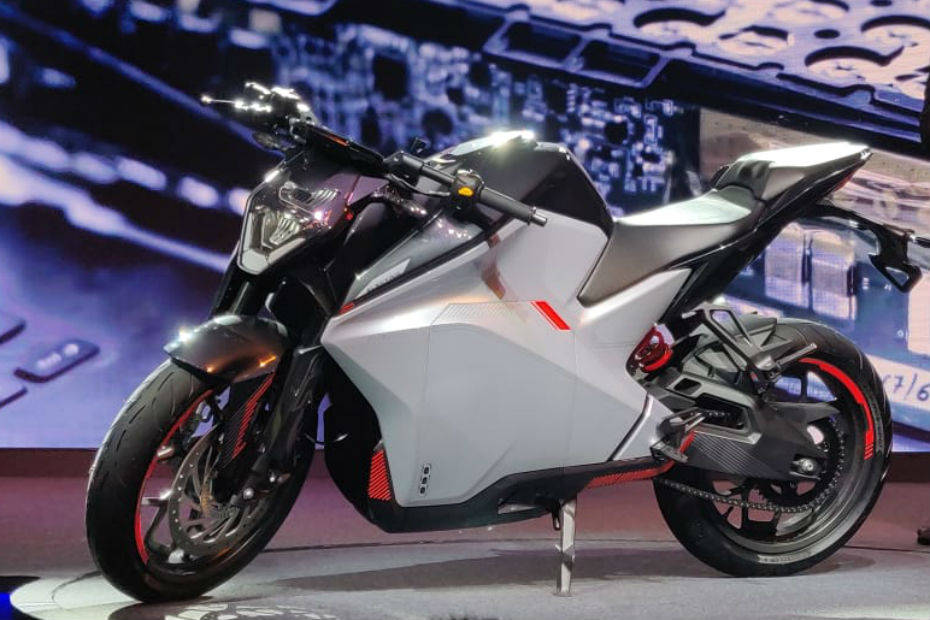 Ultraviolette says the bookings are open now with deliveries set to commence in October 2020. The Bengaluru-based startup has also announced that the bike will only be available in Bengaluru in the beginning, followed by its introduction nation-wide. Here's where the Revolt RV 400 has the upper hand as it is already available in Delhi and Pune right now. Revolt plans to launch the bike in other cities like Bengaluru, Hyderabad, Nagpur, Ahmedabad and Chennai in the next few months. Another aspect where the Revolt shines is its flexible pricing scheme. You can either choose to buy the bike conventionally or 'subscribe' it via the My Revolt Plan.