Revolt RV 400 vs Ather 450: Features And Differences Explained
Modified On Aug 29, 2019 By Benjamin Noel Gracias for Revolt RV400
Both the Revolt RV 400 and the Ather 450 electric two-wheelers come packed with features. We explain what makes each one different from the other

Revolt unveiled the RV 400 electric motorcycle today. This upcoming motorcycle poses a serious competition to the Ather 450 electric scooter in terms of features at least. We explain what these two electric two-wheelers have to offer and what makes them different from one another.
Also read: Revolt RV 400: All You Need To Know

Basic features:
Both the Revolt and Ather get an LED headlight, LED tail lamp and LED turn indicators. However, the Ather gets a large colour TFT touch screen instrument console while the Revolt makes do with a digital LCD screen. Both bikes get conventional switchgear. However, while the Ather 450 gets a conventional starter button, the Revolt RV 400 can be remotely started by simply swiping the power button on your paired smartphone.
Also read: Revolt RV 400: Picture Gallery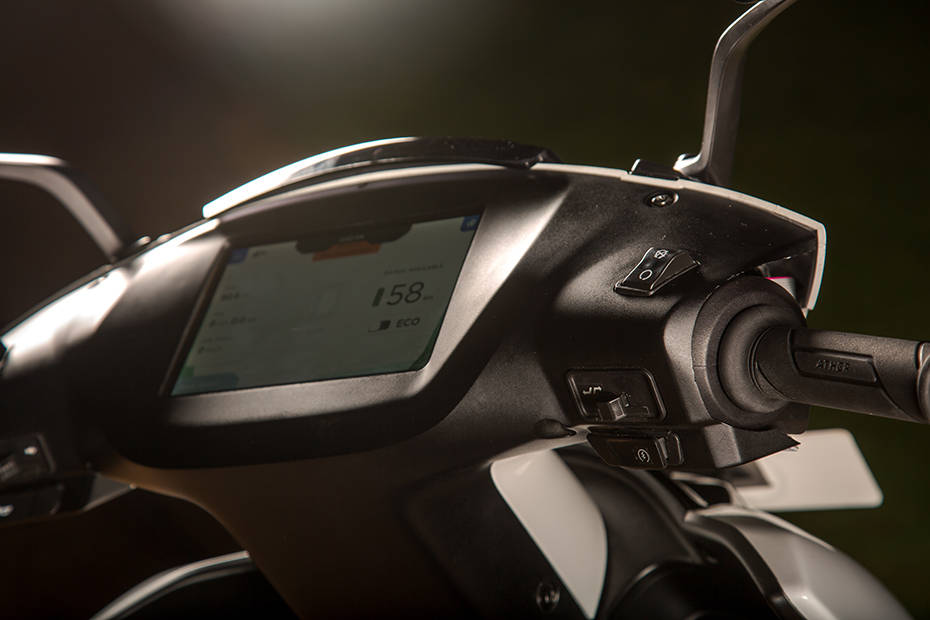 Connectivity:
Both electric two-wheelers get a dedicated smartphone app. On the Revolt, you pair your RV 400 bike to your smartphone via GPS. The Ather, however, does things differently. It has a 4G sim built into your scooter. You simply log into your scooter profile on the app using the internet to get the app going.
Also read: Ather 450 Electric Scooter: First Ride Review

Advanced features:
Both have an inbuilt geofencing feature that allows you to locate the two-wheeler on your smartphone and also set a perimeter for it. If your electric bike/scooter goes beyond the set perimeter, you get an alert on your smartphone. Both bikes get Over The Air (OTA) updates.
Other than that both electric two-wheelers have the capability of calculating real-time battery consumption, battery range, travel time and algorithms to optimise battery life according to the rider's style of riding.

Display:
While the Ather scooter displays navigation on its colour TFT instrument console, the Revolt's navigation shows up only on the smartphone. The Ather 450 also gets a reverse mode that can be switched on via the touchscreen. On the other hand, the Revolt too has a trick up its sleeve: it gets a sound box that plays an artificial motorcycle sound, making the RV 400 sound like a conventional petrol-powered bike. You can toggle between various motorcycle sounds and in the future will be able to download your own choice of engine sounds as well. Other than that the app will direct you to the nearest charging station in case your battery is running low.

Battery tech:
The Ather has a battery pack placed inside the rider footwell. The Revolt gets a portable battery which can be taken out of the motorcycle and charged anywhere. It sounds convenient but the battery weight is on the heavier side. While the Ather gets a separate charging cord, the Revolt has an inbuilt charging cord which allows the bike to be charged with a 15 amp power socket.

Charging mode:
Both the Ather and Revolt get remote charging stations but have different modes of operation. Ather will have a charging infrastructure called AtherGrid which will consist of a group of charging outlets placed at strategic locations such as malls and coffee shops. You can take your Ather 450 scooter to these fast-charging outlets and charge it up to 80 percent in an hour. Cost for the charging is free as it is already included with Ather's yearly subscription. Other than free charging, the Ather subscription includes free maintenance and the cost for charging the scooter at home. Yes, Ather will reimburse your charging costs as well.

The Revolt uses a quicker method of charging the RV 400. Its portable battery can be swapped for a fully-charged one at any of their battery swapping outlets. Simply hit the 'Swap battery' button on the app, scan the QR code and swap your battery in exchange of credits. In another first, you also can order a battery from your app and have the battery home delivered.

While both the Ather 450 and Revolt RV 400 offer interesting features, Over The Air updates mean both will constantly evolve over time and continue to get new features. Stay tuned to ZigWheels to stay updated on both the Ather 450 and Revolt RV 400.