KTM RC 125 vs 125 Duke: Which One To Buy
Published On Jun 20, 2019 By Jehan Adil Darukhanawala for KTM RC 125
Are you better off with the 125 Duke or should you pay Rs 17,000 more and get the RC 125?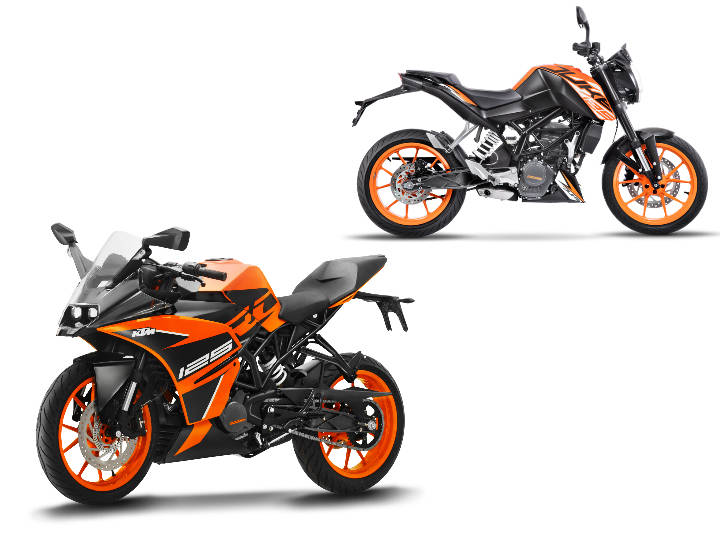 Cashing in on the success of the 125 Duke, KTM launched its full-faired sibling, the RC 125. The engine as well as mechanical components might be shared between the two bikes, but the two offer different riding experiences. But which one suits your needs?

Where would the RC 125 shine?
Given India's love for full-faired motorcycles, the RC 125 does a good job of looking like a big bike. The twin-pod headlamps, the large side panels and the sharp tail have been unchanged from the RC 200. In addition to looking the part, the RC 125 could very well be a better-suited option of the two bikes in question if one is looking for a track-focused motorcycle. The aggressive stance, thanks to the clip-on bars, raised rider's seat and rear-set footpegs do help when you want to hit those apexes.

Where would the 125 Duke shine?
It might not look as outrageous as the European-spec 125 Duke, but still, the one we get in our country has a brilliant riding setup for Indian streets. Of the two motorcycles, the Duke is the more relaxed motorcycle which should aid in commuting duties. Zipping through traffic will be an easy affair as it is lighter by a whole 6kg. The Duke is no slouch in cornering thrills, but it is definitely the more forgiving motorcycle of the two.

Price justification
The 125 Duke did a great job of bringing more enthusiasts into the KTM brand by providing a safe learner's tool which could double up as a worthy city bike. We are not sure that the RC 125 would do the same or to the extent to which the Duke was able to. And to pay Rs 17,000 more for a focused learner's machine is not something which one seeks. Even if you wanted a focused track bike, we are not sure that the RC justifies a premium of close to Rs 7000 more than the crowd-favourite Yamaha YZF-R15 v3.0.