Price Comparison Of All 125cc Scooters In India: February 2023
Modified On Feb 8, 2023 09:01 AM By Sudipto Chaudhury for Yamaha Fascino 125 Fi Hybrid
Which scooter makes sense for what kind of rider? Let's find out…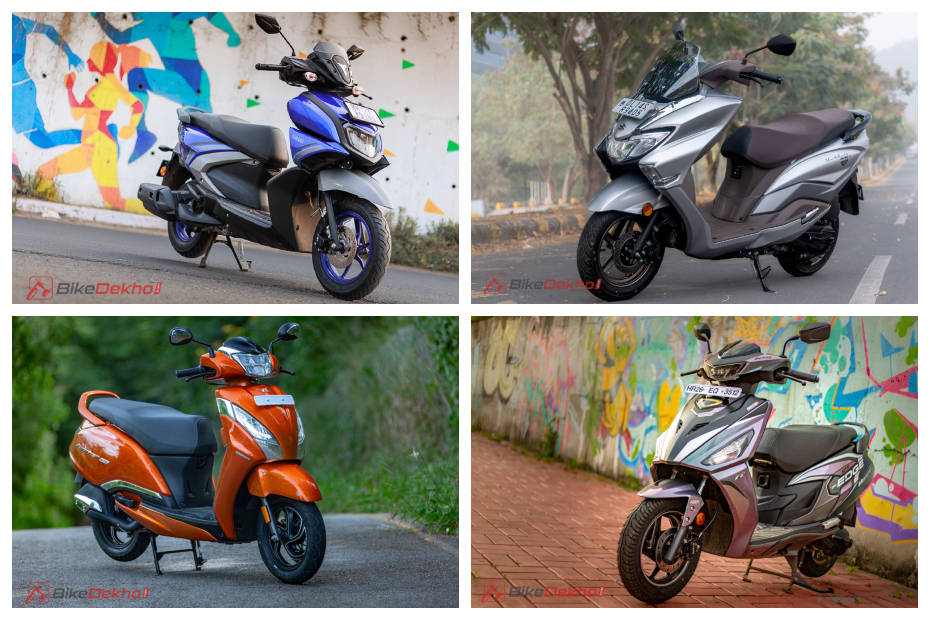 While the 110cc scooters on sale in India largely fall into the commuter mould, the situation changes when going a step up to the 125cc category. Here, there seems to be a clear demarcation between sporty and 'sensible' offerings. So here's a reckoner on the variant-wise prices of the 125cc scooters currently on sale in India:
Model

Variant

Price (ex-showroom Delhi)

Hero Destini 125

Std Drum brake

Rs 71,608

LX Drum brake

Rs 76,318

Xtec Drum brake Alloys

Rs 82,908

Hero Maestro 125

Drum

Rs 77,896

Disc

Rs 82,346

Disc, Prismatic colour

Rs 82,766

Disc, Prismatic colour, Connected

Rs 86,766

Honda Activa 125

Drum

Rs 77,743

Drum Alloy

Rs 81,411

Disc

Rs 84,916

Honda Grazia 125

Drum

Rs 82,520

Disc

Rs 89,845

TVS Jupiter

Drum

Rs 82,825

Drum Alloy

Rs 85,375

Disc

Rs 89,625

TVS Ntorq 125

Drum

Rs 80,986

Disc

Rs 85,441

Race Edition

Rs 89,491

Super Squad Edition

Rs 91,541

Race XP

Rs 93,091

XT

Rs 1,00,991

Suzuki Avenis

Std

Rs 87,800

Ride connect

Rs 89,900

Race

Rs 90,200

Suzuki Access

Std Drum

Rs 77,900

Std Drum Alloy

Rs 79,600

Std Disc

Rs 81,600

Special edition Disc

Rs 83,300

Ride Connect Drum

Rs 85,500

Ride Connect Disc

Rs 87,500

Suzuki Burgman Street

Std

Rs 90,200

Ride connect

Rs 93,600

EX

Rs 1,12,300

Vespa

ZX 125

Rs 1,15,000

VXL 125

Rs 1,29,000

SXL 125

Rs 1,31,000

Racing Sixties 125

Rs 1,39,000

Aprilia

Storm 125

Rs 1,10,000

SR 125

Rs 1,21,000

SXR 125

Rs 1,31,000

Yamaha RayZR 125

Hybrid Drum

Rs 81,230

Hybrid Disc

Rs 87,030

Street Rally

Rs 91,030

Yamaha Fascino 125

Hybrid Drum

Rs 77,100

Hybrid Disc

Rs 86,730
Hero makes its mark here with the most affordable scooter of them all: the drum-brake version of the Destini 125. In fact, it is the only 125cc scooter that is priced under Rs 75,000. However, it skimps out on a lot of features and hence, wouldn't be our pick.

If you want a sensible option, you can't go wrong with the Suzuki Access 125, Honda Activa 125 or the TVS Jupiter 125. Starting with the Jupiter, it is a bit costlier than the others, with the top variant coming in about Rs 5000 more than the Activa and Rs 2000 more than the Access. But for the extra moolah, you get loads of convenient features, such as the apron-mounted fuel filler and underfloor fuel tank, which translates to a 33-litre underseat storage, the largest among all Indian scooters. Moreover, with three-step preload adjustability for the rear suspension, you can choose between a comfortable commute and spirited corner-carving, on the fly.
And hence, we'd go for the Suzuki Access, foremost because it's the only one among the three with smartphone connectivity, and also because of the seemingly "dual natured" behaviour of its engine. Yes, it's refined behaviour makes it the ideal companion for the daily commute. However, it packs quite a sporty turn of performance when needed.

And speaking of performance, there are a plethora of options in this space. You get the Aprilia SR 125, Vespa 125 lineup (comprising the Vespa SXL125, Vespa VXL 125, and the Vespa ZX 125), the Suzuki Avenis and also the Burgman Street 125, which recently got updated with a larger 12-inch rear wheel. But the king of this class, and our pick, remains the TVS NTorq 125, especially in its Race XP trim. It is a sprightly performer and, when you want it, can also double up as an efficient commuter.
And finally, on the topic of efficiency, the Yamaha RayZR and Fascino both have a trick up their sleeve with the hybrid assist to their engine. This means they can provide stupendous mileage figures, further details of which you can find in our review.

Summing up, the 125cc scooter segment has something for everyone, from the office commuter, to the weekend corner carver. The only deciding factor, then, is the kind of riding you're looking forward to, and of course, your wallet.