Okinawa i-Praise vs Ather 340: Spec comparison
Modified On Mar 20, 2019 By Benjamin Noel Gracias for Okinawa i Praise
We compare India's two most technologically advanced electric scooters, on paper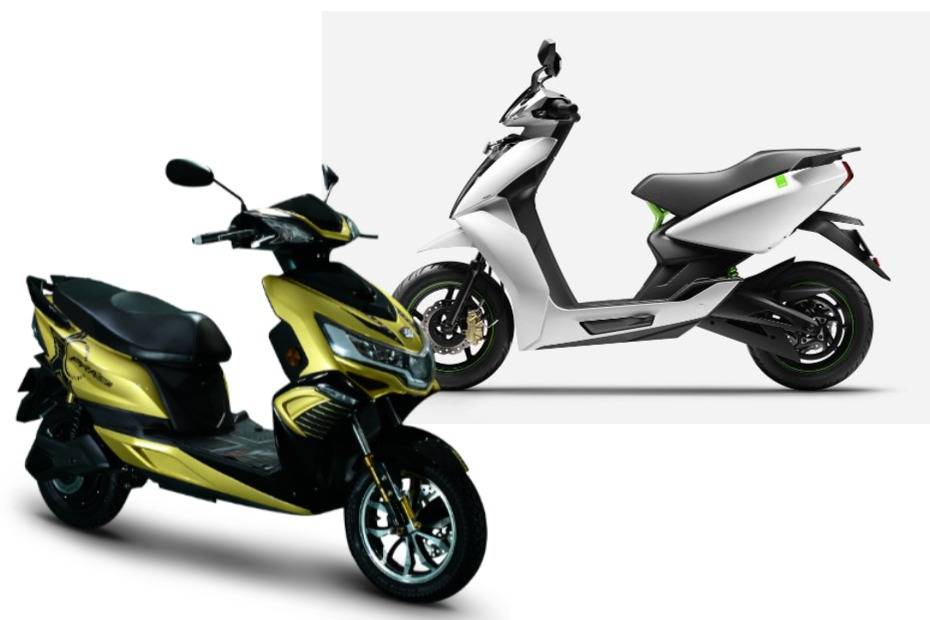 Okinawa recently launched a higher spec version of its flagship electric scooter, the Praise. The i-Praise not only gets a lightweight and efficient lithium-ion battery, but it also gets features like Bluetooth connectivity, GPS and geo-tagging. As expected, the addition of features has made the new scooter a premium offering that now competes with Ather Energy, specifically the Ather 340.
Which one, then, offers better value? Let's find out.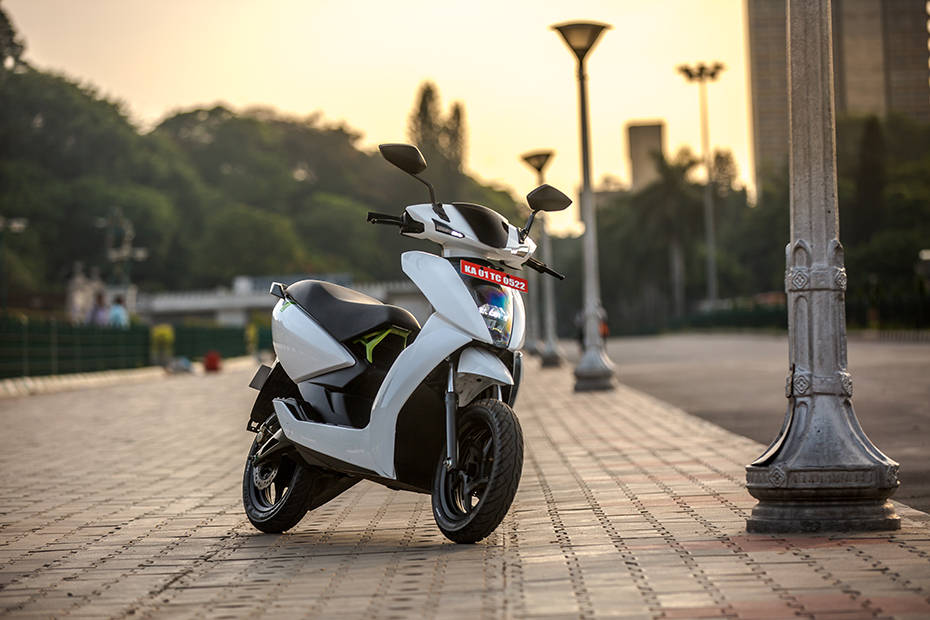 Design and features:
When it comes to styling, the scooters here are polar opposites. While the Okinawa i-Praise offers a striking but cluttered look, the Ather 340 features clean and minimalistic lines. The Ather also features cool design elements like exposed subframe painted in a contrasting green paintjob, side stand that neatly sits flush with the bodywork and that gorgeous LED tail lamp. We love the impeccable fit and finish and attention to detail that is better than bikes worth five times its price.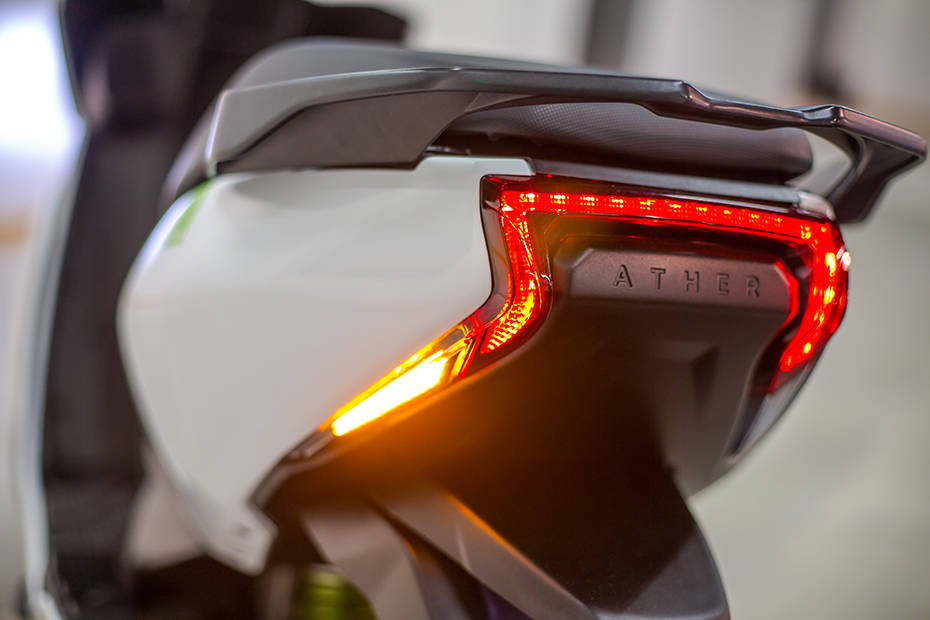 The Ather gets all-LED lighting and a 7-inch touchscreen instrument console with built-in data connection and Google Maps. Features include two riding modes, geofencing reverse assist, vehicle diagnostics and Bluetooth connectivity. It gets a total of 46 sensors including a six-axis IMU (inertia measurement unit).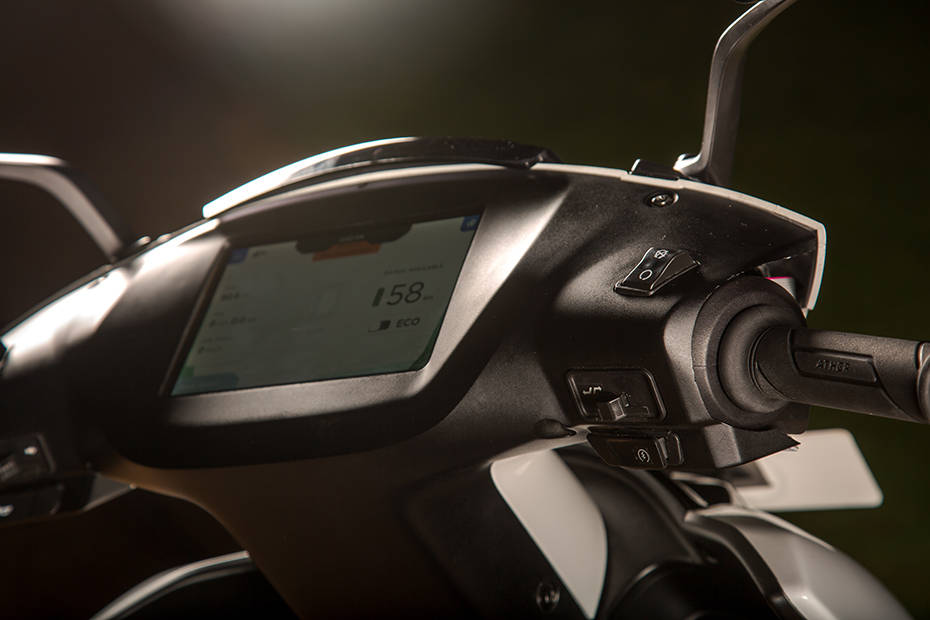 The problem with the i-Praise is that it is styled exactly like the much lower priced Praise. While the Ather has a more modern TFT screen, the i-Praise gets a full digital LCD instrument console. If you were to go for the i-Praise solely on its looks, the Praise would be a better buy.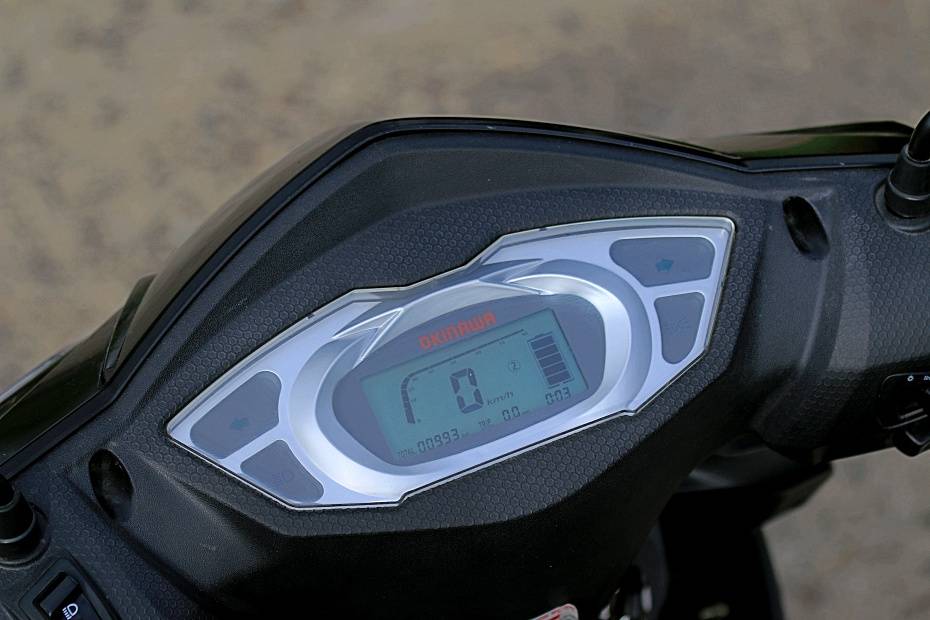 New features on the Okinawa i-Praise are geofencing, reverse assist, vehicle diagnostics, two rider modes and Bluetooth connectivity. Feature-wise, the i-Praise is on par with the S340 but its highlight is its detachable lithium-ion battery that adds convenience.
But design-wise, the Ather 340 gets our vote not just because it looks like nothing else on the market but because it delights on the quality front.
Also read; Ather S450 review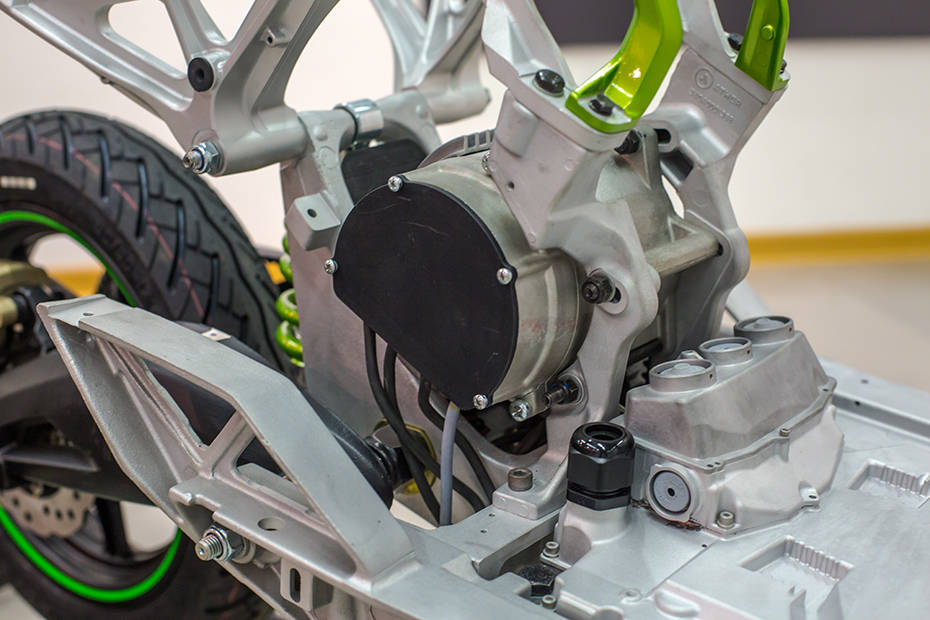 Powertrain:
| | | |
| --- | --- | --- |
| Specifications | Okinawa i-Praise | Ather 340 |
| Motor | 1000 watt, BLDC motor(waterproof) | 2800 watt, BLDC motor (waterproof) |
| Peak power | 2500 watt | 4400 watt |
| Peak torque | NA | 20Nm |
| Climbing ability | 22 degrees | 15 degrees |
| Top speed (claimed) | 75kmph | 70kmph |
| Transmission | Belt drive | Belt drive |
| Battery | 72V, 2.9KWh Lithium-ion | 51.1V, 1.92KWh |
| Charging time | 2-3 hours | 4 hours 18 minutes |
| Claimed range (claimed) | 160-180km | 50-60km (true range) |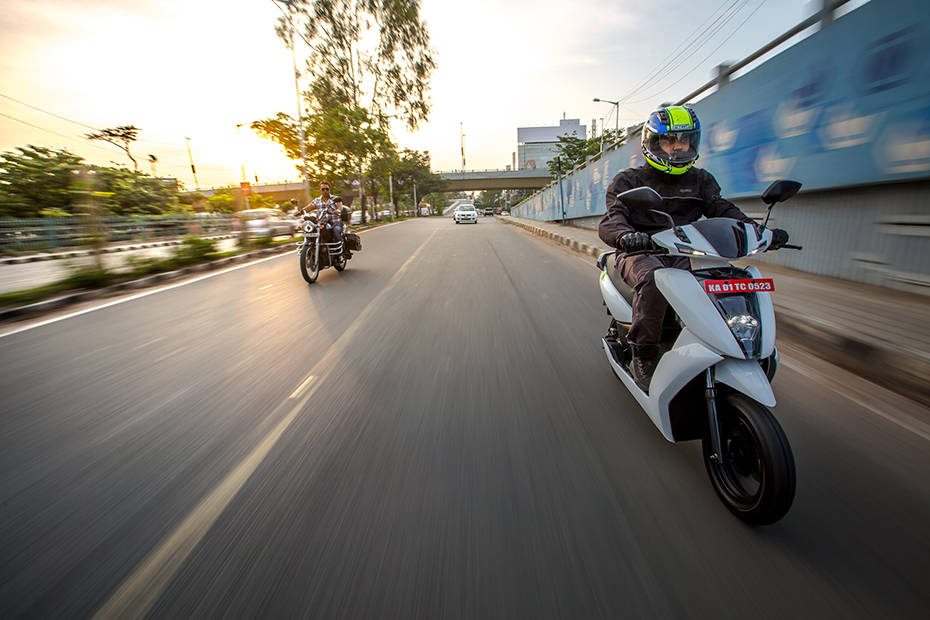 On paper, the Ather 340 has a powerful motor and that should help in the real world. With 20Nm of torque on tap, the scooter accelerates from 0-40kmph in 5.1 seconds. That is on par with conventional scooters and those speeds are where you'll spend most of your time riding in the city. Ather has also tuned the scooters power delivery to mimic that of a conventional petrol-powered scooter so there is very little adjustment as just one ride is required to get used to this scooter. Like conventional internal combustion scooters, you also have engine braking once you roll off the throttle thanks to regenerative charging.
On the battery front, the scooter features a smaller battery than the competition but has an efficient battery charging software to give you the most optimal charge in real-world riding conditions.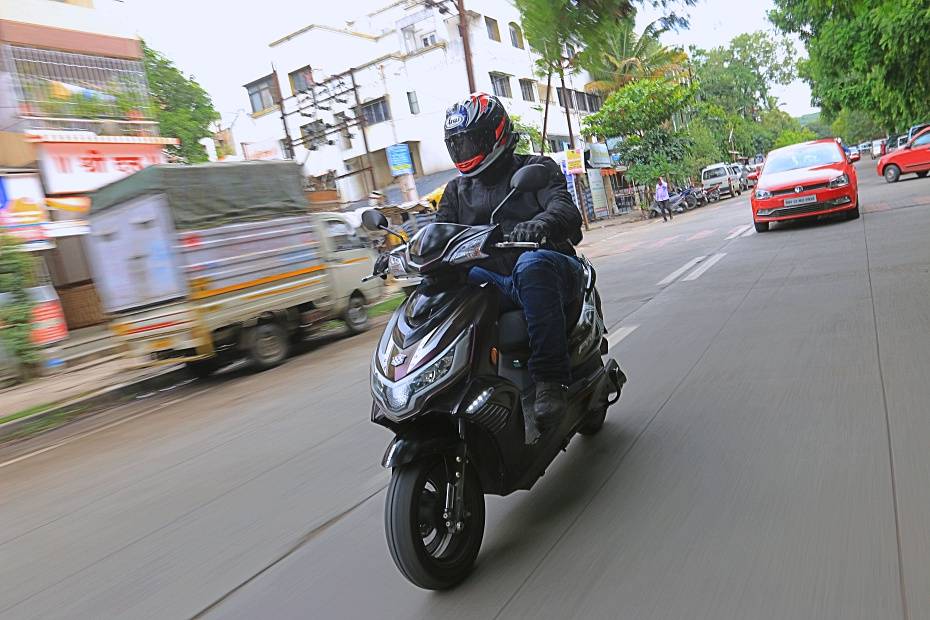 The Okinawa i-Praise might be low on performance but claims to have better gradeability and top speed than the Ather. Its larger battery could also help it achieve better real-world range though we doubt the difference will be significant. Its USP here is that the battery can be removed from the scooter and charged anywhere. In comparison, Ather is setting up charging grids that will give you access to multiple charging stations across a city. So far they have been able to create a grid in Bengaluru but other cities will take a couple of years and you might have to rely on the charging cord for now.
While the Ather impresses on performance, the Okinawa wins on the charging and range front.
Also read: Okinawa Praise Road Test Review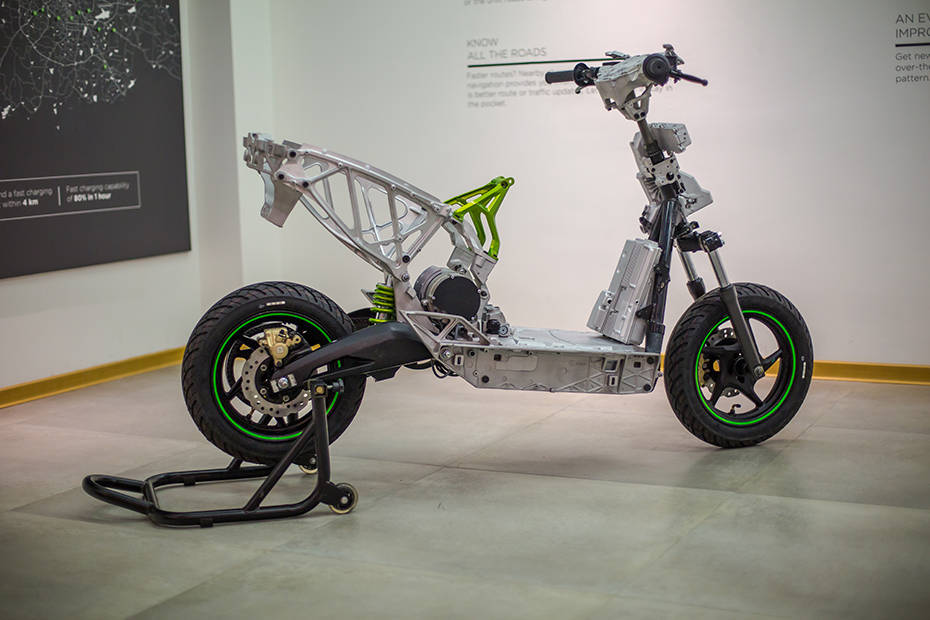 Underpinnings:
| | | |
| --- | --- | --- |
| Specification | Okinawa i-Praise | Ather 340 |
| Front suspension | Telescopic gas-charged forks | Telescopic forks |
| Rear suspension | Dual gas-charged shock absorbers | monoshock |
| Front brake | Twin discs | 200mm disc, 3-piston caliper |
| Rear brake | Disc | 190mm disc |
| Brake assist | Electronic-ABS and Regenerative braking | Combined Braking System and Regenerative braking |
| Tyres | 12-inch wheels | 12-inch, 90/90-12 tubeless |

The Ather 340 features a mix of tubular steel, twin spar cast aluminium and aluminium trellis frame. The battery pack is set in the floorboard, which means centre of gravity is quite low. In fact, its centre of gravity is the lowest among scooters sold in India. The battery is positioned exactly at the centre. These features make it quite a well-balanced scooter with a near-perfect 51/49 front/rear weight distribution. Ride quality is one of the best we have experienced on scooters. The suspension setup with the front forks, rear monoshock and cast aluminium swingarm endows the scooter with motorcycle-like dynamics. Part of that can also be attributed to its light-as-a-conventional-125cc-scooter kerb weight of 118kg. The brakes have a progressive feel and decent bite.

On paper, the Okinawa i-Praise looks promising. It shares the same underpinnings as the Praise. However, the lower-priced Praise gets a heavy lead-acid battery placed in the floorboard which makes the scooter unstable as it put a lot of weight on the front wheel. This issue might not surface on the i-Praise as its detachable battery sits under the seat. Plus, the substantially lighter battery weight should improve the i-Praise's ride and handling characteristics. The brake setup might look cutting edge, they took quite a distance to stop on the Praise due to its extra battery weight. While we expect the brakes to retain the same progressive feel on the i-Praise, we expect the braking distance to reduce due to the lower weight and inclusion of ABS.
The Ather was quite impressive in the ride and handling department and the new i-Praise has quite a distance to cover to match up to it.