Yamaha YZF-R15 V3.0 Review: Picture Gallery
Modified On Jun 10, 2019 By Niraj Kakade for Yamaha YZF R15 V3
After impressing on the track, we put the Yamaha R15 V3.0 to the test in the real world. Here's our review in 24 detailed images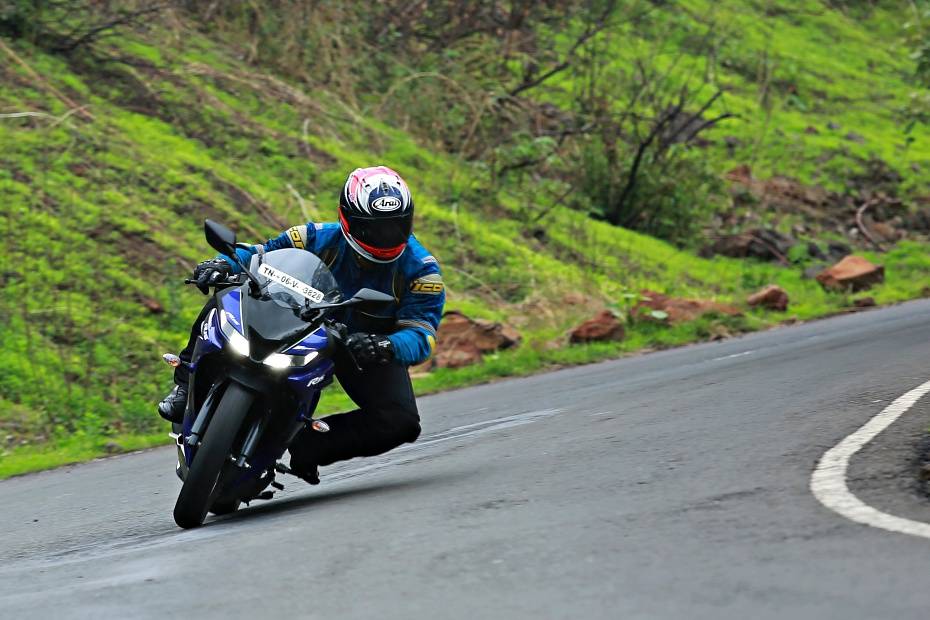 Here since 2008, the Yamaha R15 has been one of the few 150cc motorcycles that could excite newbies and experts alike, garnering a cult-like following along the way.
Also Read - 2018 Yamaha YZF-R15 V3.0 Road Test Review

Fast forward two generations later and the YZF-R15 V3.0 is slightly bigger, more powerful and has sharper handling than before.

But is that enough to help it stay afloat in a market where there are plenty of similar or better performers from Bajaj and TVS with a lower price to power ratio? We pottered around the city and carved through some ghats for answers.

Design and Features
While all three generations took design cues from the R6 and R1, the current R15 is the one with the most well-proportioned design. Viewed head on, the R15 V3.0 is certainly a head-turner as it gets a gaping centrally located faux air duct flanked by slim LED headlamps.

In profile, it certainly has lost the sharpness of the second generation and looks a little rounded in comparison. Dimensionally, it has grown in length by 20mm, in width by 55mm and in height by 65mm.

The rear end also has a clean look and features a petite LED tail light unit.

The features' count has gone up significantly. It receives a fully digital instrument console that's similar to some premium motorcycles.

It displays information like fuel consumption (instantaneous and average), gear position and VVA (variable valve actuation) indicator.

Quality levels are typically Yamaha until you look closely to find some unsightly weld points and plastic panels gaps.

Engine and Performance
This is where the magic lies. The Yamaha R15 V3.0 receives a slight bump in engine capacity displacing 155cc instead of 149cc.

Another change to the liquid-cooled, 4-valve motor is the addition of VVA (variable valve actuation). This tech helps alter the engine to run two different valve timings - one for a stronger lower-end pick up and another to aid top-end grunt.

The increased capacity and the inclusion of VVA has resulted in more power - a total of 19.3PS at 10,000rpm, up from 17PS earlier.

This engine has a higher rev limit of 12,000rpm and sounds gruntier as the tacho needle inches closer to the redline.

The motor not only proved to be a gem on the race track, but also had us smiling with its tractability within the city as well. (City - 48.75kmpl, Highway - 47.92kmpl)

The single-cylinder unit is happy ambling about at 20kmph in as high as fourth gear without showing any signs of strain. In our tests, it even managed to pull from as low as 35kmph in sixth gear, something you'd expect from a four-cylinder motorcycle.

Ride And Handling
Still based on the Deltabox frame, the new R15 gets a slightly retuned subframe. With a rake smaller than both the earlier R15s, it also has a shorter wheelbase of 1325mm than the earlier two versions.

The suspension setup comprises of fatter 42mm telescopic forks up front, compared to the previous gen's 33mm, while the rear retains the linked monoshock that has been doing duty since the first generation.

It also gets 10mm wider tyres up front (100/80R17) and rear (140/70 R17), but the racer in you should opt for the optional Metzeler Sportec M5 for the rear.

What do all these updates translate to? Well, the V3.0 is a savage around the corners. Show it a set of twisties and it just comes into its element - ever eager to lean into turns, but it is sharp enough to catch you out.

The rider seat height has been increased by 15mm to 815mm now, but since it is narrower, placing both feet on the ground won't pose an issue to riders who are 5'6" and above.

Stopping power is provided by a 282mm front disc with two-piston caliper and a 220mm disc at the rear from ByBre, which offer brilliant bite.

Verdict
So how good of a case does the R15 V3.0 make for itself? Well, it definitely has evolved in all the aspects. But that evolution has taken away some of the accessibility that the first-gen R15 offered and made it a cult among relatively inexperienced riders.

In its current generation, it's a great beginner's track tool and a nice city runabout for the GenY. It can even dispatch everyday duties and satisfy your occasional wanderlust, albeit with slight discomfort.

There are other options rivalling the R15 such as the hardcore KTM RC200 or the relatively less physically taxing Bajaj RS200. But then, the KTM is a bit too focused, while the Bajaj simply doesn't have the sharpness of the R15.

If you are looking for something that is exciting to look at and bridges the gap between these two faired motorcycles, the R15 V3.0 should make sense for you.