Hero Pleasure Plus 110: Which Colour To Pick
Modified On May 18, 2019 By Alpesh Rajpurohit for Hero Pleasure Plus
Hero has gone all out and given the Pleasure Plus 110 seven colour options. Which one should you go for?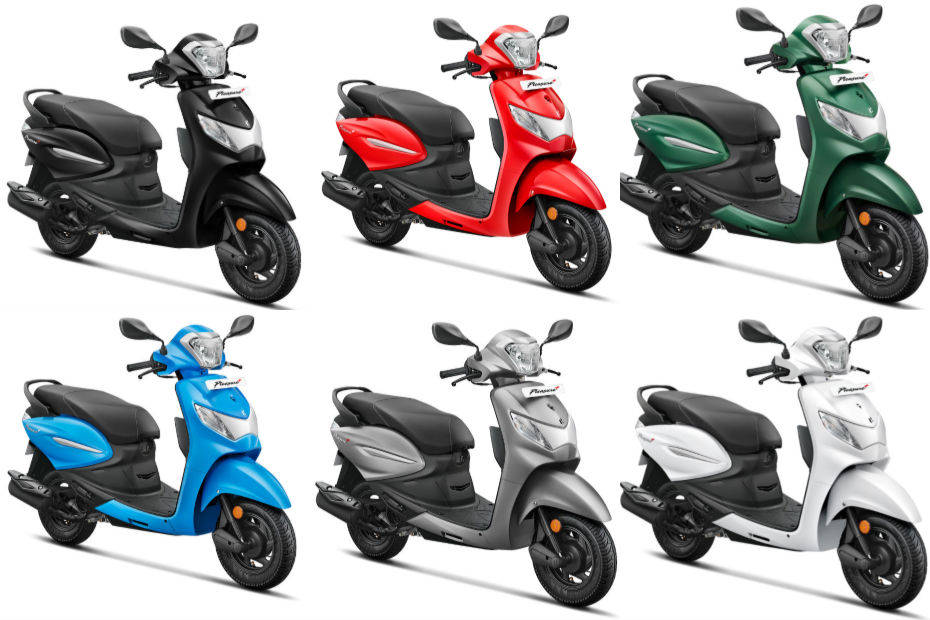 After 13 years, Hero has finally given the Pleasure a major update. And it's not just limited to cosmetic updates, it has received a bigger heart as well. Called the Pleasure Plus 110, it is now powered by a 110cc engine, instead of the 102cc which is seen on the standard Pleasure. We have already ridden the new Pleasure Plus 110 and you can read our review here.
The company is offering a plethora of paint options, seven to be precise. You have the option of choosing between Glossy Blue, Glossy White, Matte Red, Matte Grey, Glossy Red, Matte Green and Glossy Black. As such, if you are confused about which one you should go for, read on.
Matte Green:


Matte colours on scooters look absolutely stunning, but bike makers do get carried away sometimes. And this Matte Green paint is a fine example of that. Amongst all the colour options that are available on the Pleasure Plus 110, the Matte Green is the only one that looks a tad dull. And this colour won't help you to stand out in the public.
Glossy White:


Almost every scooter out there is available in this paint option. And you don't want to get mixed in the sea of white scooters, right? So, if you want to choose something bold, the white paint option isn't the one for you.
Matte Grey:


Matte Grey is available in the standard variant too, but for the new Pleasure Plus 110, Hero went for a lighter shade. Also, unlike the lower-spec Pleasure, this one has no stickers on it, which makes it more visually appealing than the darker shade.
Glossy Red:


Red is usually associated with passion and power. In case you inherit the same attributes, then you could go for this paint option. Also, the black seats and mirrors give the scooter a dual-tone kind of finish, which looks quite decent to us.
Glossy Blue:


The Maestro Edge 110 was the first Hero scooter to get a blue paint option. Now though, the company has given its new 110cc scooter the same paint albeit in a lighter shade. However, we would've loved it if Hero had used the same shade as seen on the Maestro Edge 110.
Glossy Black:


One of the main design highlights of the Pleasure Plus 110 is its simple and clean design. It's devoid of any tacky stickers or emblems, which makes it quite a looker. And if you haven't made up your mind, then we think you should go for the Glossy Black paint option.
Matte Red:


If the Glossy Red paint option was a bit too jazzy for you, you can go for this matte shade. Now, it won't help you garner any attention, but how often do you see a scooter which can pull off this paint option? And this is the reason why Matte Red tops our list.