EXCLUSIVE: TVS Apache RR 310 BS6 Road Test Review
Published On Jun 24, 2020 By Jehan Adil Darukhanawala for TVS Apache RR 310
How much of a real-world difference have the 2020 updates made to TVS' flagship bike?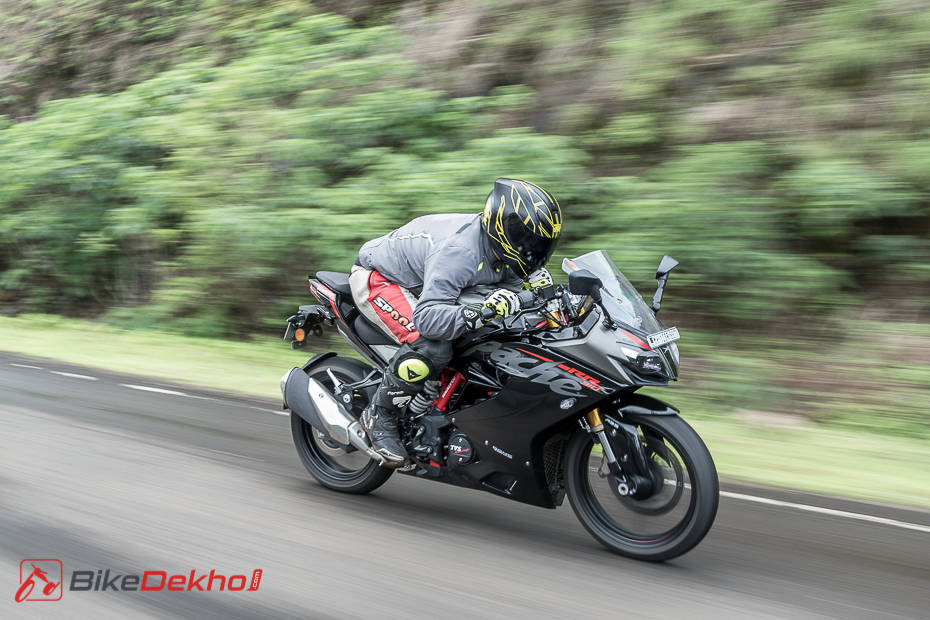 What was meant to be a monumental tie-up between Munich and Hosur, to take on the likes of the affordable small-capacity KTMs built in Chakan, didn't quite turn out to be the runaway success everyone expected it to be. The baby Beemers that took birth made a lot of sense globally but were still out of reach for many aspiring Indian buyers. On the TVS side, the Apache RR 310, while striking a fantastic balance between sportiness and practicality, was riddled with its own share of issues, with engine vibrations being the key problem.
Almost two and a half years and two updates later, TVS has managed to rid the bike of nearly all that kept it short of greatness. In our first ride review from the MMRT, we really praised the bike. We even said that it could finally hold a candle to the explosive KTM RC 390, maybe even outshining it in a few places. But does that brilliance translate into the real world as well?
PROS:
Ride-by-wire and four rider modes allow adjustability in power delivery and ABS intervention.
Super grippy Michelin Road 5 rubber inspires great confidence in all weather conditions.
Despite being nearly three years old, it still manages to look just as stunning.
CONS:
Brake feel is severely lacking.
Shorter riders might not be able to see the turn-by-turn navigation section on the vertical dash.
STAND-OUT FEATURES:
Stunning TFT dash with dedicated night and day graphics for each rider mode.
It is the first bike in the world to get Michelin Road 5 rubber as an OEM fitment.
Offers a phenomenal balance between sport riding and everyday usability.

DESIGN
"Is this an imported bike?" many passersby asked when we first took the RR 310 out on to the streets in 2018. The same level of excitement (and even a little bit of lust) still remains when you lay eyes on the supersport. The shark-inspired design sees no changes in 2020 retaining the bi-LED projector headlamps and 'snake fangs' tail light.
The gloss black/matte grey colour option looks rather handsome, with just a little bit of red sprinkled in the mix in the form of its exposed trellis frame. The paint finish, especially the metallic flake-ish bits of the matte grey panels, is top drawer. My personal choice though remains the Racing Red colour scheme with its white racing stripe down the centre of the bike.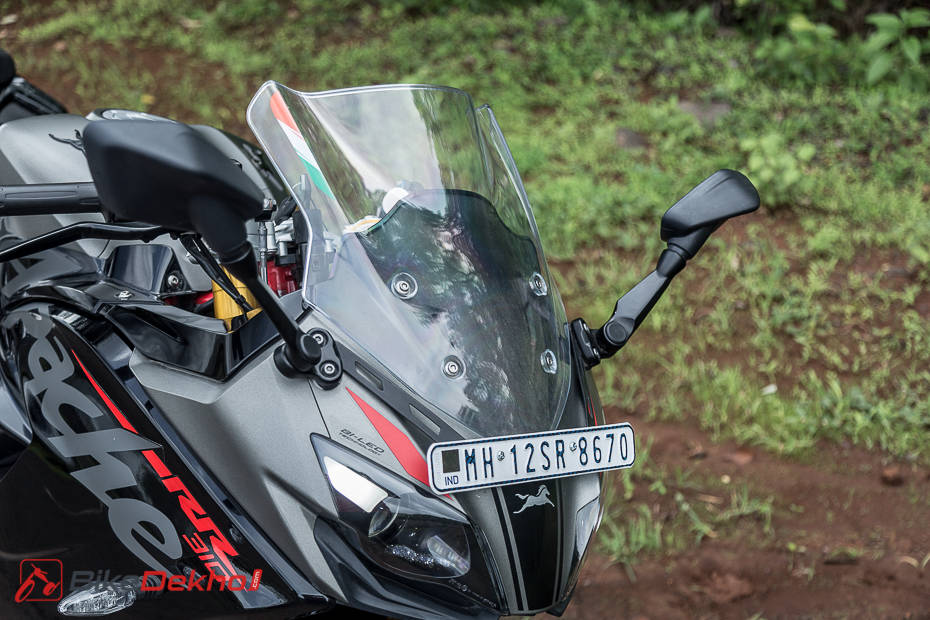 While you will not notice from afar, the windshield has been affixed differently. Earlier, its mounting was tucked beneath the front fairing panel and bolted on as one. As a result, you were met with unpleasant chattering when riding the bike spiritedly, due to the poorly isolated engine vibrations. TVS fixed that problem for the existing owners with thick rubber piping to isolate said vibrations. That is no longer the case on this bike. The windshield gets four dedicated bolts, which are not directly connected to the fairing. This has reduced the chattering sound to a great extent. Good job, TVS.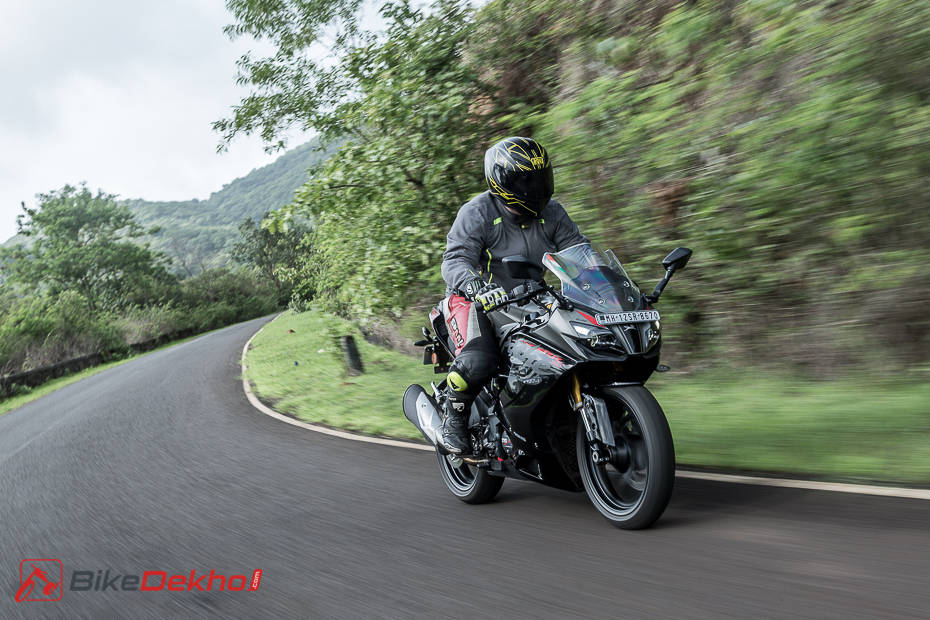 ERGONOMICS
TVS has stuck to the 'If it ain't broke' mantra for the ergonomics of the bike. The 810mm saddle height should not be an issue for short riders as the mid section of the bike is quite slim. The slightly raised clip-on bars and slightly rear-set footpegs put you in a sporty stance. Don't misread it as aggressive though, as it manages to be commuting and highway friendly. The rider's seat has loads of room for pot-bellied riders to find a comfortable spot that will allow them to stay in the saddle for hours.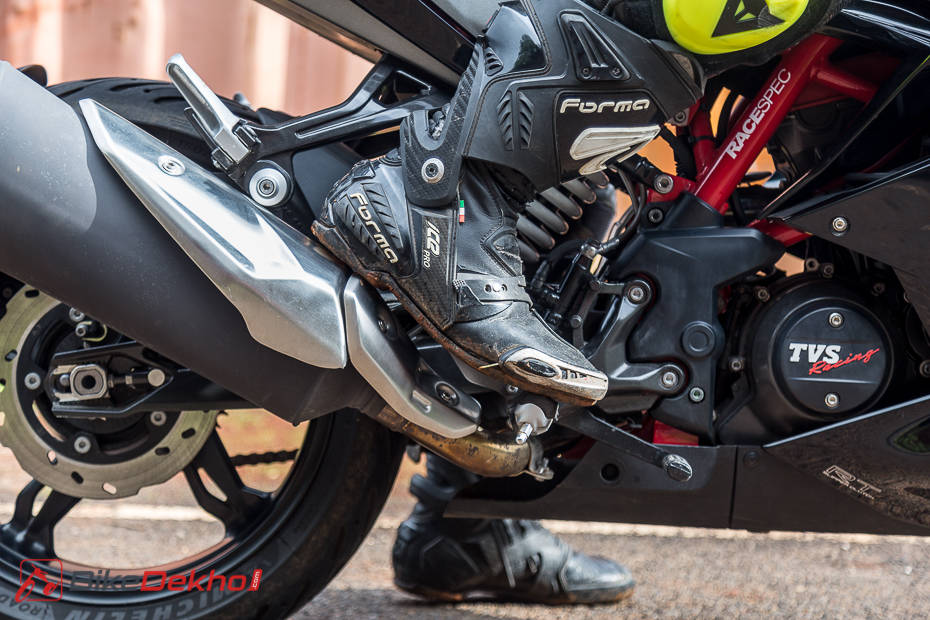 If this is going to be your serious track buddy, you will need to source some rear sets and large heel plates. The current pegs end up scraping the tarmac more than you would like and the mini heel plates do not allow you to lock your legs securely. For every other scenario, these pegs work just fine. We wish the exhaust wasn't so close to the right footpeg as the large end-can tends to foul with your heel.
A small but worthwhile addition that is missing on the RR 310 are span adjustable levers, which are available on the RC 390 as standard. This is a bit of a personal issue and those with shorter fingers would find the travel a bit too much. I would have liked the levers, especially the clutch lever, to be a bit closer to the bars.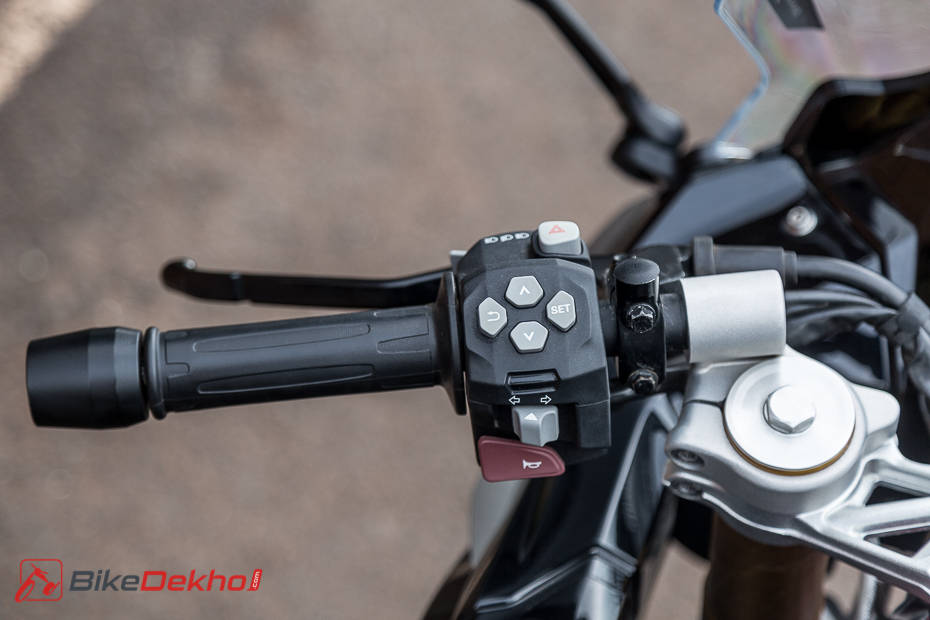 TECHNOLOGY & FEATURES
One of the biggest changes on the BS6 Apache RR 310 is the small but useful suite of electronic aids. TVS has introduced ride-by-wire, giving birth to four rider modes: Rain, Urban, Sport and Track. Each one of these modes has its own dedicated throttle response, torque map and ABS calibration. You can toggle through the modes by simply shutting the throttle and pressing the up button on the new control cube. How different is the sensation in each one of these modes? Check out the next section.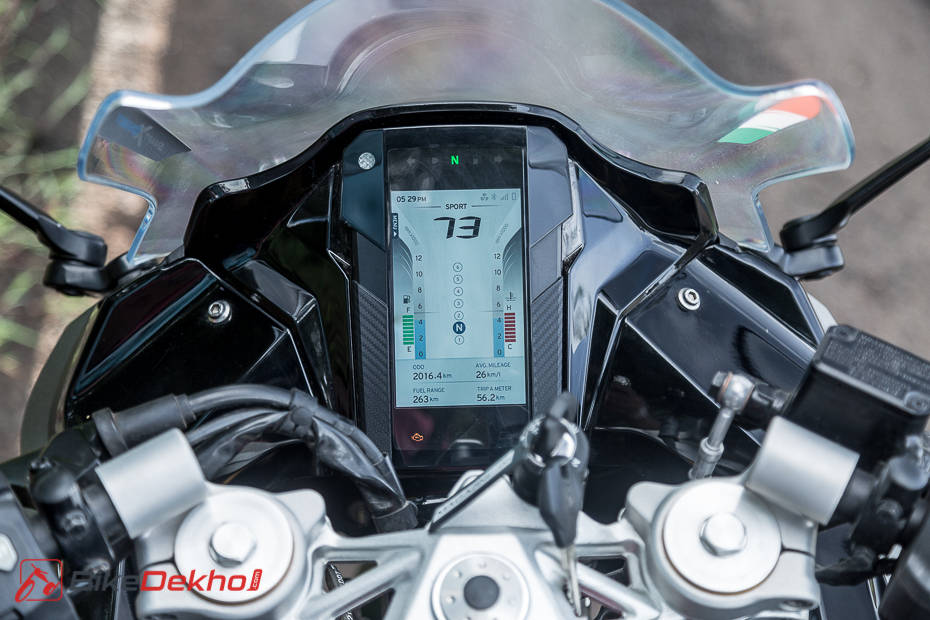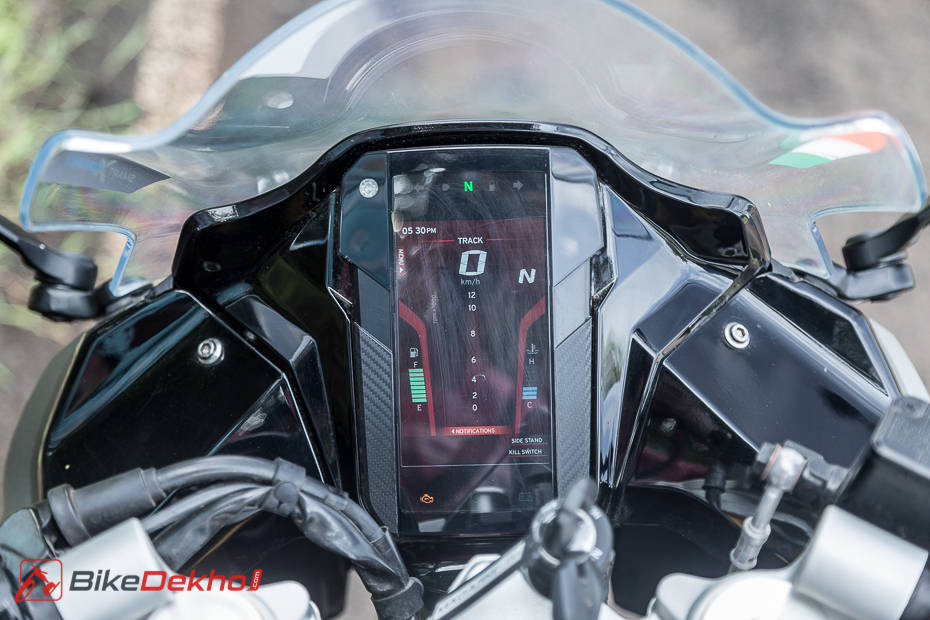 Another key update is the new 5-inch vertically stacked TFT colour dash. It is equipped with TVS' SmartXonnect Bluetooth module, narrating call and SMS alerts, and turn-by-turn navigation on the screen. Each riding mode gets a dedicated screen layout with dark and bright options that can either be changed manually or automatically depending on the time of day. Each one of the layouts is clean with legible data. If there's one hiccup it could be that shorter riders might not get a clear view of the turn-by-turn navigation section on the dash.
At the end of every ride, a report is generated, which along with the regular ride-related data also shows lean angles and G-forces. There is no IMU on-board to record this, so it uses your phone's accelerometer.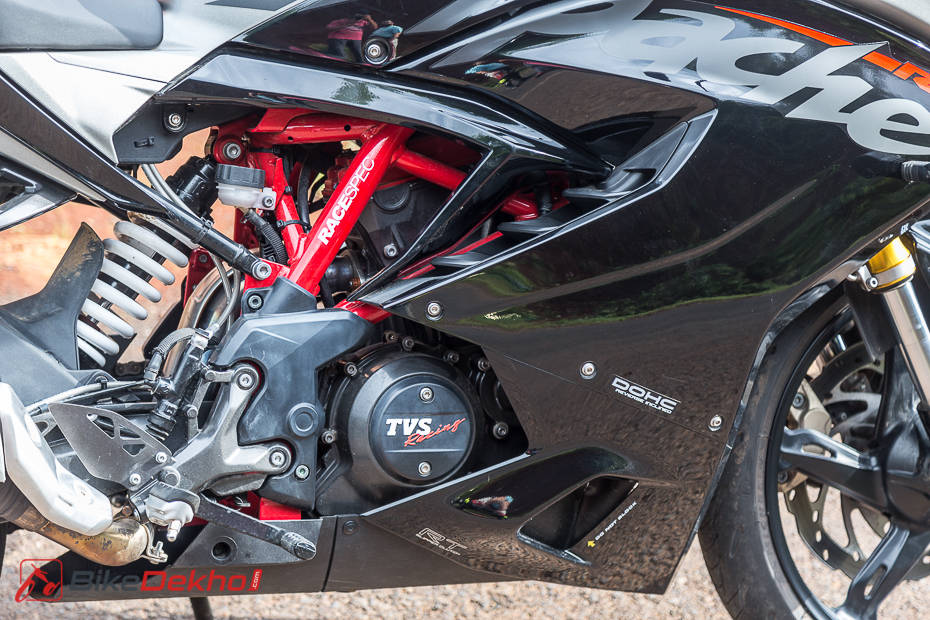 ENGINE & PERFORMANCE
Performance outputs from the BMW-engineered 312cc motor remain the same. And with the inclusion of ride-by-wire and rider modes, the fuelling has become more precise. Are these updates enough to overcome the 4kg increase in kerb weight?
No, the BS6 Apache RR 310 does come out second-best to its predecessor but it is hardly enough to feel the difference. Even the in-gear acceleration timings say that the new bike is 0.6 seconds and 0.7 seconds slower in the 3rd and 4th gear test, but it is not apparent.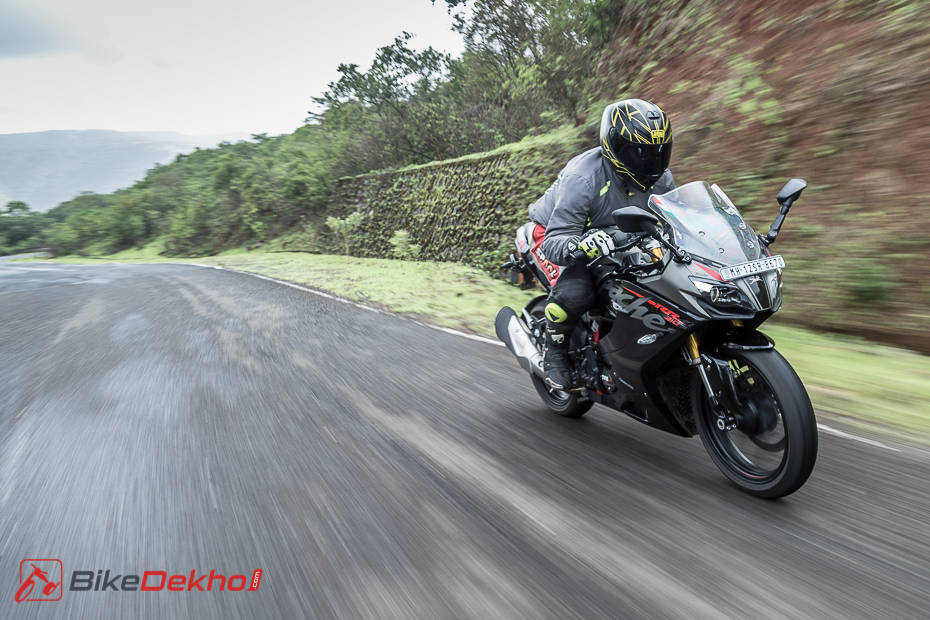 The chunk of the drive lies between 3000rpm and 7000rpm. While cruising at 100kmph in sixth gear, the RR 310 is happily singing away at 6000rpm and if you urge it a bit more, it will speed up to 120kmph in another thousand revs in no time. A buzz does start creeping in post 6000rpm but it is in no way troublesome like the ones we experienced on the first-gen model.
In the city, you can take advantage of the Urban riding mode which allows for better low-end performance. While the RR 310 can't carry really slow speeds in high gears comfortably, you will notice a small difference when you try doing so in different modes. Because the Urban riding mode offers improved torque response lower down the rpm range, it makes low-speed/high-gear scenarios a little better compared to either Sport or Track mode. And it shows in the city fuel-efficiency test as it can go almost 22km extra on a tankful than its BS4 predecessor.
There is a minor drop in highway fuel efficiency, 1.5kmpl lower. These are ideal figures that you will be able to get when you are riding diligently. If you decide to ride spiritedly, there will be a further drop. Technically, you are looking at roughly 330-350km on a single tank, which is not too bad.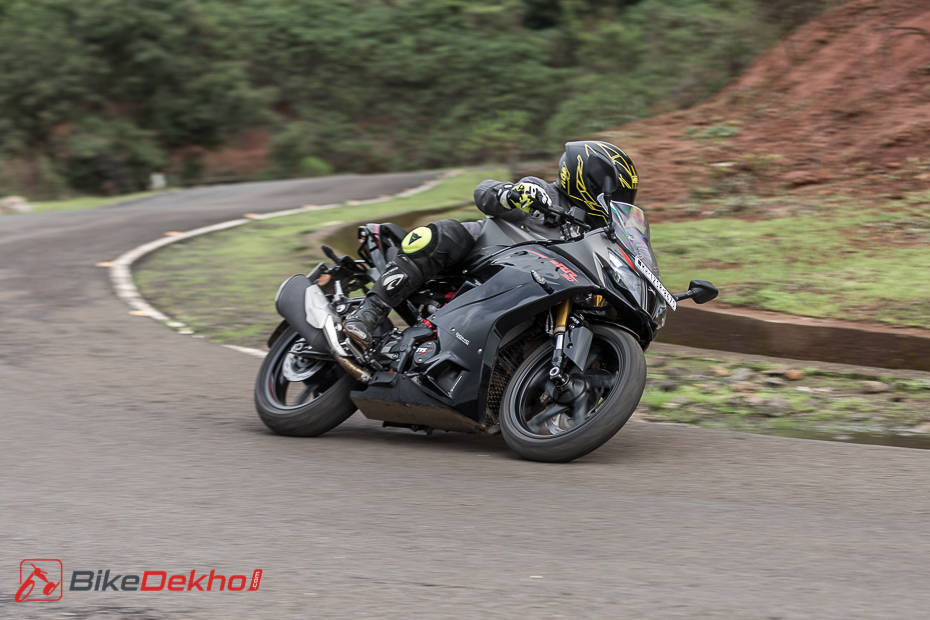 RIDE & HANDLING
The TVS Apache RR 310 is one of the sweetest handling machines in the affordable performance segment. It is sharp and predictable, with enough poise not to scare you witless, like maybe the RC 390. If you are stepping up from the Yamaha R15 v3 or even the TVS Apache RTR 200 4V, you will appreciate its friendly demeanour. In the real world, the RR 310 soaks in mid-corner bumps, allowing you to carry your lines through corners with little to no adjustment. And if you have to make any adjustments, its quick steering allows you to dodge around potholes that just crept up on your favourite set of twisties.
Not only is it one of the best educational tools for sport riding but also an equally capable commuting companion. The raised clip-ons don't force you to put your entire body weight onto your wrists, allowing enough leverage and room to move your upper body to slip past slow moving traffic. Speed humps and road imperfections are dealt with ease. The ride is rarely unsettled, even when going over sharp bumps with slight gusto. And you needn't worry about scraping its belly either, the 180mm ground clearance is pretty good for a supersport.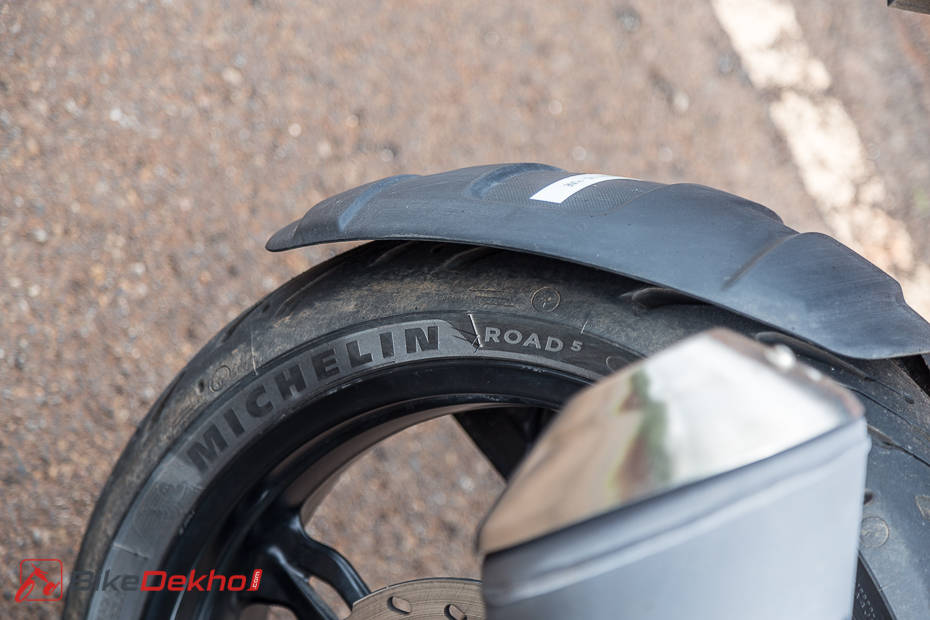 TVS has to be commended with its choice of rubber for the new RR 310. The company claims it is the first bike in the world to get Michelin Road 5 rubber as standard. The new tyres are a marked improvement over the old Pilot Sports, which failed to inspire much confidence and were easily fazed when going through standing water. Michelin claims the new tyres dispel water much efficiently. They provide great cornering feedback and even when there was a bit of washed over dirt on the roads, they showed little to no signs of letting traction go.
But when you do run these tyres into the ground, the replacement tyres will not be available at TVS service centres. You will have to contact a Michelin dealer in your city and avail of the same tyres which retail for Rs 4,800/Rs 6,800 (front/rear). The pricing is on par with the Metzeler Sportec M5 H-rated rubber (Rs 12,500 for a pair) that is found on the RC 390 and 390 Duke but these particular set of German tyres aren't as grippy as their French counterparts.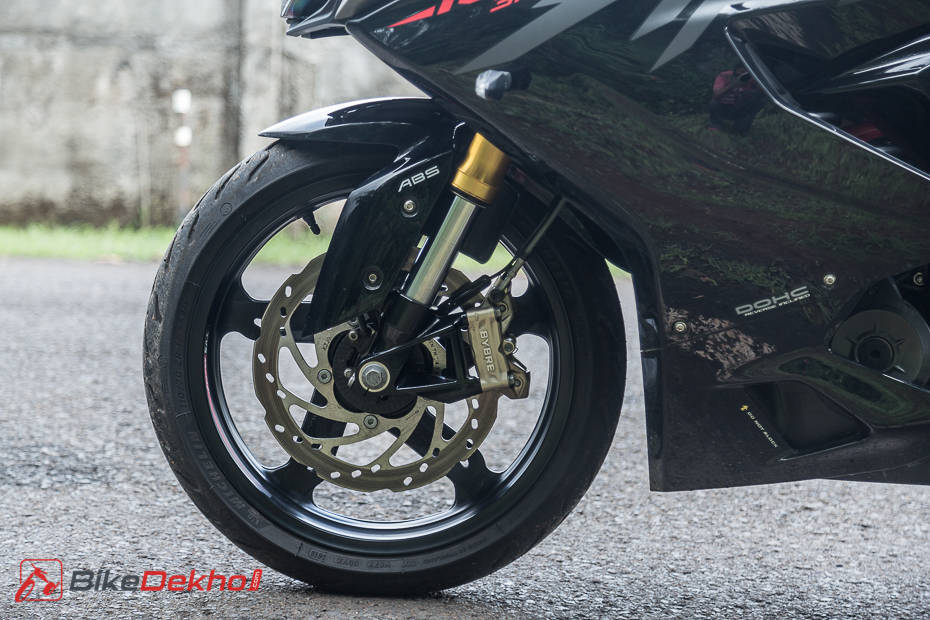 The braking test reveals a dramatic improvement in braking distances. The new RR 310 stops almost 6m earlier from 80kmph, which could be pivotal in panic braking situations. On the whole, the Apache RR 310 feels a lot more sure-footed when coming to a halt, and that's mostly down to the new tyres. Again no changes to report on the hardware front here. ABS intervention levels are synced to the rider mode you are in with Track allowing for least intervention and Rain the most. There is a bit of scope for improvement here as brake lever feedback is almost absent. It doesn't feel wooden but a bit of feedback would have been appreciated.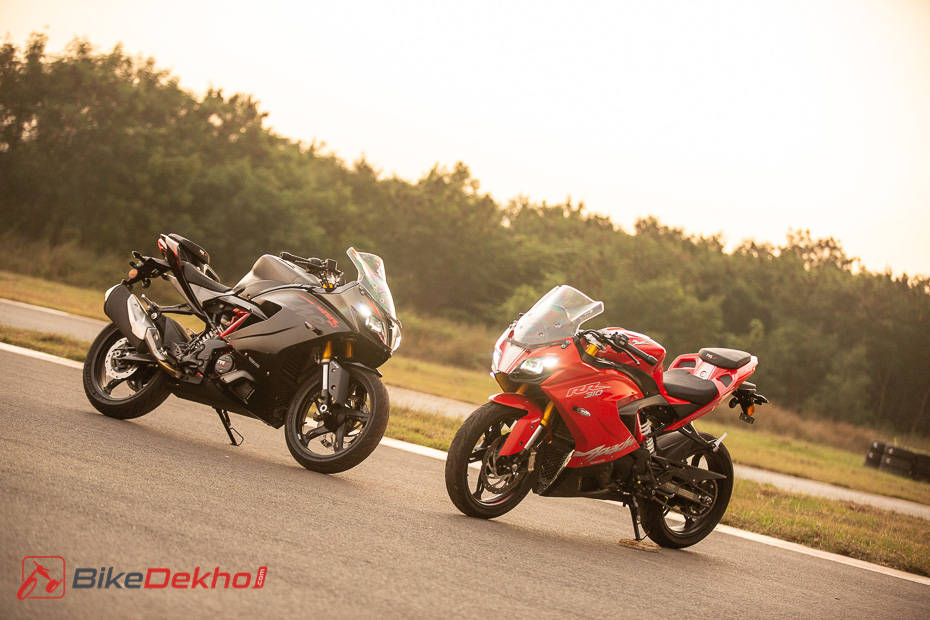 VARIANTS
TVS offers the BS6 Apache RR 310 in just a single trim with two colour options: Racing Red and Titanium Black.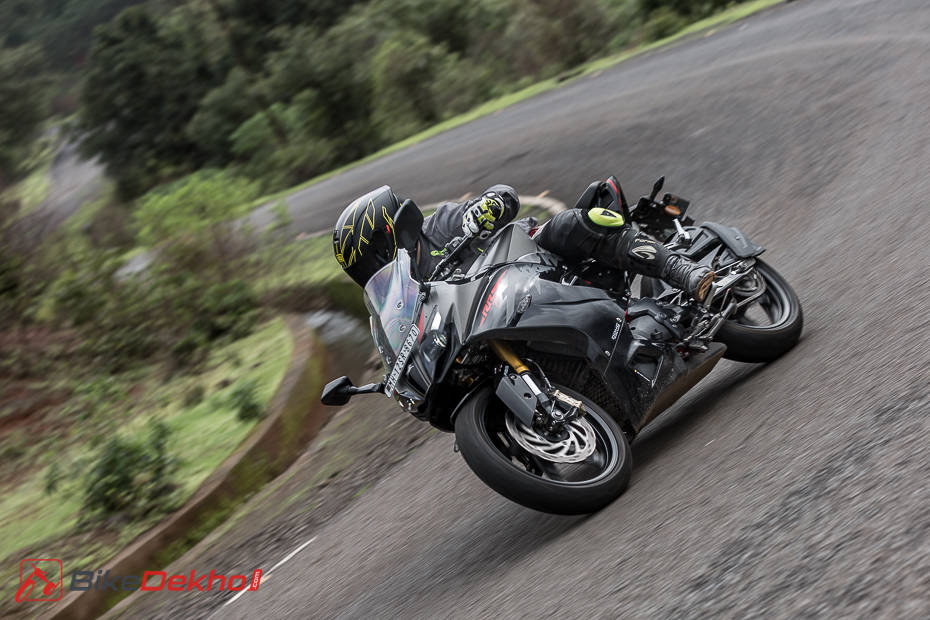 PRICE & VERDICT
The new RR 310 offers something for everybody, right from someone who is jumping onto a sub-400cc bike for the first time to a seasoned rider who has honed his or her skills for years. Want a power-packed commuter? Check. Want to ride down to Chennai or Coimbatore for a track day? Check. Enjoy a weekend full of cornering fun? Check. It is also more likeable and more fun with the new updates.
At Rs 2.40 lakh, the new asking price of the RR 310 is just Rs 12,000 more than the BS4 bike and the updates more than justify the premium. The difference might have been just a few thousand rupees at the time of its launch but after the recent price revision of KTM models, the RR 310 undercuts the RC 390 by over Rs 13,000. There is nothing as explosive as the Austrian crotch rocket. But for everything else, as an all-rounder, we think the RR 310 BS6 would serve you better. It is finally the bike it should have been right from the start and one that's more easily recommendable to more riders than ever before.
23/07/2020 UPDATE: Much like KTM, TVS has increased the asking price of the RR 310 by Rs 5,000, to Rs 2.45 lakh (ex-showroom Delhi). This does bring the price buffer between the two supersports back down to around Rs 8,000, just like it was when the two bikes had first received their BS6 updates. The extra Rs 17,000 that you are paying over the BS4 bike does feels a bit on the higher side now but all in all it still remains the best all-rounder that money can buy in the class.