Motorcycle ABS: How It Works and Why You Should Have It
Modified On Apr 2, 2020 By Naveen Soni

ABS (Anti-lock Braking System) is a common safety feature found in most 4-wheelers in India. However, the same cannot be said about the 2-wheeler industry.  Apart from most in the performance and premium motorcycle segment, only a handful of two-wheeler models like the TVS Apache RTR 180/200, the Bajaj Pulsar RS 200, the Honda CBR 250R and the KTM Duke 390 offer this feature. However, the Indian government is now planning to make this safety feature mandatory by April 2017 for two-wheelers with engine capacity over 125c. 

Let's begin with the purpose of ABS to have a better understanding of this breakthrough automotive technology.  ABS allows the driver to maintain directional stability, control over steering and to reduce stopping distances during an emergency braking situation, particularly on wet and slippery road surface.
It can either be a single-channel or a multi-channel ABS on the wheels having a hydraulic brake unit, which work on the fluid pressure. It uses 4 major components- the sensor array, the Electronic Control Unit (ECU), the pump and the valves which physically manages the braking force.

The primary sensor on a common ABS is the speed sensor which measures the speed constantly, providing real-time data to the ECU. The system comes with a special ring (tone wheel) having a slotted design. The slots constantly feed the sensor with data  in the form of wheel speed. This would mean every time the rider increases or decreases throttle input as well or if he were to hit the brakes hard that could result in a wheel lock.
The ECU acts like a brain of the ABS and it analyses the data received from the sensors to regulate the braking force. For this, it compares the results with some specific values and uses some special algorithms to calculate the exact fluid pressure required for safe braking and send commands to the pump and valves.
Pump and valves are the physical elements to control the braking force in ABS. It is all about regulating the pressure in the brake lines, hence, it needs a pump and valves that regulate pressure depending on the situation.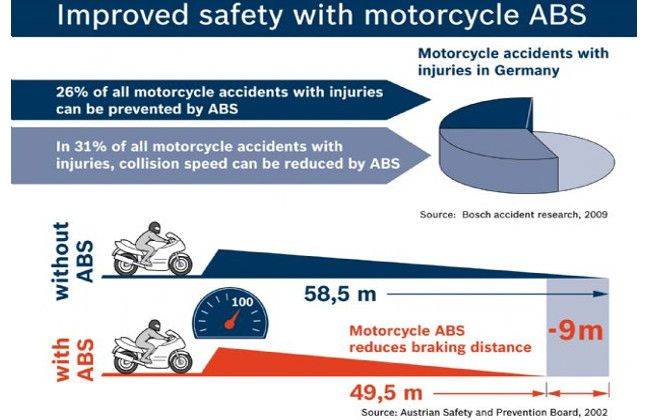 When the ABS starts kicking in, it means the braking force exerted by the rider is more than required and the ECU calculates how much it should lower it and exert just the right  amount of force on the brake caliper housing the brake pads responsible to slow down the wheels and finally bring them to a stop with out losing traction. This thereby gives the rider more confidence during his maneuvers.
As per reports and experiments conducted worldwide, it has been proved that ABS could prevent motorcycle crashes by a whopping 31% and save lives. A few countries are already in process to mandate the ABS feature with two-wheelers and we believe that it should be done in India as well.