Kawasaki Ninja 300 Gets Two New Colour Options
Modified On May 29, 2019 By Praveen M. for Kawasaki Ninja 300
The new colour variants are offered at no additional cost
The new colours include Lime Green and Metallic Moon Dust Grey.
Total number of colour options now stands at four.
The new colours certainly look a lot cleaner than the older ones.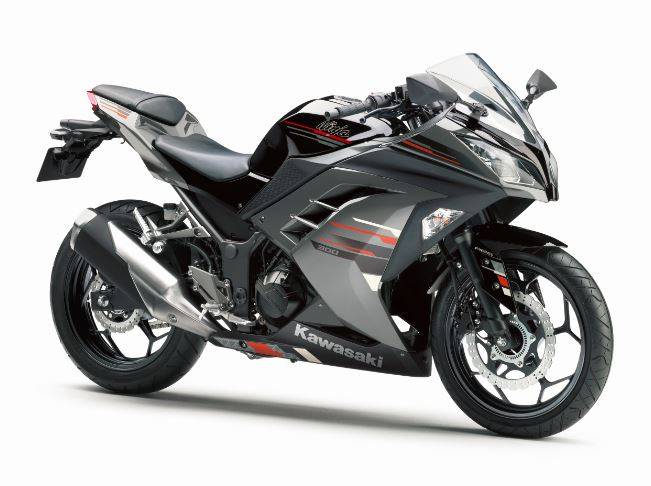 When Kawasaki introduced the heavily localised version of the Ninja 300, the bike came with graphics that looked wildly different from its predecessor. However, now the brand has introduced two new colours, Lime Green and Metallic Moon Dust Grey which look a lot cleaner. The lines are more subtle compared to the older colour options and the large 'Ninja' lettering on the fairing has been replaced with a minimalistic '300' logo with stripes around it.
The best part is that Kawasaki hasn't changed the pricing for the new paint options. It is still priced at Rs 2.98 lakh (ex-showroom India), and is now available in four colour options. After the Royal Enfield 650 Twins, the Ninja 300 is the most affordable twin-cylinder bike you can buy in the country and this has reflected well in terms of sales too. Here's Kawasaki's press release regarding the introduction of new colours:
Press Release:
New Colours Added to Kawasaki Ninja 300 ABS Family

India Kawasaki Motors Pvt. Ltd. (IKM) announces addition of two new colours of Ninja 300 ABS 'Lime Green' and 'Metallic Moon Dust Grey' as variants. The price remains unchanged. For Ninja 300 ABS, these offerings boast an attractive proposition of new design with an array of new colour into the family.
Kawasaki started its journey in India with Ninja 250R which was the huge success of the time. To provide the race like experience to our customer, we have done many technological and aesthetical changes with aerodynamic shapes, increased power, increased cubic capacity, powerful brakes, racy graphic, aggressive styling, and new technology. The launch of Ninja 300 for the Indian market is huge success and has gifted Kawasaki an Identity of Supersports brand in India.
With IKM's constant modification and upgrades we were able to fulfil customer requirement from time to time. The result was our Ninja 300 ABS equipped version. Also, this has helped us to remain leader in 300cc premium supersports segment.
Ninja 300 ABS received its DNA from winner of WSBK championship model Ninja ZX-10R. Being entry level sports bike, it play's a very crucial role for building sports riding culture in India. Ninja 300 ABS is proper upgrade for customers upgrading from 150 cc to 300 cc segments. The price for our new colour variant still remains the same. This price drop for our premium 300cc segment was a result of localization in Ninja 300 manufacturing. We along with our supplier worked very hard to keep the price under control without compromising the quality. This is also an initiative of Make in India campaign.
Kawasaki's mid-weight premium sport model allow a wide range of riders to experience the thrill of exploring their limits on the circuit. Kawasaki motorcycles possess both power and grace so are often recognised as being different to other bikes. This results from certain guiding principles adopted at the design stage. Rideology is Kawasaki's rider-centric development philosophy focused on how the riding experience offered by a Kawasaki is crafted, ensuring that our machines are fun to ride and rewarding to control. This approach has been the force behind many of our legendary machines, and in our pursuit of all possibilities it will continue to guide the future creation of Kawasaki motorcycles.