Bike Cleaning Tips: How To Get Those Post-Holi Colours Off
Published On Mar 21, 2019 By Benjamin Noel Gracias for Yamaha MT 09
We tell you how to get the colours of Holi revelry off your bike and get it looking new again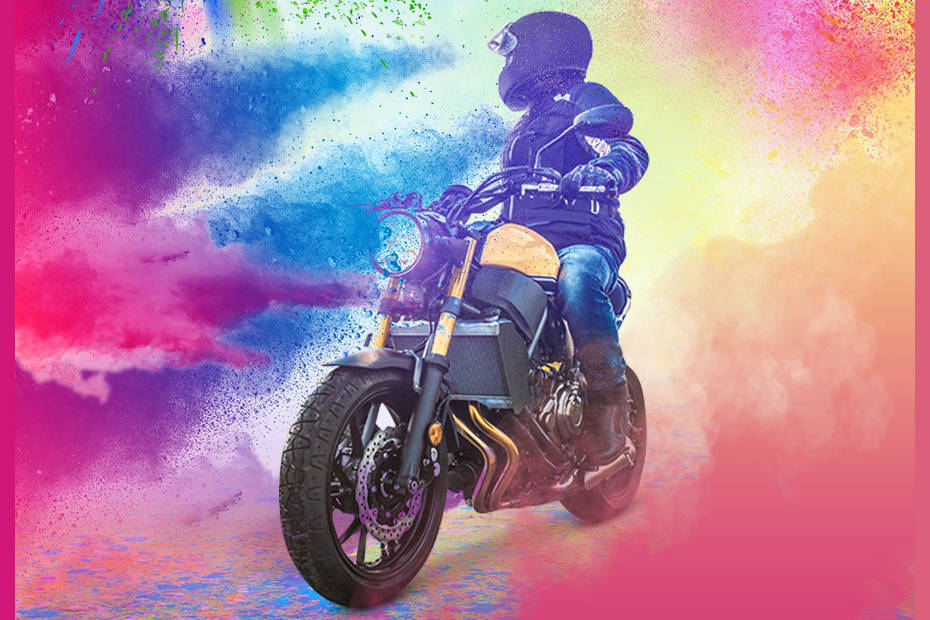 They say prevention is better than cure. If you were smart enough to cover your prized possession before you started playing Holi, you need not read this story further. However, if that slipped your mind, this article will definitely come in handy. You might need a couple of washes to get the colours off but it is important that your two-wheeler is cleaned as soon as possible as prolonged exposure to chemicals in the colour can fade the paintjob. Some colours can be harder to clear than others and we are here to help you with that. Let's start with the easiest colours first.
Also read: Tips to protect your bike during Holi – The Festival of Colours
Organic colours:
These colours are not just the best for the environment and your skin, they are easy on your vehicle too and can be cleaned easily. If it is dry powder, simply brushing it off with a soft cotton cloth should do the trick. In case of wet colours, hose it down with water. For best results, wash the bike later with a car/bike shampoo to make it look as good as new.
Also read: Top 5 Motorcycles With Brightest Colours On Sale
Chemical colours:
These colours are made of chemical compounds and industrial dyes that are capable of damaging your bike's paint, so the sooner you get them off the better. In case of dry powder, gently brush them off your bike's bodywork as some of these colours contain abrasives like ground glass, and rubbing on them can leave you with scratched panels. In case of wet stains, use cold water and a mild shampoo, gently rub over the stain for a few minutes and hose down. In case the stain is persistent, you can use a strong detergent. Do this only if a mild shampoo does not work as hash detergent can strip bike paint of its essential oils and leave it looking faded. In worst cases, the stain might have etched deep into the paint and require an abrasive polish compound to strip the first few layers of paint and a polish to restore original shine. Best leave this to professionals.
Also read: Holi 2019: 110cc Scooters With Snazzy Colour Options
Oil paints:
These are tough to get off with just water and shampoo. Blot the stained surface with mineral turpentine and a soft cloth and leave for a few minutes. Once the stain has loosened, you can wipe it down. Repeat this process for stubborn stains.
Bonus: Egg stains
Yes, we love to experiment during Holi and it could happen that your pride and joy has egg stains over it. Do not leave egg stains on your two wheeler over a long time as it can damage your paint. Firstly, remove the egg shells by hand; for smaller shells, use a small soft cloth. Do not leave any behind as the sharp shell can scratch paint. Remove the yolk stain with a wet cloth soaked in warm water. For dried stains, mix equal parts warm water and white vinegar, soak a cloth and spread over the stain for 15 minutes. Later, wipe down with a cloth soaked in warm water. Repeat for stubborn stains.