Top 10 Useful Features offered in Latest Scooters in India
Modified On Jan 8, 2019 By Naveen Soni
To stand ahead in the fierce level of competition, various scooter manufacturers in India are offering lots of advanced and unique features with their machines to attract buyers. However, do you know that which features are important and useful for you and which ones are just a marketing strategy? So, here we are with the list of top 10 useful features, coming with the latest scooters in India.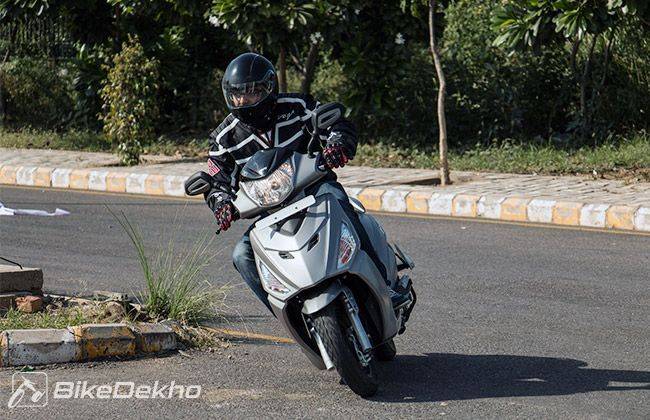 10) Mobile Charger: One of the most common feature offered in the scooters, a mobile charging dock or USB port is useful for those who forgot to charge their phone at home. The mobile charging dock comes very handy when you are going on long rides. Generally, it comes in the under seat storage of the vehicle and can be used while the ignition is on. Currently, the mobile charging feature is available with Hero Pleasure, Hero Duet, Hero Maestro Edge, TVS Jupiter, TVS Wego and Suzuki Let's.



9) Adjustable Seat Height: With adjustable seat height option, a rider can adjust the seat height of the scooter according to his/ her comfort. With the help of adjuster mechanism, short height riders can decrease as well as tall riders can increase the seat height. However, most of the scooters come with a moderate seat height and currently the only scooter having this feature is Mahindra Gusto.



8) Boot Light: You might have faced the situation when you have a lot of stuff in your boot and need to find something from it in a dark place. What if your boot comes with an integrated light? It will surely make your task much easier and you don't need to hold your phone in one hand with the flash light on. The scooters featuring boot light are Hero Maestro Edge, Hero Duet and Hero Pleasure.



7) Extra Bag Hooks: Some scooters come with an extra bag hook at the front, which helps you when you need to carry some extra baggage. Generally these type of hooks are retractable and can be closed after use. The feature comes with Hero Duet, Maestro Edge, TVS Jupiter and Mahindra Gusto.



6) Anti-Theft Systems: Anti-Theft Systems protect your scooter from stealing, and it comes in various forms. It could be an engine immobilizer or a theft alarm, which are offered by Hero Maestro Edge and Mahindra Gusto respectively.



5) Easy Accessible Kick Start: One of the most typical tasks with an automatic scooter is to start it with the kick. Sometimes, your battery gets weak and you need to kick start your scooter and it takes a lot of effort from you. The reason is a rear positioned kick, which needs the scooter to be put on the main stand. Now, some manufacturers like TVS and Mahindra are providing an easily accessible front-mounted kick lever, which can be used even while sitting on the scooter.



4) Telescopic Front Suspension: Telescopic suspension at the front increases stability of a scooter in comparison to the conventional bottom-link type suspension system. It also reduces the feel of shocks and vibrations coming from the road and provides a more comfortable ride. Except the Vespa scooters and 110cc models of Honda scooters, all other models available in India are coming with the telescopic type front suspension set-up.



3) Bigger Wheels with Tubeless Tyres: Some of the latest scooters in India comes with bigger 12" wheels and tubeless tyres, instead of the 10" wheels. Bigger wheels increase the stability of the scooter and enhance its maneuverability as well. TVS Jupiter, TVS Wego and Mahindra Gusto features 12" front and rear wheel, while the Honda Activa 125 and Hero Maestro Edge gets it only at the front.



2) External Fuel Filling: It seems to be a very basic feature that can be ignored while buying a scooter. However, it can save your time as well as the effort during refueling. Sometimes, we are running short of time and at that time it saves the time of putting the scooter on the stand and opening the seat. It comes with the Hero Maestro Edge, Hero Duet, TVS Jupiter, TVS Wego, TVS Scooty Zest, TVS Streak and Mahindra Gusto.

Also Read: Five Scooters With External Fuel Filler Caps


1) Combined or Integrated Braking System: Scooters need a balanced braking effort on the front and rear wheels to stop without skidding. So, emergency braking on a scooter at moderate speed becomes a typical task for a new rider. That time, combined or integrated braking system helps you by providing a perfect balance of front and rear braking effort by use of a single lever. Normally, the system comes equipped with the rear brake lever and front brake works automatically with it. Honda and Hero MotoCorp are the only two manufacturers in India providing this feature as Combi Brake System (CBS) and Integrated Braking System (IBS) respectively with their scooters.

Also Read: Anti Lock Braking System (ABS) And Combi Brake System (CBS) - The Difference