Royal Enfield Classic 350 Signals Road Test Review
Published On Jul 10, 2019 By Benjamin Noel Gracias for Royal Enfield Classic 350 (2012-2021)
What is it about the Classic 350 that endears it to thousands of riders and helps it enjoy a cult following.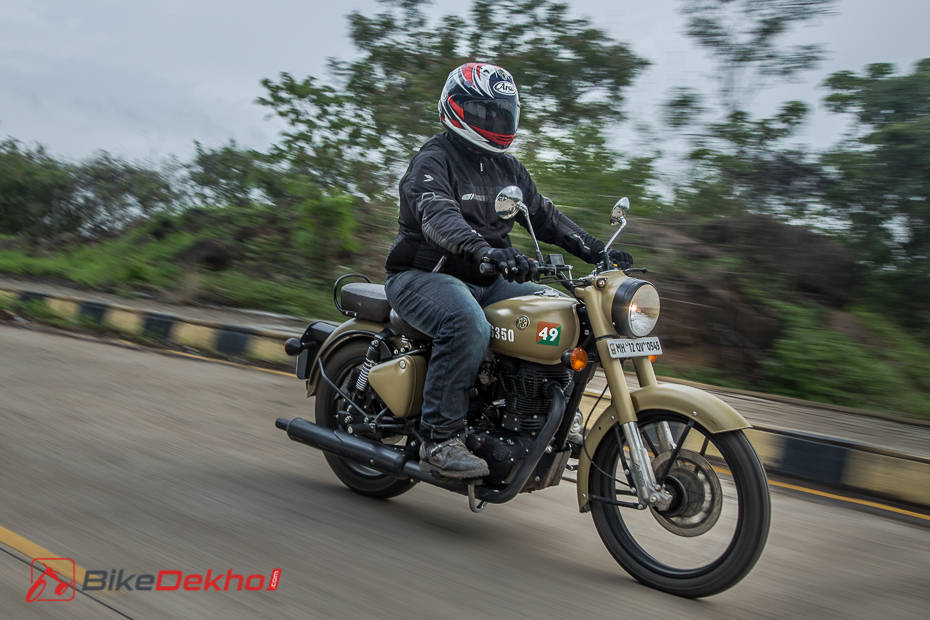 The Royal Enfield Classic 350 has been the Chennai-based bikemaker's best selling bike for over a decade. It enjoys a cult following among the masses and sells in numbers that would put 125 and 150cc bikes to shame. So what makes the Classic 350 so special, and should it be a bike to consider buying despite it being unchanged for decades -- and considering the fact that it will be replaced by an entirely new, more modern Classic just next year?
Also read: Royal Enfield Bullet Trials 500: First Ride Review
Pros:
Lots of bottom-end torque.
Brakes well for its size.
Cons:
Lots of vibrations.
The motor lacks grunt in the top end.
Heavy controls.
Stand out features:
Possesses old-world charm.
Limited edition styling.

| | |
| --- | --- |
| | Royal Enfield Classic 350 |
| Length | 2160mm |
| Width | 790mm |
| Height | 1090mm |
| Fuel tank capacity | 13.5-litres |
| Kerb weight | 192kg |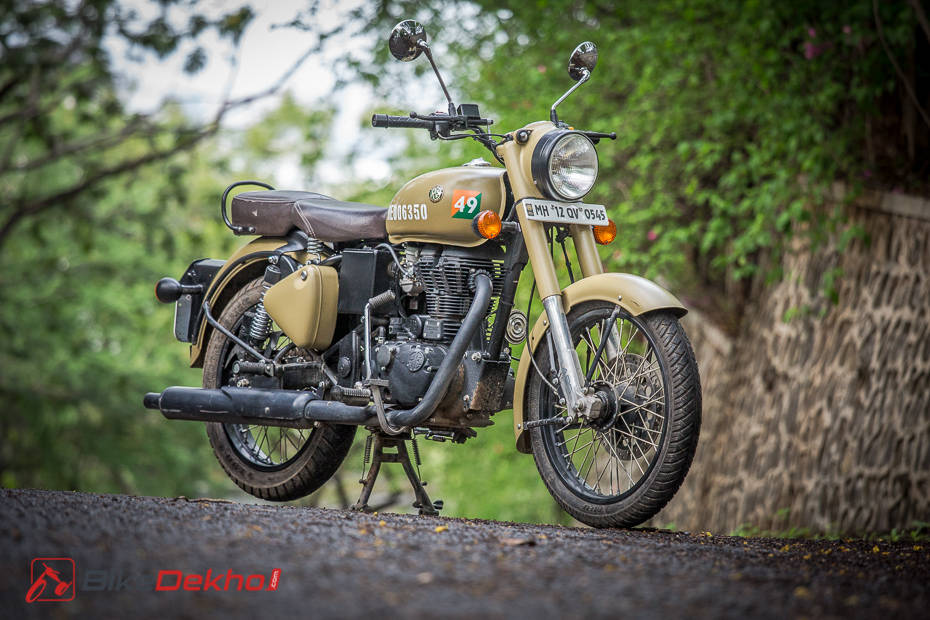 Design:
The Royal Enfield Classic 350 possesses a timeless design that has remained unchanged since inception. It has that unique headlamp cowl with twin pilot lamps on top which make it instantly recognisable even at night. Then you have a large fuel tank followed by an equally large sprung rider seat. Everything on the Classic 350 is oversized, from the wheels, fenders, tank, seat and even the round turn indicators. The Classic 350 has loads of road presence. This one here is the special Signals Edition. It comes in two unique army and air force-inspired colours: Storm Rider Sand and Airborne Blue. Like the Classic 500 Pegasus, it gets military insignia and armed forces-style serial numbers on the fuel tank.
Also read: Royal Enfield Interceptor 650: Road Test Review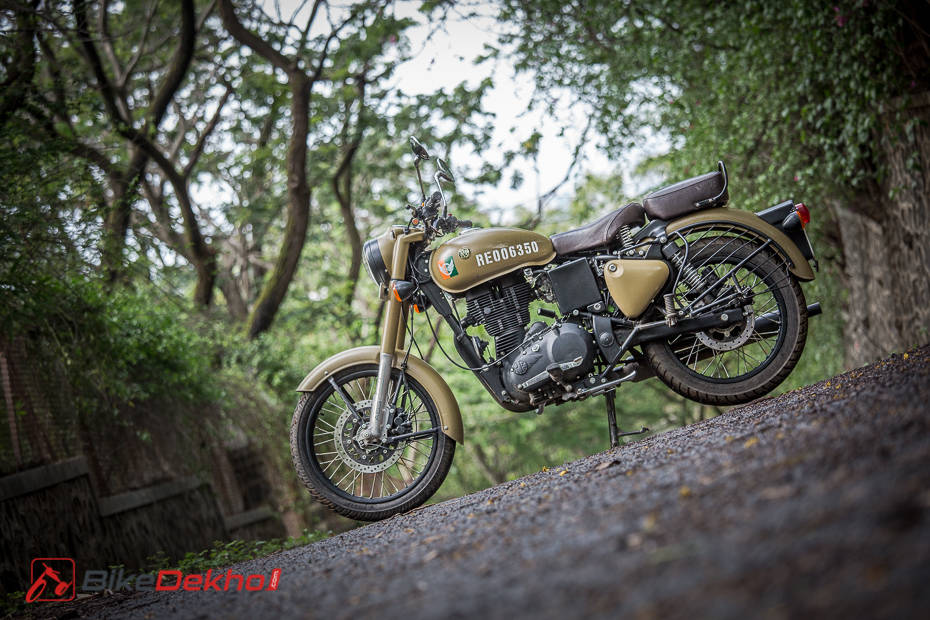 Ergonomics:
One of the Classic 350's major selling points has been its commanding riding position. You sit tall and upright on the bike with slightly forward-set footpegs and an easy to reach handlebar. This riding position works well for long-distance touring. That said, we would have loved slightly raised handlebars which would have taken the strain off your shoulders and made riding the Classic 350 an even more comfortable affair. The footpegs are set slightly outward due to the wider crankcase. These are not as wide as the Interceptor 650 but can hit your shins in crawling traffic. You get a wide sprung rider's seat. It is comfortable but you might have to get used to the seat's bobbing motion over uneven roads. The pillion seat is comfortable as well and offers good support in terms of width and cushioning.
Also read: Royal Enfield Himalayan vs Mahindra Mojo: Comparison Review
| | | |
| --- | --- | --- |
| | Royal Enfield Classic 350 | Jawa |
| Fuel gauge | No | Yes |
| LED headlamp | No | No |
| ABS | Dual-channel | Single-channel |

Technology and features:
This Signals edition bike gets a serial number on the fuel tank that is unique to each bike. In terms of safety, it gets a dual-channel ABS setup. Other than that, this is a bare-bones bike and misses out on modern features and convenience. There is no LED lighting or digital instrument console. Heck, you do not even get a fuel gauge. Instead, you have a low fuel warning light. Even the ignition switch does not feature steering lock. You have to slot the key into a switch on the side of the steering cone, like old-school bikes. Given its spoke wheel setup, the Classic 350 gets tubed tyres.

Variants:
The Classic range comes in 350cc and 500cc guises. Of them, the Classic 350 comes in four variants: the base Classic 350, Classic 350 Gunmetal Grey, Classic 350 Redditch and Classic 350 Signals.

Engine and performance:
| | | |
| --- | --- | --- |
| | Royal Enfield Classic 350 | Bajaj Dominar 400 |
| Engine capacity | 346cc single-cylinder air-cooled and carburetted | 373.3cc single-cylinder liquid-cooled and fuel-injected |
| Power | 20PS @ 5250rpm | 40PS @ 8650rpm |
| Torque | 28Nm @ 4000rom | 35Nm @ 7000rpm |
| Gearbox | 5-speed | 6-speed |
| 0-60kmph | 6.72 seconds | 3.0 seconds |
| Top speed | 97.92kmph | 136.88kmph |
| 30-70kmph in 3rd gear | 8.73 seconds | 3.73 seconds |
| 40-80kmph in 4th gear | 11.28 seconds | 4.70 seconds |
| City FE | 38.73kmpl | 25.59kmpl |
| Highway FE | 35.36kmpl | 32.29kmpl |
Powering the Classic 350 is a 346cc air-cooled single-cylinder powerplant. It is a long-stroke motor that has the camshaft located at the bottom part of the engine and uses pushrods to move the rocker arms and by extension, the valves. This whole setup gives Royal Enfield bikes that unique exhaust thump. It delivers 20PS at 5250rpm and 28Nm of torque at 4000rpm. That's not much but then peak power is delivered at significantly lower engine rpm than its competitors. It uses a carburettor instead of fuel injection.
Also read: 2019 Bajaj Dominar 400 vs Royal Enfield Himalayan Fi ABS: Comparison Review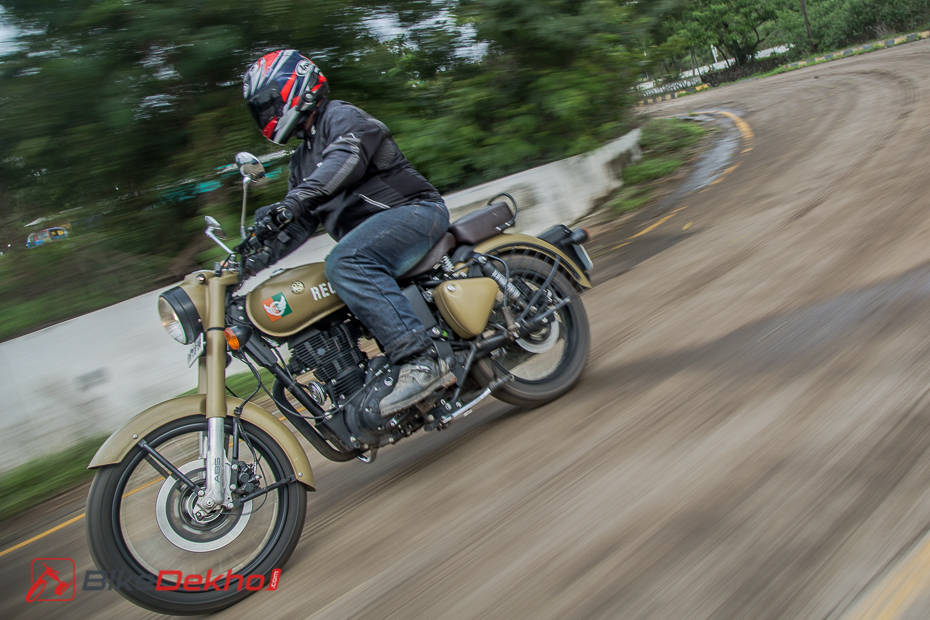 This isn't a quick-revving motor or a performance motor. Its laidback nature has a low rev ceiling. In fact, the Classic 350's 0-60kmph times are comparable to 125cc motorcycles. In fact, the Hero Glamour FI sets a quicker 0-60kmph time of 6.55 seconds. You have lots of bottom end grunt but not much at the top end. At the top, the motor starts shaking, wanting you to back off the throttle or shift to a higher gear. Out on the highway, the Classic 350 is comfortable cruising at speeds of 70-80kmph. Anything above 80kmph and the motor starts to feel strained. The Classic 350 struggles to cross the 100kmph mark despite the gearing being on the taller side. In the city, however, this strong bottom end and tall gearing mean you can ride around in 4th gear at speeds of 50kmph all day. The unstressed nature of the motor in city riding also yields better fuel economy. With a 13.5-litre fuel tank, you can expect a highway range of 477km to a tankful.

The Classic 350 has a heavy throttle and clutch that needs getting used to. There are vibrations, lots of them. They become prominent in the mid-range and develop into a shake close to the redline. Overall, this is a proper old-school motor. If you are looking for any semblance of modernity or refinement here, you will be disappointed.

Ride and handling:
There is no getting away from the fact that the Classic 350 is a heavy bike. At 194kg, its weight is on par with most large capacity cruisers. In the city, you feel the heavy steering and the bike requires some effort to hustle around. Out on the highway, the bike feels planted at speed and through long sweeping corners. On twisty roads, you will have to work hard to turn the bike from left to right and vice versa. The Classic 350 is meant more for relaxed riding and does not like being hustled.

It does well in the riding department. Thanks to the large 18-inch wheels and heavy kerb weight, the Classic 350 steamrolls over bad roads rather than glide over them. While the front 35mm telescopic suspension does give your palms a sensation of the road surface, it manages to insulate the rider from road undulations and small bumps quite well. The twin rear gas-charged shock absorber offers a good ride for the pillion while the rider gets an additional layer of suspension thanks to the sprung seats. These need getting used to, though, due to their bobbing motion and while they look good, we would have preferred a conventional seat.

Braking is quite good. The dual-channel ABS setup helps the Classic 350 brake within a respectable distance considering its weight. Under hard braking, there is no drama from the MRF Zappers. That is partly down to the bike's weight acting on the tyres. These tyres perform well under most conditions but then again you won't be husting the bike more than you would a 125cc motorcycle.
| | | |
| --- | --- | --- |
| Braking | Royal Enfield Classic 350 | Bajaj Dominar 400 |
| 80-0kmph | 38.73 metres | 31.36 metres |
| 60-0kmph | 21.85 metres | 17.38 metres |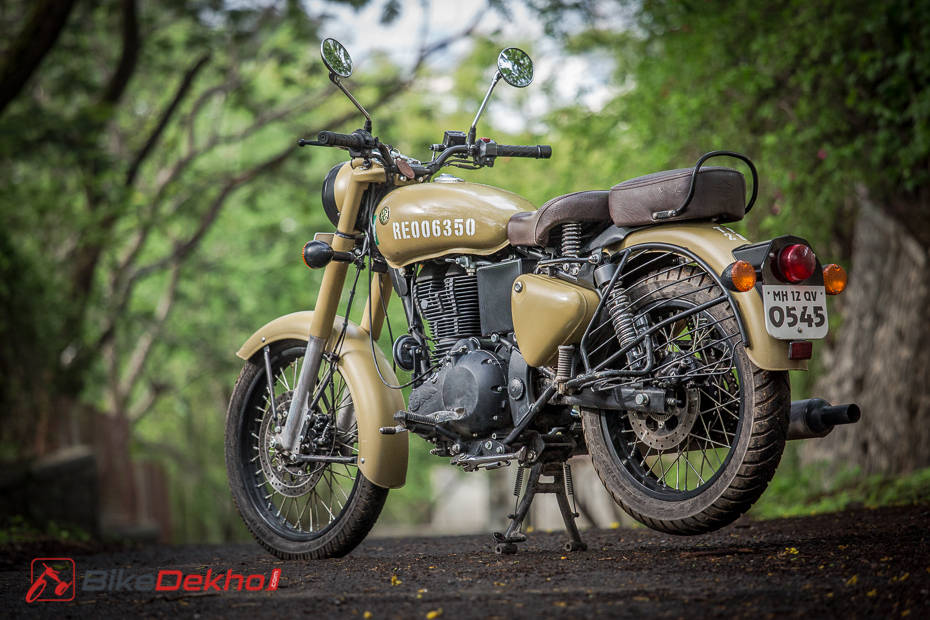 Verdict:
The Classic 350 lacks modern features. It might remind you of a bike that's from 50 years ago, but it's certainly not built that way anymore Now, you get better tolerances and more reliability. Overall, there are bikes that perform well and cosset you better than the Classic 350. That said, the Classic 350 has an undeniable charm. Its mechanical simplicity, unique riding position and that old-school motor together come together to give you fleeting moments of bliss when riding. Something other motorcycles, even the new Royal Enfield Interceptor 650, can't seem to match.

It is these moments that endear the Classic 350 to riders and help it enjoy a cult following. If you are looking for old-school motorcycling with a touch of flair, go for the Classic 350. If you are looking for the above with a tad more performance, go for the 500cc models. For everything else, look elsewhere.